Air Display Turns iPad into Mac Display, 7mm Thin Travelstar Drive, Hybrid SSD/Optical Drive, and More
This Week's MacBook, PowerBook, and iBook News
Compiled by Charles Moore and edited by Dan Knight - 2010.06.04
General Apple and Mac desktops is covered in The Mac News Review. iPad, iPod, iPhone, and Apple TV news is covered in The iOS News Review. All prices are in US dollars unless otherwise noted.
News & Opinion
News & Opinion
Air Display Enables iPad as External Monitor for Your Mac
PR: Ever wish you had an extra display for your computer? There's an app for that. With Air Display, you can use your iPad as a wireless display for your Mac OS X computer. Developed by Avatron Software, home of the popular Air Sharing apps, Air Display lets you position your iPad next to your computer, drag windows onto it, and interact with those windows as you would on any other computer display.
Air Display's performance is extremely responsive, employing a clever dynamic compression algorithm. On a typical Wi-Fi network, mouse cursor refreshes are indistinguishable from a wired mouse.
Air Display works in both landscape and portrait configurations. Just rotate your screen, and it automatically reconfigures.
Air Display makes a laptop much more useful. Adding the iPad's 1024x768 display nearly doubles the screen area of a MacBook Air or 13" MacBook.
Air Display not only gives you a wireless computer screen extender, but also works as a tablet input device. You can use your finger to draw directly on the screen's surface. Try it with a Mac calculator app, painting tool, or music control surface!
Some great uses for Air Display:
Fill your iPad screen with your utility apps, like iChat, Mail, iCal, and Calculator.
Amaze your friends by playing Flash animations on your iPad!
Graphic design: Make Photoshop and Illustrator usable on your laptop by putting your tool palettes on the iPad screen.
Music: Use your iPad as the ultimate control surface for Logic or Pro Tools.
Programming: Use the extra display area for such auxiliary development tools as Console, Terminal, and the Debugger.
Business: Move all of your iWork and Office palettes and inspector windows onto the iPad, and let your document fill the screen.
Find your own uses.
On first launch, Air Display presents easy instructions for downloading and installing the companion Mac software.
System Requirements:
Compatible with iPad.
Requires iPhone OS 3.2 or later.
The Air Display support software is only compatible with Mac OS X. Windows support software will be available soon.
In addition, on Mac OS X, Air Display requires 10.6 (Snow Leopard) or later, on an Intel CPU. Both 32-bit & 64-bit systems are supported.
Avatron will shortly be releasing a Mac OS X software update that supports Leopard (Mac OS X 10.5.8) as well.
$9.99
Link: Air Display (download link)
Hitachi Travelstar Ultra-Slim 7mm 7200 RPM Laptop Hard Drive
PR: A high-performance, quiet hard disk drive (HDD) solution for mobile applications, Hitachi's new Travelstar Z7K320 2.5" mobile hard drive features low Profile - 7mm thickness for design flexibility, 7200 RPM rotation speed for faster data access, quiet operation for a richer audio-listening experience, and is available in 160GB, 250GB, and 320GB capacities.
Travelstar Z7K320 is the industry's first 7200 RPM, 7mm, 2.5" hard drive with capacities ranging from 160GB to 320GB. Seven millimeters equals about one-quarter inch (specifically 0.27559"), which is also about 25% thinner than the 9.5mm drives used in today's thin notebook computers. The 320GB per platter one-disk models are designed as a direct replacement for standard 9.5mm hdds, for use in notebook PCs, external storage, and compact systems. The Z7K320 offers design flexibility to accommodate new thinner and more robust devices/systems and delivers up to 18% better application performance than 5400 PM models of the same capacity. Along with continued focus on superior shock protection and low-power consumption, Hitachi delivers best-of-breed acoustics. Hitachi offers optional hard-drive-level encryption for increased data security and models with enhanced availability to deliver high-performance storage for non-stop environments. Travelstar Z7K320 provides the right balance of performance and capacity to meet the multi-tasking needs of commercial and consumer users on the go.
Highlights
New 7mm z-height for greater design flexibility
7200 RPM high-performance HDD
Up to 320GB of capacity
Best-of-breed acoustics
Low power consumption
Halogen-free for eco-friendly footprint
Serial ATA 3Gb/s
Encryption options, including Trusted Computing Group (TCG) Opal
Enhanced-availability (EA) models for >>applications needing around-the-clock access in lower-transaction environments
Data security option
Travelstar Z7K320 is the fourth generation to feature optional Bulk data encryption (Bde) for hard-drive-level data security. Hitachi has designed these self-encrypting drives to the Trusted Computing Group (TCG) Opal storage security specification, which is expected to become an industry standard. With Bde, the data is scrambled using a key as it is written to the disk, then descrambled with the key as it is retrieved, giving users the highest level of data protection available. It also speeds and simplifies the drive re-deployment process. By deleting the encryption key, the data on the drive is rendered unreadable, thereby eliminating the need for time-consuming data-overwrite.
Enhanced Availability (EA)
For 24x7 access to data, Hitachi provides enhanced-availability models of the Travelstar Z7K320 that deliver 24x7 access to information for data-intensive applications requiring round-the-clock operation. The new, slimmer profile provides for additional cooling, especially important in dense blade server designs. The Z7K320 provides high capacity, performance, and durability on a proven platform for quality and reliability. EA models support the stringent demands of "always-on" applications in lower-transaction environments.
Applications / Environments
Notebook and ultra-portable PCs
Compact desktop PCs
External storage
Gaming PCs
Compact video devices
Blade servers (EA)
Network routers (EA)
Video surveillance (EA)
Compact RAID systems (EA)
The Travelstar Z7K320 series drives are projected ship in volume in July and August.
Link: Travelstar Z7K320 Series
Hitachi-LG HyDrive: World's First Hybrid Solid State/Optical Drive
PR: Hitachi-LG Data Storage Inc. has announced HyDrive, the world's first solid state drive (SSD) embedded optical disc drive (ODD). HyDrive will be available in the Far East in August 2010, installed on the Family PC MN 102-O from MONEUAL, and is projected to ship worldwide in March 2011.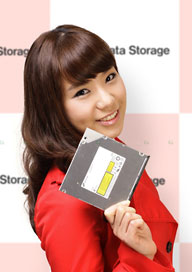 The SSD capacity will be 32 GB and 64 GB for the 1st generation, and up to 256 GB with the 2nd generation, which will be ready for mass production in March 2011 and have even faster SSD performance, moving from SATA 3.0 Gbps to the SATA 6.0 Gbps interface.
HyDrive performance stands to reach its full potential on performance notebooks, delivering data handling capabilities currently unavailable to moblie users.
HyDrive enables a total storage solution on the computer, using the advantages of three storage device types - conventional hard drives, solid state drives, and optical drives - without added space on the motherboard, and modification of system architecture is limited to replacing the existing ODD. Only HyDrive enables this through an identical framework to that used in conventional ODDs.
HyDrive offers hard disk drive (HDD) performance boosting in two ways.
One is through using the entire SSD as a cache by the HLDS filter driver. The other is by having Windows and Microsoft Office applications installed and the remaining capacity serve as a cache.
Having 32GB of SSD suffices in accommodating Windows and Microsoft Office applications, offering consumers the enjoyment and stress-free experience of usage with pure SSD speeds.
HyDrive also enables a smaller hardware footprint (7-9"tablet PCs such as the Ultra Mobile PC, for example) by removing the HDD or SSD from the motherboard and just having HyDrive with its SSD as primary storage.
HyDrive can offer users 30-60% faster booting, shutdown, and application loading on optimized hardware.
Other features have been developed for a combination of ODD and SSD benefits, such as robust media readability which differentiates readability and playability of data, audio, or movie discs from other ODDs in the market, using the dedicated burning feature. It provides smooth and seamless playback even of discs in poor condition due to scratches and fingerprints.
Much more to come with the next generation HyDrive
HLDS have been working with their partners AMD, ASUS and MONEUAL to achieve a successful market launch.
"AMD's latest 8-series chipsets have both the required hardware and driver support for HyDrive, including SATA port multiplier support, which enables combined optical and solid state functionality in the HLDS HyDrive", said AMD's Niles Burbank, Senior Product Manager for AMD's Platform Solutions.
MONEUAL will deliver the very first launch of HyDrive? through their Family PC MN 102-O in August 2010, showcasing home theater quality performance. HyDrive is capable of playing back CD, DVD, and Blu-ray media, and fast booting and application loading with 32 GB SSD.
ASUS plans to launch the 1st generation HyDrive on their Eee Top range, and the 2nd generation HyDrive global debut on the N61DA notebook after testing HLDS samples.
HyDrive is a trademark of Hitachi-LG Data Storage, Inc. Other company and product names may be trademarks of their respective owners.
Editor's note: No official price has been announced yet, but rumor has it that HyDrive could add $200 to the price of a typical notebook. This does not appear to be available in a slot-loading configuration, which means that Apple probably won't consider using them. Besides, Apple doesn't yet support Blu-ray on anything. dk
Indilinx Barefoot Solid State Drive (SSD) Controller Selected by Hitachi-LG Data Storage for the World's First SSD Embedded ODD
PR: Indilinx, a Korean fabless semiconductor company specialized in high performance SSD controllers for retail, industrial, military, enterprise, and OEM market, has announced that world renowned Indilinx's Barefoot SSD controller was selected by Hitachi-LG Data Storage (HLDS), the number one leader and technology innovator in Optical Disc Drive (ODD), as the preferred SSD controller solution choice for the world's first SSD embedded ODD - HyDrive. Unlike other SSD controller solutions, Indilinx's Barefoot SSD controller delivers exceptional performance, power saving, compatibility, and reliability that has been proven in the field worldwide over multiple years. Computers with SSD offer unmatched performance compared to Hard Disk Drives (HDDs) delivering the best return on investment from the user experience.
HyDrive, the world's first SSD embedded ODD from HLDS, offers total storage solution for PCs that differentiates from other branded ODDs by combining three storage device solutions as in one package: HDDs, SSDs, and ODDs. HyDrive is offered as drop-in solution in standard ODD form factor without any need for an additional space on the motherboard and/or modification of the computer system architecture. The end users can use HyDrive as in any combination of ODD, storage, and caching. Some of the potential uses can be in All-in-one PCs, Netbooks, Gaming Consoles, Home Theatre PCs (HTPC) or Media Center, and Ultra Mobile computing devices with limited available bays. The total cost of ownership is lowered through the use of HyDrive in these devices since the users do not need to buy an external ODD as an option, and the users have an option to view disc based movies while offering high performance storage solution simultaneously. In addition to this, HyDrive offers seamless movie playback by offering as a caching device while playing scratched optical disc based movies.
"HLDS has been the global leader and technology innovator in ODD market. With the introduction of HyDrive with Indilinx Barefoot SSD controller solution, we are demonstrating once again that HLDS is the leader in ODD market," said Luke Choi, HyDrive Team Leader, Business Strategy Department of HLDS. "HyDrive will offer all the benefits of ODD + SSD by offering in same ODD form factor. This will enable PCs with small form factors such as tablets, and mobile devices to use its limited space to incorporate all the benefits of ODD, HDD, and SSD into just ODD form factor while delivering the best performance boost and lowest power consumption in the minimal space of system availability."
"We are very pleased to announce that Indilinx Barefoot SSD controller solution is selected as the preferred choice for HLDS HyDrive solution, and we are honored to work with HLDS that is the world leader and technology innovator company in ODD market," said Bumsoo Kim, Chairman and Chief Executive Officer of Indilinx. "This announcement demonstrates the maturity of our Barefoot SSD controller solution that has been proven in the field worldwide over many years with unmatched performance and reliability compared to other branded SSD controllers. In addition, this is a major event for Indilinx in which Barefoot SSD controller is not just used in the SSD products but an innovative way of thinking such as combining ODD and SSD as a one package that offers all the benefits of both. This opportunity will present to the end users that the performance increase factor for PCs are not just dependent on CPUs, memories, and GPUs but SSDs are also one of the beneficial factors."
HLDS is showcasing HyDrive products at COMPUTEX 2010 in Taipei, Taiwan from June 1-5, 2010. The availability of HyDrive products to the customers is stated to be in August 2010.
Indilinx offers two SSD controller solutions: Barefoot for high performance and Amigos for low cost solution. Both SSD controllers are in mass production with worldwide field proven quality.
Link: Indilinx
Enterprise Desktop Alliance Conducts Survey of Laptop/Desktop Market
PR: The Enterprise Desktop Alliance has opened a new survey to query IT administrators about whether they have non-Windows systems in their organizations, and if so, how many. The results of the survey will provide a refinement to the Enterprise Desktop Alliance's developing portrait of the distribution and management of personal computing devices in the enterprise.
IT administrators are encouraged to contribute to the survey, which will be online until June 21, 2010. To participate, click on the link entitled Enterprise Desktop Market Survey below. Participants who complete the survey will qualify to win a $50 Amazon Gift Certificate which will be given to one of each 100 respondents.
The survey will provide baseline data about decisions large organizations are making about delivering computing services to employees, either through physical desktops and laptops, virtual desktops, or handheld and portable computing devices. Based on the data collected from the survey, IT administrators and software developers will have more information as they make decisions about platform support.
The Enterprise Desktop Alliance has conducted a series of surveys to help identify the priorities that IT managers have when dealing with cross-platform desktop environments. The results of the prior surveys are available in the Resource Center at the Alliance web site.
Link: Enterprise Desktop Market Survey
Bargain 'Books
For deals on current and discontinued 'Books, see our 13" MacBook and MacBook Pro, MacBook Air, 13" MacBook Pro, 15" MacBook Pro, 17" MacBook Pro, 12" PowerBook G4, 15" PowerBook G4, 17" PowerBook G4, titanium PowerBook G4, iBook G4, PowerBook G3, and iBook G3 deals.
We also track iPad, iPhone, iPod touch, iPod classic, iPod nano, and iPod shuffle deals.
Join us on Facebook, follow us on Twitter or Google+, or subscribe to our RSS news feed
Links for the Day
Mac of the Day: PowerBook 2400c, introduced 1997.05.08. This small-footprint PowerBook was created by IBM for the Japanese market.
Recent Content
Follow Low End Mac on Twitter
Join Low End Mac on Facebook
Favorite Sites
MacSurfer
Cult of Mac
Shrine of Apple
MacInTouch
MyAppleMenu
InfoMac
The Mac Observer
Accelerate Your Mac
RetroMacCast
The Vintage Mac Museum
Deal Brothers
DealMac
Mac2Sell
Mac Driver Museum
JAG's House
System 6 Heaven
System 7 Today
the pickle's Low-End Mac FAQ
Affiliates
Amazon.com
The iTunes Store
PC Connection Express
Macgo Blu-ray Player
Parallels Desktop for Mac
eBay

Advertise