Modbook 'Best of Show', MacBook a Winner, World's Fastest Notebook Drive, and More
This Week's Mac Notebook News
Compiled by Charles Moore and edited by Dan Knight - 2007.01.19
This Week's MacBook, PowerBook, and iBook News
All prices are in US dollars unless otherwise noted.
General Apple and Mac desktop news is covered in The Mac News Review.
News & Opinion
Reviews
Apple Updates
Tech Trends
Products and Services
News & Opinion
Modbook Tablet Wins Macworld Best of Show
PR: Highlighting the stage presentation of the Best of Show Awards at the Macworld Conference and Expo, strategic partners Other World Computing and Axiotron, Inc. were awarded Best of Show for the Modbook, the first ever Mac OS X tablet computer solution.
The Best of Show award for the Modbook was accepted by Lawrence O'Connor, CEO of Other World Computing, and Andreas Haas, President of Axiotron. The Best of Show award for the revolutionary Modbook solution from Axiotron and Other World Computing was presented by Macworld Editorial Director Jason Snell and News Director Jim Dalrymple.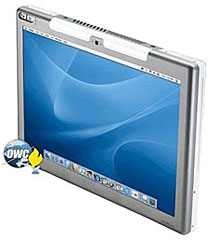 The Axiotron/OWC Modbook solution is an after-market hardware modification solution of the Apple MacBook notebook computer, adding true pen input, a new 13.3" wide screen LCD and an optional Global Positioning System in a tough, satin chrome plated magnesium top shell, while keeping all the powerful features of the MacBook base system. With the award winning Mac OS X and its built-in Inkwell handwriting recognition, up to 2.0 GHz Intel Core 2 Duo processor, the integrated iSight™ camera and the CD/DVD combo drive or optional DVD SuperDrive, the slate-style Modbook is the ultimate companion for applications and situations where a keyboard only gets in the way.
Other winners at the Macworld awards ceremony include Adobe, Apple, Aspyr Media, Chestnut Hill Sound, IntelliScanner, Parallels, and NEC, before the event concluded with the Best of Show honors for Other World Computing and Axiotron for the Modbook solution.
On Tuesday, the public unveiling of the Modbook solution drew a crowd of hundreds completely encircling the Other World Computing display booth. It is believed to be the largest Macworld exhibitor draw for a non-Apple, Inc. announcement.
The Axiotron/OWC Modbook solution is immediately available for pre-orders through an exclusive strategic-partnership arrangement between Axiotron and Other World Computing - all through http://www.macsales.com/modbook.
Axiotron engineers and OWC product specialists will be displaying the Axiotron Modbook solution for hands-on trials at the Other World Computing booth #S2218 throughout the Macworld Conference & Expo. During Macworld and until January 31st, Other World Computing is offering the complete Modbook solution base configuration plus the built-in Axiotron GPS Module at a Special Introductory Pre-Reserve Price of $2,199.
Innovatronix announces the launching of Tronix SnapPower Portable Power Supply For Laptops And Printers
Link: Modbook
iTablet Meets Modbook
Macmod's Anthony King reports:
"Just a few days before MacMod's Senior Staff headed over to the 2007 Macworld Expo, Other World Computing announced the Modbook. This was something we had to see for ourselves! When we went over to take a gander, we were pleased that we weren't the only ones in awe over the Axiotron Modbook. This could mean that the market is ready for a Mac-based tablet laptop! Apple must be kicking themselves right now. Let's take a look at the Modbook a little closer and see how it compares to its bigger brother, the iTablet."
Link: iTablet Meets Modbook
Reviews
Apple's Entry-level Laptop a Winner
PC World's Harry McCracken reports:
"With its new MacBook, Apple has filled out its Intel-based portable line with an entry-level model. But this mobile Macintosh packs so many clever, practical features into its compact case that using it never feels like a compromise.
"At 32.8cm x 22.7cm x 2.75cm, the 2.36kg system is trim enough to be travel-friendly, yet it packs a 13.3-inch wide-screen display. The screen is Apple's first with a glossy surface.... A startlingly high percentage of the pricier MacBook Pro line's features have trickled down here. Even the basic MacBook sports an Intel Core Duo CPU running at 1.83 GHz, an integrated iSight Webcam, Front Row media software and a tiny remote to control it, optical audio input and output, and 802.11g and gigabit Ethernet networking...."
Link: Apple's Entry-level Laptop Is a Winner
Apple Updates
Mac OS X: Firmware Updates for Intel-based Macs
An updated Apple Knowledge Base article says:
"Firmware updates for Intel-based Macintosh computers may not be displayed automatically using Software Update. If they do not appear in Software Update, they must be manually downloaded from the Apple Support Downloads site.
"If you are unsure whether your computer needs a particular update, simply download and open the update installer. The installer will alert you if the firmware update is already installed or not needed."
Link: Mac OS X: Firmware Updates for Intel-based Macs
Tech Trends
Dell Launches It's First Ruggedized Notebook
PR: Dell has introduced its Latitude ATG, a new semi-rugged notebook designed for people working in tough environments. New features protect the customers' system and data. The Latitude ATG has a screen that is 1-1/2 times brighter than other corporate notebooks. (Photo: Business Wire)
The Latitude ATG meets military standards for vibration, humidity and altitude1 and is designed to protect against accidental bumps, moisture, and other elements that customers encounter working in the field.
The new system features a shock-mounted hard drive, spill-resistant keyboard, port covers and high durability paint and is designed to withstand challenging conditions commonly associated with military environments, construction sites and first responders, such as police and emergency organizations.
In response to direct customer feedback, the Latitude ATG includes a 14.1-inch display with ambient light sensor (ALS), glass overlay and anti-reflective coating. The LCD display is 11Ú2 times brighter than most mainstream corporate notebooks for better viewing in sunlight. Customers working in the military, emergency preparedness, construction and even the golf industry say seeing the display in full daylight is an important factor in their notebook computing experience.
"The Latitude ATG is a prime example of Dell's commitment to customer-driven innovation," said Jeff Clarke, senior vice president Dell Product Group. "We have heard from customers loud and clear that a tougher, highly protective notebook with a screen that is easy to see outdoors is necessary in many lines of work. We're glad that we could meet that customer request with a product distinguished by industry-leading features."
TaylorMade Golf, an existing Dell customer, has chosen the Latitude ATG to help custom-fit golfers with clubs using its exclusive motion analysis technology (MATT-i). With notebook computers, TaylorMade can analyze golf swings outdoors calculating the angle and speed they produce. TaylorMade evaluated notebooks from several manufacturers and chose the Latitude ATG because of its bright screen and rugged design.
"It seemed as if Dell had TaylorMade specifically in mind when developing this product," said Ted Jaskowiak, R&D IT account manager at TaylorMade Golf. "The screen's brightness is exactly what we need to use in our outdoor facilities and the added rugged features will help us protect our equipment from everyday bumps and bruises."
As a photographer with a Navy reserve unit in Iraq, F.T. Eyre used an older generation Dell Latitude notebook to organize thousands of digital photos. He says with extremely sandy and hot conditions, his notebook constantly tested the limits. The new Latitude ATG is designed to withstand the extreme conditions Eyre and other military personnel face on a daily basis.
"Given the fact that the older Latitude C610 performed better than any of the other notebooks on assignment, I can only imagine how well the new Dell Latitude ATG will perform in similar conditions," Eyre said. "I'm excited to use the Latitude ATG in my next assignment wherever it takes me."
Product Features
Priced from $2,499, the Latitude ATG 620 features:
500 NIT LCD with non-reflective coating
14.1-inch WXGA screen (1,280 x 800 resolution)
Supports up to 4GB3 DDR2 SDRAM
ATG task lights for keyboard lighting
Shock mounted-hard drive and LCD
Intel™ Core 2 Duo processors
Microsoft® Windows™ Vista Capable4
Three-year Next Business Day On-Site Service5 standard
CompleteCare™ Accidental Damage Service6 optional
The Latitude ATG provides hard drive image compatibility with the Latitude D620. It is also compatible with all D-family wireless and security products as well as accessories like docks, port replicators, and power adapters. Latitude ATG is designed with the environment in mind including a lead-free7 motherboard and chassis. It is RoHS8 compliant and designed to be energy efficient in multiple customer environments. For more information on Latitude ATG visit:
Link: Latitude ATG
Products and Services
SnapPower, the Next Best Thing to a Wall Outlet
PR: If you're an event photographer and keeping your laptop and printer's batteries charged can be a challenge, look no further, here's the one-stop solution to having the power you need anytime, anywhere with Tronix SnapPower.
Share photos in an instant, Tronix SnapPower is designed to work with Sony's SnapLab UP-CR10L that supplies power to print high volume of 450 pictures for 4x6 sizes and 350 pictures for every 5x7 size. It is a real advantage to event photographers in covering important events such as proms, weddings, sports and concerts etc.
You may certainly want to have it on whatever, whenever and wherever you may wish to print your pictures in snap.
Go get your laptops and printers have its perfect double, the Tronix SnapPower is the portable power source you've been waiting for. It is now available for worldwide shipping for only $390 plus $60 flat rate shipping cost. (Available in two models: 120Vdc and 230Vdc).
The Innovatronix SnapPower, in both 120VDC and 230VDC versions, will ship in October 2006 for $390 + $60 shipping, direct from the company in the Philippines.
Link: SnapPower
Seagate Introduces World's Fastest 2.5" Hard Drive
PR: Seagate Technology has introduced the world's fastest hard drive - the Savvio 15K drive, the new 15K-rpm addition to the Savvio family of 2.5-inch Serial Attached SCSI (SAS) enterprise drive solutions. The Savvio 15K drive provides the highest hard drive performance density and reliability while ensuring ultra-low power consumption, reducing thermal loads in data centers. With its combination of benefits that were created for modern storage systems, the Savvio 15K drive is well-suited for a broad range of mainstream enterprise applications in both large enterprise data centers and small, medium businesses, that lowers overall system Total Cost of Ownership (TCO).
"Seagate is committed to delivering solutions that will meet the needs of today's demanding IT environment, and no product demonstrates this better than the Savvio 15K drive," said Sherman Black, senior vice president and general manager, Seagate Enterprise Compute Business. "The development of the 2.5-inch Enterprise form factor represented a new way of thinking. Now, with the added number of performance and capacity choices offered, many of the leading enterprise system makers are transitioning from 3.5-inch to 2.5-inch form factor enterprise solutions."
The Savvio 15K drive was recently validated as the world's fastest drive within the latest HP ProLiant family of servers. HP ProLiant servers with 15K Savvio drives are shipping in volume and are leading the transition of small form factor drives in mainstream enterprise environments.
"The Seagate Savvio 15K drives running in HP ProLiant servers and storage devices delivered record-breaking benchmarks at nearly 50 percent lower cost-per-transaction," said Paul Perez, vice president, Storage, Networks and Infrastructure, HP. "The performance, reliability and power consumption benefits of deploying 2.5-inch Small Form Factor 15K drives are clear, and HP continues to drive the industry transition to them as the principal storage platform inside the HP ProLiant and BladeSystem solutions."
The Savvio 15K drive's unique combination of features including its 70 percent smaller size, lower power consumption (30 percent lower than any other 15K drive), industry's fastest seek time and the industry's highest reliability, make it the ideal storage solution for all server platforms. Designed from the ground up to meet the demanding requirements of enterprise applications, Savvio achieves the highest reliability rating ever with a 1.6 million hour Mean Time Between Failure (MTBF).
The Industry Shift to the 2.5-inch Enterprise Standard
The move to small form factor enterprise disk drives was driven by data center requirements for greater storage performance density while focusing on lowering power consumption and cooling costs. Seagate pioneered the 2.5-inch platform as the solution to these challenges and formally announced this move in May of 2003 with the support of HP, IBM, Intel, Microsoft and others. The inclusion of the 15K-rpm model to the Savvio family of drives marks it as a mainstream offering.
"The trend in IT is to scale down the physical size of components while scaling up capacity and performance," said John Rydning, IDC's research manager for hard disk drives. "Seagate's first generation 2.5-inch 15K-rpm HDD is fitting with this trend, delivering fast I/O performance in a small package to meet the needs of demanding server applications."
Savvio Drive Technical Details
The 15K-rpm Savvio disc drive offers a number of advantages over 15K-rpm 3.5-inch drives including: size (70% smaller), weight (1.12 lbs less), power (30% lower), drive seek time (12% faster than any other drive) and reliability (1.6 million hour MTBF). These advantages translate into system level benefits never before seen in a 15K-rpm drive.
The Savvio 15K drive was built to accommodate a wide range of applications, from grueling, rapid-fire data access brought forth in transactional environments to everyday e-mail/collaboration. The combination of high performance and reliability enables the use of 20% fewer Savvio 15K drives within a system to gain the necessary transaction performance, which ultimately means lower TCO.
Savvio Drive Availability
The Seagate Savvio 10K and 15K families of drives are shipping today. Savvio 10K.2 and 15K drives are currently available through several leading OEM customers. The Savvio 10K.2 drive will launch in the Distribution Channel this quarter as a replacement product for Savvio 10K.1 and as a transition path from Cheetah 10K.7 drives. The Savvio 10K.2 drive provides the highest capacity choices to the family with up to 146GB, while the Savvio 15K.1 drive is ideal for the most transaction-intensive applications.
HP is first to qualify and ship systems with Savvio 15K drives. Savvio 15K drives ship in the SAS interface at 36GB and 73GB capacities, the ideal sizes to meet the IOPS-intensive performance requirements of enterprise server environments.
Editor's note: Because of its cost, Savvio probably isn't going to make its way into many notebooks. dk
Link: Seagate
Verbatim Launches Ultra-Compact 12 GB Store 'n' Go USB Drive
PR: Verbatim Corporation has unveiled its newest Store 'n' Go USB Drive based on 1" hard drive technology with up to 12 GB of storage in a unit slightly larger than a standard USB flash drive. Designed to enable users to carry volumes of data, video and audio in a single portable unit; the new 12 GB Store 'n' Go USB will have a projected street price of $179. Verbatim will show the ultra-slim device for the first time this week at its CES Booth in the South Hall, #4/36249.
The new Store 'n' Go Drive makes it convenient for users to keep vital information such as emails, photos, personal calendars, presentations and video files available at all times. The sleek USB storage device comes pre-loaded with Mobile Launchpad, a utility for downloading applications that can be run directly from the Verbatim USB Drive. Mobile Launchpad also allows users to have complete access to personal files and data without loading the content on a guest system. For quick and immediate access, the drives can also be used in the familiar drag 'n' drop mode.
Providing a true portable working environment with a flip-out USB connector and USB extension cable, the unit is highly compact and delivers high performance, low power consumption and superior reliability. With the device, users can carry and access up to 12 hours of MPEG-1 video, about 6,000 300-DPI photos, 6 hours of DVD-quality video or tens of thousands of personal or business documents.
The tremendous capacity, combined with Mobile Launchpad, makes it convenient for users to store mobile applications on the Store 'n' Go USB Drive, ready to use wherever they go. Many applications specifically designed to enhance the portable experience are available for download online. Programs include mobile photo databases, ID/Password management tools, and applications which use the drive to log in from any computer and make Internet phone calls or have online chats.
"Whether it's for business, school or entertainment, people want to have their content and data with them without carrying their computer everywhere they go," said Ron Hanafin, Verbatim Product Marketing Manager. "Our new Store 'n' Go Drive is a convenient solution for creating this portable working environment, where people can have access to applications and information with ease and style."
A stand-out in both design innovation and durability, the hot-pluggable 12 GB Store 'n' Go Drive has a polymer enclosure to provide shock resistance to the hard disc inside. With gently rounded corners, the slender case fits comfortably in the hand. When moving between different locations, the drive can be placed in its designer travel wallet and slipped into your pocket, purse, attaché, or backpack.
Using the rugged swing-out USB connector, the hot-pluggable Store 'n' Go Drives can be easily moved from computer to computer without having to shut down or reboot the system. For added convenience and usage flexibility, Verbatim also provides a USB extension cable to make it easy to connect to a personal or guest computer. When connected to a computer, the blue center area of the drive lights up, showing the drive is connected and powered. The area blinks when information is being transferred between drive and computer.
The drive's compact size makes it easy for students to carry research and class project files from school to home. Consumers can plug the device into a friend's or family member's computer and instantly share slideshows of family photos, vacation videos and personal MP3 selections. Busy executives who are constantly on-the-go can use a Store 'n' Go USB Drive to keep the latest company presentations, customer and partner contact information, databases, spreadsheets and key business files with them at all times, without having to carry their notebook systems. And, with the convenience of being able to carry diagnostic/repair, configuration and application files in their pocket, Verbatim's Store 'n' Go USB Drive is also a compelling storage solution for IT personnel and service technicians.
Weighing just 1 oz., the Verbatim Store 'n' Go USB Drive measures a mere 1.38" x 0.38" x 2.8". The drive is fully compatible with Windows 98SE, ME, 2000, XP, CE 3.0 and higher; Mac OS 9, X, and higher; Linux 2.40 and higher systems. Mobile Launchpad is compatible with 98SE, ME, 2000, XP and higher systems.
The Verbatim 12 GB Store 'n' Go USB Drives will be available this month through authorized Verbatim retailers with an approximate street price of $179. The complete package includes a travel wallet, USB extension cable and a quick start user's guide.
Link: Store 'n' Go USB Drives
Bargain 'Books
Bargain 'Books are used unless otherwise indicated. New and refurbished units have a one-year Apple warranty and are eligible for AppleCare.
There are two different versions of WallStreet running at 233 MHz, the cacheless MainStreet version and the later Series II with a level 2 cache. It's not always possible to determine from the vendor's listing which is being offered, so we've included links within this paragraph to the two models. The same goes for the PowerBook G4/667 (VGA) and G4/667 (DVI), the titanium vs. aluminum 15" PowerBook G4 at 1 GHz, and 1.25 GHz to 1.5 GHz 15" PowerBooks.
PowerBook, iBook, and MacBook profiles linked in our Portable Mac Index.
New this week: Core 2 Duo MacBook Pro and MacBooks; price drops on some Core Duo MacBooks
refurb 1.83 GHz Core Duo MacBook, white, 512/60/Combo, $799
refurb 2.0 GHz Core Duo MacBook, white, 512/60/SD, $899
refurb 2.0 GHz Core Duo MacBook, white, 1 GB/80/SD, $949
refurb 2.0 GHz Core Duo MacBook, black, 1 GB/80/SD, $999
refurb 2.0 GHz Core 2 MacBook, white, 1 GB/80/SD, $1,099
refurb 2.0 GHz Core 2 MacBook, black, 1 GB/80/SD, $1,299
refurb 15" 1.83 GHz Core Duo MacBook Pro, 512/80/SD, $1,299
refurb 15" 2.0 GHz Core Duo MacBook Pro, 512/80/SD, $1,349
refurb 15" 2.33 GHz Core 2 MacBook Pro, 2 GB/120/SD, $1,999
refurb 15" 2.16 GHz Core Duo MacBook Pro, 1 GB/100/SD, , $1,499
refurb 17" 2.16 GHz Core Duo MacBook Pro, 1 GB/120/SD, $1,999
refurb 17" PowerBook G4/1.67 GHz, 512/100/SD, $1,599
12" PowerBook G4/1 GHz, 256/40/Combo, BT, $649
15" PowerBook G4/1.25 GHz, 512/80/SD, APX, BT, $899
TechRestore is offering a $25 discount to 'Book Review readers off any PowerBook or iBook in stock. Just enter the code CWM during checkout when ordering online. The coupon code is valid from now through 2007.12.31.
12" iBook G3/700, 256/20/Combo, $429.99
12" iBook G3/800, 256/30/CD, $399.99
12" iBook G3/800, 256/20/Combo, $429.99
14" iBook G3/700, 256/30/Combo, $499.99
PowerBook Pismo G3/400, 256/20 (new)/DVD, $379.95
PowerBook Pismo G3/500, 256/20 (new)/DVD, $429.95
12" iBook G3/600, 128/20/CD, $239.95
12" iBook G3/700, 256/20/CD, $269.95
12" iBook G3/800, 256/30/CD, $299.95
12" iBook G3/700, 256/20/Combo, $379.95
12" iBook G4/1 GHz, 512/30/CD, Minor Case Defect, $379.95
12" iBook G4/1 GHz with 512/30/CD, $429.95
12" iBook G4/1 GHz with 512/30/Combo, 12-inch LCD $529.95
12" iBook G4/1.2 GHz with 512/30/CD, $479.95
12" iBook G4/1.2 GHz with 512/30/Combo, $579.95
12" iBook G4/1.33 GHz with 512/40/Combo, APX, BT, $629.95
15" PowerBook G4/400, 256/10/DVD, $499.95
12" PowerBook G4/867, 256/40/Combo, Mac OS X, $599.99
12" iBook G3 500, 256/10/CD, $265
12" iBook G3 600, 256/20/Combo, $305
12" iBook G3 700, 256/20/Combo, $345
12" iBook G3 800, 256/30/CD, $379
14" iBook G3 700, 256/20/Combo, $375
14" iBook G3 900, 256/40/Combo, $475
15" PowerBook G4/667, 256/30/Combo, $625
15" PowerBook G4/1 GHz, 256/60/SD, Broken Left Hinge, $749
Add AirPort for $75
$50 rebate on Power Max MP3 Sunglasses with the purchase of any new or refurbished Mac.
refurb 14" iBook G4/1 GHz, 256/40/Combo, OS X 10.4, $879
refurb 14" iBook G4/1.33 GHz, 256/60/Combo, $949
refurb 15" PowerBook G4/1.5 GHz, 512/80/Combo, $1,149
refurb 15" PowerBook G4/1.67 GHz, 512/80/SD, $1,349
refurb 17" PowerBook G4/1.67 GHz, 512/100/SD, $1,649
Apple Emate 300 PDA - Touch Screen in great working shape - $59.99
Computer Geeks
12" iBook G4/1 GHz, 512/30/CD, AirPort, OS X, $519.99
12" iBook G4/1 GHz, 512/30/CD, AirPort, OS X, $529.99
12" iBook G4/1.2 GHz, 512/30/CD, AirPort, OS X, $579.99
12" iBook G4/1.33 GHz, 512/40/Combo, AirPort, OS X, $749.99
12" iBook G3/500, 128/10/CD, OS X, $209
12" iBook G3/500, 128/30/CD, OS X, $279
12" iBook G3/600, 128/30/CD, OS X, $329
For deals on current and discontinued 'Books, see our 13" MacBook and MacBook Pro, MacBook Air, 13" MacBook Pro, 15" MacBook Pro, 17" MacBook Pro, 12" PowerBook G4, 15" PowerBook G4, 17" PowerBook G4, titanium PowerBook G4, iBook G4, PowerBook G3, and iBook G3 deals.
We also track iPad, iPhone, iPod touch, iPod classic, iPod nano, and iPod shuffle deals.
Join us on Facebook, follow us on Twitter or Google+, or subscribe to our RSS news feed
Links for the Day
Mac of the Day: Performa 520, introduced 1993.06.28. The Color Classic grew up with a 15" screen and CD-ROM.
Recent Content
Follow Low End Mac on Twitter
Join Low End Mac on Facebook
Favorite Sites
MacSurfer
Cult of Mac
Shrine of Apple
MacInTouch
MyAppleMenu
InfoMac
The Mac Observer
Accelerate Your Mac
RetroMacCast
The Vintage Mac Museum
Deal Brothers
DealMac
Mac2Sell
Mac Driver Museum
JAG's House
System 6 Heaven
System 7 Today
the pickle's Low-End Mac FAQ
Affiliates
Amazon.com
The iTunes Store
PC Connection Express
Macgo Blu-ray Player
Parallels Desktop for Mac
eBay

Advertise