Modbook Steals Show, 4.5 Million MacBooks in 2007, Wireless Mouse for Women, and More
This Week's Mac Notebook News
Compiled by Charles Moore and edited by Dan Knight - 2007.01.12
This Week's MacBook, PowerBook, and iBook News
All prices are in US dollars unless otherwise noted.
General Apple and Mac desktop news is covered in The Mac News Review.
News & Opinion
Tech Trends
Apple Updates
Products and Services
Software
News & Opinion
Modbook 'Best Product at Macworld'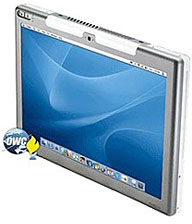 Ars Technica's Charles Jade reports:
"It's a slate.
"If that's a non-starter in a tablet form, then too bad for you, since you'll be missing out on the best product at Macworld that is actually a Mac. The engineers Axiotron, along with their distribution partners at Other World Computing, are bringing out the iTablet from Apple that will never be because Steve can't stop punishing the Newton for John Sculley's sins."
Quanta to Produce 4.5 Million MacBooks for Apple
DigiTimes' Esther Lam reports:
"Apple Computer recently added Quanta Computer to the list of MacBook OEM suppliers, with orders placed at Quanta reaching 4.5 million units in 2007, according to a Chinese-language Apple Daily report. Previously, the list reportedly included Foxconn Electronics (the registered trade name of Hon Hai Precision Industry) and Asustek Computer."
Editor's note: Quanta has been Apple's main PowerBook and MacBook Pro subcontractor since 1998. Presumably, MacBook demand has reached a point where Foxconn and Asustek can't keep up. cwm
Editor's note: Until 2005, Apple never sold this many computers in a year, let alone notebooks. dk
Link: Quanta Said to Produce 4.5 Million MacBooks for Apple - Report (subscription required)
LED Backlighting: Thinner, Lighter Laptops with Longer Battery Life
CNET blogger Matthew Elliott says:
"From the Tech Report yesterday comes the news that Apple and HP will release laptops in Q2 that will feature new LCD screen technology. Instead of the regular fluorescent lamps that serve as backlights for your typical LCD screen, the new displays will use LEDs. The Tech Report's story mentions that the effect will be a brighter image with better contrast. What it doesn't mention is that LED-backlit displays will allow for thinner laptop designs and longer battery life.
"Apple and HP may be readying their designs, but Sony is already selling such a laptop. The Sony VAIO VGN-TXN15P/W is the first laptop we've seen with an LED-backlit display (we know of no others)...."
Link: LED Laptops: Thinner, Lighter, Longer, Better
How to Watch a DVD on a 'Book on a Nuclear Sub
bookofjoe reports:
"Just in earlier today from a member of my local Mac users group, the following:
"Invert Laptop Screen?
"A Navy friend of mine recently posed this query . . . Is there a way to get the screen on an Apple laptop to display upside-down? Apparently when underway on a submarine, it's common practice to strap a DVD player to the bunk above for easier watching. Most portable DVD players will flip the screen to accommodate such usage.
"I don't recall ever seeing anything like that in the OS, and some googling didn't turn up any third-party programs. Anybody have any thoughts?
"A few hours later this appeared, from another member:
"Invert Laptop Screen?
"Googling for 'Mac screen rotate' returns the following hit:
"'There's a somewhat hidden feature in Mac OS X 10.4 that allows you to rotate any monitor in increments of 90 degrees.'"
Link: How to Watch a DVD on a Mac Laptop on a Nuclear Submarine
Spinning a MacBook Pro
MacMerc's Rick says:
"Kids these days!!
"After first setting a DVD, a magazine, a board game and a puzzle set spinning on the end of his middle finger, the subject of this YouTube video grabs a 15" MacBook Pro and gives its sudden motion sensor a workout."
Link: Video: Spinning a MacBook Pro
MacBook Pro Breaks Fall, Bends
Ryan of Kalispell, Montana says:
"This is a sad story. I had my laptop in one of those notebook backpacks, slipped on some ice and landed flat on my back. The MacBookPro broke my fall, literally. Just wanted to get some sympathy from some fellow geeks! If you are having a shitty day, look at these pictures."
Apple gave Ryan a $629 repair estimate, assuming the SuperDrive wasn't damaged. Ouch!
Link: Dead Mac Book Pro
SanDisk's Flash Hard Drive Replacement
The Register's Tony Smith reports:
"SanDisk has begun offering notebook manufacturers a 1.8in, 32 GB Flash-based solid-state drive, the company announced today. It pitched the part as an energy efficient alternative to traditional hard drives for machines that will run Windows Vista.
"It's faster too, SanDisk said. The SanDisk Ultra ATA 5000 SSD will boot Microsoft's new operating system in 35s - 20s faster than a HDD, the company claimed...
"The SSD consumes up to 0.4W of power, compared to 1W for a hard drive, SanDisk added."
Link: SanDisk Spins Flash-fitted Hard Drive Replacement
SanDisk Launches 32 GB Flash Drive for Notebook Computers
PR: SanDisk Corporation has introduced a 32 gigabyte (GB)*, 1.8" solid state drive (SSD) as a drop-in replacement for the standard mechanical hard disk drive. Initially aimed at enterprise users as the first step toward mass consumer adoption, SanDisk SSD offers field-proven durability to keep mobile PCs working in the toughest of conditions and improves the overall user experience.
Previously, large capacity flash-based drives had been used primarily by the military, aerospace and telecom industries, which demanded high performance and reliability under challenging environmental conditions. But now the declining cost of NAND flash memory has made SSD a viable and economically attractive alternative to existing technologies in a wider variety of applications, including mobile PCs aimed at enterprise and consumer users.
"This is an important milestone for SanDisk in our relentless quest to create new large-scale markets for flash storage solutions for consumers in the personal computing space," said Eli Harari, SanDisk CEO. "The 32-gigabyte SSD that we are announcing today represents the fifth generation of flash-based solid state drives developed by msystems, which we recently acquired. The 32 GB SSD has been made commercially viable through SanDisk's technology leadership coupled with msystems' tremendous experience and IP, which are captured in the high-performance, low-cost system controllers that distinguish this product.
"Once we begin shipping the 32 GB SSD for notebook PCs, we expect to see its increasing adoption in the coming years as we continue to reduce the cost of flash memory. When these SSD devices become more affordable, we expect that their superior features over rotating disk drives will create a new consumer category for our retail sales channels worldwide," said Harari. It is projected that inclusion of the SanDisk 32 GB SSD in a notebook PC could increase the end-user price by around $600 in the first half of 2007, he added.
Using NAND flash enhanced by SanDisk's patented TrueFFS flash management technology, SanDisk SSD delivers two million hours mean time between failures (MTBF).i With no moving parts, it does not need to spin into action or seek files in the way that conventional hard disk drives do. These characteristics, combined with SanDisk's advanced flash management technology, make it possible for SanDisk SSD to deliver excellent performance compared with hard disk drives and competing solid state drives.
The SanDisk SSD announced today achieves a sustained read rate of 62 megabytes (MB)ii per second and a random read rate of 7,000 inputs/outputs per second (IOPS) for a 512-byte transferiii - more than 100 times faster than most hard disk drives. Taking advantage of this performance, a laptop PC equipped with SanDisk SSD can boot Microsoft Windows® Vista™ Enterprise in as little as 35 seconds.iv It also can achieve an average file access rate of 0.12 milliseconds, compared with 55 seconds and 19 milliseconds, respectively, for a laptop PC with a hard disk drive.v
Another advantage of SanDisk SSD is its extremely low power consumption rate compared to the hard disk drive: 0.4 watt during active operation versus 1.0 watt.vi This is particularly important to extend the battery life for the benefit of enterprise road warriors. These results enable new operating systems, such as Microsoft® Vista™, to provide mobile PC users with a superior overall system experience.
"There has been a huge increase in demand for NAND flash memory over the past few years from consumer devices such as digital cameras, MP3 players and mobile phones," said Robert Gray, analyst with IDC, based in Framingham, Massachusetts. "There are dramatically higher bit capacities and lower prices, so the technology is now well positioned to be the foundation for new generations of potentially disruptive solid state drives. Enterprise mobile PC users will find the high performance and low power consumption especially attractive," he added.
SanDisk SSD 1.8" 32 GB solid state drive is now available for original equipment manufacturers. It is the first in a range of solutions that SanDisk will be offering to bring flash to the mainstream mobile PC market.
Amos Marom, vice president and general manager of the embedded division at SanDisk, is scheduled to deliver a presentation at Storage Visions 2007 on Jan. 7 at 11:45 a.m. at the Flamingo Hotel in Las Vegas. There, he will explain the benefits of SanDisk SSD for the notebook PC market. Furthermore, a demo of SanDisk SSD can be seen during the Consumer Electronics Show at SanDisk Booth 36206, South Hall 4 in the Las Vegas Convention Center. More detailed information on SanDisk SSD is available online.
SanDisk is the original inventor of flash storage cards and is the world's largest supplier of flash data storage card products using its patented, high-density flash memory and controller technology. SanDisk is headquartered in Milpitas, California, and has operations worldwide, with more than half its sales outside the U.S.
* a 1 megabyte (MB) = 1 million bytes; 1 gigabyte (GB) = 1 billion bytes.
MTBF is calculated based on reliability demonstration test (RDT) per Weibull method
H2BENCH 3.6: average access time = average seek time + average latency time
IOMETER 2003.12.16
Stopwatch test performed internally at SanDisk; notebook computer (Intel Core Duo Processor ULV U2500, 1.20 GHz, 533 MHz, 1.0 GB RAM DDR2-533 SDRAM); Microsoft Windows Vista
H2BENCH 3.6: average access time = average seek time + average latency time
MobileMark 2005; notebook computer (Intel Core Duo Processor ULV U2500), 1.20 GHz, 533 MHz, 1.0 GB, DDR2-533 SDRAM
Link: SanDisk SSD Solid State Drive
New Alliance Touts Hybrid Storage for Laptops
eWeek's Chris Preimesberger reports:
"In what could be a preview of the future of laptop computers, a group of influential IT hardware companies have banded together to communicate the benefits of hybrid hard-drive technology to computer makers and users.
"And it certainly won't hurt their bottom lines if the new computers become hot commodities."
Link: New Alliance Touts Hybrid Storage for Laptops
Hybrid Storage Alliance to Emphasize Efficiencies of Hard Drives with Flash Memory
PR: In a move to give the growing number of notebook PC users faster, more durable systems that run longer on a battery charge, Hitachi*, Samsung, Seagate Technology and Toshiba have formed the Hybrid Storage Alliance. The goals of the industry group are two-fold: (1) illustrate how flash memory/hard drive hybrid technology can extend the capabilities of today's notebook computers and (2) accelerate market adoption of the technology.
Market research firm IDC predicts hybrid hard disk drives will constitute 35% of all hard disk drives shipped with portable PCs by 2010.
Hybrid hard drive technology is the industry's answer to growing demand for notebook PCs that deliver the speed and durability of desktop PCs. Hybrid technology, which can be deployed in other mobile devices and computing systems, combines the unmatched capacity and cost-effectiveness of hard drives with the responsiveness, power-efficiency and durability of flash memory.
"The hard drive industry is continuously looking for ways to bring greater value to the systems in which our technology resides and to those who use them," said Joni Clark, chairperson, Hybrid Storage Alliance. "Adding non- volatile memory to the hard drive brings about a host of mobility benefits that increases the value users want in notebook PCs - longer battery life, faster response, greater system durability."
"NAND caching will emerge as an important technology enabler, especially to improve the performance of portable PCs running the Windows Vista OS," said John Rydning, IDC's Research Manager for hard drives. "Hybrid hard drives combine the best features of two storage technologies in a single product to deliver high capacity, responsive storage for portable PC users. Formation of the Hybrid Storage Alliance by HDD industry participants is prudent to raise awareness of hybrid HDD technology benefits."
The Power of Hybrid
Microsoft Windows Vista is the first operating system to take full advantage of the performance, power and durability benefits of hybrid technology.
"Microsoft is pleased to see the storage industry uniting to drive the adoption of hybrid hard drives," said Bill Mitchell, Corporate Vice President of Mobile and Tailored Platform Division of Microsoft. "Hybrid drives will leverage 'Windows ReadyDrive' features in Windows Vista to enable a new generation of mobile PCs that boot up and resume from hibernation faster, optimize battery life, outperform standard hard disk drives, and are more reliable and robust."
End users of notebook systems can look for the following potential benefits of hybrid hard drives:
Faster boot-up and resume - Once a notebook PC with a traditional drive is turned on, the hard drive's platters must spin up before boot- up can begin. Booting straight from a flash memory chip eliminates this delay. Likewise, hybrid drives resume operation from hibernation faster than traditional models, since frequently accessed data is stored in the NAND flash before a system goes to sleep.
Lower power consumption - Hybrid drives curtail platter spin time, which reduces power draw. This, in turn, extends battery life, especially important in notebook PCs and other mobile applications.
Higher reliability - Reducing platter spin time extends drive life.
Greater durability - Every time data is pulled from the flash memory, the system has greater shock tolerance because the drive platter isn't spinning.
From a system standpoint, there are several advantages of hybrid hard drive technology over similar approaches, including:
Ease of installation - Incorporating flash memory directly onto the hard drive greatly simplifies installation and does not require additional real estate on the host system. Furthermore, installing hybrid drives in Windows Vista systems is as simple as installing traditional drives.
Data separation/data security - Having flash on the hard drive keeps all the system information stored in one location so that security or encryption mechanisms can be employed to protect all the data centrally. Storing data on the hard drive also helps with data recovery in case of a sudden system shut-down.
Members of the Hybrid Storage Alliance will be demonstrating hybrid technology and products at StorageVisions 2007, January 6 and 7 at the Flamingo Hotel in Las Vegas.
Link: Hybrid Storage Alliance
Tech Trends
OLPC Announces First-of-Its-Kind User Interface for XO Laptop Computer
PR: One Laptop per Child (OLPC), a non-profit organization with the goal of providing laptop computers to all children in developing nations, today announced a breakthrough user interface (UI), called Sugar, for OLPC's innovative XO laptop computer. The Sugar UI, jointly developed with Red Hat and Pentagram, is the first to have been purpose-built as an educational environment for children using laptops. It is designed to support the learning experiences of elementary- and secondary-school children in poor, often rural communities by providing them with opportunities to freely explore, experiment and express themselves.
The Sugar UI promotes collaborative learning through child-to-child and child-to-teacher sharing. The realities that OLPC's XO laptops will be used by children of varying ages, nationalities, and who have little or no prior computer experience, were critical considerations when designing the UI. As a result, OLPC created Sugar to be simple and intuitive without limiting the complexity of ideas that children may explore or express.
"The desktop metaphor familiar to most laptop users today may make sense in business settings, but it's not geared for children collaborating with each other and their teachers," said Walter Bender, OLPC's president of software and content. "With Sugar, we've created something wholly new and suited to the way children understand and describe their world and relationships. Most importantly, Sugar is easy for children to learn to use, yet it's also rich and capable of fostering unbounded discovery, learning, and exploration."
Sugar is modeled after a typical, modern-day operating environment, but with key modifications:
Typical Sugar
Desktop Neighborhood
Menu bar Frame
Hierarchical file system Journal
Applications Activities
Files Objects
In Sugar, the interface hosts four discrete views: home, friends, neighborhood and activity. Each of the views relates to a particular goal of the OLPC project and enhances learning by fostering communities and social networking, and by enabling access to large repositories of knowledge such as Web sites, and school or community servers.
Surrounding any view is the "Frame", which is comparable to a menu bar on a traditional interface. The frame serves as a connecting point between activities, people, objects and applications. The left, top, and right side of the frame represent people, places and things, while the bottom part signifies anything that needs action, such as an invitation or notification. A search bar is located on the top of the frame to search for people, activities, keywords, and tags. Results can be used to send invitations to people to join an activity, group, etc. Once an invitation has been accepted, the child's XO is displayed on the frame.
Home - The "home" view is closely equivalent to a modern-day computer desktop. It serves as the starting point to explore the "mesh network" - comprising a student and all those around him or her - and personal activities. From here, children can easily manage activities and jump to other views.
Friends - In the "friends" view, children can see which of their friends are on the network and in what activities they are participating. Children can also join any of the non-private activities and send invitations to start an activity of their own.
Neighborhood - The "neighborhood" view displays everyone in the mesh network, as well as all current activities taking place. It is one of the fundamental areas for exploration and collaboration, as it enables children to freely search the network, interact with each other and engage in varying activities.
Activity - This view displays the activities in which all of the actual exploration, collaboration and creation take place. In the "activity" view, applications run full-screen to help the children focus on one specific activity at a time.
One Laptop per Child (OLPC) is a non-profit organization created by Nicholas Negroponte and other faculty members from the MIT Media Lab to design, manufacture and distribute laptop computers that are sufficiently inexpensive to provide every child in the world access to acknowledge and modern forms of education. The laptops will be sold to governments and issued to children by schools on a basis of one laptop per child. These machines will be rugged, open source, and so energy efficient that they can be powered by a child manually. Mesh networking will give many machines Internet access from one connection. The pricing goal will start near $100 and then steadily decrease.
Link: The OLPC Wiki
Apple Updates
Firmware Update Addresses Intermittent MacBook Shut Down
An updated Apple Knowledge Base article says:
"If your MacBook shuts down randomly during use, a downloadable firmware update is now available that resolves this issue.
"The MacBook SMC Firmware Update v1.1 improves the MacBook's internal monitoring system and addresses issues with unexpected shutdowns. This update is recommended for all MacBook systems, including those that received warranty repair.
"You can use the Software Update feature of System Preferences, or download the MacBook SMC Firmware Update v1.1 from Apple Software Downloads.
"Note: If your MacBook is running Mac OS X 10.4.6, you won't be able to see the SMC Update until you update to Mac OS X 10.4.8."
Link: MacBook: Shuts Down Intermittently
Products and Services
Belkin N1 Wireless ExpressCard Delivers Draft 802.11n Performance
PR: Belkin introduces the first N1 Wireless ExpressCard for notebooks, giving you yet another option for your notebook to gain access to emerging, high-speed technologies. Connecting through your notebook's ExpressCard slot, this card doubles your available bandwidth so you can run multimedia applications, such as streaming HD video and online games, as well as expand your wireless range and reliably connect to wireless hotspots.
Statistic: ABI Research reports that almost 50% of notebooks will ship with ExpressCard slots in 2007.
Provides smaller and more lightweight form factor than standard CardBus cards
Features interface speeds of up to 2.5 times faster than CardBus cards
Requires less power, which will help prolong notebook battery life
Hot-swappable feature allows you to easily swap various types of ExpressCards (i.e., FireWire, USB 2.0, etc.)
About N1 Wireless
Based on the 802.11n draft*, N1 Wireless uses Intelligent MIMO (Multiple Input Multiple Output) technology to increase speed, coverage, and reliability of wireless systems.
N1 Wireless offers a link rate of up to 300Mbps in 40MHz Channel Mode**.
Providing greater range and faster speeds, N1 Wireless offers a quick and efficient way for people to distribute video, music, photos, and files among the networked computers in their homes.
Along with the ExpressCard, the Belkin N1 Wireless line includes:
Router (F5D8231-4) - $129.99
Notebook Card (F5D8011) - $89.99
Desktop Card (F5D8001) - $99.99
USB Adapter (F5D8051) - $99.99
ExpressCard is a trademark of PCMCIA.
Availability
Currently available, with launches in Asia, Europe, and Australia to follow.
N1 Wireless ExpressCard - $99.99
Link: Belkin
Kensington Si750m LE Wireless Notebook Laser Mouse for Women
PR: Kensington Computer Products Group, a worldwide leader in mobile computing accessories, today announced its first product designed especially for women. The new Si750m LE Wireless Notebook Laser Mouse offers a unique combination of technology and style. With a comfortable sculpted design, laser precision, and wireless convenience, it provides the ultimate in precision and productivity; in addition it comes in an attractive titanium silver and pink color.
With the launch of this product, Kensington is also announcing its support of the American Heart Association's Go Red for Women movement to help fight heart disease, the No.1 killer of American women. To show its full support to the movement, Kensington is donating $125,000 to the American Heart Association to help raise funds and awareness so women can lead longer, heart-healthy lives.
"Our research has shown that women are under-served in the computer mouse market. They want a reliable, affordable product that is also stylish," explained Christine Dumery, Kensington Marketing Communications Director. "With our new Wireless Notebook Laser Mouse, we are encouraging these consumers to 'click for a cause.' We are providing them with their own product while also supporting a program that truly benefits women."
According to the American Heart Association, only 13% of women view heart disease as their largest health threat even though it is the No.1 killer of American women. "We are inviting potential buyers to join Kensington in raising funds and awareness to support the American Heart Association's Go Red for Women movement and in that way help fight heart disease," Dumery said.
A recent study conducted by the Consumer Electronics Association showed that women buy more than 50% of the electronic products purchased in the United States. Over 60% of the female respondents indicated a desire for a wireless mouse for their computer accessory, while 54% of the male respondents indicated such a preference. "Increasingly, manufacturers are providing cutting-edge technologies that also enhance your lifestyle, complement your working spaces and help define your individuality," Dumery explained. "What makes our limited edition mouse unique is that it offers style and the performance of our best mobile mouse with the bonus of 'feeling good' about contributing to a worthwhile cause."
Joining Kensington in this program is Circuit City, the exclusive retailer for February, which has been designated as Heart Month by the American Heart Association. Additional resellers will be in place beginning in March. "Heart disease touches all our lives. It affects the women we know, and the women we love," Dumery continued. "We at Kensington are proud to support the American Heart Association's Go Red for Women movement because we believe that by helping to raise funds and awareness, we can make a difference in women's lives."
Si750m Limited Edition Wireless Notebook Laser Mouse (SKU 72272)
Designed for women, the Kensington Si750m LE Wireless Notebook Laser Mouse offers a compelling combination of technology and style. It is sculpted to fit comfortably in a woman's hand and is being offered in the titanium silver and pink combination which complements other products and which women prefer. Its high-resolution laser sensor provides superior precision on almost any surface. Additional features include interference-resistant 2.4 GHz wireless technology that provides high-speed performance and a range of up to 30 feet and a smart mini receiver that tucks inside the mouse and automatically turns it off when stowed to save battery life. Suggested retail price: $49.99.
Features
Micro size and sculpted design ensure comfort and control
High-resolution laser tracking provides superior precision on almost any surface
2.4Ghz wireless technology ensures high performance and secure connectivity without interference
Mini receiver tucks easily inside the mouse and automatically turns it off when stowed to preserve power
Battery indicator light blinks green to red as the battery level is used. Up to 6 months of battery life on 1 AA battery.
Specifications
Unit measures: 3.25"d x 2.0"w x 1.25"h
USB dongle measures: 1.75"d x 0.50"w x 0.25"h
Available USB Port; PC/Mac compatible
2.4 GHz wireless technology
5 Year Warranty
Dimensions: 3.0"L X 1.0"H X 1.75"W
The Kensington Si750m Limited Edition Wireless Notebook Laser Mouse (SKU 72272) will be available starting in Heart Month, February 2007.
Go Red for Women
Go Red for Women captures the energy, passion, and intelligence of women to work collectively to wipe out heart disease - the number-one killer of women. Since 2004, the American Heart Association has fostered Go Red to grow from a grassroots campaign into a vibrant national movement. Using the simple platform, "Love Your Heart," Go Red for Women aims to mobilize women, men, celebrities, healthcare providers and politicians to embrace and elevate the cause of women and heart disease. For more information about Go Red for Women, call 1-888-MY-HEART (1-888-694-3278) or visit :
Si670m Bluetooth Wireless Notebook Mouse
PR: Beyond wireless, this mouse connects without a receiver! So well designed, you can take this mouse anywhere and instantly appreciate its comfort, accuracy and speed.
Features
1000 dpi performance optical lets you navigate accurately with little movement. So you can work easily in cramped spaces and off uneven surfaces.
4-way tilt scroll lets you quickly maneuver through documents and graphics just by moving your fingertip.
Equally comfortable and ergonomic for right or left-handed users.
Mid-size body design with sculpted, rubberized grips...so you can comfortably use the mouse all though those long work days.
On/off button lets you shut off your mouse when not in use so you conserve batteries.
Turn it on and your Bluetooth mouse is always ready to go!
No receiver - nothing to plug in, pack or risk losing. Use your Bluetooth mouse with a completely clutter-free connection.
LED indicators confirm your connection and warns you when your battery's low.
Specifications
Windows 2000/XP and Mac 10.2.8 or later
Bluetooth 2.0 Wireless Technology gives you 30-foot range
Performance Optical Technology 1000 dpi optical tracking
Requires a Bluetooth enabled notebook or a Bluetooth adapter
5-year warranty
Si670m Bluetooth Wireless Notebook Mouse is backed by the Kensington 5-Year Warranty and free technical support.
$49.99
Link: Si670m Bluetooth Wireless Notebook Mouse
Software
CoolBook Monitors, Manages Core Duo CPU
PR: CoolBook is a program for MacBook and MacBook Pro computers. It lets you monitor the frequency, voltage, and temperature of the notebook.
Registered users can also change the frequency and voltage of the processor.
New in version1.2:
Simplified installation process by included installer function.
Added an uninstall feature.
Experimental support for iMac and MacMini.
Included information about the dynamic version.
System requirements: Core Duo MacBook Pro and MacBook.
System support: Intel
$10 shareware
Link: CoolBook
UnPlugged Power Adapter Connection Monitor
PR: UnPlugged is an application to notify when the power cord of the Mac is unplugged or plugged in
UnPlugged is an application to notify when the power cord of the Mac is unplugged or plugged in. Notifications are done using Growl, or with a Alertwindow, when Growl is not installed.
This App is done with Cocoa and doesn't use as much RAM and CPU usage as the other tools available.
Usage Hints:
to quit UnPlugged option click on the notification or hit the quit button in the alert panel when Growl is not installed
unplugged will show the battery status every couple of percents that the battery looses capacity, you can change this in the prefpane.
you can also specify applications where you don't want to see this kind of notifications (e.g. keynote, when doing a presentation)
New in version 1.8:
added different icons for intel and ppc based macs (sorry for the delay)
New in version 1.7:
Plugged and UnPlugged notifications are now coalesed, so there're not tons of notifications when you plug and unplug your cable often in a row
System requirements: Mac OS X 10.3.9 or later.
System support: PPC/Intel
Free
Link: UnPlugged
MiniBatteryLogger Tracks Battery Use
PR: MiniBatteryLogger is a Cocoa application designed to monitor your laptop battery and log all the relevant power events.
The chart view shows the graph of charge and amperage over time, with customizable colors and indicators for relevant power events. Every change in power properties is logged to file with time and date of occurrence, and it's listed in the detailed log view.
The Battery Inspector tells you all the details about your battery: charge, capacity (actual, maximum and original), amperage, voltage, cycle count. It also reports the estimated times to empty and to full charge.
Share your battery data among MiniBatteryLogger users and compare your battery against the others. MiniBatteryLogger is interfaced to a shared battery data archive that can also be accessed by a Web interface.
The application also notifies you about cord connections and disconnections, begin and end of charge with Growl notifications. A customizable threshold lets you be informed when the battery charge decreases under a given amount.
New in version 1.5.5:
Chart view now correctly updates when deleting a session.
User can now create new sessions manually.
Fixed sloppy selection in snapshots chart.
Fixed spiky edges in snapshots chart.
Spaces are now trimmed when entering registration codes.
Added Portuguese localization.
Added Russian localization.
Added Norwegian localization.
Added Polish localization.
New in version 1.5.4:
Bugfix: preferences window won't show on Panther.
Fixed ugly looking HUD inspector title in Panther.
Added German localization.
New in version 1.5.3:
Bugfix: status item preference is now correctly enabled when checking "hide dock icon".
Other minor improvements.
System requirements:
MiniBatteryLogger requires Mac OS X 10.3.9 "Panther" or later Notebook computer
System Support: PPC/Intel
$10 shareware
Link: MiniBatteryLogger
Temperature Monitor Reads All Sensors
PR: Temperature Monitor is an application to read out all available temperature sensors in Macintosh computers. The program can display and visualize measured values in a large variety of fashions. The application supports the following operations on the measured readings:
display in a default window
output in a screen display in front or in the background of the screen
tabular display in an overview window
display in the menu-bar
display of a maximum of two readings in the Dock
graphical display of short-term and long-term history curves
speech output of readings
display of minimum and maximum values
export to text files
Moreover, the application can display additional technical information about your computer. Among other information this includes:
Processor type
Processor and bus frequencies
Manufacturing information
Of course the application can read out the data only if your computer is equipped with the necessary sensors, and if Mac OS X can access them without needing third-party device drivers. Beginning in summer 2002, Apple has begun to massively drive forward the use of monitoring probes in the PowerMac series, the Xserve series, and in portable computers. Some models are equipped with 38 and more sensors. But Temperature and Hardware Monitor can detect sensors on many older systems as well if they are available.
Apple has restricted the use of monitoring applications on Intel-based Macintosh systems. Thermal management of those computers is no longer done by the operating system, but controlled by an undocumented hardware device, the Apple System Management Controller. Only a few sensors are accessible by application programs.
We try to detect all sensors on as many Macintosh computer types as possible. However, a prediction which sensors are available in which models is not possible, because Apple very often releases "silent product updates", where the hardware equipments of some models are changed but the names are not (specifications are"subject to change without notice"). The particular graphics card and hard disk configuration used is also important because these parts can include independent sensors, too.
Please note that Apple does not support an official or standardized way of reading out sensor data in Mac OS X (the only exception is the Server Monitor application for the Xserve series). Moreover, there is no documentation or other technical note about the individual function of the sensors. For this reason, the development of Temperature Monitor and Hardware Monitor is very costly because the necessary data has to be determined by reverse engineering and tests run on a variety of computer models. Please support the development of the applications by purchasing a registration key for Hardware Monitor.
New in version 4.1:
Added full support for the new Apple Xserve Quad Xeon.
Added support for S.M.A.R.T. temperature sensors in SATA drives connected via an SAS bus.
Added new "disk saver" preference which allows users to stop monitoring of internal hard drive sensors when the system is idle. Idle drives can now enter sleep mode and be held in sleep mode, independently of S.M.A.R.T. monitor time interval settings.
The user interface for drawers in the history windows has been consolidated. There is now a single drawer for colors and extreme values.
The color preferences for the visualization of sensors can now also be set via the color drawers of history windows.
Added feature to add small labels to history curves. The labels use the sensors' short names configured in preferences.
Added feature to automatically recover from situations where one sensor stopped responding and the application was about to be halted by the operating system. (These situations can typically occur in machines where hard drives need more than 12 seconds to wake up from sleep mode, or where third-party applications are blocking the ATA busses for extended periods of time.) When such a situation is detected, the application will automatically stop all its activities, allowing the operating system to resolve the problem. After a certain amount of time, the application will reactivate itself and resume operation.
Access to sensors where the user preference "Don't acquire readings" was switched on is now prevented completely at the hardware level.
Corrected a problem where the installation of the driver for extended x86 sensor support could fail if the application had been put in a folder which had a name with non-ASCII characters.
Corrected a problem where a memory sensor in portable Core 2 Duo systems was misidentified as being a memory riser-card sensor.
Corrected a problem where the internal temperature sensor of Hitachi Deskstar 7K500 drives was no longer seen as functioning sensor.
Corrected a problem in the preference panel where some settings in the user interface were not updated correctly when the configuration tables for history windows and alerts were only controlled by keyboard, not by mouse.
System requirements: Mac OS X 10.2.5 or later.
System support: PPC/Intel
Free
Link: Temperature Monitor
Bargain 'Books
Bargain 'Books are used unless otherwise indicated. New and refurbished units have a one-year Apple warranty and are eligible for AppleCare.
There are two different versions of WallStreet running at 233 MHz, the cacheless MainStreet version and the later Series II with a level 2 cache. It's not always possible to determine from the vendor's listing which is being offered, so we've included links within this paragraph to the two models. The same goes for the PowerBook G4/667 (VGA) and G4/667 (DVI), the titanium vs. aluminum 15" PowerBook G4 at 1 GHz, and 1.25 GHz to 1.5 GHz 15" PowerBooks.
PowerBook, iBook, and MacBook profiles linked in our Portable Mac Index.
Power Max
refurb 15" PowerBook G4/1.5 GHz, 512/80/Combo, $1,149
refurb 15" PowerBook G4/1.67 GHz 512/80/SuperDrive, $,1349
refurb 17" PowerBook G4/1.67 GHz 512/100/Super Drive, $1,649
refurb 1.83 GHz Core Duo MacBook, White, 512/60/Combo,$799
refurb 2.0 GHz Core Duo MacBook, White, 512/60/SuperDrive, $899
refurb 2.0 GHz Core Duo MacBook, White, 1 GB (2x512MB)/80/SuperDrive, $1,049
refurb 2.0 GHz Core Duo MacBook, Black, 1 GB memory (2x512MB)/80/SuperDrive, $1,099
refurb 15" 1.83 GHz Core Duo MacBook Pro, 512/80/SuperDrive, $1,299
refurb 15" 2.0 GHz Core Duo MacBook Pro, 512/80/SuperDrive, $1,349
refurb 17" 2.16 GHz Core Duo MacBook Pro, 1 GB/120/SuperDrive, $1,999
refurb 17" PowerBook G4/1.67 GHz, 512/100/SuperDrive, $1,599
14" iBook G4/933 MHz, 640/60/Combo, APX, $699
12" PowerBook G4/1 GHz, 256/40/Combo, $699
15" PowerBook G4/1.25 GHz, 512/80/SuperDrive, APX, $899
17" PowerBook G4/1 GHz, 512/60/SuperDrive $949
TechRestore is offering a $25 discount to 'Book Review readers off any PowerBook or iBook in stock. Just enter the code CWM during checkout when ordering online. The coupon code is valid from now through 2007.12.31.
12" iBook G4/1GHz, 256/30/Combo, $599.99
12" PowerBook G4/867 MHz, 128/40/Combo, $599.99
15" PowerBook G4/550 MHz, 256/20GB/Combo, $679.99
15" PowerBook G4/1.25 GHz, 512/80GB/Combo, APX, StrongArm aluminum carrying case, $1,099.99
PowerBook Pismo G3/400 MHz, 256/20GB 5400 rpm (new)/DVD, $379.95
PowerBook Pismo G3/500 MHz, 256/20GB 5400 rpm (new)/DVD, $429.95
12" iBook G4/1 GHz, 512/30/CD, Minor Case Defect, $379.95
12" iBook G4/1 GHz, 512/30/CD, $429.95
12" iBook G4/1.2 GHz, 512/30/CD,$479.95
12" iBook G4/1.33 GHz,h 512/40/Combo, APX, BT, $629.95
15" PowerBook G4/400 MHz, 256/10/DVD, $499.95
12" PowerBook G4/867 MHz, 256/40/Combo, Mac OS X, $599.99
12" iBook G3/500, 256/10/CD, $275
12" iBook G3/700, 256/20/Combo, $345
12" iBook G3/800, 256/30/CD, $409
14" iBook G3/700, 256/20/Combo, $375
14" iBook G3/900, 256/40/Combo, $479
Add AirPort for $75
Apple Emate 300 PDA - Touch Screen in great working shape - $59.99
Computer Geeks
12" iBook G4/1 GHz, 512/30/CD , APX, OS X, $519.99
12" iBook G4/1.2 GHz, 512/30/CD, APX, OS X, $579.99
Apple iBook G4 1.3GHz 512/40/Combo, APX, OS X, $749.99
Apple iBook G4 1.0GHz 512/30/CD, APX, OS X, $529.99
12" iBook G3/500, 128/10/CD, OS X, $209
12" iBook G3/500, 128/30/CD, OS X, $279
12" iBook G3/600, 128/30/CD, OS X, $329
For more deals on current or recently discontinued models, see our MacBook deals, 15" MacBook Pro deals, 17" MacBook Pro deals, 12" PowerBook G4 deals, 15" and 17" PowerBook G4 deals, titanium PowerBook G4 deals, iBook G4 deals, PowerBook G3 deals, and white iBook G3/deals.
Join us on Facebook, follow us on Twitter or Google+, or subscribe to our RSS news feed
Links for the Day
Mac of the Day: Performa 520, introduced 1993.06.28. The Color Classic grew up with a 15" screen and CD-ROM.
Recent Content
Follow Low End Mac on Twitter
Join Low End Mac on Facebook
Favorite Sites
MacSurfer
Cult of Mac
Shrine of Apple
MacInTouch
MyAppleMenu
InfoMac
The Mac Observer
Accelerate Your Mac
RetroMacCast
The Vintage Mac Museum
Deal Brothers
DealMac
Mac2Sell
Mac Driver Museum
JAG's House
System 6 Heaven
System 7 Today
the pickle's Low-End Mac FAQ
Affiliates
Amazon.com
The iTunes Store
PC Connection Express
Macgo Blu-ray Player
Parallels Desktop for Mac
eBay

Advertise