Mac mini Incomplete, iMac G5 Too Hot, Mac Reliability, G4 Upgrade Price Drop, Maxelerate mini Companion Drive, and More
This Week's Apple and Desktop Mac News
Compiled by Charles Moore and edited by Dan Knight - 2005.09.16
PowerBook, iBook, iPod, and other portable computing is covered in The 'Book Review. News about Apple's transition to Intel CPUs and other Intel developments is covered in The Macintel Report. iPod news is covered in The iNews Review.
All prices are in US dollars unless otherwise noted.
News & Opinion
Products and Services
News & Opinion
Missing from the Mac mini
MacDevCenter's Derrick Story says:
"This week's retracted Mac mini test drive [article dated Sept. 1] offer brings to mind a few things I've been wondering about Apple's affordable computer. My hunch is that the mini might be a tad too Spartan for everyone.
"You see, the thing I like about Macs is that I order one, it arrives, I turn it on, it works. I'm a huge PowerBook fan for that very reason. I have everything I need in that single stylish box. It's like dining at a four star restaurant where attention is paid to every detail.
"The mini is experience is more like a church potluck. You can join the party, but you have to bring your own keyboard and monitor. And let's face it, you're not bringing sirloin steaks.
"The mini misses on the very thing that Apple is good at - the total satisfying experience. Who wants to plug a crappy VGA monitor in to a brand new mini work of art? I don't. Instead, I want a mini kit."
iMac G5 Is Hot - Too Hot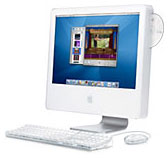 Newsday's Richard J. Dalton Jr. says:
"The iMac G5's small size makes it difficult to dissipate the heat, said Bradley Dichter, a Mac consultant in Islandia, NY, who has had numerous clients with iMac G5 problems. Dichter said users shouldn't place the computer in a cubicle where it's enclosed too tightly, and the room should be below 95 degrees.
"When Apple unveiled the sleek iMac G5 just barely over a year ago, Mac enthusiasts embraced it as one of the hottest new computers. It turns out they may have been onto something.
"In its September issue, Popular Mechanics magazine ran an article titled 'Is the iMac G5 Running Hot?' The story said many iMacs in the magazine's editorial offices overheated and died and that the magazine had to send 40 percent of its G5s to Apple for repair or replacement."
Macs Mostly Don't Break
Consumer reports has posted a char indicating the percentage of five-year-old products with and without a warranty that have ever been repaired or had a serious problem. They've also listed a sampling of brands that have been especially reliable over the past few years, along with brands that are among the more likely to have needed repair. In computers, the especially reliable brands are:
Desktop PC: Apple, Dell, Sony
Laptop or notebook PC: Apple, Toshiba
Power Mac Towers Heading into Sunset
Apple Matters' Chris Seibold says:
"...Soon to join the club of once semi common and suddenly gone is the PowerMac tower form factor. Unlike the mammoths in this case we won't have to puzzle over the causes for the demise of the hulking aluminum enclosure; we are seeing the causes for the tower's inevitable demise before our very eyes."
Apple Is a Media Company - and That's Good for Macs
silicon.com's Seb Janecek says:
"It's been a paradigm-shifting few years in Cupertino....
"With the launch of the iPod, iTunes and the Mac mini, Apple has begun the evolution from hardware and software maker to digital media mogul. While some Mac enthusiasts moan about the changes, Seb Janecek says it's all for the best.
"Long-time Mac users who may have taken a wholly pastoral sojourn in the last 18 months would likely return to the technology landscape, take a quick look around and wonder just what the hell happened in 2004 and 2005....
"So what role does the Mac play in Apple's plans? Many Mac users have become frustrated as the iPod and the iTunes music business rose to the ascendancy and computers seemed to become increasingly marginalised. However, Apple is one of the few computer makers making ground in a tough market."
OS X vs. Linux on G5 - Part 2
AnandTech says:
"A little bit more than a month ago, AnandTech published 'No more mysteries: Apple's G5 versus x86, Mac OS X versus Linux' with the ambitious goal of finding out how the Apple platform compares, performance-wise, to the x86 PC platform. The objective was to find out how much faster or slower the Apple machines were compared to their PC alternatives in a variety of server and workstation applications.
"Some of the results were very surprising and caught the attention of millions of AnandTech readers. We found out that the Apple platform was a winner when it came to workstation applications, but there were serious performance problems when you run server applications such as MySQL (Relational Database) or Apache (Webserver). The MySQL database running on Mac OS X and the Dual G5 was up to 10 times slower than on the Dual Opteron running Linux.
"...That is what we'll be doing in this article: we will shed more light on the whole Apple versus x86 PC, IBM G5 versus Intel CPU discussion by showing you what the G5 is capable of when running Linux. This gives us insight on the strength and weakness of Mac OS X, as we compare Linux and Mac OS X on the same machine."
Mac mini Inside a Lotus Roadster
123Macmini.com says:
"Beep beep! It's been a while since we have seen an interesting Mac mini auto installation. Mini dock of Japan has posted some pictures of a Mac mini installed into a classic Lotus roadster. Mini dock is the company we wrote about back in June that sells a custom automotive docking station for the Mac mini."
Products and Services
PowerLogix Reduces Prices on G4 Upgrades
[PR] PowerLogix has reduced prices on many of its single and dual processor PowerForce 7447 Series of upgrade cards.
The new pricing available immediately from Other World Computing, master distributor for PowerLogix, is:
PowerForce47 G4/1.6 GHz Single from $269 (was $299)
PowerForce47 G4/1.8 GHz Single $329 (was from $339)
PowerForce47 G4/2.0 GHz Single $369 (was $399)
PowerForce47 G4/1.2 GHz Dual $399 (was from $419)
PowerForce47 G4/1.6 GHz Dual from $459 (was $499)
PowerForce47 G4/1.7 GHz Dual from $549 (was from $599)
PowerForce47 G4/1.8 GHz Dual from $599 (was from $649)
All PowerLogix PowerForce 7447 Series upgrades feature 512K of high-speed L2 cache per processor operating at the same speed as the processor as well as onboard thermal sensor and real-time thermal monitoring. The cards also support PowerLogix' exclusive Dynamic Frequency Switching (DFS) management.
DFS efficiently manages power utilization and reduces heat with intelligent management. This is not unlike the power management features included with current Apple computer models, but unique to PowerLogix because this feature allows for a processor upgrade to an older Mac.
CPU Director, PowerLogix' proprietary software utility, ships with all PowerLogix processor upgrades. This software constantly monitors the processor for proper and safe operation, and allows the user to view operational temperature.
PowerForce 7447 upgrades are available for PowerMac G4 AGP Graphics/Sawtooth, Gigabit Ethernet, Digital Audio, Quicksilver and G4 Cube Models. Upgrades are compatible with all existing hardware and software running under Mac OS 9.x, Mac OS X 10.3.5 and higher including OS X Tiger 10.4.x (Mac OS X 10.3.9 or higher is required for thermal monitoring and DFS features).
The full line of PowerLogix products is available immediately through Other World Computing via its website.
OWC is master distributor for PowerLogix and provides all product and warranty support for their products.
Maxelerate: a Faster, More Flexible Drive for Your Mac mini
[PR] It's nothing short of revolutionary in design and function, but many users need more from their Mac mini.
Enter WiebeTech's Maxelerate!
Faster Boot Drive: Maxelerate boasts a disk read and write performance that is 30 percent faster than the drive that comes inside of the Mac mini. And because it's bootable, use it as a startup disk, taking full advantage of FireWire technology.
Thermally Engineered: Continuing WiebeTech's tradition of using intelligent metal design, Maxelerate is thermally engineered with heat issues in mind. Its aluminum design with integral internal die cast heat sink and fan allows for excellent cooling.
Store more stuff: Maxelerate holds drives up to 500 GB. That's up to 12 times the 40 GB or 6 times the 80 GB internal storage that comes in a Mac mini. It gives you perfect growing room to edit more home movies, take more pictures, and listen to more music.
Connect more stuff: Maxelerate sports daisy-chainable ports: three USB 2.0 ports and three FireWire ports, making it an ideal central station for more hard drives, digital cameras or many other computer peripherals.
Free more space: Best of all, you can achieve this speed, storage and all of the new ports in a space no bigger than the Mac mini itself. Beautifully designed out of aluminum to complement Apple's design, Maxelerate fits perfectly underneath any Mac mini.
Features
Three USB 2.0 ports and three FireWire 400 ports; daisy chainable
Supports Hi-Speed USB data transfer speed of up to 480 Mbps, and IEEE 1394a data transfer speed of up to 400 Mbps
Supports 3.5" IDE drives
Delivers bus power from host for USB 1.1 and 2.0 devices/hub and FireWire 400 repeater
Allows daisy-chaining of USB 1.1/2.0 and/or FireWire 400 devices
Built-in power switch
Compatibility
Mac OS 9.x or higher
Windows 98SE, ME, 2000, XP
Pricing
0 GB, supports drive to 500 GB, accepts parallel IDE drives, $119.95
160 GB, 7200 rpm, 8 MB cache, $199.95
250 GB, 7200 rpm, 8 MB cache, $269.95
400 GB, 7200 rpm, 8 MB cache, $499.95
500 GB, 7200 rpm, 16 MB cache, $689.95
Link: Maxelerate
Plextor Ships External 16x DVD Burner
[PR] Plextor Corp. has announced the immediate availability of the PX-740UF DVD-R/RW drive. The stylish black external drive is aimed at mainstream PC users who want reliable, lightning fast performance but don't require professional recording features.
The concept behind the PX-740 Series drives is simple: give customers the very fast recording speed and high level of reliability for which Plextor is known, without professional features they don't need. Now customers can choose between the internal PX-740A and external PX-740UF versions, with both models delivering the same industry leading performance and quality.
A dual interface supports both Hi-Speed USB 2.0 and full-speed compliant IEEE-1394 FireWire®, enabling Plextor customers to easily share a single external high-performance DVD/CD recorder among multiple Apple Macintosh and Microsoft Windows-based personal computer systems. Burst data transfer rates of 480 Mbps (USB) or 400 Mbps (FireWire) allow a user to burn a 4.7 GB DVD+R disc in approximately six minutes.
The PX-740UF delivers state-of-the-art recording speeds of 16x DVD-R on recommended single-layer DVD media. Users also can burn up to four hours of high-quality MPEG-2/DVD video on a single 8.5 GB disk using 8x DVD+R on Double-Layer (DL) DVD media and 4x DVD-R on Dual Layer (DL) DVD media.
The Plextor PX-740UF Series drive is a highly versatile 10-in-1 DVD/CD burner that supports 8x DVD+R DL, 4x DVD-R DL, and 16x DVD-R Writing; 8x DVD+RW and 6x DVD-RW Rewriting; and 16x max DVD-Reading; as well as high-speed 48x CD-R Writing, 32x CD-RW Rewriting, and 48x max CD-Reading.
The PX-740UF drive has a 2 MB buffer and features Buffer Underrun Proof Technology to prevent buffer underrun errors and allow multitasking. Lossless Linking/Zero Link technology enables users to perform basic editing tasks directly on the DVD disc. The PX-740UF also supports DVD+RW background format, which eliminates the need to format a DVD+RW disc manually, thus reducing the total time it takes to write data to a disc.
Plextor's bundled software package offers ease-of-use and extensive functionality for Windows platforms. The PX-740UF drive ships with the award-winning Nero 6 software suite for burning video, music, photos, and data to DVD or CD. The Plextor bundle includes Nero Express 6 for CD & DVD recording; NeroVision Express 2 SE for DVD video editing and authoring; Nero PhotoShow Express for photo management and editing; InCD 4.2 for drag & drop packet writing; Nero Showtime for video playback; and Nero Toolkit for drive test and speed control.
The Plextor PX-740UF drive will ship to distributors in North and South America in September 2005 with a Manufacturer's Suggested Retail Price (MSRP) of $179. All retail packages include one-year full warranty.
Apple Updates Xserve RAID
[PR] Apple has updated its Xserve RAID storage system, a 3U high-availability, rack storage system to deliver a massive 7 terabytes (TB) of storage capacity at the industry's most aggressive price of just $1.86 per GB. Apple also upgraded its Xserve 1U rack optimized server with up to three 500 GB drives, achieving a groundbreaking 1.5 TB of storage. Prices for Xserve still start at just $2,999 and prices for Xserve RAID at just $5,999.
"Apple has shipped an impressive 76 petabytes of Xserve RAID storage in the last two years," said Philip Schiller, Apple's senior vice president of Worldwide Product Marketing. "We are now offering our users more capacity at an even lower price per gigabyte."
The unique architecture of Xserve RAID delivers massive storage density and incredible performance. Designed with 14 independent 500 GB Ultra ATA drive channels, Xserve RAID provides up to 7 TB of storage capacity with pricing as low as $1.86 per GB, while the dual independent RAID controllers with 512 MB cache per controller offer sustained throughput of over 385 MBps - high enough to support the most demanding media production environments using protected RAID level 5. Xserve RAID is certified to run in Mac OS® X, Windows, NetWare, SUSE and Red Hat Linux environments.
The Xserve 1U rack optimized server can now hold up to three 500 GB drives to achieve a groundbreaking 1.5 TB of hot-plug storage. With dual 64-bit 2.3 GHz PowerPC G5 processors that deliver over 35 gigaflops of processing power per system and the industry's fastest front side 1U server system bus, running at up to 1.15 GHz with up to 9.2 GBps of bandwidth per processor and Mac OS X Server version 10.4 "Tiger" installed, it is the ideal server for everything from file and print serving to computational clusters.
Xserve RAID connects easily to any Xserve server or Power Mac® desktop system using the dual-channel 2 GB Apple Fibre Channel PCI-X card sold separately at an industry breakthrough price of $499 and works seamlessly with Xsan, Apple's 64-bit cluster file system for Mac OS X to deliver a powerful, easy-to-manage, enterprise class SAN solution at a breakthrough low price that enables organizations to consolidate storage resources and provide multiple computers with concurrent file-level read/write access to shared volumes over Fibre Channel.
Apple offers a choice of world-class services and support programs for Xserve RAID including 4-hour on-site response, 24x7 technical support, AppleCare Service Parts Kits and the AppleCare Professional SupportLine and Tools program.
The new Xserve RAID is available today through the Apple Store and Apple Authorized Resellers. Xserve RAID comes in three standard configurations, or can be fully customized to meet specific customer requirements. Build-to-order options can include additional Apple Drive Modules and cache battery modules.
Xserve RAID with a suggested retail price of $5,999 includes:
1 TB RAID 0 total available storage;
dual independent RAID controllers with 512 MB cache per controller;
dual 2 GB Fibre Channel SFP ports with 200 MBps throughput per channel;
four 250 GB ATA Apple Drive Modules; and
8 MB on-drive cache.
Xserve RAID with a suggested retail price of $8,499 (US) includes:
3.5 TB RAID 0 total available storage;
dual independent RAID controllers with 512 MB cache per controller;
dual 2 GB Fibre Channel SFP ports with 200 MBps throughput per channel;
seven 500 GB ATA Apple Drive Modules; and
8 MB on-drive cache.
Xserve RAID with a suggested retail price of $12,999 (US) includes:
7 TB RAID 0 total available storage;
dual independent RAID controllers with 512 MB cache per controller;
dual 2 GB Fibre Channel SFP ports with 200 MBps throughput per channel;
fourteen 500 GB ATA Apple Drive Modules; and
8 MB on-drive cache.
Link: Apple Store
Avocent Delivers Multimedia KVM Switches for SOHO PC and Mac Desktop
[PR] Avocent Corporation today announced its new line of SwitchView multimedia keyboard, video and mouse (KVM) switches. These switches enable desktop users to share peripherals such as keyboards, monitor, mouse, scanners, speakers, microphones, printers, cameras, PDAs and other USB peripherals with up to four PC and/or Mac computers.
Avocent has been the leading innovator in KVM switching since the '80s. Since then the company has focused attention on developing the high-end data center market as well as small and medium sized businesses. Avocent technology appears in virtually every major data center around the globe. The technology used to control mission critical corporate applications has now been adopted in an affordable line of KVM desktop switches.
"Although we've done well selling entry-level two and four port switches in the past, our focus has been on the mid-market and higher," said Michael Helms, desktop KVM product manager. "These new products provide many high quality features at exceptional values."
The Avocent SwitchView KVM switch line features a built-in USB hub which enables the switching of KVM audio and USB hub ports independently or jointly. For example, users can utilize the peripherals activated from one PC while working on another. The SwitchView PC, SwitchView MM1, SwitchView MM2, and SwitchView DVI KVM switches provide varying features depending on users' needs.
The SwitchView PC Switch allows users to control up to four PS/2 computers from one keyboard, monitor and mouse - retaining valuable desktop space for other peripherals.
The SwitchView MM1 Switch allows users to switch between USB or PS/2 systems, sharing USB devices and controlling multimedia applications. The SwitchView MM1 model provides independent switching for KVM and two USB 1.1 hub ports With the SwitchView multimedia KVM switch you can use one compact device to control multiple PCs and share access to your USB devices, digital camera, CD- ROM, PDA, scanner or printer.
The SwitchView MM2 Switch provides independent switching for KVM and two USB 2.0 hub ports. This model will support users who would benefit from the faster speed associated with the USB 2.0 standard. The MM2 also provides hotkey switching and supports the multimedia keys found on some USB keyboards.
The SwitchView DVI Switch easily manages two USB DVI (digital visual interface) computers from a single USB keyboard, mouse and DVI monitor. With video resolutions up to 1600 x 1200, the SwitchView DVI switch delivers crisp images for today's high-end displays, making it an ideal management tool for the video enthusiast. Audio, microphone and a built in two port USB 2.0 hub are added benefits.
SwitchView KVM switches are backed by the Avocent two-year warranty and technical support. Avocent SwitchView products are available at leading resellers.
Desktop Mac Deals
Low End Mac updates the following price trackers every two weeks:
For deals on laptops, see our Best Aluminum PowerBook G4 Deals, Best Titanium PowerBook G4 Deals, Best iBook G4 Deals, and Best White iBook G3 Deals. For deals on iPods, see our Best iPod Deals.
Join us on Facebook, follow us on Twitter or Google+, or subscribe to our RSS news feed
Links for the Day
Mac of the Day: Power Mac 9500, introduced 1995.05.01. The first PCI Power Mac has 6 expansion slots, speeds of 120 and 132 MHz.
Recent Content
Follow Low End Mac on Twitter
Join Low End Mac on Facebook
Favorite Sites
MacSurfer
Cult of Mac
Shrine of Apple
MacInTouch
MyAppleMenu
InfoMac
The Mac Observer
Accelerate Your Mac
RetroMacCast
The Vintage Mac Museum
Deal Brothers
DealMac
Mac2Sell
Mac Driver Museum
JAG's House
System 6 Heaven
System 7 Today
the pickle's Low-End Mac FAQ
Affiliates
Amazon.com
The iTunes Store
PC Connection Express
Macgo Blu-ray Player
Parallels Desktop for Mac
eBay

Advertise