Short-Lived Mac mini Test Drive, Hot iMac G5, New 17" Widescreen Monitor, Economical 1.4 GHz G4 Upgrade, and More
This Week's Apple and Desktop Mac News
Compiled by Charles Moore and edited by Dan Knight - 2005.09.02
PowerBook, iBook, iPod, and other portable computing is covered in The 'Book Review. News about Apple's transition to Intel CPUs and other Intel developments is covered in The Macintel Report. iPod news is covered in The iNews Review.
All prices are in US dollars unless otherwise noted.
News & Opinion
Products and Services
News & Opinion
Apple Launches, then Cancels Mac mini Test Drive
PR: A new Apple promotion allows prospective Mac mini buyers to purchase the machine on a 30-day "test-drive" condition. If you make your purchase between August 30, 2005, and October 31, 2005, Apple will allow you to evaluate any combination of a Mac mini, a keyboard and a mouse under its "Test Drive" program, subject to Apple's standard Sales and Refunds Policy and the Return & Refund Policy posted on Apple's Website, which says:
"We're so confident you'll love your new Mac mini, we'll let you test drive it for 30 days with no risk. If you decide you don't want it, we'll take it back. Here's how the test drive works:
Purchase a new Mac mini from the Apple Store online. You can also get an Apple keyboard and mouse, such as our new Mighty Mouse.
Set it up and start enjoying it.
If you don't love it, call us within 30 days of your order and we'll arrange for you to return your system - including the Apple keyboard and mouse - for a full refund.
If you have any more questions, call our Mac specialists at 1-800-MY-APPLE."
Choose from three Mac mini models starting at just $499 and an optional Apple keyboard and mouse.
This test drive offer ends on October 31, 2005.
Editor's note: This program was canceled the day after it was launched.
Is the iMac G5 Running Hot?
Popular Mechanics' John R. Quain says:
"When the Apple iMac G5 was introduced in late August 2004, it was hailed as a triumph of compact design. The entire computer, including the screen, drives and power supply, is contained within a sleek chassis with a 2-in. profile. Knowing that its powerful G5 processors ran hot, Apple integrated three fans.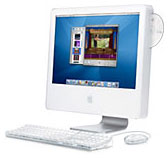 "Within a few months, we began to suspect a problem as, one by one, Popular Mechanics's new iMac G5s started to overheat and then die. Eventually, 40 percent of them had to be sent back to Apple for repair or replacement. When we looked into the problem, we found a number of complaints about overheating power supplies and 'bloated,' apparently heat-damaged, capacitors on the midplane circuit board. These were posted on Apple's own online user forum as well as user groups such as MacOSG, TidBITS and MacInTouch."
The Mac Is a Viable Platform
Deep Thought says:
"Between my job at a computer store and dealings with normal computer users on a daily or near-daily basis, I like to think that, despite being a power user, I have a pretty firm grasp on the pulse of the average computer user. The average computer user is a completely different person from the average computer geek (that goes without saying). As such, the two groups have completely different needs. These differences are most evident in the realm of computer purchase priorities.
"I can tell you that the majority of things that geeks I've debated with online (especially on the PC side - sorry guys) consider to be of great importance to a computer are either greatly less of a concern or complete non-issue to most consumers. In my experience, the availability of software's bearing on a computer purchasing decision is greatly overstated. The bearing of processor speed is overstated. The bearing of kick-ass graphics systems with 256 MB of VRAM is overstated. I can only think of a couple instances where graphics capabilities were a major concern to people I've conversed with. To most, it seems to be a non-issue. I can only think of a handful instances where raw processing speed has been a big concern; most people are only looking for "fast enough." Games availability is also a very minor issue. Hardware configurability/tweakability hasn't come up much either. 7.1 surround sound? Generally not an issue.
"From my work experience and from other experience with non-geek-types, I can tell you that consumers want something that lets them get online. Consumers want something fairly easy and straightforward. Consumers want something where they don't need to worry as much about malware. Consumers want to listen to their music. Consumers want to retouch their photos. Consumers want to be able to write from time-to-time. Consumers generally are not interested in building their own machines....
"Translation: there's little reason for most consumers to not give the Mac a chance."
PowerPC Assembly Programming on the Mac mini
Linux Gazette's Pramode C.E. says:
"The Mac mini is a very compact desktop computer designed by Apple. Based on the PowerPC (PPC) G4 CPU, the machine is ideal for those who wish to experiment with GNU/Linux on a non-Intel platform. In this article, we will examine how to get Ubuntu Linux up and running on the Mac mini. Assembly language skills on a RISC CPU like the PowerPC are very much in demand in the embedded-systems industry - and we shall use the PPC Linux system to do a bit of assembly language hacking!...
"There is a 40 GB IDE hard disk, two USB ports, one FireWire port, built-in sound and a "slot-loading" CD/DVD drive. The power supply, rated at 85W, is provided as an external 'brick'. The unit does not come with a monitor or keyboard - you have to provide them yourself. Both the keyboard and the mouse are USB-based. I had no difficulty getting my Microsoft USB mouse detected, but I had to try a few different brands before I got my USB keyboard working.
"There are some minor hardware peculiarities - one is the absence of an 'eject' button for the CD drive. If you are running Linux or MacOS, software eject will work; otherwise, holding the mouse button down during the boot process will do the trick. Another idea is to get into 'OpenFirmware' (similar to the CMOS setup on the PC) during the boot process by holding down the Alt-Windows-O-F keys and then executing the 'eject cd' command. Booting from the CD requires holding down the 'c' key during powerup."
Products and Services
Westinghouse Digital's Mac-Friendly 17" Widescreen Monitor
PR: Westinghouse Digital Electronics, a leading North American LCD TV and monitor provider, recommends its new HD-Grade 17" widescreen LCD monitor as an essential back-to-school product for students of all ages.
Featuring a clean white chassis with silver trim, Westinghouse Digital's 17" HD-Grade LCD widescreen monitor delivers the color, clarity, resolution and response time that enable students to watch DVD movies or TV, play video games or surf the Internet, as well as work on school papers, projects and spreadsheets.
"With the Westinghouse Digital 17" widescreen monitor, students can simultaneously view multiple school documents or keep a term paper open while maintaining their Internet experience via IMing (Instant Messaging)," said John Araki, director of product management for Westinghouse Digital. "Many video games are being produced in widescreen format, and this monitor is excellent for maximizing the gaming experience. Customers will find that this monitor is compact and lightweight for convenient travel, and leaves a small footprint on the desktop."
Offering one DVI input, 1280 x 768 WXGA resolution, 15:9 aspect ratio, 400-cd/m2 maximum brightness, 600:1 contrast ratio, response time of 15 milliseconds and a 170-degree viewing angle, the monitor is currently available for an estimated $229.
Editor's note: Almost every 15", 17", and 19" flat panel monitor has a 1024 x 768 or 1280 x 1024 resolution, which seems to make the 1280 x 768 resolution of this monitor unique - and the price is very attractive as well. This could be a great complement to the Mac mini.
Worlds Largest Selection of Genuine Apple Parts Goes Online
PR: The Mac Support Store, a Business Outsourcing Provider and online Reseller of Apple products, has added more than 5,000 Genuine Apple parts into its online store. Customers can order any part Apple manufactured between 1991 and 2005.
This is another important milestone in our online strategy to become the single online source for Apple goods and services, said Jeff Graber, CEO of The Mac Support Store. Apple has been selling packaged certification and customer installable parts for years but the choices for buying parts online haven't been reliable. Our parts come direct from Apple, so we're able to keep the costs low and the quality high.
The Mac Support Store is an Apple Authorized Help Desk Specialist, Reseller, and Service provider in New York City. Since 1996, they have supported over 17,000 computers with their custom Mac-only service called PRO Support.
PowerLogix 1.4 GHz Upgrade Brings Power Mac G4 up to Speed Economically
PR: You can give your computer a new lease on life for only $279 with the PowerLogix PowerForce 55 processor upgrade for Power Mac G4 AGP Graphics/Sawtooth or Gigabit Ethernet systems.
The PowerForce 55 utilizes G4 Apollo processors (7455) with 256 KB of 1:1 L2 and an additional 2 MB of high-speed L3 cache. The card provides solid performance for great value that's also backed up by a two-year warranty and 30-day 100 percent money back guarantee.
"Putting this upgrade in your system allows it to run circles even around the new G4 Macs available today," said Larry O'Connor, president of Other World Computing, master distributor for PowerLogix. "You really get a huge return on your investment with a purchase like this."
The card is compatible with Mac OS 9.2.1, OS 9.2.2 and OS X 10.1 and up (including Tiger).
PowerLogix also offers upgrades for a number of Apple Computer models including a G4/2.0 GHz card available for $399 and G4 Dual Processor upgrades up to 1.8 GHz starting from $429.
PowerLogix upgrade products are available immediately through Other World Computing via its website.
miniMate External Hard Drive and FireWire/USB 2.0 Hub for Mac mini
PR: The miniMate, MicroNet's new external disk drive and integrated hub, is created specifically to complement Apple's new Mac mini. With available storage up to 400 GB, 4 USB 2.0 ports and 3 FireWire ports, the miniMate extends the capabilities of your new Mac to match the most capable workstations, all in a stylish aluminum and plastic enclosure that perfectly complements Apple's Mac mini!
Product Features :
up to 400 GB additional storage
3 FireWire ports
4 USB 2.0 ports
Attach power, USB and FireWire cables, and you're ready to rock
MicroNet miniMate is only available in the following configurations: 80 GB, 160 GB, 250 GB, 400 GB.
Cables included are: one 7 inch FireWire Cable and one 9 inch USB 2.0 Cable
The miniMate offers hub functionality for both USB and FireWire. As long as a FireWire connection is present, the disk drive will mount as a FireWire device; otherwise, it will mount as a USB device.
The miniMate does not require a fan and is self cooling.
The power supply included is a small external "brick" style and is universal.
The miniMate was designed to be placed under the Mac mini.
iMac G5 8x SuperDrive Upgrade Reduced to $150
PR: Other World Computing's Mercury iMac G5 SuperDrive is a user installable solution that gives your iMac G5 new capabilities and increased DVD and CD read/write performance, and now for an even better price.
The Mercury iMac G5 SuperDrive is compatible with all Apple iMac G5 models and includes NTI Dragonburn, EMC/Dantz Retrospect and 10 pieces of 8x DVD-R media. In addition to being compatible with popular software including Apple's iLife apps and Roxio Toast, the Mercury is officially supported by Dantz Retrospect with the EMC/Dantz Retrospect Backup Certification.
OWC's Mercury iMac G5 SuperDrive is immediately available for $149.95, $30 less than the previous retail price. A rebate of up to $75 for the old drive the OWC Mercury SuperDrive replaces is also offered, which further reduces the cost to upgrade.
This solution, as well as a full line of SuperDrives for nearly every Apple model starting from $45 can be viewed or purchased online via the OWC website.
Contour RollerMousePro Named a 'Best Solution'
PR: Contour Design has announced that it has been selected as one out of twenty private sector firms that, over the past year, teamed with a public sector organization to fix a major problem and earn a "Best Solutions Award" for so doing. As such the solution will be featured at the http://www.govtech.net/gtc Albany, NY Conference scheduled for 19 - 22 Sep. 05.
The organizers of the GTC events - usually three events per year - scheduled throughout the United States invite participants to describe solutions they have provided through cooperative efforts between private and public sector organizations. In the summary Contour provided to GTC, we illustrated how we had worked with two NY State agencies to build a solution to a problem that had been reported by that State's Environmental Protection Agency police force.
In the interest of making enforcement of environmental law as "paperless" as possible, NYEPA police personnel were issued notebook computers for report preparation and submission. Supervisors are responsible for rolling-up reports and converting, via extensive cut and paste operations, reports into citations coupled with environmental statute quotations in the resulting citations. Because police personnel are typically larger than average people, extended use of the small notebook computers resulted in more than one instance of RSI (repetitive strain injury). In one case the RSI was "rectified" by three expensive surgeries, with two more scheduled for this one particular officer.
However a prevention-oriented vocational rehabilitation professional in NY State conceived the notion that use of a http://www.contourdesign.com/rollermouseContour RollerMouse and a larger keyboard could help this particular individual. And it worked! The two open RSI surgeries were avoided with a net savings to the taxpayers of that State of over $50,000.
Steve Wang, CEO of Contour says, "We've always taken pride in being a solutions-oriented company. This Award makes me very proud of our people and their dedication to solving Customer problems."
You are cordially invited to attend GTC-East in Albany, NY. In addition to being featured as a winner in the "Best Solutions Award" competition, we will be delivering the opening session in The Learning Center at 10:30 AM on Wednesday, 21 Sep. 05, with "Balancing Computer Input Productivity and Worker Health & Safety. Contour will be exhibiting products and solutions in Booth 120.
New Directional Antenna Gives 3-5x standard Wireless Range
PR: QuickerTek has announced four new directional wireless networking Corner Antennas for Power Mac G5 and G4 desktop computers. With 12dbi and 14dbi RF power, users can easily experience three to five times the wireless range over the stock Power Mac desktop. These antennas are one of the best values at only $80 for the 12dbi model and $100 for the 14dbi version.
Users simply plug this new Corner Antenna into the AirPort card or port and continue to use AirPort networks, just as before. No software, alterations or other technical changes are necessary to receive this impressive wireless boost. The "corner" aspect of this product is the way in which it mounts to the wall - in the corner. A corner mount directs the wireless signal toward the AirPort Base Station or access point, providing the flexibility needed in some network layouts.
Corner Antennas work with Macintosh OS X and Apple AirPort networks as well as any other 802.11b through 802.11g wireless network systems. Part Number CA12-G4; 12dbi model for Power Mac G4; $80 Part Number CA14-G4; 14dbi model for Power Mac G4; $100 Part Number CA12-G5; 12dbi model for Power Mac G5; $80 Part Number CA14-G5; 14dbi model for Power Mac G5; $100 All of these Corners Antennas have a shipping weight of 5 pounds.
"The Corner Antennas are a natural progression of our wireless Macintosh product line. We have the most flexibility to solve virtually any wireless networking problem our Mac customers will run across. These Corner Antennas can also be added to our high-powered 27dbm Transceivers to blast the range out past a mile. We have been using these antennas on our in-house systems and for any office or SOHO use they are great," said Rick Estes, president, QuickerTek, Inc.
These new Power Mac G5 and G4 Corner Antennas and all other QuickerTek wireless products can be purchased through Small Dog Electronics as well as the other fine dealers listed on the QuickerTek website Where To Buy page. Small Dog Electronics will receive the first shipment of these new antennas.
QuickerTek is the recognized leading innovator of antennas for Apple products. Popular products include the Titanium and Aluminum PowerBook antennas and transceivers as well as AirPort antennas for Graphite, Snow and Airport Extreme Base Stations and most Power Mac G5 and G4 models. Longer distance wireless networks might use QuickerTek's Point-to-Point and Point-to-Multipoint product line.
Desktop Mac Deals
Low End Mac updates the following price trackers every two weeks:
For deals on laptops, see our Week's Best PowerBook G4 Deals, Week's Best iBook G4 Deals, and Week's Best iBook G3 Deals. For deals on iPods, see our Best iPod Deals.
Join us on Facebook, follow us on Twitter or Google+, or subscribe to our RSS news feed
Links for the Day
Mac of the Day: iMac G5 (iSight), introduced 2005.10.12. Apple built an iSight webcam into the last version of the G5 iMac.
Recent Content
Follow Low End Mac on Twitter
Join Low End Mac on Facebook
Favorite Sites
MacSurfer
Cult of Mac
Shrine of Apple
MacInTouch
MyAppleMenu
InfoMac
The Mac Observer
Accelerate Your Mac
RetroMacCast
The Vintage Mac Museum
Deal Brothers
DealMac
Mac2Sell
Mac Driver Museum
JAG's House
System 6 Heaven
System 7 Today
the pickle's Low-End Mac FAQ
Affiliates
Amazon.com
The iTunes Store
PC Connection Express
Macgo Blu-ray Player
Parallels Desktop for Mac
eBay

Advertise