Trackpad Scrolling for Older 'Books, Battle of Puny Mac Servers, New Clamshell Battery, and More
This Week's PowerBook and iBook News
Compiled by Charles Moore and edited by Dan Knight - 2005.02.18
General Apple and Mac desktops are now covered in The Mac News Review.
'Book News
iPod News
Windows Watch
This week's Mac News Review: Slow Mac mini supercomputer cluster, Mini-to-the-max upgrades, first 1.8 GHz G4 upgrades, and more. Also a blue-glo Mac mini skirt, Contour's RollerMouse Pro and RollerWave, Wacom's 21" LCD tablet, and QuickerTek's half-mile wireless antenna.
Trackpad Scrolling on a Pre-2005 PowerBook
"When Apple released the new PowerBooks recently, the feature that caught my attention the most was the scrolling trackpad. But, since I just got my PowerBook this past November, there's no way I'd buy a new one just for the trackpad.
"Earlier this evening, I came across this post on Accelerate Your Macintosh! It points to a customized mouse driver that enables trackpad scrolling on pre-2005 PowerBooks that support it. The driver works with Mac OS X Panther (it's been tested with 10.3.7 and 10.3.8), and it also works with iBooks that support trackpad scrolling....
"For more information (and to download the driver), see http://www-users.kawo2.rwth-aachen.de/~razzfazz/
Battle of the Puny Servers: iBook v. Mac mini
"Ever since Steve Jobs announced the Mac Mini, there's been a lot of buzz about using one as a server. Of course, Apple has a great offering of server hardware, with the XServe and XRaid, which has only gotten sweeter with the addition of XSan, which now could propel Apple's servers into the top tier of Enterprise IT solutions.
"So what's all of the fuss about using a Mac Mini as a server? I suspect it's the excitement of having an affordable Mac, finally, to supplement the 'other' Mac in the home or business space, and to have something to 'play with' or 'practice on.'
"While I can understand the excitement, I just got done proposing an Xserve/Xsan solution to a customer only to see it fall short on the redundancy and performance side to an IBM Linux solution that was several times more expensive. All this while the Mac Web is buzzing about puny Mini Mac servers.
"It's grass roots IT (which some would call rogue IT), but the lure of a small, cheap, and elegant computer running Unix server tools is very hard to ignore, especially with the ease of use and elegance that OS X and Apple hardware provides. It almost brings to mind (gasp) the word 'appliance;' is this a warm-up for something in the future? An Apple-branded NAS?
"Which leads me to believe that once again, the Mac might be becoming the 'computer for the rest of us,' and the Mac Mini the 'server for the rest of us.' Just last week, however, I engaged in a rather lengthy email debate with an Apple consultant in California regarding my opinion that the Mac Mini, while a capable server, was probably not a good solution for small business or even for colocation as a server, and that the excitement (no matter how justified) should be somewhat tempered by the fact that low-cost server Macs (actually lower in cost than the Mac Mini) have been available for four years. The Mac I'm speaking of is the iBook."
The article goes on to show how the battery built into an iBook more than offsets the cost of a two-hour UPS for the Mac mini.
About the New PowerBooks' Motion Sensor
Several new Apple Knowledge Base Article posted provide information about the Sudden Motion Sensor technology in the latest PowerBooks.
From Sudden Motion Sensor and video editing performance: "PowerBook G4 computers starting with PowerBook G4 (12-inch 1.5 GHz), PowerBook G4 (15-inch 1.67/1.5 GHz), and PowerBook G4 (17-inch 1.67 GHz) have Sudden Motion Sensor technology, built-in protection for the hard disk that is designed to help prevent disk failures if the computer is dropped or undergoes severe vibration. The Sudden Motion Sensor is designed to detect unusually strong vibrations, sudden changes in position or accelerated movement. If the computer is dropped, the Sudden Motion Sensor instantly parks the hard drive heads to help reduce the risk of damage to the hard drive on impact. When the Sudden Motion Sensor senses that the PowerBook position is once again stable, it unlocks the hard drive heads, and you are up and running within seconds."
"If you have a computer with the Sudden Motion Sensor and you have video editing applications, such as Final Cut Pro, Final Cut Express, or iMovie that exhibit performance issues (like dropped frames), then temporarily turn off the Sudden Motion Sensor while working in those applications."
From Sudden Motion Sensor: Advanced Tips:
"Apple has adjusted this feature carefully to provide the best balance between protecting the hard drive and preventing unwanted activation of the Sudden Motion Sensor. Most PowerBook G4 owners will never need to turn this feature off, and Apple suggests that you not modify the settings unless absolutely necessary.
"In some environments, such as live concert halls, recording studios, or dance clubs, external vibrations may be major enough to cause the module to unexpectedly park the hard drive heads, resulting in interrupted sound or video playback. In these situations, you may find that you want to disable the feature temporarily."
Review: NewerTech Clamshell iBook Replacement Battery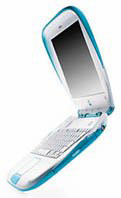 MyMac's John Nemerovski reports:
"Apple's original clamshell (or 'toilet seat') G3 iBooks are great portable computers. They scream in OS 9 and they work in OS X without any serious difficulties. But their replacement batteries were expensive and not easy to locate. Until now.
"Other World Computing (OWC) purchased NewerTechnology (NewerT), and maintains its well-respected brand name for domestic and international sales, says CEO Larry O'Connor. Replacement batteries are big business, as OS X becomes more efficient on older iBooks and PowerBooks.
"I use a bondi-colored USB-only iBook for training purposes, and my personal travel laptop is a blueberry iBook with USB + FireWire. The bondi machine had a dead battery, so OWC's NewerT replacement comes in very handy."
[Small niggle: there never was a 'Bondi' iBook - a color that only appeared on the original iMac. Blue iBooks were either blueberry or indigo. CM]
Battorox 1.7.8 Laptop Battery Monitor Shows Variety of Battery Info
PR: Battorox monitors easily and simply the battery information in your laptop including its capacity, amps, current capacity, voltage, flags and current capacity in percent.
Note:
The information of the battery can not be monitored while the battery is charging.
There are some Macintosh systems without any Sensor. So it is not possible to monitor the Battery Temperature of those machines.
New in this version:
Optimized for OS X 10.3.8.
Added cycle count.
System requirements: Mac OS X
Battorox is freeware.
Crumpler New York: You Talking to Me?
PR: "Hi, I'm the Crumpler bag website. I'm not a Johnny come lately, either. I've been through the rites of passage so I can help your passage. And whatever you passage with me.
"Plus, mum, I was here first, I was here first! NAHHHH ...
"I started in Ballarat, Australia, where u have to be tuff to survive cos it's cold & people are born with teeth in their ears to chew your every word. Then I ended up in Melbourne, Australia, on couriers' backs. That was a ride close to a passage. Heavy humps nearly put Crumpler into the grim creeper's dead bagland. But Crumpler bags got through.
"So here I am with u. Done the huff tart miles. Still smilin. Can teach u a thing or two about livin. Can hang on your shoulder coz I'm sewn tight to be your private voice of conscience up there. If you ask nice like, I'll carry your load through life for u.
"So what about this bier for bags? It's simple. You give us beer. We give you bags."
iPod News
Budfrog iPod Earbud Accessory
PR: Welcome to budfrog.com! You have discovered the iPod and iPod mini accessory that answers the question "isn't there a better way to store and manage my earbuds?" budfrog is the perfect earbud accessory because it's so unbelievably simple!
What's that you say? Don't have an iPod or iPod mini? You don't have iPod or iPod mini earphones? That's cool, budfrog works equally well with almost every type of earbud style earphone on the market today.
The Budfrog stops earbud cord tangles when in use and during storage. no more pulling a knot out of your pocket or wrapping the buds around your iPod.
When mounted on Apple's iPod clip, lets you listen to music without wearing earbuds. the buds act as mini speakers which also comes in handy with the iPod's alarm clock feature.
Lets you adjust the cord length, keeping the excess from getting in your way when running, biking, or working out.
Can be used with cassette adapters to keep cords out of your way.
Price: $6.95
Casemandu Armored iPod Case
PR: Hook Industries has created the ultimate protective case for the iPod and all its accessories. Casemandu cases are waterproof, dust proof, and shock proof. The precision routed foam insert, custom made for both iPods and iPod minis, is the same foam used by elite military units and NASA to protect the most sensitive equipment in their inventories.
Casemandu cases are specially designed to prevent "bag rash", a term used to describe the damage that occurs when equipment is stored within backpacks and similar gear bags. When you store something as valuable as an iPod inside abook bag or other nonconforming type of container, the movement within the bag, combined with the damage from other items rubbing and slamming into your valuable iPod, creates "bag rash" and destroys the finish and the value of your iPod. Not to mention the fact that the chances of quickly locating and using your accessories for you iPod are not good.
Casemandu cases provide the very best protection for you expensive iPod and accessories while keeping all your gear organized and ready for immediate use. We looked around for a solution like the Casemandu case and we couldn't find one, so we invented it and now many of the features of our case are patent pending! Casemandu is the only case on the market that combines all the protection, organization, storage capacity, and military specification quality in one nearly indestructible unit.
Price: $49.95
Casemandu cases will begin shipping on March 1, 2005.
OtterBox for iPod mini: Protection Exclusively for iPod mini Users
PR: Otter Products, LLC has announced the expansion of the iPod case line with the OtterBox for iPod mini, engineered exclusively for iPod mini users. This fully waterproof, interactive case allows digital music enthusiasts access to controls through a durable, yet compact design providing versatility for active lifestyles.
"With the expansion of the OtterBox Apple MP3 line, Otter Products offers a full range of products to consumers," said Curt Richardson, CEO of Otter Products, LLC. "This distinct product line allows users to protect their Apple iPod mini from harm and carry their music virtually anywhere."
In 2004, Otter Products, released iPod 3rd and 4th Generation cases and now with the introduction of the OtterBox for iPod mini, customers can take their iPod mini to the beach, gym, hiking, canoeing, or other activities without fear of ruining their valuable device. The OtterBox for iPod mini retails for $49.95.
"The new case incorporates many improvements that our original OtterBox for iPod users asked for," said Brian Thomas, Director of Sales and Marketing for Otter Products. "The OtterBox for iPod mini is completely waterproof, has an easy to read through screen, is useable with any style headphones and incorporates cable management on the belt clip for headphones."
Customers can also use the OtterBox for iPod mini's optional armband to listen to their favorite tunes as well as still access iPod mini controls through a clear membrane. With its transparent design, the OtterBox for iPod mini allows the color of the iPod Mini to show through.
"Numerous iPod mini users are restricted on where they take their digital music players because they worry about damaging their valuable device, not to mention loosing their favorite tunes," Thomas said. "The OtterBox for iPod mini allows users to become mobile and fully protects the valuable mini."
So for iPod users who are still taking their digital music players to the beach in plastic bags for protection, there's a better way to safeguard against environmental hazards with a comprehensive line of iPod protection cases from Otter Products.
Windows Watch
Toshiba Gets Tough with Notebooks
The Register's Tony Smith reports:
"Toshiba today [Feb. 15] launched a new line of business-oriented notebooks, claiming the systems offer better connectivity, data security and reliability than rival products.
"Notebooks equipped with the EasyGuard system are intended to appeal to IT departments fed up with fixing or replacing damaged laptops. The new machines feature sealed keyboards to protect more valuable components from drink spillages - sufficient, at least, to 'safeguard the notebook from certain low-volume spills and gives users several minutes to close any open files and turn off the machine'. They also feature rubber corners to limit the effect of impacts."
Bargain 'Books
There are two different versions of WallStreet running at 233 MHz, the cacheless MainStreet version and the later Series II with a level 2 cache. It's not always possible to determine from the vendor's listing which is being offered, so we've included links within this paragraph to the two models. The same goes for the PowerBook G4/667 (VGA) and G4/667 (DVI), the titanium vs. aluminum 15" PowerBook G4 at 1 GHz, and 1.25 GHz to 1.5 GHz 15" PowerBooks.
For more deals on current or recently discontinued models, see our Best PowerBook G4 Deals, Best iBook G4 Deals, and Best iBook G3 Deals.
Join us on Facebook, follow us on Twitter or Google+, or subscribe to our RSS news feed
Links for the Day
Recent Content
Follow Low End Mac on Twitter
Join Low End Mac on Facebook
Favorite Sites
MacSurfer
Cult of Mac
Shrine of Apple
MacInTouch
MyAppleMenu
InfoMac
The Mac Observer
Accelerate Your Mac
RetroMacCast
The Vintage Mac Museum
Deal Brothers
DealMac
Mac2Sell
Mac Driver Museum
JAG's House
System 6 Heaven
System 7 Today
the pickle's Low-End Mac FAQ
Affiliates
Amazon.com
The iTunes Store
PC Connection Express
Macgo Blu-ray Player
Parallels Desktop for Mac
eBay

Advertise