New G4 CPU PowerBook Bound?, $50 'Book Repairs, AppleCare Musings, Seagate Pocket Hard Drive, and More
This Week's PowerBook and iBook News
Compiled by Charles Moore and edited by Dan Knight - 2004.10.29
Tech Trends
Wintel Watch
Is Freescale's New PowerPC 7448 CPU PowerBook Bound?
A report by Paul on XLR8YourMac notes:
"....Motorola has posted, on their Freescale website, an updated user manual for the 74xx family of processors and its 5.7 Mb. It includes detailed info on their new 7448 processor (an update to the 7447A currently used in PowerBooks). < http://www.freescale.com/files/32bit/doc/ref_manual/MPC7450UM.pdf>
"A few interesting points to note...
Pin layout is the same so its a simple drop in upgrade
L2 cache has been increased to 1 MB (from 512k)
L2 cache is now ECC capable (ECC enabled taxes the processor only 1 extra clock cycle)
Now supports Dynamic Frequency Switching (DFS) which divides the system frequency by 2 or 4 for low power modes. (e.g., 1 GHz / 4 = 250 MHz)
Is based on 90nm SOI technology
Minimum frequency is 1.5 GHz"
Given that I'm 95% certain Apple won't have G5 PowerBooks ready for Macworld Expo in January, look for these 7448 chips to show up in the next round of PowerBook speed bumps.
$50 iBook & PowerBook Repairs at Wegener Media
Is your 'Book sick? dead? buried, wet, dropped, driven over, thrown, punched, kicked, slung, sat on, hammered, washed, nuked, or otherwise ailing? The folks at Wegener Media have seen every imaginable kind of laptop damage - even fist marks, car tracks, mud, fire, animal "stuff", tea, coffee, and beer.
They've repaired thousands of PowerBooks and iBooks, and they stock parts for every Mac laptop ever made.
Wegener's office is a full PowerBook office. All orders, repairs, and testing are done on PowerBooks, so they know how important it is to have a fully functioning machine immediately. Whether you've got a 17" Aluminum or an old G3 Clamshell iBook, Wegener's have the parts and can fix your machine.
$50 per laptop, per visit. That's it.
Wegeners' service plan covers full diagnosis and all labor for your machine. Send in your PowerBook; they'll diagnose it and call you the same day - and then install any parts needed immediately and ship your PowerBook back out to you ASAP.
Need an LCD repaired and a hard drive installed? No problem - the same $50 service fee covers installation of everything.
Wegeners' full-service shipping can have your laptop picked up from your door the same day you call. Just call before 1 p.m. in your time zone (rural areas may take a little longer), and they'll have a courier at your door that afternoon.
Need a box? They have that covered too.
Your repairs will not affect your Apple warranty. Wegener Media installs and repairs using only parts for Apple laptops.
Sky Captain and the G5 of Tomorrow
digitmag.co.uk's Brad Cook reports:
"The new movie Sky Captain and the World of Tomorrow was shot entirely in bluescreen, and the production process made a Mac convert of special effects supervisor Darin Hollings.
"When Sky Captain - hero of Paramount Pictures' hit film Sky Captain and the World of Tomorrow - swooped out of the sky in his P-40 Warhawk, protecting New York City from an army of giant robots, he wasn't just convincing moviegoers to suspend their disbelief. He also helped convince visual effects supervisor Darin Hollings that Macs could carry the load just as easily as, the Unix-based SGI and Linux-based PC workstations he previously used.
"A veteran in the film industry with over a decade of experience, Hollings says when he first met director Kerry Conran: "he handed me a 15-inch PowerBook as soon as I walked in the door. He told me 'You're going to learn OS X.' Kerry was such a proponent of the Mac that he wanted to make the entire movie in Cupertino."
To AppleCare or Not to AppleCare
allinthehead.com's Drew McLellan says:
"Come January, I will have been a Mac user for precisely one year. To be honest, I can hardly believe it's been so long already, and my PowerBook still very much feels like a new addition. I suppose in the 20 years I've been using computers, it is a new addition, and I'm still exploring and finding out stuff about my new platform every day. (This was a revelation). It's only grubbiness of the keys that give the game away and reveal the number of hours use this thing has had over the last ten months (I estimate around 4000 hours).
"So I'm thinking about whether or not to buy in to Apple's extended warrantee scheme, AppleCare. I'm normally set against extended warrantees with the view that they only exist because the manufacturer makes profit from them. If the customer base as a whole won on the deal then no right minded company would sell such a thing. However, the customer base as a whole matters little to the individual - at the end of the day it comes down to whether or not it benefits me if anything goes wrong. AppleCare offers an additional two years cover if anything goes wrong with my PowerBook, but at the cost of around £280...."
I've been there several times over the years, and my personal choice has been not to purchase AppleCare, which represents a significant chunk of the cost of my next system upgrade. AppleCare arguably makes more sense if you have a higher-priced machine - especially the not terribly rugged and astronomically expensive to repair larger metal PowerBooks, but I tend to buy entry-level Macs (like my current iBook), and given depreciation and the relatively low cost of replacement, I'll take my chances. So far, so good.
Editor's note: I take the opposite side on AppleCare for 'Books. My wife's 14" iBook 600 has had the keyboard replaced at least three times due to breaking keys, to mention nothing of the way the markings on the keycaps wear off. I also had the screen on my 15" PowerBook G4/400 replaced under AppleCare. My only change in the future would be waiting a year to see how the model holds up before investing in AppleCare instead of buying it with the new 'Book. dk
PowerSleevz Case for 17" PowerBook G4
PowerSleevz notebook cases elegantly protect the exterior finish of your computer from all of life's little bumps and grinds. Made from a heavier-gauge version of ScreensavRz fabric, the case stretches on like a glove, hugging every curve.
Extremely lightweight, flexible and durable like our popular ScreensavRz, the case weighs just 40 grams. This case folds up small enough to easily fit in your pocket! Protects exterior painted finish of PowerBook G4 from your larger case's zippers and hardware, or anything else lurking out there.
This is a great, hassle-free tote when you just need to take the 'Book. Elegant debossed "PowerBook" text on one panel.
Features:
Superlight, formfitting protective sleeve.
Made from our exclusive Optex fabric. Clean and polish anything with it, including the screen!
Breathable, yet repels liquids.
Offers significant protection - PowerSleev'd notebooks have survived incredible perils.
Fits your 'Book like a glove.
Enhances your grip when carrying.
Debossed "PowerBook" logo on one side.
PowerSleevz Specs:
Material: Optex - synthetic super-microfiber (>1 million fibers/sq. inch)
Cross-sectional thickness: 0.8 mm
Formfitting, deluxe sleeve case insulates your PowerBook G4 from life's little hazards.
Price $27.95
Burns the Price to Pay for G4 Power on Your Lap?
AppleMatters' Gregory Ng says:
"I have been burned by my PowerBook and Apple doesn't care. No seriously. I'm talking about getting physically burned. Okay. Maybe I'm exaggerating. I didn't really get burned but sometimes after working on my PowerBook for a while, the heat, given off by the battery, feels like it could burn my leg hairs off....
"Some say, the heat is due to the slim design and the metal material. Some say if they added more fans, it would not only make it thicker but it would make it louder. Would I be receptive to a thicker, noisier PowerBook? Absolutely not. A visit to the Apple Store with my PowerBook resulted in a Mac Genius telling me the heat was normal.
"So what's next for me? It looks like I will have to continue to sandwich a pillow between my PowerBook and my legs to avoid the heat. Or maybe I should buy a new iBook and sacrifice power for comfort. I haven't heard about heat issues with the plastic iBook form. Either way, if heat is the price to pay for G4 power. I better keep my firefighter Halloween outfit for the G5 PowerBooks."
There's a better way, Gregory. Check out the LapWorks Laptop Desk or the Targus ChillMat.
SystemLoad Detects Cooling or Power Supply Problems
SystemLoad is a diagnostic application assisting you in the detection of cooling or power supply problems with Macintosh computers. The tool can put a user-definable load onto one or more processors. This can help in diagnosing the following issues:
problems with the cooling system or temperature sensors
problems with chirping noise experienced on some G5 systems and some portable computers
problems with battery units of portable computers
When desired, the tool can put the processor(s) under the maximum load possible, generating the highest possible temperatures and highest load on the power supply. You so can verify if all components (CPUs, sensors, cooling subsystem, power supply unit, battery unit) are working correctly when they are pushed to their design limits. No installation is required, no administrator permissions are needed, nothing is changed in the operating system.
System requirements: Mac OS X 10.2 or later
SystemLoad is freeware.
Colorado Dentistry School Chooses PowerBooks
An Apple Education report says:
"Colorado Dental University of Colorado School of Dentistry students no longer struggle with heavy backpacks full of books, and trying to find time to work in the computer lab. Instead, the future dentists carry a 12-inch wireless PowerBook notebook computer from home to class to the patient simulations clinic.
"Beginning in the fall of 2004, the PowerBook became a mandatory purchase at the dental school. For years, students have leveraged rich digital content - such as multimedia presentations and electronic patient simulations - to perfect their techniques while on the university campus. Now, the PowerBook notebooks make it possible for every student to review this content from any desired location at any time, extending learning beyond the classroom."
Reflections on 18 Months with a 17" PowerBook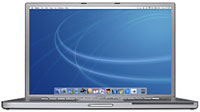 Blogger Tom Yager says:
"I finally said goodbye to the 17-inch PowerBook that arrived on my door in April of 2003. It's a wide load and difficult to balance on lap and desk surfaces made for notebooks. Mine has slid onto my cheaply-carpeted (picture worn felt on concrete) office floor, almost always open and powered up. I've found it glowing in the A-frame position more times than I care to recall. I have flown with it close to 50 times, each time jamming it into a bag that concentrates a heavy load right on the center of the lid, and to add further insult to this, I'm forever kicking my notebook bag under the seat in front of me. I told readers before the PowerBook arrived that I'd cut it no slack, not even the ordinary care that I extend to the plastic PC notebooks I test. I was mean to the PowerBook because I was sick of fragile plastic crap passed off as business notebooks and assumed that toymaker Apple built the same, only prettier.
"Here's my assessment of the 17-inch PowerBook's condition on its way out. I estimate a total of over 3,500 hours of use in 18 months - don't pity me. The hard drive has no soft errors and the display remains bright, evenly lit and without dead pixels....
"My PowerBook has never failed to boot or trashed any file I've ever put on it. That's significant because I have cloned the machine from an 800 MHz 15-inch Titanium PowerBook, to a 1 GHz 15-inch Titanium PowerBook, to the 1 GHz 17-inch unit and then to my current 1.5 GHz. I went through several versions of OS X, and I've never done a clean install of the OS...."
Tech Trends
Seagate Hopes for Big Splash with Small Drives
Cnet News.com's Dinesh C. Sharma reports:
"Seagate on Monday unveiled two new portable hard drives--one of which is just 3 inches in diameter, yet capable of storing 5 GB of data....
"The 3-inch Seagate USB 2.0 Pocket Hard Drive has a retractable USB cable, which is intended to make it easy to slip the device in and out of a pocket. The drive also features rubber feet designed to keep it still when it's being used with a desktop, Seagate said....
"Seagate's other new device, the USB 2.0 Portable External Hard Drive, stores 100 GB, weighs about 1 pound and features the company's fluid dynamic bearing motor, which is designed to keep noise levels low...."
The 3600 rpm drive, which is visually reminiscent of Apple's round mouse, has a suggested retail price of $199. By comparison, Apple's iPod mini has 4 GB of storage, plays music, and includes both FireWire and USB 2.0 connectivity for $249.
Mobile PC Battery Life Group Reaches Major Milestone
The Mobile PC Extended Battery Life Working Group, a worldwide, industrywide group of companies working together to extend the battery life of mobile PCs, announced a major milestone for its low power display panel initiative, confirming an average annual shipment of more than 6 million low power 12.1"/14.1"/15.0" XGA display panels at 3 watts or less, about 12% of total estimated notebook shipments for 2004.
Since establishing the initiative a year ago, average display panel power consumption has dropped from 4.3-4.5 watts to 3 watts or less - power savings equivalent to 60 minutes of extra battery life in notebooks. The EBL-WG is targeting an annual rate of 10 million units at 3W or less by early next year, about 20% of estimated total notebook shipments for 2005.
According to Kamal Shah, Mobility Enabling Initiative manager, Mobile Platforms Group, Intel Corporation, and chairman of the EBL-WG, a mobile PC display subsystem constitutes a significant portion of the overall, average power consumed by a mobile PC. Among the various components and subsystems within a mobile PC, the display subsystem absorbs the most power by far. "As new lower power display technologies emerge, the display subsystem must also consume less power to continue driving down overall mobile platform power consumption," said Shah.
"Consumers are increasingly demanding longer and longer battery life from their notebook PCs. If we are to achieve the ideal of all-day battery life, reducing power consumption of notebook PC displays is critical," he said.
The EBL-WG milestone demonstrates manufacturers increasing desire to drive down platform power consumption and satisfy end users desire for longer battery life. Several new companies recently joined the EBL-WG including AMD, ATI Technologies Inc., BIC, Infineon, Millennium Cell Inc., Motorola Energy Systems Group, O2Micro, and Sion Power. (Apple is not a member of this group at present.)
"Our increasingly mobile lifestyles demand information access at any place, any time. With WiFi, as Internet access is becoming easier and widely available, we need to complement it by longer battery life so users have truly wireless experience," said Arif Maskatia, vice president, Acer Value Labs.
The EBL-WG is extending its efforts to drive the industry to adopt its methodology for measuring battery life, which provides a common reference for mobile PC manufacturers to assess power consumption of different panels. The group is encouraging all display panel manufacturers to include power consumption measured according to the EBL-WG guidelines in their product data sheets. The initiative will allow mobile PC manufacturers to assess the list of panel features comprehensively and simplify the panel qualification process by compiling all relevant data in one place.
Rolleiflex MiniDigi Has Look and Feel of Original Twin Reflex
Two lenses, one above the other. The hand crank lever. The shutter release. The hooded viewfinder. The exposure meter. The coal-black casing. And the Rolleiflex logo.
They're all part of a new Rollei camera that will hit the U.S. market in November. What's different from the original - a classic that has attracted the world's top photographers from its introduction in 1929 to this day - is that it's much smaller and digital.
Much as auto manufacturers who have applied modern technologies to classic designs, such as the Jaguar "S" series, Ford's Thunderbird, or the Volkswagen New Beetle, the new Rolleiflex MiniDigi has the look and feel of the original, but easily fits in the palm of your hand or pocket. Most importantly, it's a camera with features that are not only nostalgic, but also unique in the digital world.
Take the hand crank. Like its parent, the hand crank is an integral part of the camera, but instead of advancing film (which it obviously doesn't have), the Rollei MiniDigi's crank prepares the camera for the next shot. Another unique feature is the classic popup hood and viewfinder. The hood means no stray light gets in the way. The hood also provides a quick finder function since it can fold down to allow "see through" quick framing.
Still another nostalgic design feature that has modern applications is the square format. The square format means no shutter opportunities or valuable seconds are lost having to choose between horizontal or vertical position. You simply look downward into the viewfinder at waist level, aim, and then shoot from the waist. This results in minimal "camera fright" for portraits or taking pictures of babies or animals because the eyes of the photographer and the person don't meet. In addition, the square format doesn't force the photographer to choose between landscapes or portraits orientation.
Besides the features unique to Rolleiflex, the MiniDigi incorporates digital camera technology - SD memory cards, white balance, fast shutter speeds, 2-megapixel sensor, LCD monitor, etc. However, it's not intended to be a full-featured digital camera.
"While the MiniDigi, because of its size, doesn't have some features like USB or flash, it does have a unique, retro styling that will likely appeal to camera buffs and consumers who want something classic, original, fun, and extremely portable," stated Dick Dischler, who is in charge of US distribution for Rollei Logistics. "The MiniDigi has really taken off in Japan where the first reaction is often 'this is really cool.'"
That's certainly my reaction. I'm a Rollei twin-lens reflex fan from way back, and used one as my main tool when I made my living as a wedding and portrait photographer 25 years ago. My old, early-'70s Rollei still works great and takes beautiful pictures, and I think the twin-lens reflex format is the best ever devised for general photography.
The new Rollei will begin shipping in early November and be available through specialty retailers. Pricing is expected to be in the $350 range.
Wintel Watch
Dell Debuts 17" Consumer Notebook: Inspiron 9200
Dell has launched the Inspiron 9200, the company's first notebook with a 17" wide-aspect screen, providing customers a viewing area 26 percent larger than a 15.4" typical wide-aspect notebook display despite occupying a smaller footprint and weighing less than most 17" models. The 9200 measures only about 1.5" thick and weighs a little more than 7.5 pounds
The new notebook system is powered by Intel's Pentium M 7xx series processors. With its mobile optimized architecture and support for lower power technologies, the Inspiron 9200 delivers exceptional battery life of up to 3.4 hours with the standard 53WHr battery.(b)
The product includes an advanced graphics card that delivers an exceptional viewing experience for movie lovers and multimedia enthusiasts. Likewise, the large display aids in productivity applications, allowing users to view and work in two applications simultaneously, such as conducting Web research and authoring documents.
Housed in a silver and white chassis with an integrated subwoofer, the Inspiron 9200 is designed to provide easy access to multimedia content. Front and center multimedia keys allow users to navigate through music content simply.
The Inspiron 9200 is also the first new Inspiron notebook to incorporate +/- optical drives, including an 8X CD/DVD burner (DVD+/-RW+R)(c) with double-layer write capability, providing the fastest burn capability on a slim drive currently available.
Technical Highlights: Inspiron 9200
Choice of Intel Pentium M processors: 725 (1.6 GHz), 745 (1.8 GHz) or 755 (2.0 GHz)
256 MB to 2 GB DDR at 333 MHz
UltraSharp Wide Aspect Display (17") with choice of resolution: WXGA+ (1440x900), WUXGA (1920x1200)
ATI Mobility Radeon 9700 128 MB graphics card
Integrated 56K(f) v.92 capable modem, 10/100 ethernet, optional integrated WiFi (802.11b/g or 802.11a/b/g) and Bluetooth capability
Choice of modular optical drives: DVD, CD-RW/DVD, or Double Layer(d) DVD±RW/+R
Choice of Hard Drives: 40 GB(g), 60 GB(g), 80 GB(g), 100 GB(g)
Ports include IEEE 1394, USB 2.0, Dolby Digital Audio Out, S-video Out, S/PDIF, SD Memory Card Reader
6-cell or 9-cell Primary Lithium Ion battery
Bargain 'Books
There are two different versions of WallStreet running at 233 MHz, the cacheless MainStreet version and the later Series II with a level 2 cache. It's not always possible to determine from the vendor's listing which is being offered, so we've included links within this paragraph to the two models. The same goes for the PowerBook G4/667 (Gigabit Ethernet/2001) and G4/667 (DVI) and the titanium vs. aluminum 15" PowerBook G4 at 1 GHz.
For more deals on current or recently discontinued models, see our Best PowerBook G4 Deals, Best iBook G4 Deals, and Best iBook G3 Deals.
Join us on Facebook, follow us on Twitter or Google+, or subscribe to our RSS news feed
Links for the Day
Mac of the Day: Power Mac G4 Cube, (2000.07.19. Compact, powerful, and attractive with limited expansion and a high initial price doomed the Cube.)
Recent Content
Follow Low End Mac on Twitter
Join Low End Mac on Facebook
Favorite Sites
MacSurfer
Cult of Mac
Shrine of Apple
MacInTouch
MyAppleMenu
InfoMac
The Mac Observer
Accelerate Your Mac
RetroMacCast
The Vintage Mac Museum
Deal Brothers
DealMac
Mac2Sell
Mac Driver Museum
JAG's House
System 6 Heaven
System 7 Today
the pickle's Low-End Mac FAQ
Affiliates
Amazon.com
The iTunes Store
PC Connection Express
Macgo Blu-ray Player
Parallels Desktop for Mac
eBay

Advertise