iBook G4 Benchmarks, Seven Best 'Books, Pismo G4 Upgrade Progress, $99 PPC PowerBook, and More
This Week's PowerBook and iBook News
Compiled by Charles Moore and edited by Dan Knight - 2004.02.06
Except as noted, prices are in US dollars, bold links are to outside sites, and regular links lead to 'Book profiles on Low End Mac.
iBook G4s Benchmarked
MacSpeedZone's David Engstrom says:
"On paper there is very little to separate these three iBooks, other than processor speed and screen size. Even in processor speed, you don't see the kind of performance gaps that exist between the Tower Power Macs. No, the iBooks take only baby steps in terms of clock-speed, with the high-end 1 GHz Book clocking in only 25% faster than the low-end 800 MHz iBook.
"This is reflected in the raw processing capability of each model iBook. Setting the 800 MHz model at 100%, in basic processing prowess, the 933 MHz iBook comes in between 12% to 14% faster, and the 1 GHz machine 17% to 24% faster.
"All three machines have the same graphics card, but the extra processing muscle of the two higher-end models does help them best the 800 MHz machine in most of our graphics tests . . . even if it is by a small margin."
Seven Best Mac Laptops?
Gene Steinberg, writing for USA Today, says, "No list of the greatest Macs of the past 20 years would be complete without a selection of Apple laptops."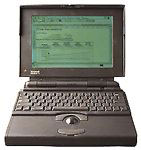 Gene's choices:
Interesting selection. I don't think I've ever seen a PowerBook 190 (68040 version of the PowerBook 5300) on a best 'Books list before.
The 140 and 190 would not make my seven best list. I agree about the PowerBook G3, which I think is the best-ever Apple 'Book so far, and the 17-incher is delicious.
For my own most recent "best 'Books" column, read Ten Great 'Books on Mac Opinion.
Daystar MAChSpeed G4 Pismo Upgrade Progress Report
For those who have been following the progress of my Daystar Pismo G4 upgrade, I've had the computer back in service for a bit more than 24 hours at this writing, and so far the transformation is a rip-roaring success.
The speed improvement is substantial and pretty much across the board. Finder actions like menu access and opening documents and dialogs are much livelier, scrolling is faster, and programs start up quicker. Browser performance has speeded up as well.
Compatibility and stability appear to be both excellent. I haven't encountered any issues with either so far. The computer does run a bit hotter (I can't say how much, because the new G4 chip is not supported by Temperature Monitor, but the palm rest does get warmer than it did with the G3 CPU), but that was to be expected.
With the Daystar 550 MHz G4 upgrade card and running OS X 10.3.2 Panther, the old Pismo is definitely faster now than my 700 MHz G3 iBook, even though the latter has 150 MHz more clock speed, twice as much video RAM, and supports Quartz Extreme. I expect that the PowerBook's full MB of level 2 cache helps.
This upgrade makes performance sense, but does it make economic sense? You can buy a brand-new 800 MHz G3 iBook from Apple for $799 on the Special Deals page of the Apple Store. The 550 MHz G4 upgrade from Daystar costs $329 dollars, and a used Pismo from Wegener Media (see below) will set you back $599.
Based on my observations, the 550 MHz G4 Pismo will almost certainly outperform an 800 MHz G3 iBook, and it offers certain niceties that the iBook doesn't, like a PC card slot, a removable device expansion bay, two FireWire ports, and an IrDA port. There is also a less expensive 500 MHz Daystar G4 upgrade for $289. As the owner of both a G4-upgraded Pismo and a G3 iBook, I have no hesitation in saying that I now prefer the Pismo without qualifications.
A Keyboard You Can Stuff in a Laptop Bag
The CoolMacKeyboard is the world's most flexible keyboard - in more ways than one. This silicone-cast keyboard is completely rollable and liquid resistant, making it perfect for travel or harsh conditions. Type quietly without the clicking of regular bulky keyboards. USB interface. Ice White. $59.99.
SpyMac Introduces New Line of Notebook Cases; Opens Online Shop
SpyMac has introduced its new line of notebook cases designed specifically for Apple's iBook and PowerBook. The cases were designed by the same team responsible for Spymac.com and include details such as an integrated screen and wrist protector, a shock protection system, and special iPod and power-adapter compartments. They are available in 12", 15", and 17" versions and will begin shipping on Feb. 12. Special savings are currently being offered to customers who preorder.
All SpyMac Shop items are currently only available for USA distribution, but international distribution will follow shortly. All products come with a 30-day, no questions asked, money-back guarantee.
The Spymac.Case is compact, luxurious, and designed and produced exclusively by SpyMac. It features a large comfort grip handle, oversized buckles and Teflon coating for premium spot protection. All Spymac.Cases feature an integrated shock-protection system and include a matching numerical-security lock, a detachable shoulder strap with anti-slip padding and an integrated keyboard and screen protector. Available sizes include 12", 15", and 17" versions.
A diagonal zipper-cut was implemented for easy operation of a notebook computer directly from the Spymac.Case. What's more, soft fabric folds over the front zipper area to provide a comfortable wrist-rest, and buckled-straps keep the backside of the case propped up when needed. For ultimate convenience, the Spymac.Case has a special iPod pocket that allows for Apple's MP3 player to stay connected to a notebook computer even when packed away, thanks to open-ports at the bottom of the pocket just big enough to accommodate the iPod's wired connection.
Constructed with 1000-D nylon and reflective 3M piping, the Spymac.Case features an identifiable black and white design. Externally, the front contains a hidden pocket - perfect for the transportation of manuals or publications. On the inside, several large pockets provide space for an iPod, a power adapter, a wired mouse and any extra cabling required for the voyage.
Spymac.Pack
The Spymac.Pack is lightweight, versatile, and designed to accommodate Spymac's line of notebook cases. It features a large comfort grip handle, retractable trolley system, Teflon coating, a spacious interior and generous padding and protection. It can function as a notebook trolley and a traditional backpack.
The Spymac.Pack includes compartments for work and travel. An oversized garment and cosmetic compartment (with elastic X-straps) shares the interior with a divided notebook compartment, allowing for easy storage of a Spymac.Case (the 12", 15", and 17" versions all integrate effortlessly) or a third-party notebook case. The Spymac.Pack also features an expandable design (squeeze out every last bit of space with a zipper-extender function) and a large front-pocket organizer.
When used as a backpack, the inline wheels are hidden away by an attached wheel cover. The plush back and strap padding provide a comfortable ride. The Spymac.Pack carries IATA (International Air Transport Assoc.) measurements of 40 cm x 20 cm x 55 cm (15.7 in x 7.9 in x 21.7 in).
Iomega Claims Problems with USB 2.0 Ports in Apple Laptops
MacFixIt reports, "We received a report from Iomega representative Wayne Linder that the USB 2.0 ports found on Apple's PowerBook G4 (Aluminum) and iBook G4 models do not wake from sleep properly, resulting in a lack of functionality."
Juice 70 Combination AC and Auto/Air Notebook Power Adapter
iGo's Juice 70 is an all-in-one mobile adapter connecting notebooks plus a mobile phone or handheld simultaneously to any power source. (Accessory required for mobile phones and handhelds).
Juice supports most major notebook brands, including Apple, Compaq, Hewlett Packard, IBM, Toshiba, Dell, Fujitsu/Siemens, Gateway, and Sony Models, and was named Handheld Computing's Best Product of 2003
Juice comes prepackaged with the following tips: 2A, 3A, 4A, 5A, 6A, 8, 9, 11, 12, 15.
Specifications
AC Input: 100-230 V ~2A 50/60 Hz
DC Input: 11.75-16 VDC ~8A MAX
Continuous power output: up to 70 watts
Safety features: over voltage protection, current limit, over temperature protection, short circuit protection
Unit dimensions: 5.40"L x 2.15"W x 0.85"H
Unit weight: 7.5 oz.
Cord lengths:

AC Input: 3.0'
DC Input: 3.0'
DC Output: 6.0'

Peripheral Powering System power output: 7.5 watts DC maximum
Peripheral Powering System cord length: 3.0'
Warranty: 2 years
ice90 Universal AC Notebook Power Adapter for Home or Office
Versatile, convenient and simple to use, iGo ice90 adapter is a perfect solution for powering all of your mobile gear. Delivering up to 90 Watts of power through our patented tip technology, multiple ice90 adapters in your home and office settings reliably keep the power on no matter where you are, or what applications you might be running.
Features:
Compatible with most major notebook brands including Apple, Compaq, Dell, Fujitsu, Gateway, HP, IBM, Panasonic, Sony, Toshiba, Winbook and others
Sleek industrial design
Peripheral Powering System port (accessory sold separately)
Cable management belt
White status indicator light
Major safety certifications
Over voltage, temperature, and short-circuit protection
2 year limited warranty
Specifications:
AC Input: 100-240V AC; 50/60 Hz
DC Output to Notebook: Up to 90 Watts Continuous
Unit Dimensions: 5.67"L x 2.6"W x 1.25"H
Unit Weight: 15 ounces
DC Adapter Power Cord: 60"
Output Power Cord: 48"
Price: $90
Keyspan Ships New Retractable Sync + Charge Cables for Leading PDAs
Keyspan has announced it is now shipping ZIP LINQ retractable sync + charge cables for leading PDAs including Sony Clie, Toshiba Pocket PC, Dell Axim, and for the Visor PDA and Treo 600 smartphone from palmOne.
Road warrior friendly, the retractable cables enable users to sync as well as charge their PDAs via a laptop's USB port. The cable extends to 30 inches by pulling on both ends. Simply pull again and the cable retracts back into its durable housing. About the size of a quarter, the cables feature a remarkably compact form factor that helps eliminate the tangle of wires and power cords needed for mobile computing.
The new ZIP LINQ cables distinguish themselves from competitors in two ways. First, the cables are more compact than cables available from other companies. Second, the ZIP LINQ line offers an unmatched breadth of retractable cabling solutions.
Priced from $17.99, the new PDA cables expand Keyspan's "ZIP LINQ" retractable cable line that consists of dozens of USB, FireWire, PDA, Cell Phone, digital camera, modem, and Ethernet connectivity solutions for mobile computing.
The ZIP LINQ line of cables is a result of Keyspan's partnership with Cables Unlimited, a Concord, CA-based manufacturer and distributor of cables. Keyspan and Cables Unlimited are collaborating to market ZIP LINQ cables in the United States and Pacific Rim markets.
Keyspan's ZIP LINQ cables are available to resellers via Ingram and to consumers through leading catalogs and online resellers.
How to Make a Better Mac Laptop?
Dan Gillmor muses, "I return to a recurring fantasy.
"Now that IBM is making the chips Apple will use in new-generation computers, why can't Apple acknowledge, and take advantage of, Big Blue's supremacy in making laptops? The ThinkPads have set a standard for years in the hardware department. Apple makes elegant machines, but they're hardly perfect and quality control has been slipping lately.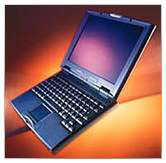 "Marry the ThinkPad hardware with Mac software, ease of use and style, and you'd have an almost perfect laptop. I realize there's no chance that this will happen. But that's how fantasy works."
Well, it's a fantasy not entirely without precedent. The PowerBook 2400c was designed and built by IBM Japan.
iBreeze Laptop Stand Reviewed
PowerPage's Bob Snow says:
"The iBreeze laptop stand is a bent, clear acrylic platform with active cooling powered by the USB bus of your laptop.... At US$29.99 from MacMice.com, it seems like a real bargain....
"I am a big advocate of stands for several reasons. I think that the ergonomics involved in using a laptop computer are highly problematic. If the built-in keyboard is at proper typing height, the screen is too low. Conversely, if you raise the screen up to a good viewing height, the keyboard is too high for typing....
"Another reason to use a stand is to allow air to circulate under the laptop for better cooling. I prefer passive cooling as long as it is adequate and keeps the internal fan from coming on...."
I agree, Bob. Laptop stands are a must-have for desktop substitute use.
Bargain 'Books
There are two different versions of WallStreet running at 233 MHz, the cacheless MainStreet version and the later Series II with a level 2 cache. It's not always possible to determine from the vendor's listing which is being offered, so we've included links within this paragraph to the two models. The same goes for the PowerBook G4/667 (Gigabit Ethernet/2001) and G4/667 (DVI).
new 12" iBook G3/800, 256/30/CD-ROM, LaCie FireWire Pocket CD-RW 24x10x24x, InCase Small Laptop Sleeve Soft-Tech, $999
new 14" iBook G3/900, 640/60/Combo, AirPort, $1,169
new 12" PowerBook G4/1 GHz, 256/40/Combo, Bluetooth, Apple Bluetooth Wireless Mouse, Macally USB Flash Drive 256 MB, $1,759
For more deals on current or recently discontinued models, see our Best PowerBook G4 Deals and Best iBook Deals.
Join us on Facebook, follow us on Twitter or Google+, or subscribe to our RSS news feed
Links for the Day
Mac of the Day: Power Mac G4 Cube, (2000.07.19. Compact, powerful, and attractive with limited expansion and a high initial price doomed the Cube.)
Recent Content
Follow Low End Mac on Twitter
Join Low End Mac on Facebook
Favorite Sites
MacSurfer
Cult of Mac
Shrine of Apple
MacInTouch
MyAppleMenu
InfoMac
The Mac Observer
Accelerate Your Mac
RetroMacCast
The Vintage Mac Museum
Deal Brothers
DealMac
Mac2Sell
Mac Driver Museum
JAG's House
System 6 Heaven
System 7 Today
the pickle's Low-End Mac FAQ
Affiliates
Amazon.com
The iTunes Store
PC Connection Express
Macgo Blu-ray Player
Parallels Desktop for Mac
eBay

Advertise