Pixinator Screen Tester, 75W Power Inverter, CoolMac Keyboard, 52x CD Burner, and More
This Week's PowerBook and iBook News
Compiled by Charles Moore and edited by Dan Knight - 2003.01.24
Except as noted, prices are in US dollars.
Pixinator 1.0 LCD Screen Pixel Tester
Eric Bailey's Pixinator is a simple tool to aid in identifying dead or stuck pixels in an LCD screen. It was created for those of us who can't stand having a stuck pixel in the middle of our workspace.
Features
Simultaneous testing of all attached displays
Intuitive interface, including several keyboard shortcuts
All functions available while viewing the onscreen manual
Instantaneous switching or smooth fading between background colors
Black background to help identify stuck pixels
Red, Green, and Blue backgrounds to help identify dead pixels
White background to help identify both pixel defects
Small file size
When should you use it?
When buying an LCD screen. You'll want to make sure the screen is as defect-free as possible. When purchasing used, make sure the seller has checked the screen for defects and has an appropriate return policy. When purchasing new, it's best to find a retailer with a no-questions-asked open-box return policy, so that you can return the screen if problems are found. If there is an open-box return fee, it's might be time to compare the cost of returning it with reselling the screen yourself.
When selling an LCD screen. Most buyers will want to know whether the screen has any pixel problems, and Pixinator will aid you in fully disclosing the condition of the display. You'll see the greatest return if your screen is defect-free or if the problematic pixels are close to the bottom or right edges of the display, out of most users' workspaces.
When problematic pixels develop over time on an LCD screen. Sometimes you can fix the pixel or deal with it. Otherwise, it might be time to sell!
When you simply feel like checking up on your screen. If you find your display to be stuck-pixel-free, you'll have the satisfaction of knowing it!
There is no surefire way to fix a dead or stuck pixel. Some have had luck gently rubbing the area of the pixel, possibly applying light pressure to both the front and back of the screen. You're mileage may very, and try at your own risk.
Alternatively, you could consult the display manufacturer to see if they will replace the screen. Usually, manufacturer's guidelines state that several problematic pixels must be present in a given area before the screen will be replaced. See below for a list of customer relations numbers.
Or, you could just deal with it. A dead green pixel in the lower right hand corner of the display - almost invisible in everyday use - is much more manageable than a stuck red pixel in the middle of your preferred Web browsing or typing area, but you might be able to train yourself to ignore both. Some people aren't bothered by problematic pixels.
If none of these solutions work for you, as stated above, it might be time to replace the screen.
Pixinator was designed to be as straightforward, small, and portable a utility as possible. At 48k, it is several hundred k smaller than similar products. Pixinator does away with useless features such as patterns or the ability to test any color and annoyances like registration screens or pop up windows. Plus, Pixinator is a bit more fun, allowing fading between colors in addition to immediate color switching. Nevertheless, sometimes another product may fit the bill:
Pixel problems arise from manufacturing defects and can manifest themselves right out of the factory or over time. Each pixel in an LCD screen is composed of Red, Green, and Blue sub-pixels. Any one, or even all of those sub-pixels can short out, either never turning on - a dead pixel, or always staying on - a stuck pixel.
System requirements:
Mac OS X
Tested on 10.2.3, should run on any version
If a Developer Preview of 1.4.1 is installed, make sure to run from Java 1.3.1
Fading performance subject to processor speed
Pixinator is freeware.
XPower Mobile Plug 75 Inverter
Provide your laptop or other device the power it needs while you're "on the go!" Insert the XPower Mobile Plug 75
into the lighter socket in your vehicle and plug in any electric equipment that draws up to 75 watts (maximum 5 minutes) or 60 watts or less (continuous) AC power. Ideal for using laptops and other electronic devices in mobile applications.
Height: 1.7 in / 4.2 cm
Length: 4.8 in / 12.1 cm
Width: 2.5 in / 6.3 cm
Weight: 4.96 oz / .14 kg
Price: $29.95
The CoolMac Keyboard is the
world's most flexible keyboard, in more ways than one. This silicone-cast keyboard is completely rollable and liquid resistant, making it perfect for travel or harsh conditions. Type quietly without the clicking of regular bulky keyboards! USB interface. Ice White.
Price: $59.99
Other World Computing Pushes CD-RW Envelope with Mercury Pro 52x-speed FireWire Solutions
Other World Computing has introduced two new external FireWire CD-RW drives that operate at 52x speeds and allow users to burn CDs in less than 90 seconds.
"These new 52-speed CD-RW solutions are further proof of our commitment at Other World Computing to continually bring the best and fastest solutions to market with exceptional value in mind," said Larry O'Connor, president of OWC. "We continue to try and push the technological envelope. We introduced our first 48-speed CD-RWs in November - the Mercury Pro 48x12x48 - and enhanced them in December by pushing the capabilities to 48x24x48. Now we've brought our first two 52-speed CD-RW drives to market. As with all of our Mercury Pro solutions, the Mercury Pro 52x24x52x CD-RW FireWire external solutions offer true 'plug & play' technology and make CD creation easier than ever."
The new 52x-speed Mercury Pro drives are compatible with both Macintosh and Windows-based systems with FireWire or USB support, and feature Lite-On SMART-BURN technology. Each drive ships with 25 pieces of CD-R media, one piece of CD-RW media, Roxio Toast Lite 5.2.x and all connecting cables.
The Mercury Pro 52X CD-RWs write to industry standard 550 MB (63 min.), 650 MB (74 min.) and 700 MB (80 min.) discs, respectively, and are capable of over-burn writes of up to 99 minutes. This functionality gives users the ability to manage large back-up jobs, archive data, make music CDs that are playable in any standard CD player, or create, edit and rewrite a variety of data formats to the discs many times over.
The Mercury Pro 52X CD-RW FireWire external solution is available now for $159.99 (USD). The FireWire/USB 2.0/1.1 version of the Mercury Pro 52X CD-RW solution is available for $179.99. The Mercury Pro 48x24x48 CD-RW FireWire external solutions are also available at prices starting at $139.99. All three CD-RW solutions are available exclusively through OWC.
Willow Announces New Expandable Mac Slipcases
Willow Design has announced a new line of slipcases for the Titanium, 12", and 14" iBooks.
The new slipcases are based on the excellent protection of its previous Macintosh slipcase lines, but add more space for accessories.
Users were generally very happy with Willow's past slipcases but often requested the option to carry more. "To meet their needs, we've designed the new line to feature a slightly thicker front pocket for accessories and then added a flat rear pocket which can bellow out to add a couple of inches of space when needed", explains president Nigel Peck.
Other features added to the slipcases include a handy externally accessed keychain clip and flap to make home and office commuting easier plus a change or small accessory pocket in the lid which is easily got at while the slipcase is on your shoulder.
Slipcases for the new 12" and 17" PowerBooks are in production and should be available within the next couple of weeks. All the slipcases feature Willow's lifetime guarantee, as do their other 30 cases devoted to Apple
The Kootenay 15" Titanium slipcase offers a lightweight, compact, yet flexible solution for carrying your 15" PowerBook, power supply and cord, and some accessories. The stylish design offers excellent protection for your Titanium in a compact and expandable case.
Pricing: $125 Cdn., $84 U.S.
iShuttle iBook Case
The water-resistant and durable iShuttle iBook Case for the clamshell iBooks comes in five delectable colors: blueberry,
tangerine, graphite, lime, and indigo.
Made of a semi-hard, water resistant EVA material
Padded computer compartment with Velcro securing straps and adjustable / detachable padded divider
Interior file pocket
Holders for pens/pencils, business cards, floppy and Zip disks, and CDs.
Adjustable/detachable strap with anti-slip pad
Ergonomic, comfort grip handle
Dual pulling, self-healing zippers
All metal hardware
Price: $98
Willow Eastern Large Display Carry Case for 14" iBook & Pismo/Lombard G3 PowerBook
The Eastern Large Display Case offers a lightweight, compact, highly protective solution for carrying the many
of the large screen laptops plus accessories. The case offers superb protection for all your gear with separate compartments for accessories in the lower level and extra space in the front zippered pocket.
Eastern Large Display Features:
fits many of the large display laptops such as the 14" iBook.
excellent protection for your laptop afforded by 1.2 cm (0.5") foam, reinforced by corrugated plastic on the front, back and lid plus 4 mm (1/8") hardboard on the case bottom.
extra protection afforded by cross directional corrugated plastic internal separation dividers.
up to four separate compartments for your laptop, adapter and accessories.
disc and CD-ROM pockets on the laptop compartment lid.
an outer front pocket organizer panel for pens, pencils, checkbook etc.
a zippered external front and back pocket which will fit 2.0 cm (0.8") of letter sized file folders or other gear each.
a zippered flat front paper pocket.
a convenient flat pocket on the back suitable for maps or magazines
luggage feet riveted through the hardboard bottom of the case which actually keep it up and off the ground.
secure thickly padded briefcase style handle with web anchors quadruple stitched and additionally reinforced by quadruple rivets through high density polyethylene underneath the fabric top panel.
contoured, thickly padded shoulder strap with heavy duty snap hooks for secure carrying.
lifetime guarantee against defects in materials or craftsmanship.
Available colors: black, charcoal, navy, teal, purple
Price: $124 Cdn, $83 U.S.
iCase12 Plus provides an additional side bag for documents and items as well as an ergonomically
curved and molded Deluxe carrying strap
The side bag offers 3 inside pockets, pen holders and a separate zippered outside pocket.
The inside pockets hold accessories like external FireWire drives such as the ultra portable CD-RW drives from VST.
The side bag clips onto iCase12 and is removed as easily as it is mounted. Leave the side bag at home for lighter traveling at any time!
To make things even lighter you could detach the side bag, fill it with bare essentials, stick the clips onto the velcroed pads on the back and take off with the side bag alone!
The new carrying strap is ergonomically formed, very wide and especially well padded for utmost carrying comfort. It attaches to the lid of the case to provide balanced load even with a fully packed side bag.
The base model iCase12 is equipped with all that it takes to add the carrying strap and the side bag to upgrade to an iCase12Plus in a blink when you find the need for it.
Price: $419
---
Bargain 'Books
There are two different versions of WallStreet running at 233 MHz, the cacheless MainStreet version and the later Series II with a level 2 cache. It's not always possible to determine from the vendor's listing which is being offered, so we've included links within this paragraph to the two models. The same goes for the PowerBook G4/667 (Gigabit Ethernet/2001) and G4/667 (DVI).
These units have plenty of power for word processing, email, the Web, etc. Check email, do your surfing, all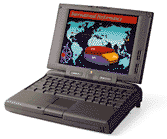 from the portable comfort of wherever you want to be.
Get it with built-in ethernet, and you've got a Web-ready unit for pocket change!!
Machines are refurbished and include a 30 day guarantee. Or, buy an extended one year warranty, exclusive with this machine, for $40 extra.
PowerBook 5300cs/100, 8/775 MB, 10.4" color LCD, floppy, battery, AC adapter, $69
internal ethernet/video card with 1 MB VRAM expansion, $20 with PowerBook purchase.
16 MB RAM Expansion, $20
refurbished iBook 800 14", 256/30/Combo, Kensington Mouse in a Box, CD Cyclone FlashKey USB 128 MB, $1,449
new PowerBook G4/667, 256/30/Combo, 32 MB VRAM, Griffin iCurve laptop stand, Apple Pro USB Keyboard and USB Mouse (white), $2,099
refurbished iBook 700 12", 128/20/Combo, $1,079
new iBook 700 12", 128/20/Combo, Airport, $1,159
refurbished iBook 700 14", 256/30/Combo, $1,295
new PowerBook G4/667, 256/30 GB/Combo, 32 MB VRAM, $1,899
PowerBook Pismo G3/400, 128/6 GB/DVD, FireWire, $929.95
PowerBook WallStreet G3/233, 96/2 GB/CD, 14.1", $679.95
For more deals, see our Best PowerBook G4 Deals and Best iBook Deals.
Join us on Facebook, follow us on Twitter or Google+, or subscribe to our RSS news feed
Links for the Day
Mac of the Day: iMac Core Duo, introduced 2006.01.10. The first Intel-based iMacs ran at 1.83 and 2.0 GHz, came in 17" and 20" sizes.
Recent Content
Follow Low End Mac on Twitter
Join Low End Mac on Facebook
Favorite Sites
MacSurfer
Cult of Mac
Shrine of Apple
MacInTouch
MyAppleMenu
InfoMac
The Mac Observer
Accelerate Your Mac
RetroMacCast
The Vintage Mac Museum
Deal Brothers
DealMac
Mac2Sell
Mac Driver Museum
JAG's House
System 6 Heaven
System 7 Today
the pickle's Low-End Mac FAQ
Affiliates
Amazon.com
The iTunes Store
PC Connection Express
Macgo Blu-ray Player
Parallels Desktop for Mac
eBay

Advertise