How Trade-ins Could Grow Apple's Market
- 2002.03.15
When you need a new computer, what do you do with your old one?
Every day old computers are being discarded as their useful life ends. Many get thrown out and end up polluting our environment.
A reader wrote me, bringing up a very interesting idea. What if Apple were to accept older computers in return for a discount on a new machine?
Once you find a new machine that suits your taste, you might order that machine, set it up next to your old one, transfer the files, and then stop using the old machine. Once that old machine reaches the point that it isn't very useful anymore, you might throw it out.
With the old machine just sitting there and not doing you any good, and with somewhat of a hassle to sell it, wouldn't it be great if you could trade in your old machine and receive a discount on a new one?
The base model LCD iMac is $1,299. Your 5400 may be worth around $100. If Apple accepted trade-ins,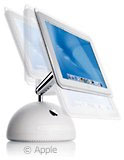 they might take $75 off of the price of the iMac, making it $1,224 - and giving you some more space on your desk.
Apple could either make sure the trade-in is working well and resell it to a distributor (who will test it out and sell it as reconditioned) or, if the old Mac isn't working, sort out the good and bad parts, sell the good ones to a distributor, and recycle anything left over.
This sounds like a great plan. I mean, you get a discount on a new computer and your old 5400 gets used for something.
Does this make sense for Apple?
Trade-ins could be a good thing. You might hold off on buying a new computer because the prices are a little too high; trading in your old computer might lower the price enough, giving Apple one more customer. And if Apple were to accept PCs, they might get quite a few more customers. (IBM already does this, and from what I hear it works quite well.)
It may cost more for Apple to test out these old 603e- and 604-based Performas and Power Macs than they are actually worth, and Apple probably won't be able to sell them for very much (they might be able to sell the 5400 for $100 to a distributor, who will then resell it for $175). It will also cost Apple something to have non-working or unusable parts recycled.
But if this gets Apple more customers, it might be worthwhile. What Apple needs to do is increase its market share, and accepting older Macs and PCs for trade-in might do just that.
Follow Low End Mac on Twitter
Join Low End Mac on Facebook
Favorite Sites
MacSurfer
Cult of Mac
Shrine of Apple
MacInTouch
MyAppleMenu
InfoMac
The Mac Observer
Accelerate Your Mac
RetroMacCast
The Vintage Mac Museum
Deal Brothers
DealMac
Mac2Sell
Mac Driver Museum
JAG's House
System 6 Heaven
System 7 Today
the pickle's Low-End Mac FAQ
Affiliates
Amazon.com
The iTunes Store
PC Connection Express
Macgo Blu-ray Player
Parallels Desktop for Mac
eBay

Advertise