A Worthwhile Upgrade!
Krishna M. Sadasivam - 2001.12.06
I've been a Mac user since 1997. Prior to that, I was a die-hard Apple IIGS fan going back to 1987. I've been well versed with the Mac OS for over 14 years. That said, I was very excited when I first read about the impending arrival of OS X. I knew I would make the switch, but I wanted to wait a few months after the initial release before upgrading.
While I like the classic OS, I find it to be unstable over a period of time. Frequent reboots were commonplace. I made sure to read articles and message boards on the subject, to know what to expect when performing the upgrade. In the end, the decision to upgrade was inevitable.
First, I decided to repartition my Dual G4/450 with 15 GB dedicated to OS X, and 15 GB devoted to Classic. Installation of 10.0 -> 10.0.4 was flawless. Even the subsequent 10.1 installation went without a hitch.
However, the same could not be said for my PowerBook G3 (Pismo). Installation of 10.0 was a nightmare,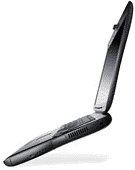 with kernel panics galore - sometimes early in the install, other times, as installation was on the verge of completing. After two days (and two sleepless nights!) of debugging, I narrowed the problem down to a faulty 512 MB DIMM I had purchased from OWC. A quick phone call to them, and I was able to get a replacement module. After its arrival, installation was a breeze!
I use Mac OS X 10.1 on a daily basis, both at home and at work. I found it to be relatively easy for me to adapt to, given my experience with Macs and (more recently) Unix. The stability factor and Unix under the hood were two features that sold me on getting this OS.
I am still patiently awaiting a few key apps to be ported over to OS X, namely Photoshop and GoLive, but I can live with running these in Classic for the time being. Perhaps the only reason I still revert to booting up my Mac into Classic is for AOL Instant Messenger. The "classic" version of this app supports Internet "Talk" mode, which allows me to voice-talk to friends over the Internet. I'm hoping for a Mac OS X version of Instant Messenger with the same feature.
At work I use my PowerBook G3 for hardware engineering. It's great being able to bring up terminal sessions, run vi, and run batch scripts within the operating system. I haven't been bold enough to experiment with utilities that allow me to bring up Unix GUI-driven tools yet, but it's nice to know that with a few free add-ons, that it is possible.
The most interesting thing I've noticed is how people's attitudes have changed towards the Mac with OS X. My coworkers were very impressed, and one of them might even consider switching to the Mac, given his current problems with his Compaq at home.
All in all, I'm very pleased and wish to congratulate Apple on a job well done!
Krishna M. Sadasivam is the creator of The PC Weenies cartoon - "Two 'toons a week, or the next one is FREE!"
Join us on Facebook, follow us on Twitter, use our Google+ page, or read our RSS news feed
Today's Links
Mac of the Day: Mac Plus, introduced 1986.01.16. The first Mac with SCSI, memory expansion, an 800K floppy. Longest model life - over 4 years.
January 16 in LEM history: 1986: Mac Plus - 2001: Inside the box - Create a random number picker in AppleWorks - 2002: PowerBook 100 series still rocks - Macs, myths, and conformity - 2003: Computer self defense - 2004: PowerBooks Apple's top earners - 2006: Enhancing WannaBe with Sherlock and Mozilla plugins - 2007: Simple ergonomics for the road warrior - Cingular and the iPhone: Apple's 30% solution - 2008: MacBook Air nearly perfect - Too few USB ports in too many Macs
Recent Content
Go to our home page for a listing of recent content.
Follow Low End Mac on Twitter
Join Low End Mac on Facebook
Favorite Sites
MacSurfer
Cult of Mac
Shrine of Apple
MacInTouch
MyAppleMenu
InfoMac
The Mac Observer
Accelerate Your Mac
RetroMacCast
The Vintage Mac Museum
Deal Brothers
DealMac
Mac2Sell
Mac Driver Museum
JAG's House
System 6 Heaven
System 7 Today
the pickle's Low-End Mac FAQ
Affiliates
Amazon.com
The iTunes Store
PC Connection Express
Macgo Blu-ray Player
Parallels Desktop for Mac
eBay

Advertise