Will Apple support any G3 Macs when Leopard (Mac OS X 10.5) ships early next year? Early indications were yes, but changes on Apple's website have removed any mention of the G3.
As OS X grows more power hungry, 512 MB becomes a less practical configuration. Many are saying that it's just not enough with Tiger.
One neat development this week if a free recycling service for rechargeable iPod, notebook, and other batteries. Kudos to Kokopelli Music!
We also have links to several in-depth looks at the Mac Pro, a new compact keyboard, two new mice, and some new iPod accessories.
PowerBook, iBook, MacBook, and other portable computing is covered in The 'Book Review.
All prices are in US dollars unless otherwise noted.
G3 or Not G3 for Leopard?
News & Opinion
Reviews
Products
iPod Accessories
G3 or Not G3 for Leopard?
Leopard on the G3, Will It Run or Not?
Hardmac's Yoc says:
"It seems that the answer is: no!
"Indeed, Apple posted the following sentence on its site shortly after Steve Job's keynote: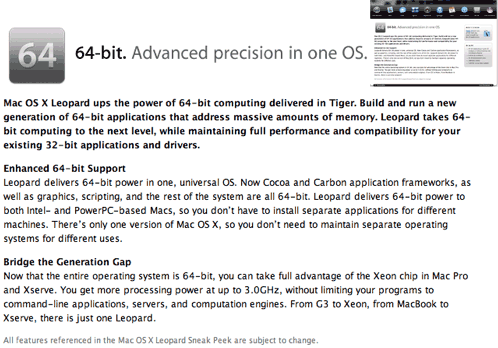 "'From G3 to Xeon, from MacBook to Xserve, there is just one Leopard.' It has since been changed to:
"'And in just one great package: Leopard.' In addition, the README of the version which was distributed to developers at WWDC states that the minimal system required is a G4."

Link: Leopard on the G3, Will It Run or Not?
Buh Bye, G3s?
MacUser's Dan Moren says:
"The debate over whether Leopard will run on G3s has thickened. Our initial report noted that Apple's Leopard page read as follows: 'From G3 to Xeon, from MacBook to Xserve, there is just one Leopard.' But only a couple of days later, Apple revised the sentence to read: 'Leopard delivers 64-bit power to both Intel- and PowerPC-based Macs, so you don't have to install separate applications for different machines.' Explicit confirmation of compatibility PowerPC-based Macs: good. Dropping the specific mention of G3 processors: uh oh."
Link: Buh Bye, G3s?
News & Opinion
512 MB Not Really Enough for Tiger?
MacUser's Dan Moren says:
" Pierre at Betalogue seems to confirm what I suggested a few weeks ago: running Tiger on 512 MB of RAM hurts. While in the process of troubleshooting some random freezes, he removed the third-party RAM from his Power Mac G5 Quad, bringing him down from 4.5 GB to 512 MB.
"My, this is a painful computing experience! I just cannot believe how slow the machine becomes with only 512 MB. There was, quite predictably, lots of hard disk activity, but I didn't expect the machine to become this slow. It was actually quite close to being unusable. Everything, absolutely everything was excruciatingly sluggish...."
Editor's note: I agree. IMHO, 512 MB is the barest of bare practical minimums for running Tiger (OS X 10.4.x), and even 640 MB (which I have in two of my laptops) is not really enough for running Tiger comfortably. I have 1.5 GB in my 17" PowerBook, and some days I could use more. cm
Other editor's note: Agreed. I've run Tiger on a 500 MHz G3 iMac with 512 MB of RAM, and it shouldn't be this slow. My recently deceased PowerBook G4/400 with 768 MB of RAM ran Tiger much more smoothly, and I consider that a minimum for decent performance.
When I upgraded my dual 1 GHz Power Mac G4 from 768 MB to 1.75 GB, I saw a significant improvement - probably because I often have over a dozen apps (including two Classic ones) open. dk
Tim Bray: 'For Now I'm a Macboy Again'
Tim Bray says:
"It took nearly two weeks to get the PowerBook fixed, but for now I'm a Macboy again. On balance, the Mac experience is better. But Ubuntu is not that far behind, and it's catching up. I'm thinking about the endgame.
"Where OS X Wins · The single biggest quality-of-life delta, weirdly, was the control keys. On Mac, it's command-C for cut and command-V for paste. On Linux it's Control-C and Control-V, except when it's not, which is in a terminal window and Emacs, which is where I spend a whole bunch of my time. OK, a small irritant, but one that bites all the time.
"Then there are the fonts. Anti-aliasing is an optional extra on Linux, and I wasn't willing to do the sources.list wrangling to get the bleeding-edge allegedly-anti-aliased Emacs. Also, lots of fonts Windows & Mac people use every day just aren't there on Linux. There are apparently some gyrations and downloads and things you can do to get some of them....
"Weirdly, now that I've realized that I can have a decent application suite that doesn't lock up my data and runs on whatever OS/Hardware, my desire to get off the Mac has moderated."
Link: For Now I'm a Macboy Again
Ubuntu Switcher Takes a Step Back to Mac
Hawk Wings reports:
"A month ago Tim Bray and Mark Pilgrim torched off a mini-firestorm in the blogosphere by announcing that they were switching away from Mac OS X to Ubuntu.
"Hawk Wings covered it because of Mail.app's central role in Mark Pilgrim's decision to switch away.
"Now Tim Bray is almost having second thoughts. He has posted a list of things that Mac OS X does better and things that Ubuntu does better. Mac OS X wins out in some important areas."
Link: Ubuntu Switcher Takes a Step Back to Mac
Security Costs Make Windows More Costly than Mac OS X
Roughly Drafted's Daniel Eran says:
"How much does it cost to maintain Windows and Mac OS X? Since Apple has released five times as many major updates and over fifteen times as many minor updates to Mac OS X since 2000, you might not have guessed that Windows actually costs users five times as much to keep up to date!
"How will software pricing affect sales of Apple's upcoming Leopard and Microsoft's Vista? Here's a historical comparison of professional desktop operating systems from both, leading up to a future outlook for how Microsoft's significantly more expensive platform will affect new computer sales in 2007....
"Maintaining a Windows install is like owning an aging, imported car: the initial sale price pales in comparison to its ongoing maintenance costs."
Link: How Much Does It Cost to Maintain Windows and Mac OS X?
Free Recycling for iPod, 'Book Batteries
PR: Got an old rechargeable battery and don't know what to do with it? Don't throw it away, it's toxic! Send it to Kokopelli Music and they'll recycle it for you, for free.
Kokopelli Music, one of the world's leading providers of iPod replacement batteries, is delighted to participate in a worldwide battery recycling program organized by the Rechargeable Battery Recycling Corporation (RBRC), a nonprofit, public service organization created to promote the recycling of portable rechargeable batteries and cellular phones.
Kokopelli Music will now accept any rechargeable battery, regardless of where you got it, and recycle it for you. We ship all our old batteries to RBRC, where they use a thermal recovery process to reclaim the metals (nickel, iron, cadmium, lead, and cobalt) from the batteries and prepare them for use in new products such as new batteries and stainless steel.
If it's rechargeable, it's recyclable!
The following rechargeable battery chemistries can be recycled - Nickel Cadmium (Ni-Cd), Nickel Metal Hydride (Ni-MH), Lithium Ion (Li-ion), and Small Sealed Lead (Pb). Rechargeable batteries are commonly found in portable media players like iPods, as well as cordless power tools, cellular and cordless phones, laptop computers, digital cameras, two-way radios, camcorders, and remote control toys. Look for the Battery Recycling Seals on the battery. Please do not send us alkaline or non-rechargeable batteries, as they are not recyclable.
Here's how to participate in our recycling program:
Put your old battery in a plastic bag, or wrap the contacts with electrical tape, and place it in an ordinary envelope.
If you like, include a few coins or a dollar to help us defray the costs of this program.
Put postage on it - a single first class stamp covers anything up to 2 ounces total, and that should be enough for an iPod battery. For packages over 2 ounces, add 1 stamp for every additional ounce.
Mail to Kokopelli Music Recycling, 310 Fifth Street Ext., Verona PA 15147 USA
Link: Kokopelli Recycles!
Apple Updates 'Vintage and Obsolete Products' List
Apple has discontinued support for certain "technologically obsolete and vintage" products.
Vintage products are those that were discontinued more than five and less than seven years ago. Apple has discontinued hardware service for vintage products with the following exception:
Products purchased in the state of California, United States, as required by statute. Owners of these products may obtain service and parts from Apple Service Providers within the state of California, United States.
Obsolete products are those that were discontinued more than seven years ago. Apple has discontinued all hardware service for obsolete products with no exceptions. Service providers cannot order parts for obsolete products.
U.S. Vintage Products now include:
Macintosh Server G3 (Blue and White)
Macintosh Server G4 (AGP Graphics)
Macintosh Server G4 (Gigabit Ethernet)
U.S. Obsolete Products now include:
Link: Vintage and Obsolete Products
Reviews
What Everyone Should Know about Mac Pro Memory Upgrades
Bare Feats' rob-ART Morgan says:
"The memory for the Mac Pro is not only fully buffered and error correcting, Apple recommends large heat spreaders (or heatsinks) to 'ensure that the fans run at the proper speed to maintain the optimal temperature and ensure acoustic performance. While a system will operate with FB-DIMMs with conventional heat spreaders, Apple recommends Apple-approved heat sinks for optimum performance and acoustics.'....
"This new 667 MHz Mac Pro memory is pricey, typically costing twice what you would pay for the 533 MHz memory for the Dual-Core and Quad-Core G5 Power Macs. For a 2 gigabyte kit (2 x 1 GB), Apple lists $700 and OWC lists $559. There are other companies selling that same size kit for as low as $355 as we write this.
"I'm all for competition and lower prices but what concerns me is that the lower priced sources either have a conventional heat spreader or they have no heat spreader at all. Eeek! Without the proper heat spreader, the memory will run hotter, causing the Mac Pro's fans to kick up in an attempt to keep the temperature down. With the memory we used (shown above), the fans never raised above idle even when we ran a CPU 'basher' for an hour. The Mac Pro didn't even register on our Decibel meter which measures 40 dB and above."
Link: What Everyone Should Know about Mac Pro Memory Upgrades
Mac Pro Up to 85% Faster than G5 Quad
maconintel.com reports:
"Good ole' Bare Feats has just published a set of benchmarks comparing the performance of a 2.66 GHz Mac Pro, a 3 GHz Mac Pro, and a 2.5 GHz quad-core Power Mac G5 at running both Universal and non-Universal OS X applications. While it was no surprise that the Mac Pro notably surpassed the Power Mac in Universal application performance, the former's ability to run Photoshop CS2 under Rosetta was surprisingly impressive.
"We don't want to spoil it for everyone, but some concluding remarks from the article are indeed rather telling...."
What's the Fastest Boot Drive for the Mac Pro?
Bare Feats rob-ART Morgan says:
"What is the best boot drive for my Mac Pro? And what about a dual drive RAID 0 boot volume?
"The factory 'stock' drives that came with the two Mac Pros we tested were a Seagate Barracuda 7200.9 250 GB and Western Digital Caviar WD2500JS 250 GB. We were not overly impressed with their performance and believed we could do better. We tested single boot drives and dual drive RAID 0 boot volumes in our 3 GHz Mac Pro. Tests included Reboot, Launching of a disk intensive application, Finder Duplicate of large single file, and QuickBench small block random read/write."
Link: Shootout: What's the Fastest Boot Drive for the Mac Pro?
Mac Pro Overview: Inside and Out
Macsimum News' Dennis Sellers reports:
"Today I'm starting a multipart review/look at the Mac Pro, which was announced on Aug. 7. I received one last week. This is Macsimum's first multipart review, but the Mac Pro is a complicated system with more new features than you might suspect. Today we're going to look at the case itself....
"Those hoping for a new pro desktop design were doubtless disappointed - at least regarding the outside of the Mac Pro. The aluminum case is pretty much identical at first glance to its PowerPC predecessor, though there are some welcome improvements. There are now two USB 2.0 ports on the front, and one each of FireWire 400 and 800. There are three more USB 2.0 ports on the back. Do the math, and you'll see that the Mac Pro sports a total of five USB 2.0 and four FireWire ports. Thank you, Apple. I was able to put away a couple of hubs and save some desktop space."
Link: The Mac Pro Overview, Part 1: Inside and Out
Mac Pro Is 'One Screamer'
Computerworld's Yuval Kossovsky reports:
"Earlier this week, I got a chance to work with a Mac Pro for an hour or so to see how it stacks up against the now-discontinued Power Mac G5. The model offered by Apple for purposes of this quick review was the standard configuration, which has the stock 2.66-GHz Xeon processors, 1 GB of RAM, a 250 GB hard drive, a single 16x SuperDrive and the Nvidia GeForce 7300 GT graphics card with 256 MB of video RAM.
"The dual-core, dual-processor, 64-bit machine is significantly quieter than Apple's previous top-of-the-line machine, the Power Mac G5 Quad, no doubt due to the lower power requirements and dramatically lower heat output from Intel Corp.'s Xeon 'Woodcrest' chips. While the Mac Pro's outer casing is not appreciably different from the Quad G5, the inside has been completely revamped. Since the heat output of the new system is so much lower than in the G5, the number of fans has been cut from nine to four, and the liquid cooling system is gone. That leaves much more room for computing components, and having fewer fans means less noise."
Link: Hands On: The New Mac Pro Is 'One Screamer'
Products
Adesso Mac SlimMedia Mini Keyboard
PR: The Adesso Mac SlimMedia Mini keyboard for Mac takes its inspiration from Apple's distinctive, contemporary approach to design. Inside its low-profile form, the keyboard is packed with performance and convenience functions. Low-travel, high quality membrane key switches delivers a crisp, responsive touch for faster typing. And multimedia hot keys provide intuitive, one-button control of audio playback & web browsing.
Features:
Hot Keys for Instant Web & Email Access
Slim Compact Design
Convenient Multimedia Controls
Bus Power USB with 2 downstream ports keyboard
Instant access to Multimedia, Internet and Application functions
Easy tactile keys lets you work longer in comfort
Compatible with Mac OS 9/ OS X (Jaguar & Tiger)
Specification:
Multimedia Hot Keys: 7 - Volume down, Volume up, Mute, Pre track, Next track, Play/Pause, Stop
Internet Hot Keys: 5 - WWW/home, favorite, Refresh, Stop, Email
Application Hot Keys: 3 - Calculator, Print, Sleep
OS Compatibility: Mac 9.1/10.3 or greater
Key Layout: 100 with 12 hot keys
Operating Force: 55 ± 10 ( gm )
Total Travel: 2.2 ± 0.3 ( mm )
Connector: USB Port
Key switches: Membrane switch with tactile feedback
Keycaps type: Low profile
Cable Length: 5 ft
Power consumption: DC 5 V ± 5%, low power consumption
Dimension: L x W x H 15.75 x 6.73 x .05 ( in )
MacMice Announces Danger Mouse USB Laser Mouse
PR: MacMice has announced its new flagship product, the Danger Mouse USB laser mouse.
"When Apple released its Mighty Mouse product just over a year ago, we were already well along in our design work to create what we felt would be the perfect USB laser mouse," says M.H. Peng, CEO of AllSpirit Co., Ltd., manufacturer of the new MacMice product. "Like Apple, we were seeking the simplest, cleanest design that would perform well and look great on the desktop. The Danger Mouse is the result of this effort."
The Danger Mouse has a glossy white outer shell with two button, scroll button, and scroll wheel functions. Its 1,600 dpi laser pickup mechanism provides superior tracking performance on difficult surfaces. And it's notchless MicroScroll mini scroll wheel gives an impressive sense of precision. MacMice's proprietary glide pads on the bottom provide a silky mouse motion, with or without a mousepad. It has a five-foot soft grey USB cable, and is compatible with the standard mouse drivers included in either Mac OS X or Win XP systems.
If you have not experienced the joys of using a modern laser pickup equipped mouse, you simply must know what you have been missing. Finally, you no longer need a mousepad; the laser pickup is sensitive and accurate enough to work on virtually any mousing surface . . . no more uncertain performance on glossy or colored table tops. The feel of precision of the 1,600 dpi resolution of this laser mechanism will make your image or video work, your drawing or graphics projects, or your detailed document creation tasks a sheer joy.
Apple's use of a miniature scroll ball on their Mighty Mouse product exposed many users to a new and seemingly contradictory concept: a tiny scrolling device "feels" more precise in usage than a larger one. However, many of these same users have learned that a sealed, embedded mini-trackball is not the perfect implementation of this idea. The MicroScroll miniature scrollwheel delivers the precision of an ultra-small scrolling device, but without the frustrations of a tiny trackball. It uses a 10mm diameter clickable, notchless design that provides smoothly gliding, highly precise operation, and a silky smooth feel.
Danger Mouse is available from the MacMice website or any MacMice retailer worldwide for $29.99, and began shipping on August 22, 2006.
Link: Danger Mouse
Adesso BlueIce USB Optical Mouse
PR: With its streamlined and stylish design, Adesso's BlueIce mouse features Plug and Play simplicity. and 800 DPI resolution offers twice the accuracy of typical mouse movement. This mouse features a blue LED on the scrolling wheel that allows the entire mouse to glow or light ( we do not use gleam in the U.S. in this manner, you must stop using it.) in the dark. Optical functionality is accurate on almost any surface. The three buttons are fully programmable, including the Internet scroll wheel.
Features:
Comfortable & Stylish dual-shell design with blue internal light
Super High sensitive with 400/800 DPI
Fully programmable buttons with scroll wheel
Compatible with PC and MAC
Navigate Through Windows with Unprecedented Ease and Speed
Easy to Install, Just Plug & Play
White color to match new iMac and iBook
Super Auto Scroll without Scrollbar / On Line Zoom / Connect to Internet (Special Driver Required)
Features a blue LED on the scrolling wheel. Allows the mouse to gleam in the dark.
Specification:
Precise optical sensor mouse
No moving parts to clean
Work on most surfaces without mousepad
Fully programmable buttons with scroll wheel
Button: 3 buttons, Internet scroll wheel
Maximum Cable Length : 4.5' feet
Net Weight : 2.4 oz
Dimensions : (W) 2.3", (H) 4", (D) 1.25"
1 year warranty
System Requirements:
G3/G4, iMac or PowerBook with a built-in USB port or any PowerPC with 3rd party USB adapter installed
Mac OS X or later
Windows 95, 98, Me, NT 4.0, 2000 and XP
Dimensions: 2.3" x 4" x 1.25"
Weight: 2.4 oz.
Link: Adesso BlueIce USB Optical Mouse
FastMac Reduces Prices on G4 Upgrades by 30%
PR: FastMac has announced it has lowered prices on its top-rated G4 AGP processor upgrades by 30%. Upgrades from 1.4 GHz to 1.5 GHz now start at just $249, providing the best pricing for upgrades with Level 3 Cache. FastMac also announced a new "SuperGrade" bundle that features a 16x Double Layer SuperDrive and Mac OS X 10.4 Tiger for just $99, representing a savings of over $100 if bought individually. The new, reduced pricing & "SuperGrade" bundle makes upgrading to Mac OS X Tiger and iLife '06 even more affordable.
"Tests have shown that our Motorola 7455-based G4 upgrades with Level 3 Cache provide 1/2 the speed of a 2 GHz G5 for just 1/8th the cost," said Michael Lowdermilk, Business Development Manager for FastMac Performance Upgrades, Inc. "Adding the SuperGrade bundle gives maximum performance with minimal cost."
"Many of our customers are choosing to upgrade their existing G4s while waiting on Adobe to ship Universal Binaries of their Creative Suite," said Edward Savio, President of FastMac Performance Upgrades, Inc. "The good news is that by then, Mac Pro prices will have dropped, meaning good things for those who wait."
The updated pricing, effective immediately, is:
G4 1.4 GHz, $249
G4 1.467 GHz, $259.95 (exclusive web-only deal)
G4 1.5 GHz, $269.95
G4 SuperGrade, $348 to $368.95
Each G4 AGP processor upgrade from FastMac carries a 3 year warranty and includes 256 Kb of 1:1 L2 cache on chip and 2 Mb of high speed L3 cache, along with an integrated heat sink that stays cool-to-the-touch even under extreme operating conditions.
FastMac's G4 AGP upgrades are designed to work inside Apple PowerMac G4 AGP Graphics (Sawtooth), Gigabit Ethernet, Digital Audio and Quicksilver models. They are compatible with Mac OS 9 and Mac OS X, including Mac OS X 10.4 Tiger.
Link: FastMac AGP Upgrades
iPod Accessories
Hand Carved SafariPod iPod Stands from Kenya
PR: A new website and product brand, SafariPod, is announced today with the first products offered being a group of six tropical wood jungle animal iPod stands that are hand carved in Kenya, Africa.
The first SafariPod products is a group of six gorgeous little iPod stands for all full-size iPods. Offered are hand carved figurines of a cheetah, elephant, lion, rhinoceros, hippopotamus, and giraffe. The figurines are carved to meet the Kenya "Good Wood" guidelines for conserving native hardwoods. And, each figure sells for $99.99.
SafariPod will offer a growing line of technology art, all hand carved from native woods by craftsmen in Kenya, Africa. All products will be stocked and shipped from a facility in the United States. And, all web orders from the SafariPod site will be for USA sale, only. Non-USA buyers will purchase their SafariPod items from dealers in their own international areas.
What Is Technology Art?
We live in the age of plastic doodads and gadgets. Face it, you probably don't have a single wooden item anywhere on your desk top right now. And, we think that's a shame. Just because we use computers, like digital music, and, keep our important information on a pocket PDA doesn't mean we have to strip our lives of things a little warmer, a bit more personal. At SafariPod, we are adding back a touch of humanity to our otherwise sterile environments. We hope you appreciate the effort.
For anyone accustomed to a plastic, mass-produced world, the idea of "hand carved" might not conjure the strong image we need to communicate to truly paint the picture of what is involved in creating one of these laboriously crafted iPod stands.
When we say hand-carved, we mean that a chunk of native hardwood is attacked with an adz, and chopped to approximately the right dimensions for the intended figurine by a native, Kenyan craftsman. And, from there, many hours of intense, tedious for-real human labor goes into creating your unique, one-of-a-kind iPod stand. No two SafariPod stands are the same, as all are made individually by different native carvers. Each is truly a personal work of art, created just for you.
Note: These are individually hand carved. Your specific iPod stand will be different from all others, and different from the ones shown here. These carvings are all in the same style, and vary in length from about 6-inches to 9-inches. Carvings are sold as-is, with no refund or exchange for any reason other than a gross defect.
SafariPod is proud to be an active financial supporter of the People and Plants wood conservation research project in coastal Kenya.
The SafariPod Lion iPod Stand
Our Lion iPod stand is a regally crafted carving, representing the king of the Big Cats... the African Lion. It fits all full-size Apple iPods (except the original 60 GB iPod photo model).
Lion iPod Stand - $79.99
USA Customers Only
Ships September 8th, 2006
The SafariPod Giraffe iPod Stand
Our Giraffe iPod stand is a beautifully detailed carving, colored with the native mottled fur pattern of the Kenyan Giraffe. It fits all full-size Apple iPods (except the original 60 GB iPod photo model).
Giraffe iPod Stand - $79.99
USA Customers Only
Ships September 8th, 2006
The SafariPod Hippopotamus iPod Stand
Our Hippopotamus iPod stand is a nicely detailed carving that pleasantly and humorously depicts the mildest of African creatures. It fits all full-size Apple iPods (except the original 60 GB iPod photo model).
Hippopotamus iPod Stand - $79.99
USA Customers Only
Ships September 8th, 2006
The SafariPod Cheetah iPod Stand
Our Cheetah iPod stand is a magnificently detailed carving, colored with the native spotted pattern of the East African Cheetah. It fits all full-size Apple iPods (except the original 60 GB iPod photo model).
Cheetah iPod Stand - $79.99
USA Customers Only
Ships September 8th, 2006
The SafariPod Elephant iPod Stand
Our Elephant iPod stand is an exquisitely detailed carving, capturing the magnificence of Kenya's most regal and recognized animal. It fits all full-size Apple iPods (except the original 60 GB iPod photo model).
Elephant iPod Stand - $79.99
USA Customers Only
Ships September 8th, 2006
The SafariPod Rhinoceros iPod Stand
Our Rhinoceros iPod stand is an elegantly executed carving, capturing the strength and poise of one of our most respected creatures. It fits all full-size Apple iPods (except the original 60 GB iPod photo model).
Rhinoceros iPod Stand - $79.99
USA Customers Only
Ships September 8th, 2006
Link: SafariPod
BoomBall iPod Speakers
PR: No power, no problem! The high audio quality and deep bass will have you staring in amazement at these speakers. The compact, single cable connects to the headphone jack on your iPod or any other device with audio outputs. This ultra-portable sound system allows you enjoy your music anywhere you go. These travel-size speakers require no batteries or bulky AC adapters. When you are ready to go, simply coil the cord around the inset groove around the ball, fold in half, and roll!
Features
Portable
High quality sound
No power outlet needed
Sleek design
Colors: Black, white, and pink (special order)
Technical Specifications
Impedance: 8 ohms
Maximum power input: 2W + 2W
Standard power input: 1W + 1W
Dynamic range: 300 - 20,000 Hz
Power: none required
Cord Length: 16 cm (6.24 inches)
Closed Speakers specifications: 83.5 X 77 X 77 mm (3.29 x 3.03 x 3.03 inches)
Opened Speakers specifications: 156 X 38.5 X 77 mm (6.14 x 1.51 x 3.03 inches)
Weight: 163 grams (5.75 ounces)
Link: BoomBall iPod Speakers
Logitech AudioStation a Complete Home-Stereo System for Your iPod
PR: Logitech has unveiled its best-sounding, most powerful and most complete speaker system for the iPod: the Logitech AudioStation high-performance stereo system for iPod.
This premium stereo system transforms any room in the home into a digital-music concert hall - delivering a full range of incredibly smooth, balanced audio, from floor-thumping bass to the precision high frequencies that bring music to life. Its relatively compact design (16-inches long, 4 1/4-inches deep, 7 1/4-inches tall) allows the AudioStation speaker system to sit elegantly atop an end table, book shelf or even a nightstand. And with the digital AM/FM tuner, the speakers can be a replacement for a traditional living-room stereo system as well as a perfect solution for an office or bedroom.
Just add your iPod to create a full-function stereo that fills any room in your home with high-performance sound. Enjoy audiophile acoustics from two-way speakers, featuring 1" soft-dome tweeters and 4" long-throw woofers. Command your experience with sophisticated touch-sensitive controls, and switch to the integrated digital AM/FM radio tuner when you prefer to listen to live music. Whether you're looking to replace your existing stereo, or just enjoy high-quality music for another room, Logitech AudioStation™ makes it easy: just plug it in and plug in your iPod.
The Logitech AudioStation speaker system features matching satellites with two drivers each that together offer a wide dynamic range of clear, powerful audio. The 1-inch, high-definition, soft-dome tweeters produce high frequencies with remarkable detail and clarity, and the 4-inch, high-power, long-throw woofers offer deep, powerful bass. Its bi-amplified acoustic design delivers unprecedented performance from a surprisingly svelte system.
While its audio performance is impressive, the AudioStation system's design is equally notable. The elegant one-piece system has a black finish and removable cloth grille covers, accommodating any room's decor. There are no buttons or knobs on the system - the controls on the front panel are all touch sensitive - giving the speakers a seamless, smooth appearance. When powered on, small LEDs illuminate the touch-sensitive controls with a soft white glow. The buttons are used with the soft touch of a finger to turn the power on and off, adjust the volume up and down, select radio stations, and switch the input from the iPod to other audio sources.
"With the AudioStation, we are redefining the premium iPod speaker category," said Jef Holove, vice president of product marketing for Logitech's audio business. "Nothing else delivers this level of full, balanced acoustic performance, the cutting-edge design, and the unanticipated extras - like digital AM/FM radio and touch-sensitive controls. It's a sophisticated and complete stereo system for any room in the house."
Above the control panel, the Logitech AudioStation speaker system has a large LCD that can show information such as radio station channels, the time, or an audio spectrum analyzer. The LCD also can display track information using Radio Data System (RDS) for FM stations that support RDS.
For complete control, the AudioStation speakers system comes with an advanced remote that includes the same controls as those on the control panel, as well as a menu button, a sleep timer, and a switch to turn the system's 3D stereo mode on or off - which widens the stereo sound stage, making the speakers sound farther apart than they actually are. Using the menu button, people can adjust bass and treble levels independently, change the display brightness, and choose whether or not the iPod backlight stays on while plugged into the AudioStation system.
When the iPod is connected using the Universal Dock connector, the AudioStation speaker system can simultaneously play music from the iPod and recharge its batteries. The AudioStation also features a 3.5 mm input that connects to other MP3 players and other audio devices.
Logitech's award-winning family of speakers for iPod and MP3 players also includes the midrange Logitech AudioStation Express portable speakers, also announced today; the award-winning Logitech mm50 portable speakers for iPod; the stylish Logitech mm32 portable speakers; and the ultra-compact Logitech mm28 portable speakers.
Performance
Power: 80W RMS
Max SPL: 110 dB
Frequency Response: 36 Hz - 23 kHz +/- 3 dB
Design
Tweeter amplifiers: (2) ultra-linear, Class AB
Woofer amplifiers: (2) high-efficiency, Class D
Sealed, tuned speaker enclosures
Adjustable sound field (bass, treble, 3D stereo)
Removable speaker grilles
Connections
3.5mm aux input jack
Composite and S-video output jacks
Universal Dock with support for all iPods with dock connectors
Package Contents
Logitech® AudioStation™ speaker system
Advanced remote control
Universal Dock adapters
AM & FM antennas
Quick-start guide
User manual
2-year limited warranty
The Logitech AudioStation high-performance stereo system for iPod will be available in the U.S. and Europe beginning in October. It will be available for a suggested retail price of $299.99 in the U.S.
Link: Logitech AudioStation
Logitech AudioStation Express Speakers for iPod
Logitech has extended its award-winning line of speakers for the iPod by introducing the midrange Logitech AudioStation Express portable speakers. In addition to its great sound quality, Logitech's newest speakers offer a durable design, a choice of power options, a protective case, and a wireless remote - making it the perfect solution in the home or outdoors.
In a recent Logitech study, consumers said that a rugged, durable design and the option of using either AC power or batteries are two of the most important features for portable iPod speakers. A complement to the minimalist styling of the iPod, the Logitech AudioStation Express speakers are extremely durable: Metal grilles protect the audio drivers, and the convenient case protects the speakers on the go. The case can also be left on the speakers while playing music to prevent scratches. To give people power options, Logitech designed the speakers to run on AC power, for use at home, or AA batteries, ideal for use outdoors. When powered by the included AC adaptor, the speakers also recharge the iPod battery.
"Our research has shown us unambiguously what people value in portable iPod speakers: durability and flexibility," said Jef Holove, vice president of product marketing for Logitech's audio business. "The AudioStation Express delivers directly on consumer desires, enabling people to play and share their music, around the home on AC power or outside on batteries, with a design that's durable enough to withstand a variety of environments."
Despite its compact size, the speaker system delivers dynamic, full-range sound quality with two 2.5" Max-X high-excursion drivers and a bass port. And, because the speakers support the Universal Dock Adaptor specification from Apple, current and future iPods with a dock connector on the base will be compatible to play music with the AudioStation Express. Using the system's video output jack, located on the back of the speakers, people can watch their iPod photos and movies on their television. The speaker system also features an auxiliary (3.5 mm) input that allows people to use the speaker system with early iPod models as well as with other audio devices, including CD, MP3 and portable DVD players.
Part of Apple's "Made for iPod" program, the AudioStation Express system is glossy white on all sides with black grilles and ports - a perfect match for the iPod itself. Using the included wireless remote control, people can adjust the volume, track forward, track back, play and pause the music while sitting on the couch or at the dining-room table. When not in use, the remote can slide into the integrated storage slot on the back of the speaker system.
Logitech's family of speakers for iPod and MP3 players also includes the Logitech AudioStation high-performance stereo speakers for iPod, also announced today; the award-winning Logitech mm50 portable speakers for iPod; the stylish Logitech mm32 portable speakers; and the ultra-compact Logitech mm28 portable speakers.
Features
Charges your iPod
Just place it in the dock; it charges while in use.
Wireless remote
Command your listening experience from a distance
Protective case
Take AudioStation Express with you. Metal grilles also protect the speakers.
Specifications
Audio
2.5" Max-X™ high-excursion drivers provide full, balanced sound
Tuned port for deep bass
Custom EQ for accurate audio performance
Hardware
AC or battery powered
Battery life: up to 10 hours using 6 AA batteries (not included)
Universal Dock (supports all iPods with dock connectors)**
3.5 mm aux input jack (for MP3 players and iPods without dock connectors)***
Video output jack
Package Contents
Logitech® AudioStation™ Express speaker system
International voltage AC power adapter (100-240 V)
Wireless remote
Protective case
Universal Dock adapters
Quick-start guide
2-year limited warranty
The Logitech AudioStation Express speakers will be available in the U.S. and Europe beginning in October. The speakers will have a suggested retail price in the U.S. of $129.99.
Link: Logitech AudioStation Express
Desktop Mac Deals
Low End Mac updates the following price trackers monthly:
For deals on current and discontinued 'Books, see our 13" MacBook and MacBook Pro, MacBook Air, 13" MacBook Pro, 15" MacBook Pro, 17" MacBook Pro, 12" PowerBook G4, 15" PowerBook G4, 17" PowerBook G4, titanium PowerBook G4, iBook G4, PowerBook G3, and iBook G3 deals.
We also track iPad, iPhone, iPod touch, iPod classic, iPod nano, and iPod shuffle deals.