Best Guesses About the New Macs at WWDC
Daniel Knight - 2012.06.11 -
Rumor has it we'll be seeing a lot of new Macs this week at the Worldwide Developer Conference (WWDC) - perhaps as early as today. And we'll be seeing iOS 6, probably learning a lot more about OS X 10.8 Mountain Lion, and maybe even see the next generation iPhone. But I want to focus on the Mac hardware side.
According to several websites, we can expect updates to the Mac Pro, the iMac, the MacBook Air, and the MacBook Pro. The only model that seems to be missing from the list is the Mac mini, which was last updated in July 2011.
It's widely expected that all new Macs will have USB 3, which is 10x as fast as USB 2.0. If that happens, it will be the first time Apple has shipped Macs with the newer, much faster protocol.
OS X 10.8 Mountain Lion
I hope Apple will not release Mountain Lion this week, but will offer it as a free upgrade for all new Macs sold after today. I think the number of changes going to Mountain Lion are off-putting to a lot of pro users, and Apple would be best off serving that market with Lion now - and Mountain Lion in 2-3 months.
The Mid 2012 Mac Pro
Most of the excitement surrounds the Mac Pro, which hasn't had a refresh since July 2010 - nearly two years ago. It is the only current Mac without Thunderbolt. It is also Apple's powerhouse Mac with 4-12 processing cores, three available PCIe expansion slots, four SATA busses, lots of drive bays, a monstrous power supply, and a well ventilated case design that goes back to the first Power Mac G5 (June 2003).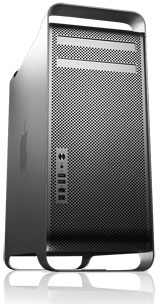 I'm not too concerned about the number of CPUs and cores or the graphics options. Based on history, we can expect the Mac Pro to offer some extremely powerful state-of-the-art processors and video cards. And the entry-level version will probably be at least a match for the "better" version of the 27" iPad.
No, I'm more interested in the expansion options: ports, drives bays, PCIe slots, and so forth. The current Mac Pro is a beast at 20" high, 18.7" deep, 8.1" wide, and 40 lb. One promise of Thunderbolt is that it can replace PCIe expansion slots. That doesn't mean that Apple won't give the new Mac Pro any slots, only that it may no longer see the need to include so many. I'd say it's possible that Apple could remove one PCIe slot thanks to Thunderbolt.
Speaking of which, I expect no less than two Thunderbolt ports, and perhaps 3-4, which will help drive the market for Thunderbolt accessories. Maybe it will even support the new optical Thunderbolt port in addition to copper wiring.
The biggest change in hardware over the past two years has to do with hard drives and SSDs. Capacity of 3.5" hard drives has skyrocketed, the speed of some 2.5" drives rival better 3.5" drives, and SSDs have finally become affordable. The one thing you can count on is Apple moving the Mac Pro from 3 Gb/s SATA Revision 2 to the 6 Gb/s SATA Revision 3 bus used in almost all current Macs. (For the record, there does not appear to be an even faster SATA Revision 4 on the horizon.)
My best guess is that the 2012 Mac Pro will have at least two SSD slots (using the same modules as the MacBook Air), two 2.5" hard drive bays, two 3.5" drive bays, and two 5.25" optical drive bays. With less 3.5" bays than previous models and one less PCIe slot, Apple could make the Mac Pro a bit smaller. Also, SSDs and 2.5" drives draw less power than 3.5" drives, so Apple might be able to get by with a power supply with a bit less capacity, which would also reduce size, weight, and heat buildup.
I expect a whole new design for the Mac Pro, which is overdue. It will probably still be a tower design, but maybe 2-3" shorter. It would be really nice if Apple could offer an entry-level model in the $1,700 to $1,800 range, something it hasn't offered in a pro desktop since the Power Mac G4 era. (Starting with the G5, $2,000 became the entry level price.)
The Mid 2012 iMac
I expect incremental updates here: Faster CPUs, bigger hard drives, and USB 3. Maybe Apple will move the iMac to 2.5" hard drives, as their speed and capacity are nowadays perfectly suited to the consumer market that the iMac targets. That said, I see the 27" version retaining a 3.5" drive bay for really high capacity drives.
The Mid 2012 MacBook Air
Count on USB 3 and slightly faster processors. Much as many of us would love to see Apple ditch the 64 GB entry-level SSD, it may stick around as the only way to keep the lowest-cost MacBook Air at the $999 mark.
I expect to see the first 15.4" MacBook Air, perhaps a little thicker than the 13.3" model and with amazing battery life. I think a 1920 x 1080 display would be just perfect here, absolutely perfect for 1080 HD video. In some ways, the big screen, great battery life, and anticipated processing speed will encroach on the 15" MacBook Pro.
The Mid 2012 MacBook Pro
I don't expect the 13", 15", or 17" MacBook Pro to go away. I don't expect them to lose their built-in optical drives. I do expect a bit more processing power, SSD support, and optional high resolution ("Retina") displays. For the pro market, it's just too important to be able to burn a CD or DVD for a client or work from a disc a client supplies without having to carry a separate SuperDrive.
I would like to see the 13" MacBook Pro offer the same 1440 x 900 screen resolution as the 13" MacBook Air, up from the 1280 x 800 that all 13" MacBooks and MacBook Pros have offered heretofore. At 15", a 1920 x 1080 display would make perfect sense, and the 17" may go a step beyond that. I believe there is still a strong enough market for such a big screen on a notebook, especially at Apple's profit margin.
The Next Mac mini
The Mac mini is a perpetual straggler with hardware specs a generation or two behind the current iMacs and MacBook Pros. Don't expect an updated Mac mini until Fall 2012, and then probably mostly a modest speed bump plus the addition of USB 3.
We should know more in a few hours.
Join us on Facebook, follow us on Twitter or Google+, or subscribe to our RSS news feed
Dan Knight has been using Macs since 1986, sold Macs for several years, supported them for many more years, and has been publishing Low End Mac since April 1997. If you find Dan's articles helpful, please consider making a donation to his tip jar.
Links for the Day
Mac of the Day: 15" 'TiBook' PowerBook G4, introduced 2001.01.09. A new 1" thin PowerBook design with a titanium case and 15" widescreen display.
Recent Content