Leopard to Slow Down PowerPC Macs?, Powerline Networking, iMac Freeze Up, Mac Pro in Color, and More
Compiled by Charles Moore and edited by Dan Knight - 2007.10.12
This Week's Apple and Desktop Mac News
PowerBook, iBook, MacBook, and other portable computing is covered in The 'Book Review. iPod, iPhone, and Apple TV news is covered in The iNews Review.
All prices are in US dollars unless otherwise noted.
News & Opinion
Products
Software
News & Opinion
Leopard May Be Slower on PowerPC Macs
The Baltimore Sun's David Zeiler says:
"When Apple releases Leopard later this month (we hope), owners of older PowerPC-based Macs will have a tougher-than-usual decision to make.
"Unlike new versions of Microsoft's Windows operating system, which invariably require much more robust hardware to run acceptably than the previous version, every successive version of Mac OS X has actually run faster on existing hardware. Not only did Mac users get whatever cool new features Apple had cooked up, they got a faster Mac too.
"Because of this, I have always advised Mac users to run the latest supported version of OS X on their Mac. But Leopard promises to be a cat of a different stripe. In addition to dropping support for certain older Macs, this operating system upgrade might not offer much of a performance improvement for PowerPC-based Macs. In fact, it's likely such Macs will suffer a performance hit."
Link: Will Leopard Make Sense for Older Macs?
Dell vs. Apple: 10 Years Later
Apple 2.0's Philip Elmer-DeWitt says:
"It was 10 years ago that Michael Dell, speaking before several thousand technology executives at ITxpo97 in Orlando, answered a question about what he would do if he were CEO of Apple with a remark he probably instantly regretted:
"'What would I do? I'd shut it down and give the money back to the shareholders.' (Link)
"...Apple's market capitalization today is more than double that of Dell...."
Editor's note: Apple is closing on IBM and is expected to surpass its market capitalization within the coming months. dk
Link: Dell vs. Apple: 10 Years Later
Borrow an iMac, Buy an iMac
The Houston Chronicle's Dwight Silverman reports:
"Perhaps the ultimate compliment a hardware and software reviewer can pay to a product is to spend his or her own money on it.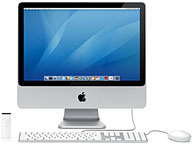 "And that's exactly what I did after just a few days of living with the latest incarnation of Apple's iMac computer - I bought one of my own....
"Simply put, the new iMacs with their 24-inch screens, all-aluminum cases and powerful components are easily the most pleasurable desktop computers I've touched....
"What initially draws you into the 24-inch model is its display. It's as gorgeous, sharp and bright as any widescreen LCD monitor I've seen. I have it set up behind me on my desk at work, and when colleagues come to talk to me, I find them staring at the iMac's screen rather than looking me in the eyes.
"Another point of contention is the keyboard, which Apple has redesigned to be incredibly thin. It's about a half-inch thick and tilted slightly, front to back. Its keys are shallow - they're almost identical to those found on the MacBook - with not much throw. This looks very cool but also looks very uncomfortable. I was resistant at first, but the more I use it, the more I like it. Normally I'm a fan of ergonomic keyboards, and I was considering replacing the thin aluminum one. Now I may not."
Link: A Borrower of the iMac Becomes a Buyer
On-campus Mac Use Quadruples at Princeton
The Daily Princetonian's Doug Eshleman reports:
"I never thought I'd switch to a Mac. After all, I have used PCs since I was 5 years old. I carried around my old Dell Inspiron 8000, a bulky nine-pound beast of a laptop, throughout high school, and it never suffered from any hardware problems over its five-year lifespan.
"The trouble was Windows - the operating system from hell.
"So I decided to take the plunge and get a Mac. I wasn't alone; in fact, 40 percent of Princeton students and faculty use Macs as their personal computers.
"In the 2003-04 school year, when the iPod was just becoming popular, a mere 10 percent of Princeton students had Mac computers connected to the network, OIT director Steven Sather said.
"Sixteen percent of students chose Macs when the Class of 2008 arrived on campus the subsequent fall. The figure reached 23 percent the following year and then jumped to 31 percent of all personal computers on the network in fall 2006.
"This year, the University's Student Computer Initiative has sold more Macs than PCs. Students were offered a selection of Dell, IBM and Apple computers, and 60 percent chose Macs, up from 45 percent last year....
"Princeton is not the only campus where Mac use is on the rise. At a recent college technology conference, Shahbender found that Mac sales also had significantly increased at MIT, Columbia, Dartmouth, Penn, Duke, Stanford, Cornell and Brown over the past few years."
Link: On-campus Mac Users Quadruple at Princeton
Powerline Adapters: Ethernet Speed Networking without Rewiring
Computerworld's Lamont Wood reports:
"...the average U.S. house has about 40 power outlets, and with powerline adapters, any of them can be turned into a data port. No additional wiring is necessary.
"Powerline adapters were previously limited by interference from the electrical noise generated by appliances and household gadgets using the same circuit, but the latest generation appears to have largely overcome that problem. Also, the adapters offer a theoretical speed of about 200Mbit/sec., which is enough to handle digital video signals, even when actual throughput is less than half the theoretical speed (as is common with Ethernet).
"There are three competing (and largely incompatible) technologies on the market: the HomePlug AV standard from the HomePlug Powerline Alliance, the Universal Powerline Association (UPA) standard, and Panasonic's High-Definition Powerline Communications (HD-PLC) specification."
Link: Powerline Adapters: Home Networking without Rewiring
Using Powerline Adapters for Home Networking
Computerworld's Lamont Wood reports:
"How simple is it to network your home via existing power lines?
"I connected my PC's Ethernet port to a powerline adapter and plugged that adapter into a power strip that already fed several other devices. Across the room, where my home office network's 100Mbit/sec. router is located, I connected a port on that router to a second powerline adapter and plugged it into the nearest power outlet. I sat down in front of the PC, and I was online.
"It's that simple.
"Also, the connection felt as fast as the Ethernet cable I had been using a few moments earlier."
Link: Review: Using Powerline Adapters for Home Networking
New Apple Keyboard Prevents Accidental Caps Lock
Ars Technica's Jeff Smykil reports:
"I would like to see a study regarding the misuse of the caps lock key and the percentage of time that the caps lock is mistakenly activated. I'm not sure what the data would show, but despite this apparently Apple is trying to stop any accidental caps lock activators in their tracks. Jonathan 'Wolf' Rentzsch of Red Shed fame has unearthed a new 'feature' added to Apple's new wired keyboard:
"Unique among the rest of the keys, Caps Lock doesn't activate immediately upon strike. There's a very small time window - perhaps a quarter of a second - where if you release the key inside the window, the keystroke is ignored."
Link: Apple's New Keyboard Protects from OVERZEALOUS TYPISTS
Apple Admits Aluminum iMac Freeze Ups
The Inquirer's Nick Farrell reports:
"The maker of entertainment gear and bricked phones, Apple has finally admitted that there is a wee problem with its Imac range.
"Apple has not said a dickey bird about screen freezes and has been Stalinistically deleting all references to the problem from its forums.
"According to Techworld, The problem is connected to the ATI Radeon HD graphics cards and its drivers...."
Link: Apple Finally Admits iMac Freeze Ups
Apple Hardware Remains Best in the Industry
Gene Steinberg, the Mac Night Owl, says:
"When I wrote a Mac War Stories column some years back, I didn't expect to receive too many responses. Yet a lot of you have had problems with your Macs over the years. When you factor in Apple's own extended repair programs, which cover some notebooks and desktops, you began to wonder whether quality control had gone down the tubes.
"However, year after year, Apple rates tops in customer support and product reliability in such disparate publications as Consumer Reports and PC Magazine. What is surprising is that these sources aren't necessarily in Apple's camp. In fact, you'd think they have more than a few axes to grind about Macs. Yes, even Consumer Reports, which apparently has an editorial stance that is more Windows-friendly than it should be, considering the magazine's pretense of incorruptibility....
"The Mac and the PC these days use the very same processors, similar graphics chips, hard drives, RAM, support components and so on and so forth. Indeed, they are quite often assembled in the very sample manufacturing establishments in Asia.
"So how could the Mac be more reliable than the PC?"
Link: Apple Hardware Remains Best in the Industry
Rumor: Mac nano to Replace the Mac mini?
I would definitely place this one in the rumor column - barque ut xyhd.com says:
"The Mac mini hasn't gotten an upgrade in a while, so it was about time. The new Mac nano is much smaller, and borrows components of the Apple Laptops to achieve an amazingly small foot print. By moving the Power Supply outside the case, ditching the Optical drive, and using an 80 gig 1.8 inch hard disk (like in the iPod classic) the new Mac nano is about about half the height of the mini and slightly wider...."
Editor's note: This looks a lot more like the iTV (later Apple TV) prototype Apple was showing a year ago than a "Mac nano". Of course, Apple TV really is a Mac under the hood.... dk
Link: Mac nano to Replace the Mac mini? - Rumor
BeLight's Barra Starts Her Mac Voyage
PR: Barra, a white toy sheep that represents a living logo of BeLight Software, Mac OS X development company based in Odessa, is going to meet with 10 Mac users in 10 different countries.
If you are a Mac user and like such thing as toy voyager, then help Barra to proceed for this Mac-devoted voyage! Welcome to Barra blog.
"I dedicate my journey to Mac society that thinks differently and cool," says Barra. "I am On The Road!"
"Barra's voyage is the first event of such a kind for Mac community, so I hope Mac users'll participate in this Barra's quest", says Helen Nersesova, the PR manager for BeLight Software.
BeLight Software was founded in January 2003 by a team of very different people in Odessa, Ukraine. They started with a software and do the same till nowadays.
Link: BeLight's Barra Starts Her Mac Voyage
Products
Macintosh Video Tutorials Available Online
PR: Accularian has announced the online availability over 70 video tutorials designed to teach basic Macintosh computer skills through the Internet. The first six lessons are free and there is a one-time charge of $75.00 for the remaining lessons. Lessons are available on the Web.
Short, fun video tutorials take students step-by-step through every aspect of computer set up and the various features of Apple's Macintosh operating system. The first section of lessons cover important aspects of the computer such as The Finder, The Apple Menu, The Menu Bar, The Dock, The Desktop, Files, Folders and more. The System Preferences section teaches people how to customize their Macs, including how to use the powerful speech recognition software, built into each Mac. These Macintosh basic lessons, the first of many more planned, are a fun way to learn how to use a Macintosh computer such as Apple's popular iMac.
Beginners learn how to use their computers in an informal, non-intimidating way. Seasoned Macintosh users find the lessons very useful for learning new tips and tricks or brushing up on things they may have forgotten.
"I have been using a Mac for fifteen years and I never knew some of the things I discovered in these lessons," said, Marilyn Stephan during an early test of the service. "The lessons are very basic, very thorough and really fun to watch."
Paragon, the producer of Accularian's "Really Basic Training," is a computer and network-consulting firm in Fort Lauderdale, Florida specializing in the Macintosh platform exclusively. They have a 17-year history in South Florida and are expanding their services nationally with these new web based training videos.
Link: Accularian
Mac Pro Now Available in Black, 6 Other Colors
PR: Custom tinted, anodized Apple Computers are now available in black or your choice of 6 colors. AlumaMax announces availability of the Custom Color Mac - an Apple Mac Pro computer system anodized in black or your choice of 6 colors. Matching colored aluminum keyboards and Cinema Displays are also available.
AlumaMax uses anodizing, a durable, attractive coating that utilizes electric current to oxidize the surface of the aluminum. The process produces a sleek metallic finish that cannot be achieved with paint. AlumaMax services feature vibrant colors similar to much of the iPod line - an option previously not available on Apple's "Pro" level systems.
Using the same process Apple Computer uses during manufacture, your system's appearance can now be colored to your liking.
The company offers a tinting service for owners with existing hardware or you can configure and purchase new, directly from them.
AlumaMax now offers 7 different colors.
Buy a new MacPro or Cinema Display in color or send in yours to be colored. Select a Mac. Choose your favorite color. Add your options. Pick a matching display.
About the process
These are not simply painted boxes. Alumamax uses the same process to color your Mac as Apple does from the factory. Anodizing is a durable, attractive coating that uses electric current to uniformly oxidize the surface of the aluminum. The end result is a vibrantly colored, unique metallic coating.
AlumaMax puchases a new Mac based on your model choice. The Macs are configured with your selected options. The unit is then completely disassembeled. The case is acid dipped to remove the original clear anodize coating. The case continues on through the anodizing, dye and sealer baths. The units are then re-assembled, extensively tested and shipped to you. The entire process takes 2-4 weeks.
Customers choosing our AlumaMax "Send-In" Tinting Service will receive an authorization number and shipping instructions via email after your order is placed.
Prices begin at $49 for a keyboard tint and end with the 8-core workhorse at $4,599.
AlumaMax develops and markets enhancements to Apple Computer products. The company specializes in re-finishing aluminum computers in brilliant colors. The company also develops custom application, touchscreen enabled, in-car Apple Computer based multimedia systems.
Link: AlumaMax
OWC's Lowest Prices Ever on Mac Pro Memory - up to 32 GB
PR: Other World Computing (OWC), a leading Mac and PC technology company, announced the lowest prices ever for Memory Kits, including OWC 512MB x2, 1GB x2, 4GB x2 Kits. In addition, 16GB OWC Memory Kits are priced at less than 1/4th the cost vs. factory option. OWC 4GB x2 kits are available for up to 32GB of memory - twice the memory than Apple currently offers.
With memory prices now at all-time lows through OWC, Apple Mac Pro users can now add up to 16GBs of top quality memory for as low as $64.31 per GB, or a full 16GB of memory for $1,029.00! And now with the latest 4GB x 2 based kits, OWC lets customers with high-memory intensive applications such as audio/video, photo, and 3D modeling really let their systems crank at high speeds. The extra memory really makes a visible difference in their computer's performance.
OWC Memory is fully-tested premium quality memory that meets or exceed all Apple specifications. Utilizing superior components, including true Apple-Qualified heat spreaders, the memory modules provide a lifetime of high-performance, reliable operation backed by a Money Back Guarantee and OWC's Lifetime Advance Replacement Warranty.
"Since the Mac Pro was first released, OWC has been there with the correct, Apple spec memory for these professional grade systems," said Lawrence O'Connor, CEO, OWC. "By maintaining the full array of Apple Computers for which we offer memory, OWC continues its expertise and leadership position through ongoing testing and innovation to deliver the best options and quality in upgrade solutions."
Link: Mac Pro Memory @ OWC
Software
Flash Decompiler for Mac
PR: Flash Decompiler Trillix (former SWF to FLA Converter) converts Adobe Flash SWF files back into FLA format which can easily be edited in native Flash environment. Every group of objects such as morphs, shapes, texts, fonts, motions, sounds, ActionScripts, etc. could be placed in separate FLA library groups, which makes using and working with the resulting FLA file much easier.
Moreover, since Trillix version, in addition to SWF to FLA conversion, Flash Decompiler can extract all objects (images, sounds, video, shapes, text, morphs, ActionScripts, etc) used in SWF files into various file formats just in several clicks.
Additionally, you may customize FLA file workspace by enabling/disabling grids, rulers; specifying grid accuracy and so on. Every morph or shape can be placed on different layers to make sure that masks layers are working properly. Flash Decompiler Trillix is the only Mac OS tool to export the whole SWF movie in FLA format that supports Flash MX and ActionScript 2.0.
Several reasons why you may need Flash Decompiler Trillix:
Restore your original FLA file from SWF in case you have lost it
No matter how sadly it is to say, but nobody is protected from human errors and hardware faults. In case you should ever lose your original FLA files you may easily restore them from available SWF files using Eltima's Flash Decompiler Trillix, thereby saving you time and efforts to develop or modify your Flash movies.
Make changes to SWF file when you don't have its source code (original FLA file)
Once your artwork is converted to SWF file it cannot be edited in Macromedia Flash Studio (the same as with executable files). To be able to make changes to SWF you must have its original source code. Eltima's Flash Decompiler Trillix OS allows you to extract all resources from SWF and save them in FLA file which is editable. Now, you can easily change Flash objects (modify text or hyperlink, replace sound/image, etc.) and convert it back to SWF file.
Modify protected SWF file
If you forgot the password to your SWF file it is not a problem any longer. Flash Decompiler Trillix bypasses this protection mechanism while decompiling SWF file resources. Once you have converted it to FLA you can set new protection in your favorite Flash editor. Please, note that some SWF files may be copyrighted.
Improve your designer's skills by learning from others
Rather than trying duplicate or reinvent dazzling animation effects you may find on the net, you may pick into the SWF source code (FLA) to find out how exactly those effects were created and achieve greater results you can't even think of.
Features
The only all-in-one converter and extractor from SWF into FLA for Mac
Very simple and fast few-clicks SWF to FLA decompilation
New flexible and more convenient user friendly program interface with intellectual, fully customizable controls
Flash Decompiler Trillix combines both: SWF to FLA conversion and SWF objects extraction using various formats
Unique SWF conversion algorithms make this program the most reliable and fastest way to restore Flash objects from SWF
All the objects used in SWF file can be easily extracted into different file formats for further editing and using them in other applications
Flash Decompiler Trillix offers Advanced and Simple program mode for your convenience
Over 50 options available to extract sounds, images, videos, shapes, frames, morphs, fonts, texts, buttons, sprites and ActionScripts with the great accuracy
All Flash versions are supported for decompilation (Note: Flash 9 is currently supported in beta mode, Flex-produced SWF files are not converted to FLA since there are no source file for them). The resulting FLA files are editable in any Flash Studio starting with Flash MX
What's new
Added: Japanese localization (thanks to Tadahisa SUGISAKI)
Improved: extraction of video files to AVI\MPEG file formats
Improved: sprites are extracted as timeline now
ActionScripts 2.0 engine improvements
Fixed: several minor bugs and glitches
System requirements: Mac OS X 10.4 and higher
Languages:
German
English
French
Japanese
Spanish
Demo version limitations:
All graphics are stored in grayscale format only
The resulting FLA file will have nag watermark layer
ActionScripts are not available in resulting FLA files
Extraction will only process two first objects from each SWF category
Link: Flash Decompiler Trillix for Mac
Desktop Mac Deals
Low End Mac updates the following price trackers monthly:
For deals on current and discontinued 'Books, see our 13" MacBook and MacBook Pro, MacBook Air, 13" MacBook Pro, 15" MacBook Pro, 17" MacBook Pro, 12" PowerBook G4, 15" PowerBook G4, 17" PowerBook G4, titanium PowerBook G4, iBook G4, PowerBook G3, and iBook G3 deals.
We also track iPad, iPhone, iPod touch, iPod classic, iPod nano, and iPod shuffle deals.
Join us on Facebook, follow us on Twitter or Google+, or subscribe to our RSS news feed
Links for the Day
Mac of the Day: Power Mac 9500, introduced 1995.05.01. The first PCI Power Mac has 6 expansion slots, speeds of 120 and 132 MHz.
Recent Content
Follow Low End Mac on Twitter
Join Low End Mac on Facebook
Favorite Sites
MacSurfer
Cult of Mac
Shrine of Apple
MacInTouch
MyAppleMenu
InfoMac
The Mac Observer
Accelerate Your Mac
RetroMacCast
The Vintage Mac Museum
Deal Brothers
DealMac
Mac2Sell
Mac Driver Museum
JAG's House
System 6 Heaven
System 7 Today
the pickle's Low-End Mac FAQ
Affiliates
Amazon.com
The iTunes Store
PC Connection Express
Macgo Blu-ray Player
Parallels Desktop for Mac
eBay

Advertise