Macs Roar to #3 in US, 'One Amazing iMac', 3 GB Upgrade for Core 2 Mac mini, and More
This Week's Apple and Desktop Mac News
Compiled by Charles Moore and edited by Dan Knight - 2007.08.24
This Week's Apple and Desktop Mac News
PowerBook, iBook, MacBook, and other portable computing is covered in The 'Book Review.
All prices are in US dollars unless otherwise noted.
News & Opinion
Products
iPod News
News & Opinion
Macs Roar to #3 in US Computer Market
FORTUNE Magazine's Brent Schlender reports:
"Last January, when Steve Jobs rechristened his company by ostentatiously excising the word 'Computer' and leaving it as simply 'Apple Inc.,' he did so during the very same public event when he first showed off the iPhone.
"It also came right about the time that combined sales of iPod music players and iTunes music downloads eclipsed revenues from Apple's mainstay Macintosh personal computers.
"The new name seemed to concede the obvious: The company's PC business, which for well over a decade couldn't garner even 5 percent of the U.S. market (nor more than 3 percent worldwide), would no longer be front and center. After all, the stripling iPod and iTunes Music Store were holding almost Microsoftian sway in their realms, and the iPhone already was the most ballyhooed new gadget since the transistor radio.
...its Macintosh business is the hottest line of all.
"But a funny thing has happened over the past couple of quarters. While Apple has been firing on all cylinders, and the iPhone is selling hundreds of thousands of units a month, its Macintosh business is the hottest line of all. It roared back in the quarter that ended in June to reclaim its status as the company's largest revenue source and, at long last, break that 5 percent share barrier, according to IDC.
"Indeed, Apple's U.S. Mac sales have grown at triple the rate of the rest of the PC industry since last fall, propelling it into third place in the U.S., behind Dell and Hewlett-Packard."
Link: Apple's Surprise Weapon: Computers
Apple No Longer Forbidden Fruit for PC Users
The position of Associated Press (AP) is that you may not quote more than 5 words from any of its copyrighted articles without paying $12.50 or more for a "quotation license". Rather than pay this fee or risk the wrath of AP, we are removing all AP quotes from the site along with links to those articles.
We regret any inconvenience to our readers, but we will never pay for what is considered Fair Use under copyright law. We consider brief quotations in our news roundups to be Fair Use and a benefit to the site that we quoted from and linked to. (We adhere to the Open Link policy, and our Fair Use policy specifically allows quoting up to 50% or 300 words of our original content, whichever is less.)
'Overall This Is One Amazing iMac'
MacFormat 's Graham Barlow reports:
"Apple's new iMac (the 20-inch version) arrived in the office today, and as soon as we'd unpacked it and set it up our MacFormat reviews desk was immediately swamped by a gaggle of excited art editors, technology journalists and pretty much anybody else who happened to be passing through the office. It's a testament to the look of the new iMac that pretty much everybody was desperate to have a play with it.
"Here are the initial impressions of the MacFormat editors, and benchmark scores are mentioned in James' comments. Look out for the full review in the issue 187 of MacFormat magazine, on sale 19/09/07.
"'It's a much more serious looking Mac than its predecessor. It's darker, slimmer, sexier and has a more professional feel. The display looks fantastic when playing video (who needs a TV in the house when you've got the new iMac?) The glossy screen however does present some problems and makes the iMac appear like a black mirror when not in use. If you're using it with a window behind you then you can really see the blue sky reflecting in darker areas of the screen - this is especially prevalent in apps like Front Row, where large sections of the screen are black.'"
Link: New iMac: First UK Review
Gumdrop iMac Morphs into Jet
The Seattle Times' Jeff Carlson says: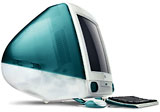 "I have an iMac sitting at home, a wonderful little blue gumdrop that needs a new hard drive. It has newfangled USB ports, no FireWire ports, some puny amount of memory and, yes, a matching round 'hockey puck' mouse.
"There's a new iMac at my office, too, and if they didn't share the same name you probably wouldn't believe they're related.
"After nearly a year, Apple updated its flagship consumer Mac last week, making it the very model of a modern Macintosh. The iMac also comes with the new iLife '08 suite of applications and a tryout version of the new iWork '08 bundle (which gains a new spreadsheet application, Numbers, and officially replaces the venerable AppleWorks, which was retired last week).
"With the original Bondi Blue iMac, Apple hit on the revolutionary idea that computers didn't need to be beige boxes. The iMac was curved, colored, and translucent (sparking a design fad that continues to linger). Recent Macs - as well as the visual appearance of Mac OS X - have capitalized on the simple premise that people are drawn to shiny, glossy things."
Link: Gumdrop Morphs into iMac Jet
2007 iMac: 'Details Make All the Difference'
biosmagazine.co.uk reports:
"Apple's latest all-in-one desktop computer is gorgeous. Seriously, you don't even need to turn the machine on to appreciate the engineering genius that has gone into producing a widescreen display (either 20- or 24-inch) encased in an elegant aluminium (or glass) enclosure. And the anodised aluminium keyboard. Yikes! Perhaps not the most ergonomic for long periods of typing, but its slim design (just 0.33 inches thin at its front edge) and low-profile keys are an absolute pleasure to behold. As you can see, we were pretty impressed even before we turned it on....
With the iMac, details make all the difference.
"Redefining Apple's signature all-in-one design, the new iMac integrates the entire computer system into a sleek enclosure for a striking, clutter-free desktop. An elegant glass cover joins precisely to the aluminium enclosure creating a virtually seamless front surface. With the iMac, details make all the difference. For example, because it's made from a single sheet of anodised aluminium, you won't see any seams or screws except for a single compartment on the bottom that provides easy access to the memory slots. The built-in iSight camera, microphone and stereo speakers are even integrated so neatly you'll barely notice they're there - until you need them for a video chat."
Link: Apple iMac (4th Gen) Review
New Apple Keyboard 'Packed with Improvements'
CrunchGear's Vince Veneziani reports:
"When Apple revealed the new iMac at its Town Hall meeting, I was less than impressed. Sure, the design was cooler and the speeds were increased, but it still looks an awful lot like my iMac G5 with iSight. However, with the new iMacs came new Apple keyboards. Slim as hell and packed with improvements, it takes on the style of keys that the MacBook uses. Of course you don't need to buy a new iMac to have the new keyboard, so let's look over this baby with a magnifying glass.
"The first thing you'll notice is that compared to the old Apple keyboard, there's no place for crumbs to go. The keyboard is flatter than Michelle Tanner and any mess you might make can easily be remedied by turning the keyboard upside-down. Problem solved.
"Next thing you'll notice is the new style of keys. As I mentioned earlier, Apple decided to stick with the MacBook-style of keys and typing on them is fantastic. You can type quickly and precisely due to the fact that there's not a big chunk of plastic to press on. ::Tap tap tap:: you'll hear for hours on end. It's a pleasant break from keyboards of the past."
Link: The New Apple Keyboard Review
Aluminum Keyboard Media Keys Serve Many Roles
MacOSXHints' contributor Superboy says:
"I bought a new aluminum Apple Keyboard a few days ago, and found the media keys (F7, F8 and F9) very useful for controlling iTunes. Then I discovered after putting a DVD into my Mac Pro that the media keys stop controlling iTunes and control DVD Player instead...."
Link: Apple Aluminum Keyboard Media Keys Serve Many Roles
Products
OWC First to Offer 3 GB of Memory for Mac mini
PR: Other World Computing (OWC) has announced that it is the first major supplier to offer up to 3 GB of expansion memory for Apple's latest Mac mini Core 2 Duo models - 50% more memory than the 2 GB maximum factory-installed option. Mac mini users will appreciate the real performance gains possible when taking their memory to this new max.
OWC Premium Memory Solutions Cost Less than Factory Installed
In addition to being the first to offer this memory, OWC memory also costs less compared to the factory 2 GB memory option and is easily user-installable with a free online video installation guide and a Lifetime Advance Replacement Warranty (vs. competitor's limited 1 year warranty). Consumers can also get Trade-in Rebates of $20 ($10 per module) for the standard 1 GB (512 MB x 2) base factory memory.
Pricing for OWC Memory for the Latest Apple Mac mini Models with Core 2 Duo Intel Processors:
$134.99 for 2 GB Module
$179.99 for 3 GB Kit (1 GB+2 GB Set)
Pricing for OWC Memory for Apple Mac mini (including all Core Solo, Core Duo, & Core 2 Duo models):
$24.99 for 512 MB module
$49.00 for 1 GB module
$97.99 for 2 GB KIT (1 GB+1 GB Set)
OWC Memory, with over half a million modules sold since 1988 and thousands of new Macs upgraded each month, is built to the highest standards and is fully backed by a Lifetime Advance Replacement Warranty and 30-Day Money Back Guarantee. OWC Memory options are a significant value compared to factory-installed, providing customers with an up to 67% savings and a lifetime warranty vs. competitor's limited 1 year warranty.
Link: Mac mini Memory Upgrades
AirPort Extreme Base Station Upgraded with QuickerTek Antenna Array
PR: QuickerTek has already developed an upgrade for the Apple AirPort Extreme 802.11n Base Station. The new N Base Station is already fast and has huge range, but the new QuickerTek N Antenna Upgrade offers even better wireless performance. The new Antenna Array Upgrade can be purchased three different ways: a customer-installed upgrade is available for $129.95; QuickerTek can install it on the customer's Base Station for $179.95 and finally an already-upgraded Base Station is available for $349.95 for plug- and-play use.
The QuickerTek N Antenna Array brings the antenna outside the Base Station case, which enables better signal gathering capabilities. The "array" is a set of matched antennas to extend the 802.11n specification requiring multi-input, multi-output (MIMO) to deliver the high speed "n" wireless networking experience.
Using the included 4' coax cable, customers can position the AirPort Extreme N Base Station for best wireless performance in their own office or home. Often placing the Base Station up and out of the way of common office clutter at desktop level, provides the highest possible performance.
Once an AirPort Extreme Base Station is upgraded, it retains backward compatibility with previous wireless standards. It works with all IEEE 802.11 b/g/n networks and performs to it's full speed (near 300 Mbps) potential with 802.11n rated hardware.
To have QuickerTek upgrade a customer's Base Station, the customer simply ships it to QuickerTek, we perform the upgrade and then return ship it back to the customer using the customer's shipping preference the same day it was received.
The Upgrade kit includes the antenna array, 4 foot coax cable and detailed instruction manual. The upgrade is rather detailed and it should not be attempted by someone without any prior upgrade experience.
Like most QuickerTek products, the Antenna Array is backed with a one-year warranty on parts and labor.
Link: Extreme Base Station Plus
Desktop Mac Deals
Low End Mac updates the following price trackers monthly:
For deals on current and discontinued 'Books, see our 13" MacBook and MacBook Pro, MacBook Air, 13" MacBook Pro, 15" MacBook Pro, 17" MacBook Pro, 12" PowerBook G4, 15" PowerBook G4, 17" PowerBook G4, titanium PowerBook G4, iBook G4, PowerBook G3, and iBook G3 deals.
We also track iPad, iPhone, iPod touch, iPod classic, iPod nano, and iPod shuffle deals.
Join us on Facebook, follow us on Twitter or Google+, or subscribe to our RSS news feed
Links for the Day
Mac of the Day: PowerBook 150, (1994.07.18. The first PowerBook with an IDE hard drive also supports 40 MB RAM.)
Recent Content
Follow Low End Mac on Twitter
Join Low End Mac on Facebook
Favorite Sites
MacSurfer
Cult of Mac
Shrine of Apple
MacInTouch
MyAppleMenu
InfoMac
The Mac Observer
Accelerate Your Mac
RetroMacCast
The Vintage Mac Museum
Deal Brothers
DealMac
Mac2Sell
Mac Driver Museum
JAG's House
System 6 Heaven
System 7 Today
the pickle's Low-End Mac FAQ
Affiliates
Amazon.com
The iTunes Store
PC Connection Express
Macgo Blu-ray Player
Parallels Desktop for Mac
eBay

Advertise