Macs 'More Enjoyable' than PCs, End of the G4, Enthusiastic Aluminum iMac Reviews, and More
This Week's Apple and Desktop Mac News
Compiled by Charles Moore and edited by Dan Knight - 2007.08.17
This Week's Apple and Desktop Mac News
PowerBook, iBook, MacBook, and other portable computing is covered in The 'Book Review.
All prices are in US dollars unless otherwise noted.
News & Opinion
iMac Reviews
Mac mini Reviews
Apple Updates
Products
iPod News
Software
News & Opinion
Mac vs. PC: Mac 'Is More Enjoyable'
Computerworld's Scot Finnie reports:
"There's no question about it. My Mac vs. PC cost analysis column, which focused on the relative costs of Mac and Windows hardware, struck a chord. I was praised and lambasted around the Internet for it when it appeared in June.
"It seemed to me that people who criticized this story missed the key points I was trying to get across:
"1. This was a pure, hardware-based, speeds-and-feeds kind of comparison. I was comparing the hardware goods only, including CPU, chip set, RAM, video, display, hard-drive capacity and specs, ports and upgradeability, dimensions and weight, and so on.
"In other words, I was attempting to make an objective comparison that did not inject any evaluation of the hardware, anything at all about the software, or anything about my personal experience with the operating systems and hardware involved. It was an on-paper comparison....
"2. The main point I was trying to make is that when you compare Macs with comparably equipped Windows PCs, sometimes Macs beat Windows PCs in the price/performance comparison. Sometimes Windows PCs beat Macs. Overall, there's relative parity....
"...the single most frustrating thing about being a Mac user is the disdain with which some Windows users view Macs. Apparently, you're not a real man unless you're suffering with everyone else.
"The thing is, I don't think Windows users (I know, I was one myself for many years before my conversion) give much credence to the notion that Macs are far more trouble-free. Because it's difficult to quantify, it must therefore be false. It's a subjective data point. As a longtime Windows author, reviewer and expert, I know that I felt that I could solve any Windows problem (and probably could), and as a result, the Mac's advantages held less benefit for me.
"But I was wrong about that. The unexpected advantage I gained is that using my computer is more enjoyable. My concentration isn't broken periodically by problems, updates, security pop-ups and the like. I'm not thinking that I'm using a Mac. I'm thinking about what I'm using the computer to do - what I'm reading, writing, figuring, buying, watching and so on. The Mac becomes just so much chrome wrapping the data I'm interacting with.
"You're not conscious of your TV while you're watching it. That's the way it is with a Mac. I found that much harder to achieve on Windows PCs, which are constantly drawing attention to themselves."
Link: Ding! Mac vs. PC Cost Analysis, Round II
Beginning of the End for the G4 Processor
Dr. Macenstein reports:
"Does it matter that your OS can run on a bare bones machine if the apps you use can't?
"Apple lists the current minimum system requirements for the upcoming Mac OS X Leopard as a very reasonable "G4 (800 MHz or faster)-, G5- or Intel-based Mac". This was very welcome news for G4 owners like myself who like to try to keep as many of our machines as current as possible.
"However, at this week's iMac/iLife/iWork unveiling, G4 owners were dealt a stealthy blow to the gut. It seems iMovie '08 lists its minimum requirements as 'a Mac with an Intel processor, a Power Mac G5 (dual 2.0 GHz or faster), or an iMac G5 (1.9 GHz or faster).'"
Link: The Unofficial Death of the G4 Processor
Apple's USB 2.0 Keyboard: Too Different?
TUAW's Mike Schramm reports:
"Yesterday I took a little trip down to my local Apple Store (the Michigan Ave. store here in Chicago) to check out the Keyboard. That's what Apple is calling their latest engineering marvel - not the iBoard or the MacBoard, just Keyboard. I got a chance to check out the new iMac, and play with the new iLife apps for a bit, then I cracked open TextEdit and started typing.

"So what did I think? I wasn't kidding when I called it an engineering marvel- the Keyboard is unlike any other keyboard I've seen. It is extremely, almost dangerously thin - Apple is already making stuff the width of cardboard, and pretty soon they'll move on to paper-thin. It's not actually flexible, but I got the feeling that if I really tried (or just landed a heavy phonebook on it), I could break it in two. Probably not true, but I still felt that way.
"But you don't buy a keyboard for its durability - you buy it to type on, and that's where I ran into problems."
Editor's note: What Mike didn't like about the Apple aluminum keyboard is precisely what I find attractive about it - short-travel, low-effort key action. Different (key)strokes.... cm
Link: TUAW Hands on with the Apple Keyboard
Corporations Eye iMacs
Computerworld Canada's Rafael Ruffolo reports:
"While Apple hopes its revamped iMac desktop line will continue to grow the company's consumer computer business, it may be indirectly making inroads into the enterprise space.
"According to Q2 results from IDC, in the overall U.S. computer market, which includes desktops and notebooks, Apple is now tied for third with competitor Gateway at 5.6 per cent of the total market share.
"The thinner and sleeker all-in-one machines, which now feature an aluminum-and-glass design, were announced at a slightly more competitive price point than its previous incarnations. The 20-inch, 2 GHz machine will sell for US$1,199; the 20-inch 2.4 GHz model for $1,499; and the 24-inch 2.4 GHz offering for $1,799.
"IDC's Richard Shim said that with notebook shipments expected to surpass desktop shipments worldwide over the next few years, Apple's hip new design and lower price point will give the company the advantage to compete in the struggling desktop market."
Link: Corporations Eye iMacs
Mac mini in a Corvette
The Unofficial Apple Weblog's Mike Schramm reports:
"After our little scare with the Mac mini last week, the little boxen that could is quickly becoming my favorite computer (still can't wait to get one with Leopard on it). So seeing cool applications of it like this one thrills me to no end: Andrew sent us his writeup of putting a Mac mini into a Corvette (complete with touchscreen monitor) as a music player."
Link: Mac mini in a Corvette
iMac Reviews
New iMac Tempts a Windows User
AP Technology Writer Peter Svensson says:
"Apple Inc. has dropped 'Computer' from its name, but its computer business is still growing, even if the iPod player is the company's real star.
"Apple's resurgence started with the first iMac, in 1998. Little by little, Apple has been persuading people to opt for Macintosh computers over Windows PCs.
"After Apple refreshed its iMac line last week, I decided to test one from the perspective of a Windows user. I found it to be a powerful if not completely irresistible enticement to switch.
"If you haven't looked at iMacs in a while, they now look like half a laptop - the display half, with the processor and other components built into the flat-panel screen. The new iMacs ditch the plasticky look that's been a hallmark of the line since the beginning, replacing it with an aluminum casing that's even thinner than before....
"The iMac deserves to be a strong contender for any PC user looking to get a new computer. If I was looking to replace my PC right now, I would be sorely tempted. Even the Windows software I've accumulated over the years isn't a real reason not to switch, because Macs can now run Windows, too (with some additional software purchases)."
Link: Review: New iMac Tempts a Windows User
New iMacs' Form and Function a 'Fabulous Combo'
Computerworld's Ken Mingis reports:
"There is, in the design world, always a natural tension between form and function.
"Sure, that favorite desk, couch, car or computer might look like a million bucks. But does it do what it's supposed to do, in the way it's supposed to?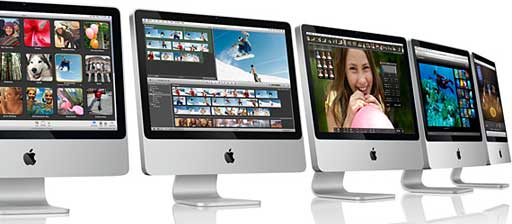 "When it comes to marrying form and function in computers, no one does it better than Apple Inc. - although even it offers up the occasional clunker. One-button mouse, anyone?
"Such is most definitely not the case with its latest all-in-one computer, the revamped, beefed up and very, very stylized iMac, released just last week and already available on store shelves at prices ranging from $1,199 to $2,299.
"The iMac sitting on my desk - sent by Apple for review purposes - hits the sweet spot at $1,499, with all the Intel power most users would need, a gorgeous 20-in. screen, a new (and thinner) aluminum case, and the new iLife '08 digital suite of software."
Link: Hands on: New iMacs' Form, Function a 'Fabulous Combo'
Aluminum and Glass: An In-depth Review of the New iMac
Ars Technica's Eric Bangeman has posted the most comprehensive review of the new iMac so far:
"Although the white, thin-profile iMac form factor has had a long and venerable run since its introduction as the iMac G5, many felt it was time for a change. In the weeks leading up to the unveiling of the new iMac, the Applesphere twittered with rumors of aluminum enclosures, Santa Rosa chipsets, and the death of the 17" iMac.
"Most of the iMac speculation turned out to be right on. The 17" iMac is no more, with the product line streamlined into two 20" models and a single 24" behemoth. Gone is the matte display, too: the new iMacs have a glossy display - and come with a black cloth to keep the extremely-reflective display smudge free.
"Apple kept the same form factor but drastically revamped the look. The sleek white look has been replaced with anodized aluminum, and there is now a black bezel around the display - which is now under glass. The Apple logo on the chin of the iMac is now black. It's very different, and after two years of having a white iMac G5 or iMac Core 2 Duo in our kitchen, the anodized aluminum iMac is going to take some getting used to."
Link: Aluminum and Glass: An In-depth Review of the New iMac
Macworld Reviews Aluminum iMacs
Macworld's Jonathan Seff reviews the new iMacs and especially likes the new aluminum keyboard. He reports:
"Let's face it - the iMac, Apple's flagship consumer desktop model, was long overdue for a facelift. The thin-display-on-a-solid-foot design first arrived on the scene in August 2004 as the iMac G5, and survived through the Intel transition (the iMac was Apple's first Intel-based system) in January 2006. Sure, Apple has made some major improvements inside, but it's been three years since the iMac has gotten any cosmetic enhancements. That's definitely changed with the latest round of iMac updates....
"Apple says the silver and black look appeals to professional users, who are opting for iMacs more and more, but also to consumers looking for something a little more, well, mainstream. The overall look resembles an LCD television you might have in your living room.
"Interestingly, Apple decided to keep the gray power cord, white mouse, and white cables for the mouse and keyboard. Also, the keyboard (more on that shortly) retains its gleaming white keys - a design decision, Apple tells us, because it looked better than having black keys....
"Until now, all iMacs have had matte screens. The current lineup features a piece of glass covering the front of the display, which gives it a much more reflective quality...
"The glass makes the display look bright and crisp. Colors pop, the blacks look rich, and images are very pleasing. I've come to enjoy the glossy displays on Apple's laptop models, but it can be potentially problematic on this larger model under certain conditions....
"...The new keyboard uses the same type of keys (with identical spacing) as the MacBook, but placed atop a thin piece of aluminum that matches the iMac's body.
"As a MacBook owner, I've come to enjoy - in very short order, I should add - these new keys. And they carry over well to the iMac's keyboard too....
"In some ways, I think the keyboard design is more of a triumph than the iMac itself (and for $49, you can add it to an existing Mac as well), and I highly suggest giving it a chance before writing it off as being too different...."
Link: 20- and 24-inch Aluminum iMacs
20" iMac a PC Magazine Editors' Choice
PC Magazine's Joel Santo Domingo reports: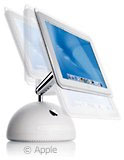 "The latest iteration of the Apple iMac ($1,499 direct, $1,649 with 2 GB of RAM) comfortably straddles the worlds of consumer and business. It's the fourth generation of the popular system, if you count the first as the CRT G3 iMacs, the second as the 'Luxo-style' iMac G4, and the third as the white plastic iMac G5 and Intel systems. Though the last white iMac was marketed as the 'consumer Mac' (the Mac Pro was the 'professional Mac'), the latest iMac doesn't fall into the pigeonholes of 'business' or 'consumer.' Its aluminum and black appearance can work in the home, next to your iPhone, or in the office next to your Aeron chair. With its Mac OS X and Microsoft Windows compatibility, it is certainly the 'computer for the rest of us,' making good on the promises put forth in the original '1984' Macintosh ads. All that earns it our Editors' Choice."
Link: Apple iMac (20 Inch Aluminum) Reviewed
24" iMac Improves Design and Performance
PC World's Melissa J. Perenson reports:
"The 24-inch iMac (list price: $1799) is a refresh of the big boy of its all-in-one desktop line. Despite tweaks to the design and specs, this is a modest, nonradical iMac update. Even so, the striking system will make you look twice.
"We tested the retail-store configuration of the 24-inch iMac: It comes with a 2.4-GHz Intel Core 2 Duo T7700 processor, 1 GB of memory, a 320 GB Serial ATA drive, ATI Radeon HD 2600 Pro graphics with 256 MB of GDDR3 memory, and a slot-loading SuperDrive DVD burner."
Link: New iMac Improves on Its Predecessor's Design and Performance
New Macs 'a Little Faster than the Old Macs'
TUAW's Chris Ullrich reports:
"Personally, I crave speed. No, not the kind that can often be purchased on some local street corner in that part of town on the wrong side of the tracks. No, I'm referring to processors, front side buses, RAM and other factors that go into calculating the raw, unbridled, number-crunching power of the latest and greatest Macs.
"No doubt you are aware that Apple recently released an updated version of its flagship prosumer desktop iMac as well as an updated Mac mini too. The new iMacs feature changes both external and internal with increases to the clock speed of its Intel Core Duo 2 processors as well as a switch to the faster Santa Rosa chipset. Yes, that all sounds great but what does it mean in terms of the new iMac's ability to crunch those numbers?"
Link: Meet the New Macs, a Little Faster than the Old Macs
24" iMac Performance Comparison

Primate Labs Blog reports:
"I thought I'd compare the performance of the latest 24-inch iMac against the previous generation of 24-inch iMacs using Geekbench 2. While I don't have any results for the 24-inch iMac with the Core 2 Extreme processor right now, I'll update this article once I receive results for the Core 2 Extreme processor. I've updated the article to include results for the 24-inch iMac with the Core 2 Extreme."
Editor's note: This articles was later updated with results for the 2.8 GHz iMac. dk
Link: 24-inch iMac Performance (August 2007)
2.8 GHz iMac vs. Other Macs
Bare Feats' rob-ART Morgan reports:
"We are busily testing the new 2.8 GHz iMac Aluminum against various other Macs. In this second installment, we have a mixed bag of test results to share.
"First, we used Boot Camp 1.4 to create a partition for install Windows XP Pro and the newest Boot Camp 1.4 drivers for Windows. So far we've only run the Aspyr Prey test. We wanted to see if the Windows drivers produced faster frame rates than the Mac OS X drivers:
"INSIGHT: Yes, the Windows drivers are 'more mature.' Hopefully we will see the Mac drivers optimized to at least match the performance of the Windows drivers in the near future.
"Next we ran Maxon's new Cinebench 10 CPU and OpenGL tests on four different desktop Macs...."
Link: iMac 2.8 GHz Aluminum versus Others
New iMacs Fastest Yet
Macworld's James Galbraith reports:
"With a new aluminum-and-glass enclosure, the iMacs unveiled by Apple earlier this week look markedly different from their immediate predecessors. But the more modest changes inside - a speed bump to the Intel Core 2 Duo chip that powers the machine - translate to only a slight boost in
"However, if you've been slow to hop aboard Apple's transition to Intel processors, this latest iMac overhaul may finally push you toward an upgrade. The top-of-the-line iMac outperforms the fastest PowerPC G5-based iMac by 43 percent in our Speedmark 4.5 tests."
"The only test where the older machine came out on top was in our Unreal Tournament test, in which it managed to display a couple of extra frames per second."
Link: From the Lab: iMac Benchmarks
iMacs Should Satisfy All But Gamers
australianit.news.com's David Frith reports:
"Apple is clearly hoping to tempt more Windows users to make the switch to Macintosh with its classy new line of all-in-one iMacs, decked out in glass and aluminium cases.
"The new is fast and clicks easily into a mixed network
"The svelte iMacs look terrific, take up very little space on a desktop, and have faster Intel Core 2 Duo processors than their predecessors.
"Since they will run Windows programs as well as Mac OS X, they will appeal to many PC users who have become fed up with the vagaries and insecurities of the Microsoft system.
"They're ostensibly aimed at the consumer market, but Doubleclick can see them being slipped into many style-conscious offices."
Link: iMacs Should Satisfy All But Gamers
Mac mini Reviews
Mac mini Performance Past and Present
Primate Labs Blog reports:
"Along with new iMacs, Apple announced (well, sort of announced) updated Mac minis last week. While the Mac mini updates are much more modest than the iMac updates, they're still significant, and with the Mac mini's move from the Core Duo to the Core 2 Duo, Apple's current computer lineup is 64-bit (which is a first for a PC manufacturer, I believe).
"Of course, how much of a performance improvement does the switch to Core 2 Duo processors bring to the Mac mini? To find out, I've compiled a comparison of the new Mac mini models against most of the previous Mac mini models (including the PowerPC-based Mac minis) using Geekbench 2 results from the Geekbench Result Browser."
Link: Mac mini Performance (August 2007)
Apple Updates
iMac Support Page Updated for Aluminum iMacs
Macs Only's Dana Baggett reports:
"Apple's iMac Support Page has been updated for the new Aluminum iMacs. It has sections on getting started, troubleshooting, links to discussion topics, software updates and repair and support."
Link: Apple's iMac Support Page Updated for New Aluminum iMacs
Developer Note for Santa Rosa iMacs Posted
Apple Developer Connection says:
"This developer note gives a technical description of the 20" iMac computer and the 24" iMac computer, based on the Intel Core 2 Duo microprocessor and introduced in August 2007, to help developers design products compatible with these computers. The note provides information about the computer's internal design, input-output features, and expansion capabilities."
Link: iMac Developer Note for 2007 iMacs
Products
NewerTech miniStack NAS Server for the Digital Home or Business
PR: Newer Technology, Inc. (NewerTech), a leading developer of PC, Macintosh and iPod performance upgrades and accessories, has announced the newest addition to its award-winning storage line, the miniStack® NAS Network Attached Storage solution for storing and sharing music, videos, photos, and files at home or at the office. miniStack NAS easily connects to computers via Ethernet or USB 2.0 ports for Plug & Play storage and sharing of up to 750 GB between up to 20 Windows or Mac users.
Based on the award-winning miniStack, winner of Macworld Magazine "Top Product," Mac Addict Magazine "Editor's Choice," and 123macmini.com "Accessory of the Year" Awards, miniStack NAS addresses the growing trend of computers as the hub of home entertainment by offering a shared local drive for wired or wireless networked computers for drag-and-drop sharing and storage. It is the ideal server for the digital lifestyle because it offers storage capacities up to 750 GB, the ability to stream multimedia and HD files to UPnP™ (Universal Plug and Play) compatible media players, and easy setup by eliminating complicated network TCP/IP configurations. Adding the NewerTech miniStack NAS into a home or business network is a simple matter of installing the included software driver onto each computer that will share the miniStack NAS drive and connecting miniStack NAS to the network via the included Ethernet cable.
6 Times Faster Performance
miniStack NAS utilizes advanced network storage technology to enable direct storage and access by up to 20 users simultaneously with up to 6 times faster performance than older PC file sharing-based technologies. With both USB 2.0 and Ethernet connections, miniStack NAS offers the flexibility to be used either on the network or as a personal external high-speed storage solution.
NDAS Technology for Extra Security
miniStack NAS keeps sensitive data safe and secure with user-selectable levels of read/write privileges, from no access, read only, or full access. Also, because miniStack NAS uses Network Direct Attached Storage (NDAS) technology, which eliminates the need for TCP/IP settings, miniStack NAS is safe from external hackers.
miniStack NAS Applications:
Home network file sharing/storage, backup/archiving, and other shared external drive access needs.
Small business as a primary or secondary network storage solution.
Public office/facility (libraries, villages, etc.) backup, archiving and conservation of data.
Multimedia storage device (MP3s, digital photos, digital video).
Features:
Up to 750 GB storage.
Up to 16 MB of data cache.
Ximeta NDAS 2011 network chipset for extra security.
One RJ-45 10/100Base-TX auto switching MDI/MDI-X port.
One USB 2.0/1.1 port.
Data transfer speed up to 100 Mb/s.
Up to 20 simultaneous Mac or PC users.
Front panel LED status lights.
External auto-switching 100-240V 50-60 Hz 3 amp UL listed power supply.
Small footprint: 6.5" x 6.5" x 1.5" size.
Auto-Power on/off automatically with computer.
Intelligent thermal monitoring for minimal fan power consumption.
Whisper quiet operation.
Kensington Security Slot.
Ethernet RJ-45 and USB 2.0 cables included.
Stackable design.
miniStack NAS is available in seven preconfigured 7200 RPM solutions, from 80 GB to 750 GB, priced starting at $119.99 MSRP from NewerTech's exclusive distributor, Other World Computing, as well as through select resellers. A 0 GB "Add Your Own Drive" kit is also available for $79.99 MSRP.
System requirements:
miniStack NAS is compatible with Macintosh computers running OS 8.6 and later with an available USB port, OS X 10.2.8 and later required for network operation or Windows ME, Windows XP, Windows 2000 (Home or Professional), or Windows Vista with an available USB port or via network. All preconfigured and certain 0 GB kit miniStack NAS models include a $200 retail value utility software bundle comprised of ProSoft Engineering® Data Backup 3, NovaStor NovaBACKUP®, and Intech® SpeedTools Utilities™.
Link: miniStack NAS
Miglia MiniBank External Hard Drive Matches Mac mini
PR: Designed from the ground up for your Mac, MiniBank 320 GB or 500 GB is the safe haven to keep all your photos, tunes, movies and documents.
Backup your precious digital assets or simply increase your storage capacity with complete ease of use. Fully Plug and Play, it works straight out of the box and eliminates the need for complicated software installation.
MiniBank offers a generous 320 GB or 500 GB capacity combined with high transfer speeds through the FireWire or USB 2.0 interface, making it the perfect companion for any Mac.
Sharing amongst friends
The beauty of MiniBank is that it can be connected to your Airport Extreme base station. Not only does it stack perfectly as it has the same dimensions, but thanks to MiniBank's integrated hub, you can share other USB hard drives and printers. Wirelessly of course! AirPort Extreme will allow as many as 50 users within your home or office environment to share the one Internet connection, files on your MiniBank and take advantage of your 'Network' printer. Set up is just as simple; by connecting your Airport Extreme to the USB hub of your MiniBank and subsequently your printer to the USB port of your MiniBank you're ready to share data and share the fun.
Robust and stylish
MiniBank has been designed from the ground up specifically for Mac users, delivering exceptionally high standards boasting the same material, finish and design as the Apple Mac mini.
Of course, MiniBank will also make a perfect companion to any other Mac or PC with FireWire interfaces.
Not enough ports?
Expand your connectivity possibilities thanks to the fully integrated 3 port FireWire hub and 3 port USB 2.0 hub, which let you connect a multitude of devices to your Mac simultaneously
Key Features
Stylish Hard Drive for your Mac or PC
Generous 320 GB or 500 GB capacity
High speed 7200 rpm hard drive
Includes 3 Port FireWire and 3 USB 2.0 hub
Fanless quiet operation
Durable, sturdy and stackable
2 Year Warranty
Why not create the perfect match by stacking MiniBank together with your Mac mini, as both are identical in shape, size and finish.
The integrated FireWire and USB 2.0 hubs enable you to connect simultaneously a multitude of devices, such as your printer, scanner, digital camera and much more!
Generous capacity and amazing performance
Your photos, your movies, your music, your documents, your life.
In a world crowded with digital media devices, we have an ever growing need for data storage.
The 7200 rpm 3.5" hard drive and FireWire interface ensure MiniBank delivers high performance for every task.
System requirements:
Mac with FireWire Port
Windows PC with FireWire port
Mac OS X 10.3 or higher
Windows XP or higher
Specifications:
Host Interface: FireWire 400 and USB 2.0
Host Connector: 6-pin FireWire and USB 2.0 B-Type
Transfer Rate: FireWire: 400 Mbps, USB 2.0: 480 Mbps
Internal Drive: 3.5", 7200 rpm, P-ATA
Capacity: 320 GB or 500 GB, depending on version
USB 2.0 Hub: 1x B-type (connection to computer), 3x A-type connectors
FireWire Hub: 3x FireWire 6-pin connectors
Power: External power supply, 110-240V
Length x Width x Height: 165mm x 165mm x 40mm / 6.5" x 6.5" x 1.57"
Weight (packed): 2 kg / 4.41 lb.
Warranty: 2 Years Miglia Warranty, return to base.
Available in 320 GB and 500 GB capacities at £119 ($242.35) and £169 ($344.19) respectively.
Link: Miglia MiniBank
Software
Virtual PC 7.0.3 Update Improves Security
PR: Virtual PC for Mac lets you run Microsoft Windows applications, access Windows networks, use Windows-only Internet applications, and share files with Windows-based colleagues. Virtual PC for Mac employs standard Mac controls and commands. It gives you the flexibility to work across platforms side by side without changing your Mac OS, software or files. Say good-bye to compatibility issues. Virtual PC for Mac lets you have the best of both worlds.
New in version 7.0.3:
This update fixes a vulnerability that an attacker can use to overwrite the contents of your computer's memory with malicious code. This update is recommended for all users who are using Virtual PC for Mac 7.0, 7.0.1, and 7.0.2.
System requirements for Virtual PC for Mac 7.0 through 7.0.2.
Your computer must meet the following minimum requirements:
Processor: 700 MHz native PowerPC G3, G4, or G5 processor (Intel processors are not supported)
Operating system: Mac OS X 10.2.8 (Jaguar) or a later version of Mac OS. G5 processor requires Mac OS X 10.3 or 10.4.1 to run Virtual PC for Mac.
Memory: 512 MB of RAM
Hard disk: 70 MB of available hard disk space is temporarily required to complete installation; after installation, the program requires 50 MB of hard disk space
Internet access: Internet connection through either an Internet service provider (ISP) or a network. Internet access might require a fee to an ISP; local or long-distance telephone charges might also apply.
System support: PPC
For more information about the Virtual PC for Mac 7.0.3 Update, after you install it, see Virtual PC Help.
If you have technical questions or problems downloading or using this update, visit the Microsoft Support page at www.microsoft.com/mac/support to learn about the support options that are available to you.
Link: Virtual PC 7.0.3 Updater
Desktop Mac Deals
Low End Mac updates the following price trackers monthly:
For deals on current and discontinued 'Books, see our 13" MacBook and MacBook Pro, MacBook Air, 13" MacBook Pro, 15" MacBook Pro, 17" MacBook Pro, 12" PowerBook G4, 15" PowerBook G4, 17" PowerBook G4, titanium PowerBook G4, iBook G4, PowerBook G3, and iBook G3 deals.
We also track iPad, iPhone, iPod touch, iPod classic, iPod nano, and iPod shuffle deals.
Join us on Facebook, follow us on Twitter or Google+, or subscribe to our RSS news feed
Links for the Day
Mac of the Day: Power Mac G4 Cube, (2000.07.19. Compact, powerful, and attractive with limited expansion and a high initial price doomed the Cube.)
Recent Content
Follow Low End Mac on Twitter
Join Low End Mac on Facebook
Favorite Sites
MacSurfer
Cult of Mac
Shrine of Apple
MacInTouch
MyAppleMenu
InfoMac
The Mac Observer
Accelerate Your Mac
RetroMacCast
The Vintage Mac Museum
Deal Brothers
DealMac
Mac2Sell
Mac Driver Museum
JAG's House
System 6 Heaven
System 7 Today
the pickle's Low-End Mac FAQ
Affiliates
Amazon.com
The iTunes Store
PC Connection Express
Macgo Blu-ray Player
Parallels Desktop for Mac
eBay

Advertise