No Junk from Apple, Mac Mouse Dies after 18 Years, Time to Cut the Gigabyte BS, and More
This Week's Apple and Desktop Mac News
Compiled by Charles Moore and edited by Dan Knight - 2007.08.10
This Week's Apple and Desktop Mac News
Apple unveiled new, aluminum clad iMacs this week. They're a bit smaller than their white plastic predecessors - and faster. The Mac mini also got a double upgrade - both clock speed and CPU, moving from the original Core Duo to the newer Core 2 Duo.

The 2007 iMacs in front of their
slightly larger 2006 equivalents.
Apple also unveiled aluminum keyboards, USB 2.0 and wireless, as well as iLife '08 and iWork '08, which gains a spreadsheet module. Shortly after release of the new iMacs, Apple announced the first software update for it, as well as drivers for the aluminum keyboards.
PowerBook, iBook, MacBook, and other portable computing is covered in The 'Book Review.
All prices are in US dollars unless otherwise noted.
News & Opinion
Apple Updates
Products
iPod News
News & Opinion
Quote of the Week
Steve Jobs responding to a reporter who asked if Apple is setting its sights on cracking the PC market: "We can't do it; we can't ship junk. There are thresholds we can't cross because of who we are."
New iMacs, Refreshed Mac mini
As widely anticipated, Apple released new versions of the iMac this week. The newest iMacs sport a new brushed aluminum look with a black border around 20" and 24" glossy displays. (There is no 17" model with the Mid 2007 revision.) Speeds range from 2.0 GHz to 2.8 GHz.
The Mac mini received a significant speed boost as Apple notched up clock speed and moved the mini to Intel Core 2 Duo, finally putting the entire Mac line on a Core 2 footing.
All of the new Macs ship with iLife '08.
The Mid 2007 iMacs
The Mid 2007 iMacs come in two sizes, and each size is available at two different speeds. All models now include FireWire 800, and the motherboard now uses an 800 MHz system bus (up from 667 MHz in earlier Intel-based iMacs). 802.11n WiFi is standard, and the SuperDrive is faster with some type of media. All models include ATI Radeon HD graphics, at least 1 GB of RAM (expandable to 4 GB), a 250 GB or larger hard drive, and Apple's new aluminum keyboard (more below).
The 20" 2.0 GHz iMac has a 1680 x 1050 display, Radeon HD 2400 XT graphics with 128 MB of dedicated video memory, Bluetooth 2.0, and Apple's Mighty Mouse. The 2.4 GHz model has Radeon HD 2600 Pro graphics with 256 MB of RAM and a 320 GB hard drive.
The 24" 2.4 GHz iMac has the same specs as the 20" 2.4 GHz model, but with a 24" 1920 x 1200 display. At the top, the 2.8 GHz iMac comes with 2 GB of RAM, a 500 GB hard drive, and an Intel Core 2 Extreme CPU.
Prices range from US$1,199 to US$2,299. For our perspective on the Mid 2007 iMacs, see The 2007 iMac Value Equation.
The Core 2 Mac mini
The Mac mini is no longer the laggard it once was. The Mid 2007 mini bumps clock speed from 1.66/1.83 GHz to 1.83/2.0 GHz (a 9-10% boost) and also abandons the Intel Core Duo processor for the same Core 2 found in all other Macs. This potentially adds 25-30% to the mini's power.
Another upgrade is that Apple now includes 1 GB of RAM, which various benchmarks have found makes a significant improvement over the 512 MB found in earlier Intel-based minis. Hard drives are also more spacious.
Prices remain the same, US$599 for the 1.83 GHz Combo drive model and US$799 for the 2.0 GHz SuperDrive mini. For our take on their value, read The 2007 Mac mini Value Equation.
Other Announcements
Apple also unveiled iWork '08, which now includes a spreadsheet, and iLife '08, which has a completely new version of iMovie. Apple now offers a RAID card for the Mac Pro, the 802.11n AirPort Extreme Hub now supports gigabit ethernet, and is making some big changes to its .mac service.
Apple's Aluminum Keyboards: USB 2.0 or Wireless
PR: Therapy for your fingers - wired and wireless
Wired. Beautiful Ultrathin Design
With its elegant anodized aluminum enclosure, the Apple Keyboard looks equally at home in your living room or on your desk. Just connect it to the USB port on your Mac and start enjoying the crisp, responsive feel of its low-profile keys.

The extended layout has a full complement of keys, including document navigation controls, a numeric keypad, and special function keys for Mac features such as brightness, volume, eject, play/pause, Exposé, and more.
Two USB 2.0 ports provide high-speed connectivity for your iPod, Mighty Mouse, digital camera, and other USB-based electronic devices. Yes, we did think of everything.
System Requirements
Mac computer with available USB 1.1 or USB 2.0 port
Mac OS X v10.4.10 or later
Keyboard software update
$49
Wireless. Incredibly thin. Surprisingly portable
Like its wired sibling, the Apple Wireless Keyboard features a low-profile anodized aluminum frame that complements any Mac. It connects using Bluetooth wireless technology, giving you the freedom to work or play up close or across the room.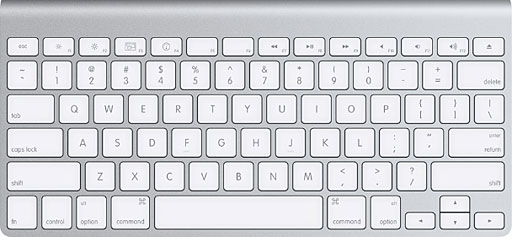 Sleek and compact, it has low-profile keys that provide a crisp, responsive feel and function keys for one-touch access to Mac features. Intelligent power management conserves battery life by automatically powering down the keyboard when you're not using it and turning it on the instant you start typing.
When you pair the Apple Wireless Keyboard with a wireless Mighty Mouse, you get the ultimate in flexibility, style, and freedom.
System Requirements
Mac computer with Bluetooth wireless technology
Mac OS X v10.4.10 or later
Keyboard software update
Existing keyboard and mouse for initial setup
Three AA batteries (included)
$49
Link: Apple's New Keyboards
Can Your Mouse Last 18 Years?
Maria Langer says:
"Jo's did.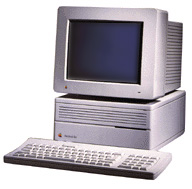 "The call came early this morning. It was Jo, at the radio station.
"'I was working on invoices on my Mac,' she told me. 'And my mouse just died. Do you have a spare one?'
"Jo's Mac is a Mac IIci. We're talking a circa 1989 computer. She still uses it every day, with an Apple laser printer that's equally ancient, to do the radio station's invoicing.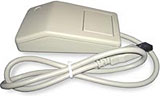 "Yes, that's right: she's using an 18-year-old computer daily to manage a radio station's accounting.
"We discussed the mouse's problem. It was the clicker. It wasn't clicking anymore. Not bad when you consider that she's been clicking with it for 18 years.
"I think she got her money's worth."
Link: Can Your Mouse Last 18 Years?
Apple: Back to the iMac
BusinessWeek's Cliff Edwards and Peter Burrows report:
"It didn't take long for Apple Chief Executive Officer Steve Jobs to get to the point Tuesday at the company's Silicon Valley headquarters. Returning to the device that helped kick off the company's remarkable resurgence, Apple gave its iconic iMac desktop computers a product refresh, and they now sport a slimmer design, glossy screens, and updated entertainment-oriented software.
"Calling his presentation before journalists and company employees at Apple's Cupertino (Calif.) headquarters 'a more intimate gathering,' Jobs took the stage in his usual outfit of mock turtleneck and blue jeans and quickly unveiled the first iMac face-lift in three years....
"At first blush, one might wonder why Jobs even bothered. He noted that about two-thirds of the company's computer sales come from its MacBook and MacBook Pro notebook computers, bearing out an industry trend away from desktops. What's more, the 90-minute presentation seemed to highlight the computer business that Jobs took pains to drop from the company's name when introducing the iPhone at Macworld in January
"But the subtext of Tuesday's announcement was Jobs' belief that Apple is best equipped to deliver great content and a great consumer entertainment experience both within and outside the home. The iMac continues to play an essential role in that strategy, serving as a home server and repository for personal digital content. 'We think PCs are more important than they were five years ago,' Jobs said in comments to BusinessWeek after the presentation...."
Link: Apple: Back to the iMac
Time for Hard Drive Manufacturers to Cut the GB BS
Dr. Macenstein says:
"Let me ask you something.
"If I were to sell you a dozen eggs, would you be OK with opening the carton and finding 9 eggs? If a car company were to put up a big sign advertising their new mini van had 100 cubic feet of cargo space, but it actually had about 75, do you think you would have the right to complain? Then why is it we all just accept the misleading way hard drive manufacturers advertise the amount of space on their drives?
"What I am referring to is the long-standing, misleading practice hard drive manufacturers use to describe the available free space on their drives via binary math. This is by no means a new problem, but I feel it is is an issue that is becoming more and more relevant as drive sizes expand. For example, in the old days, you might have have a hard drive that was sold to you as 40 GB, only to find that once installed, you really only have 37.22 GB free. Nowadays, with drive capacities soaring, those 3 missing GB might not seem like a big deal, but as hard drive capacities get larger, so too does the the gap between what you read you were getting in your local computer catalog, and the actual specs provided when you do a 'Get Info' on the drive once it's in your Mac."
Mac System Monitoring Apps
MacInstruct's Matthew Cone says:
"There are millions of car owners out there who will probably never look under the hood and see their vehicle's engine. They don't care whether or not their engine is overheating or their oil pressure's jacked up or their car battery is about to conk out on them. As long they can drive, they're good to go. And in the same vein, many Mac users don't care about their computer's inner workings.
"Which is a shame, when you think about it. Knowing what your Mac is up to and help you keep it in tip-top shape. MacBook Pro users can use the information to keep their portables cool, and the rest of us can locate processor hogs and RAM leaks. Fortunately, there are a number of great applications out there that can help us with this mundane (or should we say geeky?) task.
"iStat
"Free (Donations Requested) - http://www.islayer.com/index.php?op=item&id=25
"GeekTool
"Free - http://projects.tynsoe.org/en/geektool/
"MenuMeters
"Free - http://www.ragingmenace.com/software/menumeters/
"Activity Monitor
"Free - Included with Every Mac"
Link: Mac System Monitoring Apps Tutorial
VMware and Parallels in Mac Turf War
ZD Net UK's Colin Barker reports:
"VMware is set to take on Parallels in the Mac virtualisation world with the launch of VMware Fusion for the Mac OS X, but for now its main focus is the consumer market.
"The news that the best-selling virtualisation software is now available for Apple's OS X will be welcomed by users running Macs alongside PCs.
"But any corporate appeal may be lessened by the news that VMware is limiting the scope of Fusion and that it will only support two virtual machines per user."
Link: VMware and Parallels in Mac Turf War
IEEE 1394b (FireWire 800) Gaining Momentum as Apple Introduces New iMacs
PR: Apple's introduction of new iMacs with 1394b this week demonstrates that the 1394b standard, also known as FireWire 800, is gaining significant momentum, the 1394 Trade Association said today.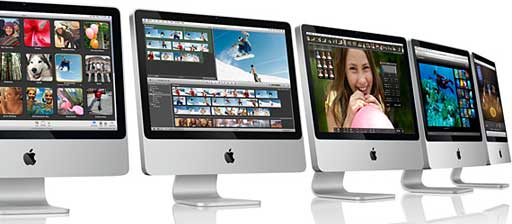 The two new members of the iMac line include two 1394 ports, one using 1394a (FireWire 400) and the other 1394b. Apple CEO Steve Jobs highlighted the presence of FireWire 800, indicating that 1394b is now on all iMacs. The new models each run on Intel Core 2 Duo processors with clock speeds of 2 GHz and 2.4 GHz, faster than earlier models. The system bus is also faster than in previous iMacs - 800 MHz compared to 667 MHz. The aluminum enclosure for the iMac conforms with Apple's Mac Pro and Mac mini products.
Apple holds about 21 percent of the retail PC market in the US; analysts expect that figure to increase significantly this year and into 2009. Jobs indicated that Mac growth for the last four quarters is three times overall PC industry growth.
"Apple's decision to incorporate 1394b into all of its iMacs is another indication of increasing momentum for the 'b' version of FireWire," said James Snider, executive director of the 1394 Trade Association. "The storage product designers set the pace by adopting FireWire 800 for hard disk drives, and now, with this announcement from Apple, 1394b is in the mainstream."
1394b delivers 800 Megabit/second bandwidth and can move audio and video up to 10 meters, while delivering the quality of service provided by the 1394 standard. It has been adopted by all of the leading providers of high end storage products this year, with high end hard drives from Seagate, Western Digital, La Cie and others gaining market share worldwide.
1394b silicon is now available at favorable prices. Texas Instruments Inc. offers a complete variety of 1394b devices, the TSB81 PHY and TSB82 Link series, including a mil-spec version. Oxford Semiconductor earlier this year introduced its OX936 series of devices that supports 1394b and hardware RAID with a peak performance of 250 MBytes/s. Also last winter Agere Systems, now part of LSI Logic, introduced the first ICs that integrate 1394b with the PCI Express bus (PCIe) on one chip, its TrueFIRE device, providing designers of PC, notebooks and consumer electronic devices with a richer and more versatile feature set. "The introduction of 1394b in all iMacs is a major step forward in making 1394b mainstream in computer and peripheral equipment," said Jalil Oraee, a founder and chief technical officer of Oxford Semiconductor.
The 1394 Trade Association is worldwide organization dedicated to the advancement and enhancement of the IEEE 1394 standard.
Link: 1394 Trade Association
NeXTstep in My Pocket
BYTEcellar's blakespot says: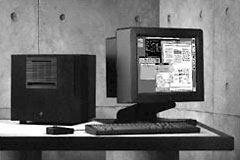 "The moment I caught my first glimpse of the NeXT Cube and its revolutionary operating system, NeXTstep, I was spellbound. Never had a computing system been even vaguely as elegant as what lay before me back in 1989 on the pages of Bruce F. Webster's The NeXT Book, a highly illustrated delve into the inner workings of NeXT's new hardware and software.
"I finally became a NeXTstep user in 1994 with the purchase of a 66 MHz 486 workstation specifically fabricated to run NeXTstep for Intel. It ran the full developer version of NeXTstep for Intel v3.2 which retailed for $5,999 ($299 with student discount)! But sadly, within a year I was running Windows (where elegance has no home) on that box thanks to the dearth of mainstream apps available for NeXTstep. My prayers were answered, however, several years later with Apple's announcement that it intended to acquire NeXT and NeXT's subsequent takeover of Apple. OpenStep (basically NeXT's latest version of NeXTstep) was to become the basis for the Mac OS. I ran right out and bought a Mac....
"Apple, presently owning about 5% of the PC marketshare, shipped 1,764,000 Macs this past quarter alone. There are millions and millions of people out there running what could be described as the latest version of NeXTstep. I find that so great!
"Here's another thing that's kind of crazy to think about, and is what prompted me to make this post. As I type this, there is an Apple computer featuring advanced graphics and sound, wireless data capabilities of several varieties, a web browser able to view even 'Web 2.0' sites, a digital camera, a revolutionary touch-based user interface, running OS X (the modern evolution of NeXTstep, mind you), sitting in the front-right pocket of my jeans. Yes, it is the iPhone of which I speak and unless you happen to be dead, you've heard of it. And it is astounding . . . and elegant."
Link: NeXTstep . . . in My Pocket
Apple Updates
First Software Update for Brand New iMacs
Already....
A new Apple Knowledge Base article says:
"This update provides important bug fixes and is recommended for 20-inch and 24-inch iMac models with 2.0, 2.4, or 2.8 GHz processors.
"System Requirements
Mac OS X 10.4.10
iMac (Mid 2007)"
Link: iMac Mid-2007 Software Update 1.0
New Keyboards Require OS X 10.4.10 and Keyboard Software Update 1.1
A new Apple Knowledge Base article says:
"Your Apple Keyboard (2007) has special features (Exposé, Dashboard, screen brightness, audio control and so on) preassigned to the function keys. To take advantage of these features, you must install the Keyboard Software Update 1.1 using the Software Update process.
"Note: Your computer must have Mac OS X 10.4.10 installed to recognize Keyboard Software Update 1.1."
Link: Apple Keyboard (2007): Use Software Update to Install the Latest Keyboard Software
Firmware Update for Mac Pro Adjusts Fan Behavior
The SMC Firmware Update adjusts fan behavior in the Mac Pro.
A new Apple Knowledge Base article says:
"The SMC Firmware Update adjusts fan behavior in the Mac Pro.
"After this update has completed successfully, your SMC Version will be:
1.7f10 (Mac Pro)
1.5f3 (Mac Pro 8-core)
"The updater application will be installed in the /Applications/Utilities folder and will launch automatically after restart.
System requirements:
"Platform: Intel"
Link: Apple Mac Pro SMC Firmware Update 1.1
Products
NAS Drive Looks Like Mac mini
Macworld UK's Jonny Evans reports:
"Lindy Electronics has announced a hard drive chassis that's purpose-built to act as network attached storage and to stack happily with a Mac mini.
"The enclosure - the £64.99 Lindy Mini NAS Enclosure - is compatible with standard 3.5-inch hard drives. When connected to the Mac (via a USB port) the device lets a user backup data from any machine on the network and using the internet."
Link: Turn your Mac mini into a NAS drive
Editor's note: Despite the title of Macworld UK's article, the Lindy Mini NAS Enclosure (about US$130) is a freestanding NAS device that supports 10/100 ethernet. It does not require a Mac mini or turn a Mac mini into an NAS drive. It can also be used as a USB 2.0 hard drive. dk
OWC Announces 1 GB, 2 GB, and 4 GB Memory Upgrades for New iMacs
PR: Other World Computing (OWC) is offering memory upgrade kits of up to 4 GB for Apple's just announced iMac Core 2 Duo 2.0 GHz, 2.4 GHz and "Extreme" 2.8 GHz models, which are just now starting to ship (just announced by Apple on August 7). OWC's Memory is also available in modules and kits of up to 3 GB for previous iMac models.
OWC's 1 GB Upgrade Module is $49.99, 2 GB Module is $115.99, and 4 GB Kit is $229 (configured as two 2 GB memory modules). All memory options are immediately available and shipping. Additional savings is also available for customers who take advantage of OWC's trade-in program, which provides $25 cash back for the trade-in per each Apple 1 GB module.
Other World Computing is an Apple Developer Connection Premiere member and OWC memory upgrades meet Apple's electrical and mechanical design requirements. OWC maintains an active state-of-the-art test lab to ensure the highest product quality and reliability. OWC modules provide a lifetime of high-performance, reliable operation backed with a Money Back Guarantee and OWC's Lifetime Advance Replacement Warranty.
OWC, an expert in the Mac memory market, has nearly two decades of experience providing memory module upgrades for Mac computers. OWC has conducted independent memory benchmarks on MacBook Pros utilizing the same Intel Core 2 Duo processors and system bus type, which show how important memory is for customers employing high-memory intensive applications, such as audio/video, photo, 3D modeling, and other applications. OWC has concluded there is an overall operating system and application performance benefit for each incremental addition to system memory.
"We're all about maximizing performance, and impressively, we've found there can be better performance attained even between 2 GB and 3 GB memory configurations than getting a new system with a faster processor," said Larry O'Connor, President, OWC. "More memory makes a tremendous difference, as our real world testing illustrates, and the 4 GB supported in the latest Apple iMac Core 2 Duo and Core 2 Duo Extreme models gives even more performance benefit than just the faster speeds."
Link: iMac Core 2 Duo Recommended Memory Upgrades
Desktop Mac Deals
Low End Mac updates the following price trackers every two weeks:
Low End Mac updates the following price trackers every three weeks:
Low End Mac updates the following price trackers every month:
For more deals on current and discontinued notebook models, see our best MacBook deals, MacBook Air deals, 15" MacBook Pro deals, 17" MacBook Pro deals, 12" PowerBook G4 deals, 15" PowerBook G4 deals, 17" PowerBook G4 deals, titanium PowerBook G4 deals, iBook G4 deals, PowerBook G3 deals, and iBook G3 deals.
Join us on Facebook, follow us on Twitter or Google+, or subscribe to our RSS news feed
Links for the Day
Mac of the Day: iMac Core Duo, introduced 2006.01.10. The first Intel-based iMacs ran at 1.83 and 2.0 GHz, came in 17" and 20" sizes.
Recent Content
Follow Low End Mac on Twitter
Join Low End Mac on Facebook
Favorite Sites
MacSurfer
Cult of Mac
Shrine of Apple
MacInTouch
MyAppleMenu
InfoMac
The Mac Observer
Accelerate Your Mac
RetroMacCast
The Vintage Mac Museum
Deal Brothers
DealMac
Mac2Sell
Mac Driver Museum
JAG's House
System 6 Heaven
System 7 Today
the pickle's Low-End Mac FAQ
Affiliates
Amazon.com
The iTunes Store
PC Connection Express
Macgo Blu-ray Player
Parallels Desktop for Mac
eBay

Advertise