OS X 10.6 Requirements, Why Apple Owns the High End, When to Upgrade Your Mac, and More
This Week's Apple and Desktop Mac News
Compiled by Charles Moore and edited by Dan Knight - 2009.08.14
MacBook, PowerBook, iBook, and other portable computing is covered in The 'Book Review. iPod, iPhone, and Apple TV news is covered in The iNews Review.
All prices are in US dollars unless otherwise noted.
Snow Leopard
News & Opinion
Products & Services
Software
Snow Leopard
Mac OS X 10.6 Graphics and Processor Requirements
MacFixIt says:
"The upcoming version of OS X promises to be a streamlined and refined system, cutting out much of the old, bloated code that has persisted since the initial 10.0 public beta version which was released in the summer of 2000.
"Along with stripping out all of this legacy code, Apple has incorporated a variety of new technologies in Snow Leopard that will make the most out of modern computing hardware . . . but while Snow Leopard will install on all Intel-based Macs, not all Macs have the hardware requirements to support these key enhancements.
"Many people looking forward to these features may wonder if their machines meet the requirements for running the much-touted features of the new OS."
Executive Summary
Snow Leopard requires 1 GB of RAM and 5 GB of available drive space.
The first generation Intel Macs, based on Intel Core Solo and Core Duo CPU, do not support 64-bit operation; all Core 2 Duo and later models do.
These models do not have graphics processors that can benefit from OpenCL:
MacBook Pro released before June 2007
MacBook released before October 2008
iMacs released before March 2009
Mac mini released before March 2009
Mac Pro released before January 2008 (Jan. 2008 and later models with unsupported video cards can used the GeForce 8800 upgrade kit - Apple part no. MB137Z/A - for OpenCL support.)
You can pre-order Snow Leopard from Amazon.com for $29 shipped.
Link: Preparing for 10.6 Snow Leopard: Graphics and Processor Requirements
Changes to Snow Leopard Installation Process?
AppleInsider's Kasper Jade reports:
"People familiar with Apple's upcoming Mac OS X 10.6 Snow Leopard operating system are corroborating reports this week that the software has achieved Golden Master status, adding some additional insight on various enhancements and changes that users will notice during the installation process when compared to Mac OS X 10.5 Leopard."
Link: Changes to Snow Leopard Installation Process?
News & Opinion
Why Apple Owns the High End
CIO's Tom Kaneshige says:
"Apple's stock has been on a tear this year, starting at around $85 per share and rising steadily to $165. Sure, the new iPhone 3GS and the ever-popular MacBook Pro line are big reasons for the lift.
"But how does a company that owns only 8 percent of the handset industry revenue, according to Bernstein Research, kick so much butt?"
Link: Why Apple Owns the High-end
When Should I Upgrade My Computer?
Westport (Connecticut) News' Mark Mathias, who sounds like a sensible man, says:
"I'm not one of those people who likes to throw good stuff away.
"I typically keep my cars at least 10 years, my digital camera's picture counter just rolled over 10,000 and my 4-year-old son is driving his big sister's electric powered Barbie Jeep.,,,,
"But what happens when a new technology comes along that I really want? And what do I say when people ask me about when they should upgrade their technology?....
"For most home users, a computer will work far longer than any extended warranty....
"...I upgrade my equipment only when it's preventing me from doing something I find compelling."
Link: Living with Technology - When to Upgrade?
'I Hate My Mac!'
Blogger David Alison says:
"I was chatting with some friends yesterday, some folks I hadn't seen in a while. As they were getting ready to leave Donna looked over at my MacBook, propped open and sitting on a table.
"Donna: 'Ugh. Macs.'
"She had a disgusted look on her face, as though something unpleasant had just been released into the air....
"As our discussion carried on it was becoming increasingly clear that Donna didn't hate her Mac, she hated iWork and the empty promises that it would work with her existing files."
Link: I Hate My Mac!
The Last Word on Microsoft Word?
PixoBebo's Kate MacKenzie says:
"Microsoft has been ordered by a judge to stop selling Microsoft Word and ordered to pay $290-million in damages after losing a patent infringement lawsuit.
"Christine Persaud in MarketNews:
"Patent No. 5,787,449 refers to custom XML, and a particular part number is ''Method and System for Manipulating the Architecture and the Content of a Document Separately from Each Other.' i4i LP, which invented this technology, filed suit against Microsoft in March 2007, stating that the software giant was infringing on its technology by utilizing it in certain Word products, and argued that this infringement was 'willful'.
"What happens now?"
Link: The Last Word on Microsoft Word?
Next iMacs May Have 'Compelling New Features'
AppleInsider's Kasper Jade reports:
"A couple of new features rumored to be in the cards for Apple's forthcoming iMac refresh will up the value proposition for prospective buyers in the market for an all-in-one desktop system, AppleInsider has been told."
Link: Apple's Next iMacs Rumored with Compelling New Features
A 'Bag of Hurt' Coming to Apple's iMacs After All?
Crunch Gear's Peter Ha says:
"And the award for the most long winded piece of dribble goes to AppleInsider!"
Link: A 'Bag of Hurt' Coming to Apple's iMacs After All?
Products & Services
BackPack Shelf for iMac and Cinema Displays
PR: BackPack is a sturdy, sleek looking shelf designed exclusively to attach to the back of iMac and Apple Cinema Displays. This handy little piece of heavy gauge steel is perfectly sized to hold hard drives, USB peripherals or even a Mac mini. (If you use it to display your favorite Star Wars action figures, we'll totally understand.) You can use the perforated base to tie up that web of cables lurking behind your Mac.
Out of sight, but not out of reach.
BackPack is the perfect place to park portable hard drives, card readers or other USB peripheral you want to hide, but need easy access to every now and then. Set your USB hub on the shelf and tie your cables to it for a super tidy workspace. BackPack is also a handy home to stash your iPhone or iPod while charging and synching.
Doubly good to have.
Because it's height adjustable, there's room for more than one BackPack in your life. Hang one low for hard drives and add a second one for hubs and gear (or a Transformer). If the back of your iMac faces the room, a BackPack or two is a completely fun, new way to personalize both your iMac and your workspace. The choice of what to display on your BackPack is completely yours.
Uses gravity to sit tight.
The BackPack rests on the back of the desk stand on flat-screen iMacs and Apple Cinema Displays using gravity and two simple, adjustable clips. This allows you to position the sporty shelves at the perfect height without a screw ever touching your iMac. Because the BackPack uses gravity to stay in place, it will not leave any scratches or marks on your machine.
Easy on the eyes and your gear.
Not only is this accessory a stylish space saver, it has some key protective benefits for your gear. This cool, ventilated shelf is the perfect way to get your hard drive or other Mac accessories elevated for better ventilation and the heat relief most electronic devices crave.
Fits all current iMacs and Apple Cinema Displays
Perfect place to store external hard drives for Time Machine
Creates a tidy, less cluttered workspace
$29.99
Buy a BackPack 6-Pack and Save - $149.99
What's a 6-Pack?
Mac users tend to hang together. Get together with 5 of your Mac friends and your whole team can save big.
Link: BackPack
Hitachi Ships First 2 TB 7200 RPM Desktop Hard Disk Drive
PR: Hitachi Global Storage Technologies (Hitachi GST) has announced that it is now shipping the world's first, two terabyte (2 TB), 7200 RPM hard disk drive (HDD). The new, colossal, 2 TB Deskstarô 7K2000 blends high performance and high capacity with low power and other eco-friendly features designed to enable Energy-Star rated computers and other high performance desktop systems.
Leveraging a solid track record for reliability, the new Deskstar 7K2000 is now in its fourth-generation using the company's unique five-platter design with relaxed bit density and proven perpendicular magnetic recording (PMR) technology. Couple this with an ultra-quiet operation, a 32 MB cache and a 3 Gb/s SATA interface, and the new Deskstar 7K2000 is the ideal desktop drive for power users, gamers or anyone looking for a big, fast hard drive.
"The new Deskstar 7K2000 reflects our ongoing commitment to provide customers, channel partners and OEMs with proven, reliable solutions for enabling desktop computers, gaming systems, workstations and desktop RAID arrays," said Brendan Collins, vice president of marketing, Hitachi GST. "At Hitachi, we continue to offer one of the broadest product lines in the world with a focus on delivering industry-leading hard drives that meet the reliability, performance, capacity and power needs of a variety of traditional and emerging market segments."
"The demand for higher capacity disk drives is being fueled by the persistent growth of digital information generated by consumers and organizations alike," said John Rydning, research director for hard disk drives at IDC. "With the introduction of the industry's first 7200 RPM, 2 TB HDD, Hitachi GST is building a tradition of time-to-market leadership for delivering the biggest and fastest disk drives for capacity-hungry PC users, given it was also the first HDD vendor to ship a 1 TB HDD, the Deskstar 7K1000, in early 2007."
In addition to the new 2 TB Deskstar 7K2000, Hitachi GST is also refreshing its high-volume desktop hard drive family. The new 7200 RPM Deskstar 7K1000.C family will deliver up to 500 GB per platter, and will come in capacities of 160 GB to 1 TB, hitting the capacity and performance sweet spots for mainstream desktop applications. Like previous generations, both the 7K2000 and 7K1000.C Hitachi Deskstar drives feature industry-standard 512-byte sector formatting, a patented ramp load/unload design to increase shock protection, and Thermal Fly-height Control (TFC) to maintain a consistent fly-height during the read/write process for added data reliability. Volume production and worldwide availability of the new Deskstar 7K1000.C will begin in the current quarter.
Leveraging the company's eighth-generation power management technology, including power-saving innovations like the Hitachi Voltage Efficiency Regulator (HiVERTô), the Deskstar 7K2000 and 7K1000.C deliver outstanding power management and thermal emissions to help manufacturers meet energy compliance targets for their computer systems and storage-based solutions. For example, the new Deskstar 7K2000 offers 10 percent idle power savings over previous generations, and on a watt-per-GB basis, idle power has improved more than 120 percent. The new Deskstar 7K1000.C is expected to deliver best-in-class power efficiency at 4.4 watts or less idle power, which is the best in the industry when compared to current generation, competing desktop drives.
In addition to being RoHS compliant and low in power, all new Deskstar drives are now Halogen free across the entire family, earning both the Deskstar 7K2000 and 7K1000.C the Hitachi EcoTracô classification.
Link: Hitachi GST Deskstar
Software
Bible Buddy 2.0
PR: Bible Buddy provides a way to study the built-in King James Version of the Bible with focus on two powerful features - easy navigation and using bookmarks with comments.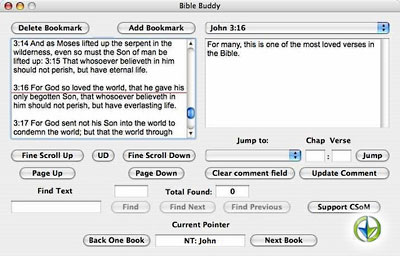 Above you see a screen shot of Bible Buddy displaying John 3:16, one of the bookmarks. Notice that the name of the Book is displayed at the bottom of the window under the "Current Pointer" label.
Navigation: The Bible is displayed in the large box on the left, eleven lines at a time. The entire Bible has 126,846 lines with this display.
You can navigate using the scrollbar. With the scrollbar at the top you can see the first line of the Bible. With the scrollbar at the bottom you can see the last line of the Bible. Clicking on arrows at the top or bottom of the scrollbar moves the display up or down by 32 lines. When you use the scrollbar to navigate through the Bible, you can click on the "UD" (Update) button to see the Book being displayed under the "Current Pointer" label. All other ways of navigating automatically update this information.
You can use the "Page Up" and "Page Down" buttons to scroll ten lines at a time.
You can use the "Fine Scroll Up" and "Fine Scroll Down" buttons to scroll one line at a time.
You can use the "Jump to:" dropdown menu to select a Book, optionally enter the chapter and verse numbers and click on the "Jump" button to jump immediately to that line. If you do not enter the chapter and verse numbers, you will jump to the title line of the selected Book.
You can use the "Back One Book" and "Next Book" buttons to jump backwards and forwards, one Book at a time.
You can use the Search feature. Type any word or phrase (the search is case sensitive; "Book" is different from "book") into the "Find Text" field and click on the "Find" button to search through the entire Bible and see how many times that word or phrase was found. the Bible will scroll to and highlight the first occurrence. Use the "Find Next" and "Find Previous" buttons to jump between occurrences.
Bookmarks: You can add as many bookmarks as you like; each bookmark can include a comment of any size.
A Bookmark may be set to a View, with or without comments. Enter a comment in the box at the right of the View, then click on the "Add Bookmark" button. Enter a Bookmark name and click on the "OK" button.
To jump to a bookmark, select the bookmark from the dropdown "Bookmarks" menu. If the bookmark has a comment, this will be displayed automatically.
To delete a bookmark, select the bookmark from the "Bookmarks" dropdown menu and click on the "Delete Bookmark" button. You will be asked to confirm that you really want to delete that bookmark.
When you close Bible Buddy, bookmarks and comments are saved for use in future sessions.
New in version 2.0:
Red Letter edition.
All bookmarks and comments are preserved.
System Requirements: Mac OS 10.2 or later.
Platform Support: PPC/Intel
Free
Link: Bible Buddy 2.0
Logos Bible Software 1.2 for Mac
PR: Logos Bible Software announces the release of Logos Bible Software for Mac 1.2, a free update to their industry leading technology, Logos Bible Software for Mac. This free upgrade comes less than 2 months after version 1.1 was released and offers several new features like Bible Speed Search, Parallel Resource Associations, printing, the ability to choose an English font, and more.
"Response to this release has been amazing," said Dan Pritchett, Vice President of Business Development. "The Mac community has eagerly welcomed Logos to the world of Mac. We are listening to the users and releasing updates with features that people want."
Included in this release:
Bible Speed Search. Available from the Search menu, this tool makes it easy to search a single Bible and quickly see the results of that search.
Default Resource Font selection. Set your preferred font in About Libronix DLS | Preferences | Appearance.
Printing. You can now print from a resource or report from File menu or pressing Command-P. There is also an option in the print dialog to save to a PDF file.
System-defined Parallel Resource Associations. This tool allows you to arrow through similar resources, such as Bibles or Commentaries, using right and left arrows on the keyboard or Next and Previous buttons on resource toolbar.
Zoom keyboard shortcuts. Change the Zoom In and Zoom Out level (also available from the View menu).
Bible Word Study links work in Exegetical Guide.
Exegetical Guide | Word by Word: Jumps to corresponding word when a word in passage is clicked.
Include footnotes when copying preference can be disabled.
Link Sets: a newly opened resource added to a link set jumps to same location as other linked resources.
Preferred Bible opens with Exegetical Guide.
Resource Installer: Installing newer resources no longer prompts to replace older versions.
Set Links button: clicking the button a second time now brings up the link set options.
The Logos Bible Software for Mac 1.2 is a free update available to all current Logos Bible Software for Mac users. Information on how to upgrade can be found on the Logos for Mac website.
Minimum System Requirements:
800 MHz PowerPC processor (Intel processor recommended)
256 MB RAM (512 MB recommended)
OS X 10.4.11 or higher (10.5.7 recommended)
DVD drive
21 MB hard drive space (up to 4 GB recommended for book files)
1024 x 768 display
Safari 4 required
Link: Logos Bible Software 1.2 for Mac
Microsoft Office 2008 12.2.1 for Mac Released
PR: Microsoft Office 2008 is a suite of products that allow you to create fantastic looking documents-from presentations to reports and communications. It includes:
Word
Excel
PowerPoint
Entourage
Microsoft Server Exchange Support
Automator Actions for Workflows in Microsoft Office
Check out the demonstration video with new features in Office 2008 for Mac.
New in version 12.2.1:
This update fixes an issue that prevents users from opening some Office documents. For detailed information about this update, visit the Microsoft Web site
System Requirements:
Mac OS X 10.4 or later
One of the following:
Office 2008
Office 2008 Home and Student Edition
Office 2008 Special Media Edition
Word 2008, Excel 2008
PowerPoint 2008
Entourage 2008
Platform Support: PPC/Intel
Price: $399.95
Link: Mac Downloads
Desktop Mac Deals
Low End Mac updates the following price trackers monthly:
For deals on current and discontinued 'Books, see our 13" MacBook and MacBook Pro, MacBook Air, 13" MacBook Pro, 15" MacBook Pro, 17" MacBook Pro, 12" PowerBook G4, 15" PowerBook G4, 17" PowerBook G4, titanium PowerBook G4, iBook G4, PowerBook G3, and iBook G3 deals.
We also track iPad, iPhone, iPod touch, iPod classic, iPod nano, and iPod shuffle deals.
Join us on Facebook, follow us on Twitter or Google+, or subscribe to our RSS news feed
Links for the Day
Mac of the Day: Power Mac 9500, introduced 1995.05.01. The first PCI Power Mac has 6 expansion slots, speeds of 120 and 132 MHz.
Recent Content
Follow Low End Mac on Twitter
Join Low End Mac on Facebook
Favorite Sites
MacSurfer
Cult of Mac
Shrine of Apple
MacInTouch
MyAppleMenu
InfoMac
The Mac Observer
Accelerate Your Mac
RetroMacCast
The Vintage Mac Museum
Deal Brothers
DealMac
Mac2Sell
Mac Driver Museum
JAG's House
System 6 Heaven
System 7 Today
the pickle's Low-End Mac FAQ
Affiliates
Amazon.com
The iTunes Store
PC Connection Express
Macgo Blu-ray Player
Parallels Desktop for Mac
eBay

Advertise