Women Rank Apple Tops, a Legal Hackintosh, Inside USB 3, Best Mac Shareware Bundles, and More
This Week's Apple and Desktop Mac News
Compiled by Charles Moore and edited by Dan Knight - 2009.05.29
MacBook, PowerBook, iBook, and other portable computing is covered in The 'Book Review. iPod, iPhone, and Apple TV news is covered in The iNews Review.
All prices are in US dollars unless otherwise noted.
News & Opinion
Products & Services
Software
News & Opinion
American Women Rank Apple Top Tech Brand
PR: Apple takes the top spot among technology brands among American women, followed by Sony, Microsoft, Dell, and HP according to the new Women & Digital Life study by Toronto-based Solutions Research Group (SRG) in which participants were asked, "Which technology brand or company do you admire the most?" Unprompted, 20% mentioned Apple, 14% mentioned Sony, Microsoft was #3 with just over 10%, followed by Dell at 10% and HP at 6%.
The SRG report notes that women are an increasingly important market for technology brands, with an estimated 45 million women in the US buying a digital product in the past six months.
Other brands mentioned in the top 20 included Verizon, Google, LG, Nintendo, Samsung, Gateway, AT&T, Panasonic, GE, IBM, BlackBerry, and Comcast.
Apple's dominance was pronounced among young women 12-24 (2-to-1 over Sony), while Sony and Apple were head-to-head among women 25-39. Among women 40+, Apple and Microsoft were head-to-head for the top spot.
However, Sony took top spot among African-American women, while Apple was the top "top-of-mind" tech brand by only a small margin among Hispanic women. The SRG researchers found that Sony's PlayStation enjoys a very high profile among African-American women, which contributed to the win over Apple in that subset.
"As women close the gender gap in technology use, being top-of-mind is more important than before," said Donna Hall, codirector of the Women & Digital Life study. "Teens and young women influence their parents' choices, while moms make choices for themselves and their children, suggesting strong potential for additional Apple products in the home."
One-in-three (~45 million) US women bought a digital lifestyle product in the last six months. Among moms, 44% did, and among women 25-39, 42% bought a digital product. Walmart and Best Buy are the top two destinations for purchases accounting for over 60% of women's purchases. Target and Apple Store are among the top five retailers for women.
Reasons cited for giving Apple top spot included the company's record of innovation, ease of use of its products, and particularly the iPod. Respondents perceived Apple products as "innovative, catchy, diverse in appeal for all ages & social groups," and the company itself won praise for "always improving on and coming up with great, reliable new products," and making "so much fun and cool stuff these days, and everyone can trust them."
Sony was most-frequently associated with quality and reliability over a long period, as well as diversity of its product lineup, while many of those mentioning Microsoft talked about their positive impression of Bill Gates, and in particular his philanthropic activities, with the longevity of the company also receiving frequent mention.
Link: Top Tech Brands for Women
Build Your Own Legal Hackintosh
OS News' Thom Holwerda says:
"Getting Mac OS X up and running on a computer without an Apple label has always been a bit of a hassle. You needed customised Mac OS X disks, updates would ruin all your hard work, and there was lots of fiddling with EFI and the likes. Ever since the release of boot-132, this is no longer the case. Read on for how setting up a 'Hack'intosh really is as easy as 1, 3, 2....
"...since September last year, we have a new method, using a small boot CD called boot-132. If I understand it all correctly, it uses a modified Darwin kernel to bootstrap a regular, unaltered Mac OS X Leopard retail disc. Since Darwin is open source, this is completely legal, and doesn't break the DMCA since you're not actually hacking any protection measures."
Link: Building a Hackintosh Apple Can't Sue You For
What to Do with an Original 1984 Macintosh?
Gizmodo's Jesus Diaz says:
"I bought myself an original Macintosh the one from 1984 this weekend. I saw it on the streets of Williamsburg for $35, almost completely new, and I couldn't resist. Now I want to do something with it.
"Now I'm having a dilemma."
Editor's note: Let's hope he doesn't gut it and use the housing for a mini stereo, as he suggests in the article. There are plenty of newer compact Macs you can do that with, but the Mac 128K is a piece of history. dk
Link: What to Do with an Original 1984 Macintosh?
Apple's Most Intriguing Computer Designs
CIO's Ashley Laurel Wilson says:
"For many computer users, Apple has defined the personal computer industry, driven technology innovation, and changed the perception of personal computing. The company reinvented itself several times over, as it developed and enhanced the Macintosh, affecting the world of computing every time it did....
"Join us for a trip down memory lane, and learn how the Mac evolution led to the Apple revolution."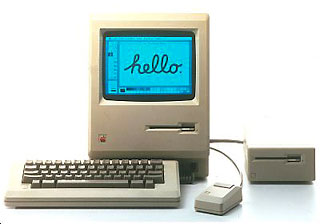 The list includes:
Link: Apple's 11 Most Intriguing Computer Designs
Buy a Mac for College, Get a Free iPod touch
PR: It's already ramping up to the back-to-school preparations season, and if you're a college student or a faculty or staff member at any grade level and buy a new Mac before September 8, Apple will spot you a free iPod touch.
The above-mentioned customer categories qualify for education pricing from Apple on a new Mac and software as follows
MacBook: From $949 - Students save up to $100
MacBook Pro: From $1,899 - Students save up to $200
MacBook Air: From $1,699 - Students save up to $200
iMac: From $1,149 - Students save up to $100
For details, shop the Apple Online Store for Education, call 1-800-MY-APPLE, or find your favorite Apple Retail Store or your local Apple Authorized Campus Store.
Link: Buy a Mac for College, Get a Free iPod touch
Attempting to Install a Version of OS X Older Than Your Mac Is Risky
The Apple Core's David Morgenstern warns that newbies to the Mac platform finding older Mac OS X install or system restore discs in garage sales, flea markets, or on eBay may imagine they can install the software on their Mac, but unless that particular version of the software is newer than the original install version for their computer, "it is a very bad idea to click the install button."
Morgenstern cites Apple's caveat that while the system versions appear to be identical, the software may not be exactly the same, and that this can be true for retail and bundled versions of the same version number of the OS, such as the Leopard or Tiger install discs.
Using bundled system restore disks to install OS X on anything but the specifically designated hardware is particularly risky - and often won't work at all. Also, if your Mac is newer than your OS X installer, the latter will probably lack certain key drivers for your hardware.
Link: Attempting to Install a Version of Mac OS X Older Than Your Mac Is Risky
Taking a Look Inside USB 3.0
Register Hardware's Nick Hawkesmoor says that whether you dive in to USB 3.0 as soon as you can or wait until there are plenty of devices out there than can take advantage of it, you'll probably find the move from USB 2.0 to USB 3.0 as smooth as upgrading from USB 1.1 was, but there are a few points to consider, since USB 3.0 is something of a departure from 2.0 from both technical and practical standpoints. While backward compatibility has been a priority focus of development efforts, USB 3.0 is not simply a higher-clocked USB 2.0.
Hawkesmoor notes that USB 3.0's raison d'etre is to increase data-transfer rates by a factor of more than 10x from what USB 2.0 can manage, - from 480 Mbps to 5 Gbps. Achieving that data rate has required hardware changes. Notably, skinny, unshielded cabling that's fine for USB 2.0 will not do for USB 3 and must be replaced by shielded, multicore Shielded Differential Pair (SDP) cables, which will be thicker than those we're used to, and maximum cable lengths will be reduced from 5 metres (16') to 3 metres (10').
USB 3 has twice as many pins and can simultaneously send and receive data, something older USB standards cannot do.
Hawkesmoor also observes that while Apple hasn't made any public announcements about USB 3 adoption, he expects that it's working on the technology, "given its keenness on the Universal Serial Bus and general desire to be seen to be adopting technologies like this ahead of the curve."
Link: Taking a Look Inside USB 3.0
Products & Services
2 New Ebooks on Maintaining and Troubleshooting Your Mac
PR: Tidbits' Adam C. Engst says:
We've just released a pair of ebooks, both by Joe Kissell, that help you keep your Mac running well. The first, "Take Control of Maintaining Your Mac, Second Edition" looks at how to start on the right foot with keeping your Mac running smoothly, and then it explains weekly, monthly, and yearly tasks that anyone can perform easily to enjoy peak performance and avoid pesky problems. Along with telling you what to do, it includes a section about what not to do, explaining several time-consuming tasks that don't provide any real benefits.
The second ebook, "Take Control of Troubleshooting Your Mac," version 1.1, goes beyond maintenance to teach you how to solve any problems that might pop up. In particular, you'll learn how to perform 17 specific problem-solving tasks (including clearing caches, running disk-repair utilities, and checking your RAM), how to solve 9 common problems (including printer problems, mouse problems, and Mac-won't-turn-on problems), and how to proceed if you encounter a novel problem.
Each of these ebooks sells for $10.
New Website to Provide Best Mac Shareware Bundles at Best Prices
PR: MacEase Software announces that it has worked with Kagi to create TheMacBundles.com. TheMacBundles.com combines a unique cooperative marketing model and very low order processing fees to create a win-win situation both for developers and for consumers: Developers receive an equitable distribution from the sale of their software while consumers get the lowest prices available for great programs.
MacEase Software announces that it has worked with Kagi to create a new model for marketing software that represents a win-win situation both for developers and for consumers: Developers receive an equitable distribution from the sale of their software while consumers get the lowest prices available for great programs.
Relatively small developers of shareware and commercial software rarely get significant access to the retail channel. When they do have an opportunity to get widespread exposure for their software, often it's at the cost of receiving only a minuscule percentage from the proceeds generated from the sale of their programs.
This creates an inequitable situation for developers that both stifles continuing development of existing software and discourages the creation of innovative new software. Consumers also lose, because reduced competition leads to higher prices and reduced development leads to fewer and less innovative software options.
Bundles on the TheMacBundles.com will contain only highly regarded software (often award-winning software) - there will be no "filler" titles in the bundles. Also, each bundle will contain only the latest version of each title and new bundles will be offered on a regular basis.
Because part of the goal of TheMacBundles.com is to provide an opportunity to introduce high quality but lesser-known titles to as many consumers as possible, each bundle will be available for only a short period of time - generally only two or three weeks - and the same programs usually will not be offered more than once a year.
Especially in these difficult economic times, it's important for consumers to get the best value for their dollar and for developers to receive a fair payment for their work: TheMacBundles.com eliminates the middlemen and brings consumers and developers together to their mutual benefit. In advance of the launch of the first bundle, a Mission Statement has been posted on TheMacBundles.com.
Link: TheMacBundles.com
Software
BackupLoupe: Browse Your Time Machine Backups
PR: Have you ever wondered, why Apple's TimeMachine takes so long to back up your files? Where all that free space on your backup drive went?
BackupLoupe provides a convenient way to browse your backups and identify files/folders whose content changes frequently. Often, those items are temporary files or cache folders which need not be backed up in the first place. You may consider excluding them from TimeMachine backups and save valuable disk space.
The QuickView panel, that you know and love from Leopard's Finder, helps you separate important stuff from garbage.
New in version 1.1.1
Bug fixes
Fixed crash that could occur when selecting a backup after 'scan all'
Revived path control box
New Features
Configurable date format
Window now remembers last position and size
Link: BackupLoupe
Mathusalem, a Simple, Free Backup System for Mac OS X 10.5
PR: Mathusalem is a simple backup system for Mac OS X Leopard, which can be used either as a System Preferences pane or directly as a command line tool.
This project is not updated anymore as of March 2009. Version 1.6 is the final version of Mathusalem.
New in version 1.6:
New Features
FTP support now implements the delete operation
Backup data files are now cached locally for faster history browsing
Added support for Secure Amazon S3 (HTTPS)
French translation
Bug Fixes
Requires 1% of extra free space instead of 1 GB on local drive when creating archive so that backup works on small USB keys
Passwords can now contain the '?' character
Backup containing locked files do not fail anymore
Fixed hang that could happen when editing path exclusion lists
Path exclusion lists are now case-insensitive instead of case-sensitive
Link: Mathusalem
Desktop Mac Deals
Low End Mac updates the following price trackers monthly:
For deals on current and discontinued 'Books, see our 13" MacBook and MacBook Pro, MacBook Air, 13" MacBook Pro, 15" MacBook Pro, 17" MacBook Pro, 12" PowerBook G4, 15" PowerBook G4, 17" PowerBook G4, titanium PowerBook G4, iBook G4, PowerBook G3, and iBook G3 deals.
We also track iPad, iPhone, iPod touch, iPod classic, iPod nano, and iPod shuffle deals.
Join us on Facebook, follow us on Twitter or Google+, or subscribe to our RSS news feed
Links for the Day
Mac of the Day: Power Mac 9500, introduced 1995.05.01. The first PCI Power Mac has 6 expansion slots, speeds of 120 and 132 MHz.
Recent Content
Go to the Mac News Review index.
Follow Low End Mac on Twitter
Join Low End Mac on Facebook
Favorite Sites
MacSurfer
Cult of Mac
Shrine of Apple
MacInTouch
MyAppleMenu
InfoMac
The Mac Observer
Accelerate Your Mac
RetroMacCast
The Vintage Mac Museum
Deal Brothers
DealMac
Mac2Sell
Mac Driver Museum
JAG's House
System 6 Heaven
System 7 Today
the pickle's Low-End Mac FAQ
Affiliates
Amazon.com
The iTunes Store
PC Connection Express
Macgo Blu-ray Player
Parallels Desktop for Mac
eBay

Advertise