5 Apple Products Among PC World's 100 Best, 5 Among 25 Worst, Mac Pro Anticipation, and More
This Week's Apple and Desktop Mac News
Compiled by Charles Moore and edited by Dan Knight - 2006.06.02
PC World puts 5 Apple products on their 100 Best Products of the Year list - more than any other brand - while also putting 5 Apple innovations on their 25 Worst Tech Products list.
Gene Steinberg shares his thoughts on the Power Mac replacement, widely anticipated to be called the Mac Pro, and Microsoft has released its first ever keyboard/mouse combo designed just for the Mac. It's not white, but it should look good next to a Mac mini or Power Mac.
On the iPod accessory front, SpeckTone has released a retro-look speaker system that looks like a radio (think early 1960s). It has an iPod dock and an auxiliary input. I guess that means you can hook it up to your modern Mac or 'Book as well as a portable music player. dk
PowerBook, iBook, iPod, and other portable computing is covered in The 'Book Review. News about Apple's transition to Intel CPUs and other Intel developments is covered in The Macintel Report.
All prices are in US dollars unless otherwise noted.
News & Opinion
Products
News & Opinion
Apple Places 5 in PC World 100 Best Products of the Year
Notable mentions:
1. Intel Core Duo
4. Apple iPod nano
10. Apple Boot Camp
35. Apple Mac mini Value Desktop Computer
36. Apple iPod Digital Audio/Video Player
43. Apple iTunes Digital Audio Software
Others of interest
11. Adobe Photoshop Elements 4 Image Editor
12. Mozilla Firefox 1.5 Web Browser
48. Opera 9 (Beta) Browser
I would have reversed the standings of Opera and Firefox.... cm
Apple Also Among 25 Worst Tech Products
PC World's Dan Tynan says:
"At PC World, we spend most of our time talking about products that make your life easier or your work more productive. But it's the lousy ones that linger in our memory long after their shrinkwrap has shriveled, and that make tech editors cry out, 'What have I done to deserve this?'
"Still, even the worst products deserve recognition (or deprecation). So as we put together our list of World Class winners for 2006, we decided also to spotlight the 25 worst tech products that have been released since PC World began publishing nearly a quarter-century ago.
17. Apple Macintosh Portable (1989)
22. Apple Pippin @World (1996)
"(Dis)Honorable Mention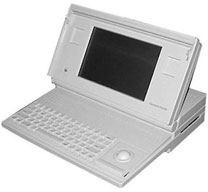 Editor's note: I'm still a fan of the Mac Portable. It was never meant as a laptop computer or even a notebook; it was a no compromise, battery powered, portable version of the Mac with a full sized keyboard, a large trackball, and a 10-hour battery. (And Tynan is wrong when he says the Mac Portable only ran from battery power; it shipped with an AC adapter just like every portable ever made.) dk
Hopes and Dreams for the Mac Pro
Gene Steinberg, the Mac Night Owl, says:
"Let's make it simple: I have already made public predictions on the subject, here, on my radio show and on Craig Crossman's syndicated broadcast, Computer America. In each case I said something that I regard as obvious, that Apple will be announcing a professional desktop computer, known as the Mac Pro, during the WWDC in August."
Apple Launches Free Computer Take-Back Program
CUPERTINO, California - May 31, 2006 - Apple today announced the launch of its free computer take-back program, offering US customers environmentally friendly recycling of their old computer when they buy a new Mac. Beginning today, the Apple Store and Apple retail stores will give US customers the option of recycling their unwanted PCs, regardless of the manufacturer.
When a customer chooses to participate in the program, Apple will send an email with instructions and a label for free shipping and recycling. Customers simply package their recyclable equipment and attach the label provided. All equipment received by the program is recycled domestically and no hazardous material is shipped overseas.
Apple's recycling programs have processed more than 21 million pounds of electronics worldwide since 1994. Apple continues to offer a free iPod recycling program through its US retail stores, providing environmentally friendly disposal of any unwanted iPod and a 10 percent discount on the purchase of a new iPod. The company also operates a free drop-off recycling service at its headquarters in Cupertino for used computer systems and home electronics.
More information on Apple's recycling programs and industry-leading environmental policies is available online at apple.com/environment.
Apple's free computer take-back program is offered to customers in the 48 contiguous United States.
Mac or Windows PC? Apple Gives You Both
Knight Ridder Newspapers' Julio Ojeda-Zapata says:
"Until recently, you faced a stark choice when picking a home computer - you bought either a Windows PC or a Macintosh.
"The popular PCs guarantee you will have access to a vast software library, but the computers' antiquated Windows XP operating system is infamous for its security failings.
"Apple Computer's Macs, by comparison, are attractive machines. But Apple's meager market share has meant slim software pickings elsewhere.
"Now, you no longer have to choose. Just buy a Macintosh."
Some UK iPod Owners Unhappy with One Year Warranty
The Guardian's Phillip Inman says:
"Apple iPod owners love their sleek machines. That's when they work. When they don't, they enter a twilight world where they discover their prized music player is considered by its manufacturer as nothing more than a throwaway item.
"It doesn't matter that iPod lovers can spend up to £300 on their gizmo. Apple operates on the basis that the iPod life expectancy is a year, and that's it.
"Complain that your £200 or £300 could have bought a fridge or TV that would be expected to last five years or more, and a customer services assistant will explain that a one-year warranty is just that, and no more."
Editor's note: Yes, people get upset when items break just outside of warranty, but the whole point of a one year warranty is 12 months of coverage - not 14 or 15. For those who don't think a one year warranty is sufficient, AppleCare for the iPod is available for US$59/C$69/£39/€59 and provides three full years of coverage. dk
Products
First Microsoft Wireless Keyboard and Laser Mouse Just for Mac
PR: Microsoft Corp. has announced the availability of the Wireless Laser Desktop for Mac, its first Mac-specific desktop complete with a stylish wireless Comfort Curve Keyboard and a wireless High Definition laser mouse. With this new desktop set, the Microsoft Hardware division combines comfortable design with High Definition technology to deliver the ultimate in cutting-edge performance, luxury and style to any Mac user. The futuristic silver finish complements the Mac design to make a mark on any desktop while providing the freedom of wireless control.
The Microsoft Wireless Laser Desktop for Mac features Microsoft's first keyboard designed specifically for the Mac. The key layout is consistent with Mac-only keyboards. To truly meet Mac users' needs, this is Microsoft's only keyboard without the Windows Start button. The Wireless Laser Desktop for Mac is compatible with the new Intel-based Mac machines as well as PowerPC models, and will have Hot Keys that map to Mac programs such as iTunes and iPhoto.
"We are excited to see our colleagues on the Microsoft Hardware team provide this Mac-only keyboard and mouse to strengthen Microsoft's lineup of products for Mac users, which includes our productivity suite, Office 2004 for Mac," said Scott Erickson, director of product management and marketing for the Macintosh Business Unit at Microsoft. "This launch further demonstrates Microsoft's commitment to enhancing the computing experience for Mac users. We were able to preview the product at Macworld this January and saw firsthand the very favorable response from Mac customers."
Classy Comfort
For greater comfort at work or in the home, the Wireless Laser Desktop for Mac's Comfort Curve Keyboard encourages natural hand and wrist positioning in an easy-to-use layout for enhanced comfort and productivity. The Comfort Curve design is preferred by a ratio of 3-to-1 over flat, straight keyboards, and includes a cushioned palm rest for supreme comfort.1 Designed and tested by Microsoft's in-house ergonomists and usability experts, the Wireless Laser Desktop for Mac is the ultimate in comfort and performance for Mac users and includes the following key features:
Mac Modifier Keys. Control, Option and Command buttons are right where users need them.
Zoom Slider. Consumers can zoom in for a closer look at digital pictures, maps and more.
My Favorites Keys. These five keys can be customized to instantly bring up favorite photos, folders, files and Web pages.
Eject key. This key lets users easily eject CDs and DVDs.
Hot Keys. These buttons offer one-touch, immediate access to programs consumers use the most, including those for e-mail, chat, music, photos and the Web.
High Definition for the Mac
The Wireless Laser Desktop for Mac features a sleek silver wireless High Definition laser mouse. Microsoft's cutting-edge High Definition technology is two generations ahead of standard optical mouse products and gives the mouse ultimate precision and responsiveness.2 In addition, the mouse utilizes Microsoft's Intelligent Tracking System for smoother tracking without interruptions or skipping, even over unique surfaces. For enhanced performance this mouse also features a Tilt Wheel for navigating and viewing documents and spreadsheets with ease. One-click access to Microsoft's Magnifier tool makes the Mac magnifier feature more discoverable for real-time document enlargement.
"The Hardware team has been creating Mac-compatible peripherals for many years," said Rusty Jeffress, general manager of the Microsoft Hardware team at Microsoft. "We always value the feedback of our customers; for this product we went back to the drawing board with the specific requests of our Mac users, and are excited to deliver our first Mac-specific keyboard and mouse that provide the tools and features Mac users need to be productive."
The Microsoft Wireless Laser Desktop for Mac will be available this summer for an estimated retail price of $99.95.3
Based on Microsoft internal research, P. Johnson, Ph.D., University of Washington, "ErgoMax ergonomic study," 2004
Standard optical technology = mouse products with 0.35 microns or older CMOS technology.
Actual retail price may vary.
SpeckTone Retro iPod Speaker System
PR: With 28 watts output, the SpeckTone Retro has lots of power and volume so you can rock, jive, or groove like a maniac to your favorite tunes
The SpeckTone Retro has two 3" drivers under the front grille, and a 4" subwoofer on the bottom. Woof Woof!
You can plug in an iPod shuffle, CD player, cassette player, MP3, or other device with an 1/8" mini-plug output (headphone jack)
Features
Sleek & Stylish Retro design
Analog Circuitry for rich, deep tone
High-gloss lacquered wood cabinet
Includes 2 free iPod skins (video & nano)
4" subwoofer and loud 28 watt output
1/8" mini plus AUX input
Backlit 'green glow' volume knob
Wood construction
Speck's SkinTight cases (included - for nano & 5th gen video iPods) allow you to use the SpeckTone Retro without removing the case. For 5th gen iPods- flip back the bottom flap and dock your iPod. For iPod nano- just plug the nano with case into the dock connector. Other Speck cases such as the ToughSkin or SeeThru must be removed to fit in the dock connector. SkinTight cases with docking flaps for 4th gen iPods are available.
Depending on if you use a SkinTight case on your iPod- you may need to choose a thinner black foam pad to support the back of your iPod. The extra thickness of the case may require a thinner foam pad to be used.
What's in the box:
SpeckTone Retro Speaker
Wall Power Adapter
2 Free Matching Skins (video & nano)
Warranty Card & Users Guide
The SpeckTone Retro is available black-on-black, green/brown, and white and silver for $149 and comes with two free iPod skins for the video and nano.
WD Passport USB Drives Now in Sync with Macs
PR: Western Digital Corp. has announced that its WD Passport Portable and WD Passport Pocket USB Drives are now shipping with software that simplifies the synchronization of essential personal files and Microsoft Outlook data on a Macintosh computer or PC with the portable storage devices. The new WD Sync software enables users to securely access, edit and share Microsoft Word documents and Excel spreadsheets, MP3 files, e-mails, attachments and more from anywhere - in a cybercafé, on a friend's laptop or in a colleague's office.
WD Sync synchronization and encryption software secures owners' data with 128-bit encryption plus password protection ensuring that personal files and Outlook data remain on the WD Passport Portable Drive or WD Passport Pocket Drive and are not copied to any computers that owners use other than their primary ones. Owners of WD Passport Portable and WD Passport Pocket models sold previously without the WD Sync software now can download the software for free from WD's Web site:
http://www.wdc.com/passportsoftware
WD Passport Portable and WD Passport Pocket USB Drives are powered by the USB bus with no need for a separate power supply (for most systems). Combined with the easy-to-set-up, customizable WD Sync software, the two devices are easy to use anywhere - simply plug in and store.
WD Passport Portable USB Drives feature sleek rounded corners and a black textured, non-slip rugged protective case. The drives are outfitted with high-performance, low power-consuming, cool and quiet-running WD Scorpio(TM) 2.5" EIDE hard drives, as well as Data Lifeguard(TM) protection, to provide maximum safeguard from data loss. Safety tests make WD Passport Portable USB Drives one of the few external drives certified to meet all applicable safety requirements.
WD Passport Portable USB Drives are offered in capacities of 60, 80 and 120 GB. Also available is an optional WD Passport carrying case for conveniently and stylishly transporting the portable hard drives. A product specification sheet and photos of WD Passport Portable USB Drives are available on the company's website.
The USB 2.0 WD Passport Pocket Drives, about the size of a matchbox, conveniently store 6 GB of digital content and can fit into the smallest of pockets and purses. Measuring 0.37 x 2.41 x 1.80 inches and housing a one-inch WD hard drive, the ultra-thin WD Passport Pocket Drives feature a unique flip-out, rotating USB 2.0 connector that allows use in tight spaces and is thin enough that two drives can be used at the same time in the tightly spaced USB ports found on notebook computers. A product specification sheet and photos of WD Passport Pocket Drives are available on the company's website.
"The addition of sync and encryption software to WD Passport Portable and WD Passport Pocket USB drives further secures and protects users' data," said Jim Welsh, vice president and general manager of WD's branded products group. "WD designs simplified external storage that implements the latest technological advancements providing users convenience and confidence in safe- keeping and sharing their digital content, giving them complete control of their data."
WD Passport Portable USB Drives, WD Passport carrying cases and WD Passport Pocket Drives are available at retail stores, online retailers and also may be purchased via the company's online store. Estimated pricing is $199 for the WD Passport Portable USB Drive 120 GB capacity with WD Sync; $24.99 for the WD Passport carrying case; and $99 for the WD Passport Pocket Drive.
WD was founded in 1970. The company's storage products are marketed to leading systems manufacturers and selected resellers under the Western Digital and WD brand names. Visit the Investor section of the company's website to access a variety of financial and investor information.
ToughTech FW/USB, eSATA Enclosure Has Anti-Shock Protection
PR: ToughTech is a premium quality drive enclosure meant to make sure your data is safe without sacrificing portability or your wallet, all while ensuring that you'll have all the free disk space you need. ToughTech's all aluminum and fanless design make it quiet and beautiful. In other words, ToughTech looks great on your desk, performs like a champ, and it won't eat your lunch.
Which ToughTech is right for you?
ToughTech comes in three flavors with FireWire and USB or eSATA connections. Choose the ToughTech that's right for you: ToughTech 400, ToughTech 800 or ToughTech eSATA.
Anyone can use a ToughTech
ToughTech is used by anyone who needs more storage space for backups, music, games, Internet downloads, photography, audio/video editing or server storage; and they use it everywhere from homes to government laboratories.
Shock absorbers for your hard drive
Your car has shock absorbers - so why not your hard drive? ToughTech introduces FlexMount Anti-Shock Protection. FlexMount is a shock absorber that mounts between the drive and the enclosure protecting your data against bumps and vibrations.
FireWire Fast
ToughTech supports FireWire data transfer speeds of up to 800 Mbps (FireWire 800) or 400 Mbps (FireWire 400) and USB data transfer speed of up to 480 Mbps. For maximum performance, FireWire 800 is recommended. Most computers already have FireWire ports, but if you don't yet have FireWire ports on your laptop or desktop computer, check out CDB-8 and FHW-8, two products to upgrade to FireWire.
ToughTech is cool
ToughTech has an all aluminum design meant to draw heat away from the hard drive. The entire product acts like a heat dissipater, helping to keep your drive cool. And because it doesn't need a fan, ToughTech is quiet.
Plug and Play
ToughTech works right out of the box with no new drivers needed. It works with any modern operating system including Mac OS X and Windows 2K, XP, as well as any distribution of Linux that supports FireWire and USB or SATA. If using FireWire, additional FireWire devices can be daisy-chained through ToughTech.
Supports Hi-Speed Data Transfer
USB speeds of up to 480 Mbps (TT4, TT8), FireWire 400 speeds up to 400 Mbps (TT4), FireWire 800 speeds up to 800 Mbps (TT8), SATA speeds up to 3.0 Gbps (TTE).
FlexMount Anti-shock Protection
Protects drive from shock and also reduces enclosure noise.
Plug and Play
Under Windows 2K, XP, Mac OS X and Linux distributions that support FireWire. FireWire (TT4, TT8) or SATA (TTE).
Supports most 3.5" IDE hard drives
TT4, TT8: ATA6 and ATA7 drives - including drives larger than 137 GB
TTE: SATA drives.
Daisy-chainable: ToughTech 400 and ToughTech 800 allow daisy-chaining to attach additional FireWire devices.
Aluminum Construction: Provides excellent thermal efficiency.
Power Switch: Allows powering enclosure down before removal from FireWire or USB. Helps prevent port blowouts.
Bridge Chipset
TT4: Cypress EZ-USBAT2 Initio 1430
TT8: Oxford Semiconductor OXUF922 with latest firmware
Bus Interface
TT4: USB 2.0 and FireWire 400 (IEEE 1394a)
TT8: USB 2.0 and FireWire 800 (IEEE 1394b)
TTE: Serial ATA (supports SATA 1 and 2)
Transfer Rate
TT4: USB 2.0 Port: 12/480 Mbps - FireWire 400 port: 100/200/400 Mbps
TT8: USB 2.0 Port: 12/480 Mbps - FireWire 800 port: 100/200/400/800 Mbps
TTE: 3.0 Gbps
Connector
TT4: One USB mini-B receptacle; Two 6-Pin 1394a connectors
TT8: One USB mini-B receptacle; Two 9-Pin 1394b connectors
TTE: One eSATA port
Drive Compatibility
TT4/TT8: ATA6 or ATA7 drives (IDE or EIDE)
TTE: SATA Drives
Operating Systems
Windows XP, 2K, Mac OS X, Linux distributions that support FireWire/SATA
Dimensions
9" x 5.25" x 1.5" (229mm x 133mm x 38mm)
ToughTech 400
0 GB - Empty (user expandable), TT4-0, $79.95
250 GB 7200 RPM 8 MB cache, TT4-250, $212.95
400 GB 7200 RPM 8 MB cache, TT4-400, $422.95
500 GB 7200 RPM 16 MB cache, TT4-500, $569.95
750 GB 7200 RPM 16 MB cache, TT4-750, $744.95
ToughTech 800
0 GB - Empty, user expandable, TT8-0, $119.95
250 GB 7200 RPM 8 MB cache, TT8-250, $252.95
400 GB 7200 RPM 8 MB cache, TT8-400, $462.95
500 GB 7200 RPM 16 MB cache, TT8-500, $609.95
750 GB 7200 RPM 16 MB cache, TT8-750, $784.95
ToughTech eSATA
0 GB - Empty (user expandable), TTE-0, $89.95
250 GB 7200 RPM 8 MB cache, TTE-250, $268.95
400 GB 7200 RPM 8 MB cache, TTE-400, $467.95
500 GB 7200 RPM 16 MB cache, TTE-500, $565.95
750 GB 7200 RPM 16 MB cache, TTE-750, $754.95
Link: ToughTech Drives
Desktop Mac Deals
Low End Mac updates the following price trackers every two weeks:
For more deals on current, recently discontinued, and older notebooks, see our MacBook and MacBook Pro deals, 12" PowerBook G4 deals, 15" aluminum PowerBook G4 deals, 17" PowerBook G4 deals, titanium PowerBook G4 deals, iBook G4 deals, PowerBook G3 deals, and iBook G3 deals.
Join us on Facebook, follow us on Twitter or Google+, or subscribe to our RSS news feed
Links for the Day
Mac of the Day: Macintosh Portable, (1989.09.20. The nearly 16 lb. behemoth was innovative but not a smashing success.)
Recent Content
Follow Low End Mac on Twitter
Join Low End Mac on Facebook
Favorite Sites
MacSurfer
Cult of Mac
Shrine of Apple
MacInTouch
MyAppleMenu
InfoMac
The Mac Observer
Accelerate Your Mac
RetroMacCast
The Vintage Mac Museum
Deal Brothers
DealMac
Mac2Sell
Mac Driver Museum
JAG's House
System 6 Heaven
System 7 Today
the pickle's Low-End Mac FAQ
Affiliates
Amazon.com
The iTunes Store
PC Connection Express
Macgo Blu-ray Player
Parallels Desktop for Mac
eBay

Advertise