12 Months with a Mac mini, HD Boycott Begins, Wireless Driver Increases Speed and Range, and More
This Week's Apple and Desktop Mac News
Compiled by Charles Moore and edited by Dan Knight - 2006.03.03
Apple moved the Mac mini to Intel this week, and RamJet has announced RAM for the new model. Memory price hikes are foreseen, and one writer is calling for a boycott of HD video because of digital restrictions. Then there's the ePod PC that looks like an overgrown iPod....
PowerBook, iBook, iPod, and other portable computing is covered in The 'Book Review. News about Apple's transition to Intel CPUs and other Intel developments is covered in The Macintel Report. iPod news is covered in The iNews Review.
All prices are in US dollars unless otherwise noted.
News & Opinion
Products
Software
News & Opinion
12 Months with a Mac mini
techcastuk.co.uk's Richard Hind says:
"Steve Jobs proudly held aloft the Mac mini Apple computer at the Macworld Conference and Expo. With this the technology world cooed and gasped in awe at the tiny lunchbox-esque machine that was aimed at the entry level market, looking to take that extra chunk of the Windows market back. With Steve offering this tiny machine up to the public I instantly placed my order and eagerly awaited the arrival of my micro Macintosh monster.
"Now sitting back listening to Bob Dylan and fondly looking back, twelve months on from when my Mac mini was dropped of at my door I think the question:
"Has Apple's Micro Macintosh withstood the test of time?"
"I have taken this micro beast to hell and back, and pushed it to do things that technically it really shouldn't have been able to do, and it gave me 110% all the way! The Mac mini performed respectfully well in all daily tasks and easily held its own in the more specialist tasks."
The HD Boycott Begins Now
A Writers Block Live Editorial by Mike Evangelist says:
They are engineering a complete removal of the concept of fair use.
"This is important. I really want you to understand what's going on with the video industry's push towards HD. They are engineering a complete removal of the concept of fair use. They are setting up systems that will completely control how, when and where you can use content that you buy. Even worse, they can retroactively change the rules!
"Today the AACS (aggressive automatic consumer screwing) organization announced availability of the interim version of their system for protecting content providers from their criminal customers. Their noble intentions are pretty well summed up in this choice excerpt:
"The AACS specification accelerates the ability of consumers to enjoy exciting, new, flexible entertainment experiences and storage options, while continuing to provide the traditional, straightforward playback mode, for the next generation of prerecorded and recordable optical media such as Blu-Ray and HD DVD. Additionally, AACS is designed to create unprecedented flexibility, portability and security for entertainment content to be enjoyed on networked home, portable PC or CE devices.
"I especially love the concept of a 'traditional, straightforward playback mode'. Rest assured they have top minds working on making sure nothing will be straightforward in the future.
"Further, if you download the AACS agreement itself, you find the frightening concept of the 'analog sunset' (it's on page 82). This is where device manufactures agree to not make analog devices after certain preset dates.
"Both HD-DVD and Blu-ray have embraced this draconian system, and the studios are salivating at the prospect of you never actually being able to own content again.
"My reaction to this abomination is simple: no way in hell. I will not buy any product that uses this crap, and I hope you'll join me in that boycott. Let these morons see us early adopters stay away in droves.
"Please pass this on; post it on your blogs, 'digg' it; slashdot it; whatever it takes to stop this insidious plan."
Memory Price Hikes Ahead for Intel PCs (and Macs)
vnunet.com Asia news's Simon Burns reports:
"Prices for the DDR2 memory chips commonly used in PCs with Intel CPUs will begin to rise significantly next month because demand is exceeding supply, according to sources in Taiwan's semiconductor manufacturing industry.
"While upwards pricing pressure already exists, monthly contracts are creating delays of at several weeks before price changes begin to reach consumers.
"DDR2 memory is required for most PCs and notebooks that use Intel's latest CPUs, including Microsoft Windows and Apple Mac PCs."
Hubs and Hearths - New Mini Ture_MacJournal Series
Mini Ture_MacJournal's Darryl writes:
Hi Charles'
Well, what was really needed in a Multi Media Mac mini is here, speed and need. Hubs and Hearths.
Contour to Showcase RollerMousePro at FOSE '06
PR: Following the honor of having recently been selected for one of only six "Best Solutions" awards at the Government Technology Conference (GTC) in Albany, NY, Contour Design is extending knowledge of its product offerings further into the Government office system arena. In this regard Contour will be participating in the FOSE 2006 Exposition with consultative discussions and product demonstration for attendees who want and need safer and productivity-enhancing computer input for their personnel.
The GTC/Albany award was based on consultative work Contour did with the NY State Department of Environmental Conservation (NYDEC) - in which a solution was formulated that saved the taxpayers over $50,000 and a NYDEC Officer from undergoing some painful surgery and rehabilitation. Read about it at:
http://www.contourdesign.com/awards.htm
The solution provided NYDEC contains an innovative "un-mouse" device that, over the past two years since its introduction, has been successfully integrated into the office system solutions of the military services, intelligence community, Homeland Security, DOT, Postal Service, VA, and many other arms of the Federal Government.
This "un-mouse" solution is known as the ContourRollerMouse. It is available in two models, the "Classic" and the "PRO" versions. In brief, it is a device that positions the cursor control in close proximity to the space bar on computer keyboards. This has the effect of eliminating the reach for a traditional mousing device - thereby making it substantively unlikely to contribute to wrist, arm, elbow, and shoulder pain. Independent studies of the device in actual operation cite pain reduction AND enhanced productivity gained from elimination of mousing-induced reach.
With growing emphasis on graphic user interface and extensive mousing in office system applications developed since Y2K, there has been a marked increase in mousing use. With that has come a correlative increase in reported repetitive strain injuries (RSI), pain, loss of work, and expensive remediation.
By making information available to FOSE attendees through hands-on demonstrations, these and associated Contour Design ergonomic products can more easily be recommended to Government Office System Users suffering from mousing-induced (RSI). and then implemented in office environments to improve overall health and safety for office system users.
"The solution we offer to Government Office System Users is the safest and most productivity-enhancing one on today's market." Says James P. Golden, VP of and Account Executive in Contour's Ergonomic Product Business Unit. "We will readily demonstrate its superior benefits to the attendees at this year's FOSE. We'll be in booth number 1922."
MacLive Conference Registration Opens
PR: Hot Summer in the City for Apple Macintosh Users as MacLive Conference Registration Opens
"New York has needed a major summer Macintosh event for years now and MacLive will deliver it in spades! I can hardly wait!" said legendary Macintosh author, Bob "Dr. Mac" Levitus, one of the featured trainers at the biggest Macintosh creative event to come to the Big Apple in years.
Registration is now open for this three-day learning conference designed just for creative professionals who use Apple's Macintosh platform. MacLive brings together Mac-based digital photographers, graphic designers, iPod freaks, total Mac geeks, and thousands of the Macintosh faithful for an event that breaks all the rules. Headlined by the best known names in the Mac world, including David Pogue, Chris Breen, Scott Kelby, Bob Levitus, Deke McClelland, and a host of others, it kicks off May 11-13, 2006 at the Jacob Javits Center in New York City.
The conference features full training tracks on Adobe® Photoshop®, Final Cut Pro, Mac OS® X, Adobe InDesign®, Apple's iLife® Applications, the iPod and Podcasting, and more in 60+ sessions. MacLive is also highlighted by a host of special events, including an exclusive party at Planet Hollywood in Times Square, a Macintosh Film Festival, a special evening with celebrated Mac artist Bert Monroy, and a late-night "Mac After Dark" session.
The conference, produced by KW Media Group (publishers of Layers magazine) is open to Mac users of any skill level, and those who register before the April 7th Early Bird cutoff, save $100 off the full conference pass. Additional discounts are available for students and members of the National Association of Photoshop Professionals (NAPP).
PC Looks Like a Giant iPod
CNET News.com's Ina Fried says:
"For years, Windows PC owners have been able to connect to an iPod. Now they can have a computer that looks like the iconic digital music player.
"Logisys Computer this week added the ePod Soho case to its lineup of unusual PC shells. The white PC case has several 'buttons' resembling those found on the scroll wheel of an Apple Computer iPod, as well as a blue LED light that gives the case a constant backlit glow.
"The ePod is a shell into which individuals or custom PC makers would need to add a processor, motherboard, hard drive and other components. It's just one of many unusual products offered by the Pomona, Calif.-based company. Other unique designs include a clear blue acrylic case and an optical mouse that resembles a Volkswagen Bug."
ePod SOHO Case
PR: This is an age of digital information. Traditional forms of information such as mails, files and so on have evolved into emails, efiles and all kinds of e-stuffs. Now Logisys has come up with a new SOHO case by the name of ePod that you can throw in all your valuable IT hardware to carry out all the information processing, Internet and multimedia work for you.
The contemporary ePod SOHO case was nicely coated in glossy white finish with acrylic trim line around the front panel. The trim line will illuminate with either a Logisys CCFL kit or a Logisys 80mm CCFL fan or just a regular LED fan while the clear circle around the power will be lit up by the integrated blue LED light. The ePod SOHO case comes with total 10 drive bays, 4 external 5.25&degr;± bays and 2 external 3.5&degr;± bays. Frontal USB and audio outputs are conveniently located below the power button with a protection cover. Optional 80mm or 90mm or 120mm fan at your choice can be installed on the rear while optional 80mm or 120mm fan on the front. There is a meshed vent on side panel of the case for better air circulation and lighting effect.
Specification
Dimension: 200mm(W) x 430mm(H) x 440mm(D) = 7.9" x 17.0" x 17.3"
Max. Motherboard size: 12&degr;± x 9.5&degr;±
Exclusive PCI cards ventilation on the side of case
4 open 5.25&degr;± drive bays
2 open 3.5&degr;± drive bays
4 hidden 3.5&degr;± drive bays for hard drives
A total of 10 drive bays
Build in 2 front USB 2.0 + Audio,Mic port connectors on the front with a door cover
High power Blue LED behind the front panel to enlighten the trim lightning effect
1 additional 8cm/9cm/12cm fan (not included) on the rear panel
Link: ePod
Products
Apple Unveils Mac mini with Intel Core Duo
PR: New Mac mini Delivers Performance Up to Four Times Faster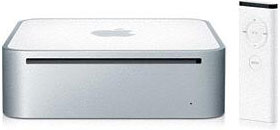 CUPERTINO, California - February 28, 2006 - Apple today unveiled the new Mac mini with the Intel Core Duo processor, delivering performance up to four times faster than its predecessor and providing even greater expansion in the same innovative and incredibly compact design.* Starting at just $599, the Mac mini is the most affordable way to enjoy iLife '06, the next generation of Apple's award-winning suite of digital lifestyle applications, and features the Apple Remote and Front Row so you can play your music, enjoy your photo slideshows, watch your DVDs, iMovies, music videos and television shows from across the room.
"With the new Mac mini, Apple has now moved 50% of its entire product line to Intel within 60 days - a record transition," said Philip Schiller, Apple's senior vice president of Worldwide Product Marketing. "The new Mac mini is now up to four times faster with the Intel Core Duo, includes even greater expansion in the same incredibly compact design, and is the most affordable way to enjoy Front Row and iLife '06."
Featuring the next generation of Apple's breakthrough Front Row media experience, the new Mac mini gives customers a simple way to enjoy their digital lifestyle content on the Mac mini including music, photos and videos from across the room using the Apple Remote. With the latest version of Front Row, customers can now effortlessly access shared iTunes playlists, iPhoto libraries and video throughout their home via Bonjour, Apple's zero configuration wireless networking built into Mac OS X.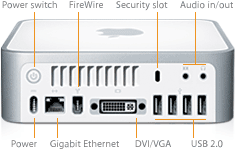 The new Mac mini offers a completely new system architecture for performance up to four times as fast as the previous Mac mini, including a 667 MHz frontside bus and 667 MHz DDR2 SDRAM memory expandable to 2 GB. With the latest high-performance connectivity options, every new Mac mini now includes built-in 10/100/1000 Base-T Gigabit Ethernet for high-speed networking, built-in AirPort Extreme 802.11g WiFi for fast 54 Mbps wireless networking**, built-in Bluetooth 2.0+EDR (Enhanced Data Rate) and a total of four USB 2.0 ports, twice as many as the previous generation. Mac mini includes a DVI interface and a VGA-out adapter to easily connect to a variety of displays, including many of today's most popular flat panel televisions, and now features both analog and digital audio outputs to easily connect to a home stereo.
The new Mac mini includes iLife '06, the next generation of Apple's award-winning suite of digital lifestyle applications featuring major new versions of iPhoto, iMovie HD, iDVD, GarageBand and introducing iWeb, a new iLife application that makes it super-easy to create amazing websites with photos, blogs and Podcasts and publish them on .mac for viewing by anyone on the Internet with just a single click. All the iLife '06 applications are Universal applications that run natively on the new Intel-based Mac mini for maximum performance.
Every new Mac mini comes with the latest release of the world's most advanced operating system, Mac OS X version 10.4 "Tiger" including Safari, Mail, iCal, iChat AV and Front Row, running natively. Mac OS X Tiger includes an innovative software translation technology called Rosetta that lets customers run most Mac OS X PowerPC applications seamlessly.***
Pricing & Availability
The new Mac mini is shipping today and will be available through the Apple Store (www.apple.com), Apple's retail stores and Apple Authorized Resellers.
The new 1.5 GHz Mac mini, for a suggested retail price of $599 (US), includes:
1.5 GHz Intel Core Solo processor;
512 MB of 667 MHz DDR2 SDRAM, expandable up to 2 GB;
a slot-load Combo (DVD-ROM/CD-RW) drive;
60 GB Serial ATA hard drive running at 5400 rpm;
Intel GMA 950 graphics processor;
built-in AirPort Extreme wireless networking & Bluetooth 2.0+EDR;
Gigabit Ethernet (10/100/1000 Base-T);
four USB 2.0 ports;
one audio line in and one audio line out port, each supporting both optical digital and analog;
DVI-out port for external display (VGA-out adapter included, Composite/S-video out adapter sold separately); and
the infrared Apple Remote.
The new 1.66 GHz Mac mini, for a suggested retail price of $799 (US), includes:
1.66 GHz Intel Core Duo processor;
512 MB of 667 MHz DDR2 SDRAM expandable up to 2 GB;
a slot-load 8x SuperDrive with double-layer support (DVD+R DL/DVD±RW/CD-RW);
80 GB Serial ATA hard drive running at 5400 rpm;
Intel GMA 950 graphics processor;
built-in AirPort Extreme wireless networking & Bluetooth 2.0+EDR;
Gigabit Ethernet (10/100/1000 Base-T);
four USB 2.0 ports;
one audio line in and one audio line out port, each supporting both optical digital and analog;
DVI-out port for external display (VGA-out adapter included, Composite/S-video out adapter sold separately); and
the infrared Apple Remote.
Build-to-order options and accessories include up to 2 GB DDR2 SDRAM, 80 GB, 100 GB and 120 GB Serial ATA hard drives, iWork '06 (preinstalled), AirPort Express and AirPort Extreme Base Station, Apple Wireless Keyboard, Apple Wireless Mouse, Apple USB Modem and the AppleCare Protection Plan.
The new Mac mini line is also available to education customers in the US and Canada through the Apple Store for Education at www.apple.com/education/store or by calling an Apple education sales representative at 800-800-APPL.
* Based on estimated results of industry-standard SPECint and SPECfp rate tests. SPEC is a registered trademark of Standard Performance Evaluation Corporation (SPEC); see http://www.apple.com/macmini for more information.
** Actual speed will vary based on range from the base station, environmental conditions and other factors.
*** See http://www.apple.com/rosetta/ for information on Rosetta supported Apple software. Contact the manufacturer directly for 3rd party software.
RamJet Releases RAM for New Intel Mac mini
PR: Ramjet, Inc. says:
The mighty Mac mini comes in two versions. The original Mac mini G4, and the new (released Feb. 28, 2006) Mac mini Intel
Mac mini G4:
The Mac mini G4 has one memory slot, which holds a single DDR400 184-pin DIMM. In order to upgrade, you will have to remove the currently installed DIMM, and replace it with a larger module. The system maximum is 1 GB with the installation of a single 1 GB DDR DIMM.
Mac mini Intel:
The Mac mini Intel has two memory slots, that come preloaded from the factory with two 256 MB PC2-5300, DDR2-667 SO-DIMMs. Memory must be installed in pairs, so in order to upgrade, you will remove those two original 256 MB modules and replace them. You can install a maximum of 2 GB with the Ramjet 2 GB kit (2x 1 GB SO-DIMMs).
DDR for Mac mini G4
512 MB DDR400 DIMM for Mac mini $49
1 GB DDR400 DIMM for Mac mini $145
DDR2 for Mac mini Intel
1 GB Kit PC2-5300 for Mac mini Intel $149
2 GB Kit PC2-5300 for Mac mini Intel $269
RamJet also has sensible recommendations in general for Mac OS RAM:
How Much Memory Do You Need?
OS 9, Office: 256 MB
OS X, Office: 640 MB
Gaming: 768 MB
Production: 1 GB
1-800-831-4569
Software
Wireless Driver Adds Speed, Triples Range for Mac Users
PR: OrangeWare has announced a major technology advance for Macintosh users with the latest upgrade, Version 3.2 of its 802.11a/b/g "Wireless Driver for Mac." This new driver supports the newer Atheros AR5005 Chipset that is a quantum leap forward in range capability for Mac users. For example, this new chipset is used in the Netgear RangeMax Wireless PC Card/Router products and, when coupled with OrangeWare's Wireless Driver for Mac, they deliver up to 500,000 square feet of coverage. That's 10 times* the coverage of standard 802.11g, which is what Mac users are used to today.
No need to waste money on impotent range extenders, repeaters, and external antennas. The RangeMax products are optimized when used together, and they automatically adjust to the interference and physical barriers in your home. It is an advanced MIMO (Multi-In, Multi-Out) technology that uses 7 internal antennas in the Router that is constantly readjusting the signal to compensate for performance barriers. This range-based optimization ensures that all Mac and PC users will enjoy the highest speed connections available everywhere in your home - no dead spots or dropouts.
And it is completely compatible with all 802.11b/g products - no problem connecting your Macintosh to other home or work wireless routers, or public hotspots. Note however, to receive the range benefit, you must use both a PC Card or PCI card in combination with an Atheros based XR eXtended Range router which have the new range capability.
Other Mac User Benefits
Whereas Apple's AirPort Extreme 802.11g product offers a 54 Mb/s data rate, OrangeWare's 802.11a/b/g Wireless Driver runs at up to 108 Mb/s and supports over 20 different wireless cards. OrangeWare offers the Wireless Driver for Mac to end users for $15. When it is combined with a host of non-Apple wireless cards, it can run at double the 802.11g speed which are the newest performance modes called "Super G" or "Turbo Super G". Note however, to receive the performance benefit, you must use both an Atheros based PC Card or PCI card in combination with an Atheros based router that supports Super G.
These capabilities are offered only on wireless cards using the Atheros wireless chipset, many of which are listed at the end of this document.
Available immediately in a free trial version, the Wireless Driver for Mac v3.2 along with an 802.11g wireless card not only dramatically outruns Apple's AirPort Extreme, but costs the consumer half as much.
Another unique feature of the OrangeWare driver is its compatibility with 802.11a networks. Not only is this the only 802.11a product available for Macintosh, but version 3.2 allows "Turbo A" mode.
Future Releases
OrangeWare's wireless driver currently supports the WEP (Wired Equivalent Privacy), and they are working on a future release that will feature the new WPA-PSK (WiFi Protected Access-pre-Shared Key) security so your network will have powerful safeguards against unauthorized access.
* Editor's note: This is a press release. Wireless range is usually measured in distance from the base station, not square feet. 10x the square foot coverage equates to roughly 3x the distance - hence our title for this press release. dk
McAfee Provides Protection Against Mac OS X Exploits and Viruses
...McAfee, Inc., has traditionally viewed Mac threats as a non-issue....
PR: McAfee, Inc. has announced that it provides protection from attacks targeting the newly discovered Apple Mac OS X Command Execution Vulnerability and the recent worms targeting the Mac OS X platform, including OSX/Inqtana.a and OSX/Leap. While McAfee AVERT Labs, the world-class research division of McAfee, Inc., has traditionally viewed Mac threats as a non-issue and rates the worms Low-Profile at this time, it does believe these threats demonstrate a renewed interest by the malware authoring community in the Mac OS platform.
The Apple Mac OS X Command Execution Vulnerability, which was discovered February 21 by Michael Lehn, is a critical vulnerability that exists when accessing specially crafted files. Both proof of concept exploits and malicious exploit code are public, and a patch is not yet available. Apple Mail and Safari have been identified as attack vectors for this vulnerability.
"Given recent activity, McAfee AVERT Labs forecasts that attackers may attempt to test the viability of exploiting this vulnerability en masse, by producing a reconnaissance Trojan to identify a vulnerable user base," said Craig Schmugar, virus research manager, McAfee AVERT Labs. "Exploit source code with a payload has been published. Now, the message is 'welcome to zero-day vulnerability land for many Mac OS X users' Only, Mac OS X users are less prepared, less aware and mitigation tools are less evolved."
OSX/Inqtana.a, which was discovered February 18, is a proof of concept worm that exploits an Apple Mac OS X Directory traversal vulnerability in the Bluetooth file and object exchange services (CVE-2005-1333). This worm spreads over the Bluetooth OBEX Push service, which typically requests the user to accept a file transfer over Bluetooth. It also exploits a directory traversal vulnerability in Mac OS X to install and auto-start the worm on the infected machine. Users are advised not to accept requests from unknown devices.
OSX/Leap, which was discovered February 16, is an instant messaging worm propagating via iChat on PowerPC-based machines running Mac OS X. The worm sends itself to people on the user's buddy list in the form of a .tgz archive and attempts to masquerade as a jpeg image file to trick the user into executing it. OSX/Leap requires user interaction in order to infect a machine.
McAfee Solutions
McAfee Virex for Macintosh offers protection against OSX/Inqtana.a and OSX/Leap, and the known exploits targeting the unpatched Command Execution vulnerability. McAfee Virex, designed for the Mac OS X operating system provides real-time prevention of viruses, worms, Trojans and other potentially unwanted programs across their Macintosh and heterogeneous environments.
More information on OSX/Inqtana.a, OSX/Leap and the cures for these worms can be found online at vil.mcafee.com. McAfee Virex customers have been protected from OSX/Leap since the 4698 DAT files. Specific named detection as OSX/Inqtana.a has been available since the 4701 DAT release of February 20. McAfee AVERT Labs recommends all customers ensure they are running the latest DAT release and schedule full system scans to insure an infection-free environment.
Until there is a patch released for the Apple Mac OS X Command Execution Vulnerability, McAfee AVERT Labs advises Mac OS X users to exercise caution when downloading files from the web and accessing email attachments. Safari users should uncheck the option to "Open 'safe' files after downloading" and users should not open email attachments that they were not expecting.
Editor's note: There is no indication on the McAfee site that they actually make or sell antivirus software for the Mac. However, a reader was kind enough to send this link: http://www.mcafee.com/us/products/mcafee/antivirus/desktop/virex.htm. dk

Link: McAfee
Desktop Mac Deals
Low End Mac updates the following price trackers every two weeks:
For more deals on current, recently discontinued, and older notebooks, see our MacBook Pro deals, 12" PowerBook G4 deals, 15" aluminum PowerBook G4 deals, 17" PowerBook G4 deals, titanium PowerBook G4 deals, iBook G4 deals, PowerBook G3 deals, and iBook G3 deals.
Join us on Facebook, follow us on Twitter or Google+, or subscribe to our RSS news feed
Links for the Day
Mac of the Day: Macintosh Portable, (1989.09.20. The nearly 16 lb. behemoth was innovative but not a smashing success.)
Recent Content
Follow Low End Mac on Twitter
Join Low End Mac on Facebook
Favorite Sites
MacSurfer
Cult of Mac
Shrine of Apple
MacInTouch
MyAppleMenu
InfoMac
The Mac Observer
Accelerate Your Mac
RetroMacCast
The Vintage Mac Museum
Deal Brothers
DealMac
Mac2Sell
Mac Driver Museum
JAG's House
System 6 Heaven
System 7 Today
the pickle's Low-End Mac FAQ
Affiliates
Amazon.com
The iTunes Store
PC Connection Express
Macgo Blu-ray Player
Parallels Desktop for Mac
eBay

Advertise