Macintel mini in January?, PC Magazine on New iMac, Apple Takes a Bite Out of Windows, and More
This Week's Apple and Desktop Mac News
Compiled by Charles Moore and edited by Dan Knight - 2005.11.11
PowerBook, iBook, iPod, and other portable computing is covered in The 'Book Review. News about Apple's transition to Intel CPUs and other Intel developments is covered in The Macintel Report. iPod news is covered in The iNews Review.
All prices are in US dollars unless otherwise noted.
News & Opinion
Products
News & Opinion
Macintel mini in January?
Forbes' Maya Roney reports:
"Benjamin A. Reitzes of UBS Investment Research . . . said Apple would introduce more video content and digital entertainment offerings at Macworld in January, helping to drive shares. Checks also indicate that the company may be ready to launch lower-end Intel-based Macs earlier than its original June 2006 target, with the possibility of an Intel-based Mac Mini at Macworld...."
Link: Intel-based Mac mini in January?
Set Your Sights on the Latest iMac G5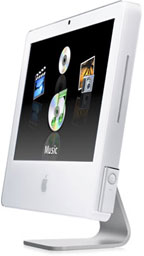 PC Magazine's Joel Santo Domingo reports:
"The first two versions of the Apple iMac G5 were wonders of design and engineering, and the newest version continues on that same path. The newest 20-inch iMac G5 ($1,699 direct) adds a few features, including upgraded graphics and a slightly faster processor, while cutting the price by $100. On the whole, the iMac G5 (iSight) is an evolution of the design we first saw a year ago, and we consider it an improvement. The iMac G5 is a great desktop for Mac users whose needs go beyond simple Web browsing and e-mailing."
Link: Set Your Sights on the Latest iMac G5
Apple Takes a Bite Out of Windows
The Seattle Times' Paul Andrews says:
"Hardly a week goes by that I don't hear from a friend or colleague with a monumental Windows problem.
"I tell them I'm glad to help, on one condition: Next time they buy a computer, they agree to consider a Macintosh. A year ago, after a particularly trying week of spyware, adware, viral attacks, lockups and reboots, I changed my primary computer to a Mac. I've dabbled with Macs since the late 1980s but never felt a need to change from Windows.
"For the first couple of months after the switch, while I transferred e-mail and contacts to Mac programs, I was firing up Windows almost daily. Gradually, though, I found fewer reasons to go back. It was a snap to export text and data files to the Mac, then convert them to Mac applications. And programs such as iTunes, iMovie, Safari and iPhoto, which came with the PowerBook, were easy to learn and use."
Link: Mac Takes Bite Out of Windows
Products
MacMice Products Find New Home
PR: Mac-Pro Systems and Software has become the new source of DVForge/MacMice branded products for the US market.
"We are very excited to be carrying these products and look forward to expanding our business with not only the existing line but some very cool items that have yet to hit the market." said Mike Ajlouny, President of Mac-Pro Systems and Software. "Having been a dealer of these products, we feel fortunate to be able to continue their existence and make them available through our business."
Before DVForge, Inc. closed it's doors in September, Mac-Pro made arrangements to secure much of the remaining inventory. "Each of these products established by DVForge are unique and quickly became favored by our customers. We have received many inquiries about them, and are proud to carry and distribute them."
Products such as The Mouse, The Mouse BT, the iBreeze fan-cooled laptop stand, and the JamPlug are all available through Mac-Pro. The JamPod, a brand-new device that enables any electric guitar or bass to be played along with the music on their iPod or iPod mini, is now available for the first time to the U.S.
Mac-Pro is currently overseeing production of some brand new items created by DVForge product designers. These forthcoming products include:
The PortBuddy
A port re-locator specifically for the original iMac G5 that prevents the need to climb behind your computer to plug in USB and/or FireWire devices.
The Stand
A rebirth of the wildly popular iBreeze made from aluminum and containing two whisper-quiet fans, perfect for any Apple PowerBook.
The Ball BT
The world's first Bluetooth trackball
California-based Mac-Pro Systems and Software, Inc. has been serving the Apple Macintosh community since 1988. In addition to carrying the largest inventory of Mac-related products in California, they also provide a myriad of other services including a top-notch repair team, order fulfillment and direct shipping. Mac-Pro has the largest inventory of Apple parts available and in-stock.
Link: Mac-Pro.com
Griffin AirClick & AirClickUSB Software
PR: AirClick USB Remote ($40) is unique in a crowded field of products because it uses RF signals allowing it to transmit up to 60', even through walls. Most remote controls use IR technology, which relies on line-of-sight, and works only over relatively short distances. There are no line-of-sight limitations with Griffin AirClick. With the software update, AirClick USB is now more versatile and powerful.
AirClick Software for Mac OS X includes settings for GarageBand, Adobe Reader, iTunes, DVD Player, Keynote, PowerPoint 2004, QuickTime Player, iChat/Mail, iPhoto, Safari, Preview and VLC.
This update provides settings for GarageBand, Adobe Reader, and Preview. Also include:
Quick Reference Guide
AirClick's menu now displays the button functions for each application.
Application Switcher
Ability to change which application is being controlled from the remote.
Enhanced AppleScript Support
Personalize AirClick USB to better suit your needs.
AirClick for iPod and AirClick mini for iPod mini do not need software.
AirClick Software for Win XP includes settings for iTunes, PowerPoint XP, and Windows Media Player 10.
Maxtor's External Drives Hit 1 TB
Extreme Tech reports:
"Maxtor has announced a new storage solution for PCs that can be purchased with capacities up to a terabyte.
"The company said Wednesday that the new Maxtor OneTouch III Turbo Edition will ship in either a 600-GB or 1-TB capacity point, at $549.95 and $899.95, respectively, beginning in December."
Link: Maxtor's External Drives Hit 1 TB
Five Drive Hot-Swap Serial ATA Enclosure
PR: Five-bay hot-swap Tower features the latest Serial ATA storage technologies and delivers unprecedented performance with cross-platform Macintosh, Linux and PC. Utilizing SiI 3726 a 1-to-5 Serial ATA (SATA) Port Multiplier and backplane to provide a high-performance link between a single SATA host port and five SATA remove-able HDD trays without internal cabling to ensure a high performance interconnect. Our PentaSATA with SiI 3726 supports host and device link rates of 1.5 Gbps and 3 Gbps with auto-negotiation to choose 1.5 Gbps or 3 Gbps SATA hard drives, therefore all SATA(s) will operate at their optimum transfer rate.
The PentaSATA chassis features an attractive design made from brushed & anodized extruded aluminum to keep weight at a minimum while maintaining structural rigidity. It includes a built-in server-class universal power supply and offers a special Heat Management System to ensure hard drives are kept cool & reliable while keeping noise to a minimum. The Heat Management System provides superior airflow throughout the chassis, from special holes in the tray handles to the perforations in the trays themselves, and utilizes whisper quiet fans and special warning indicators. In the unlikely event a fan fails or temperatures become too extreme, fan or temperature LEDs will light and a "mute-able" audible alert will warn the user.
Model: P/N ES3-P
Five 3.5 Remove-able bay with port multiplier SATA (serial ATA) Tower
Backplane: No internal cabling - SiI 3726 built-in
RAID Features: Dependent on SATA PCI host controller
Disk Bus Interface SATA2 - 30 Gbps Five slots
Host Bus Interface: eSATA - 3.0 Gbps
OS support Win 98SE or later, MAC 9.x or later, Linux, FreeBSD
Mechanical 14.0 x 12.7 x 31.0 cm (5.5" x 5.0" x 12.0")
Environmental Operating Temperature: +5o C to +40o C
Humidity: 15-80%, non-condensing
Storage Temperature: 40o C to 70o C
Storage Humidity: 5-90%, non-condensing
Electrical 115-230 VAC 50/60 Hz Autoswitch with 65W output
Key Features
Up to 3.0 Gbps transfer rate
Small footprint and stackable
Firmware Update-able
Built-in WRI Power Supply
Support Win 98SE, ME, 2K, XP
Support MAC OS 9.x or higher
Support FreeBSD, Linux
Easy Setup
Five drive SATA hot-swap enclosure: $595
Link: Five Drive Serial ATA Enclosure, FireWire Depot
Desktop Mac Deals
Low End Mac updates the following price trackers every two weeks:
For deals on laptops, see our Best Aluminum PowerBook G4 Deals, Best Titanium PowerBook G4 Deals, Best iBook G4 Deals, and Best White iBook G3 Deals. For deals on iPods, see our Best iPod Deals.
Join us on Facebook, follow us on Twitter or Google+, or subscribe to our RSS news feed
Links for the Day
Mac of the Day: Power Mac 9500, introduced 1995.05.01. The first PCI Power Mac has 6 expansion slots, speeds of 120 and 132 MHz.
Recent Content
Follow Low End Mac on Twitter
Join Low End Mac on Facebook
Favorite Sites
MacSurfer
Cult of Mac
Shrine of Apple
MacInTouch
MyAppleMenu
InfoMac
The Mac Observer
Accelerate Your Mac
RetroMacCast
The Vintage Mac Museum
Deal Brothers
DealMac
Mac2Sell
Mac Driver Museum
JAG's House
System 6 Heaven
System 7 Today
the pickle's Low-End Mac FAQ
Affiliates
Amazon.com
The iTunes Store
PC Connection Express
Macgo Blu-ray Player
Parallels Desktop for Mac
eBay

Advertise