New iMacs, eMac Discontinued, Apple Tops in Reliability, zStand hub for Mac mini, Colorize Your iMac G5, and More
This Week's Apple and Desktop Mac News
Compiled by Charles Moore and edited by Dan Knight - 2005.10.14
PowerBook, iBook, iPod, and other portable computing is covered in The 'Book Review. News about Apple's transition to Intel CPUs and other Intel developments is covered in The Macintel Report. iPod news is covered in The iNews Review.
All prices are in US dollars unless otherwise noted.
News & Opinion
Reviews
Products
News & Opinion
Apple Refreshes iMac G5
This week's top Mac story is the introduction of updated iMac models that are slimmer, lighter, and have built-in iSight webcams.
Apple Discontinues eMac
MacTeens' Chris Saribay reports: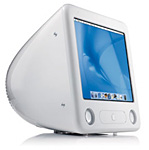 "Apple today has quietly removed the eMac from its online store, and has removed most product references on Apple.com. While a few references remain to it on various pages on the companies' website, it seems that the last CRT all-in-one computer Apple manufactures has finally been laid to rest, at least for consumers....
"Upon inspection, the eMac is now only available through the Apple Store Education (institutions)...."
Apple Computers Top Reliability Poll
The Guardian's Bobbie Johnson reports:
"Apple is the computer brand which buyers find most reliable, according to a survey by consumer magazine Which? It found that consumers were more likely to recommend Apple computers to their friends than any other brand, closely followed by Dell and Sony."
Seagate Barracuda 7200.9 Drives
Extreme Tech reports:
"Seagate Technology Ltd. has brought its desktop Barracuda drives into the fifth generation, adding a half-terabyte model and 3-Gbit SATA technology to its lineup.
"The Barracuda 7200.9 drives, as they're known, have begun shipping in 4-GB to 500-GB capacities, with cache sizes ranging from 2 to 16 Mbytes. Manufacturer suggested pricing will be $61 for a 40-Gbyte parallel drive, $75 for an 80-GB SATA drive, and $429 for the high-end 500-GB SATA drive, said Michael Hall, a Seagate spokesman."
Reviews
Add Up to 500 GB to Any Mac mini
Arizona Macintosh Users Group, Inc. (AMUG)'s Arthur Whalem reports:
"WiebeTech is shipping the Maxelerate enclosure that allows you to add an additional hard drive to the Mac mini using FireWire 400 or USB 2.0 connections. In addition, the Maxelerate has three FireWire 400 and three USB 2.0 ports allowing it to be used as a hub for additional computer peripherals.
"During this review, an Apple Mac mini 1.42 GHz with an 80 GB hard drive and 512 MB of memory was used with the Maxelerate Max-250 enclosure. This article will examine how the Maxelerate 250 GB enclosure performs in various configurations with the Mac mini."
Products
zStand Monitor Stand and Hub for Mac mini
PR: Continuing in the Art-Techo style of fusing technology and art, Pressure Drop announces zStand, the first sleek, stylish monitor stand that ingeniously includes a USB 2.0 and FireWire 400 combination hub hidden in the back. The zStand is designed to perfectly accommodate a Mac mini, providing a place to store the computer safely inside the stand while organizing a user's desktop.
The zStand is constructed of solid steel for strength and powder-coated white and silver to perfectly match the Mac mini. Delivering beauty through its stylish "Z" shape but brawn through its dual, hardened-steel support walls, zStand gracefully elevates monitors weighing up to 50 lbs. to a more ergonomically correct height, easing common neck and shoulder fatigue associated with improper monitor positioning.
As with other Pressure Drop products, the zStand is not only an artistic addition to a user's space but a demonstration of technology blending with art. Hidden from view is a combination hub employing the lightning-fast Cypress TetraHub to provide four additional USB 2.0 ports, and the industry-standard TI controller chip to provide four additional FireWire 400 ports. zStand offers more expansion ports for the Mac mini than any other hub on the market today. (excluding other Pressure Drop products)
"Users are going to love the multi-functionality and style of the zStand", said David Gawlowski, CEO of Pressure Drop. "We have created a distinguished, high quality monitor stand with the technology hidden away but immediately accessible. It is Pressure Drop's crusade through the Art-Techo movement to stop technology from taking over our space and start blending it into the background, and we believe zStand exemplifies the future of technology product design."
USB
Connect your USB 2.0 devices to your computer at up to 480 Mbps, or your legacy USB 1.1 devices at up to a full 12 Mbps per channel. Whereas most USB hubs restrict all USB 1.1 devices to share one 12 Mbps channel, the zStand is built around the new Cypress TetraHub™ controller chip which uses unique Turbo Transaction Translator Technology to dedicate a fast, 12 Mbps channel to each USB 1.1 device.
Powered by the zStand's single, shared power supply, a full 500ma of current is available per port, with over-current detection to protect what you plug in.
LED indicator for uplink status
One upstream Type B port to connect the zStand to the computer or another hub
Four Type A downstream ports to connect your USB peripherals, devices, or other hubs. Cascade multiple hubs in series to connect up to 127 devices.
Compliant with USB Specifications 1.1 and 2.0, OHCI, EHCI, FCC Part 15
FireWire
Connect your FireWire 400 devices to your computer at an auto-switching 100, 200, or 400 Mbps. With plenty of bandwidth and optimized for large multimedia files, FireWire is the choice for the demanding audio and video devices of today. Using the industry-standard Texas Instruments hub controller chip, the zStand intelligently manages all your data to stream or capture video or access huge files.
Power your devices through bus-powered mode or the zStand's single, shared power supply, all with over-current protection.
LED indicator for uplink status
One dedicated upstream port to connect the zStand to the computer or another hub.
Four downstream ports to connect your external storage devices, cameras, camcorders, music players, or other peripherals. By connecting multiple hubs together, you can connect up to 63 devices.
Compliant with IEEE 1394-1395 &1394a
zStand is available now from Pressure Drop's online store for $99.99 and ships with a choice of 12 inch or 6 foot USB and FireWire cables for connection to either a Mac mini or a standard desktop computer.
Colorize Your iMac G5
PR: Mactallic.com's new Mactallic display frame product adds a aluminum finish to the plain old white iMac G5 and comes in six Colors - plus TouchTurn, an accessory that allows your iMac or PC Monitor to rotate with ease
The new Mactallic display frame is a natural addition to the iMac family. Its modern simplicity will add a touch of class to any home or office decor. The stylish anodized metallic finish matches the aluminum exterior of the Power Mac, PowerBook, and Cinema Display.
The Mactallic display frame is available in the original silver anodized aluminum finish as well as five additional anodized custom metallic colors. A free desktop image specifically designed for each Mactallic display frame is available for download.
Not only is the new Mactallic display frame eye catching, affordable, and one of the few truly inexpensive ways to upgrade the aesthetic appearance of your iMac G5 without experiencing sticker shock.
17" Display Frame $39.95
20" Display Frame $44.95
The new TouchTurn enables you to rotate most flat panel displays 180º in either direction with a single touch of your finger.
Price: $24.95
NewerTech Drops Prices on miniStack
PR: Newer Technology, Inc.'s miniStack has been named MacAddict's Editors' Choice for November 2005, and we're celebrating by passing along savings of up to 10 percent.
The miniStack has been a hit with reviewers and customers since its introduction in July. It's an even better value with new, lower pricing effective immediately.
The new pricing is:
0 GB (enclosure only), $89.95
80 GB w/2 MB buffer, $139.99
160 GB w/8 MB buffer, $179.99
250 GB w/8 MB buffer, $219.99
320 GB w/8 MB buffer, $259.99
400 GB w/8 MB buffer, $359.99
500 GB w/8 MB buffer, $479.99
All miniStack models feature high-performance 7200 RPM hard disk mechanisms and data buffers of 2- or 8 MB. The line utilizes the latest Oxford 911+ chipset in a custom FireWire/USB 2/.0 bridge for unrivaled performance and reliability. The miniStack provides significantly better hard drive performance versus the stock Mac mini hard drive while at the same time providing additional USB 2/.0 and FireWire ports via its integrated USB 2/.0 and FireWire Hubs.
"We knew we had a great product when we unleashed the miniStack," said Larry O'Connor, president of NewerTech. "It's nice to have others enjoy them as much as we do. Now we're going to make it easier by dropping the prices. You just can't get a better drive at a better price."
The sleek miniStack was designed to complement the size, shape and color of Apple's demure Mac mini, but the drives are compatible with any computer with an available FireWire or USB port.
Each miniStack features a smart power switch so the drive turns on and off with your mini and a thermal probe that automatically regulates and varies fan speed according to the temperature. It provides integrated 2-Port FireWire and 3-Port USB 2.0/1.1 powered hubs for additional devices. The dimensions of the miniStack are 6.5 inches x 6.5 inches x 1.5 inches.
SwitchView DVI 4-port KVM Switch DVI
PR: Avocent SwitchView DVI KVM switch easily manage up to four USB DVI computers from a single USB keyboard, mouse and DVI monitor. With video resolutions up to 1920 x 1200, the SwitchView DVI delivers crisp images for today's high-end displays. Audio and microphone support are added benefits for today's demanding user. The SwitchView DVI switch also features a sleek design that makes it a compact and versatile solution for the small office and home office desktop.
SwitchView DVI 2-port KVM Switch
Manage two USB DVI computers from a single USB keyboard, mouse and DVI monitor
Push-button or multiple keyboard hotkeys for customize channel selections
Integrated USB hub
Audio support
SwitchView DVI 4-port KVM Switch
Manage up to four USB DVI computers from a single USB keyboard, mouse and DVI monitor
Push-button or multiple keyboard hotkeys for customize channel selections
Integrated USB hub
Audio support
SeriTek/2eEN4 Four-Bay Hot-Swap External eSATA Enclosure
PR: FirmTek, LLC is again pushing the price/performance envelope with the introduction of their new external SeriTek/2eEN4 Serial ATA 4-bay enclosure. The SeriTek/2eEn4 features the latest eSATA technology and delivers four state-of-the-art hot swappable hard drive bays to support today's demanding media-rich applications.
"We are raising the bar again with this storage solution by coupling the latest advances in Serial ATA technology with best-in-class features including new eSATA connectors, a whisper-quiet design, 3.0 Gbps transfer rate, exclusive Heat Management System, a true hot swappable backplane design with no internal cabling, and the smallest footprint," said Chi Kim Stanford, Vice President of Business Development. "We are following through on our continuing commitment of offering the best values and most solid products in the industry by providing the SeriTek/2eEN4 at an affordable price."
The SeriTek/2eEN4's exclusive Heat Management System ensures hard drives are kept cool and reliable while keeping noise to a minimum. This is accomplished by utilizing whisper quiet fans and special warning indicators. In the unlikely event a fan fails or temperatures become too extreme, fan or temperature LEDs will light and a "mute-able" audible alert will warn the user. The SeriTek/2eEN4's sturdy anodized aluminum case gives it a look that's as professional as its advanced features. It is compatible with virtually every external Serial ATA host adapter on the market and supports data transfer rates of up to 300 Mbytes/sec or 3.0 Gbits/sec per drive. It easily supports the most demanding applications like uncompressed high-definition digital video creation & editing, computer animation, and digital photography.
SeriTek/2eEN4 Key Features and Benefits
Attractive, durable design with a professional appearance
Brushed & anodized extruded aluminum case for maximum rigidity and heat dissipation
Supports up to four 3.5" hard disk drives; original style Serial ATA drives plus the latest 3 Gbps Serial ATA drives
Provides physical lock and key security for each hard drive
Features Kensington Security Slot to secure chassis
Built-in server-class universal power supply for maximum reliability
Supports host adapter, operating system, and software-based RAID or JBOD configurations
Heat Management System: Two quiet fans combined with fan/temperature status, fault LEDs and mute-able alarm
Enclosure Power Status LED; power and activity LEDs for each hard drive
Easy to set up: Only 3 steps to integrate each hard drive
Easy to operate: Simply unlock the latch, & use the handle to add or remove drives
Easy to transport: Compact and portable
Hot-swappable, plug-and-play flexibility in switching drives
Hot-swap drive trays are interchangeable with FirmTek's two-bay SeriTek/1EN2 enclosure
Designed as a native Serial ATA solution; no Parallel ATA/USB/FireWire to Serial ATA bridge chips that might impact performance and reliability
Features the newly defined eSATA external connectors and 300 Mbytes/sec or 3.0 Gbits/sec data transfer rate per drive
Enclosure's hot-swap backplane design, connectors, and external shielded cables are designed to minimize electrostatic discharge and electromagnetic emissions, providing the most secure environment for your data
Includes four fully shielded external eSATA cables
Platform independent; compatible with all Macintosh and PC computers running Mac OS X, Windows, and Linux
Works with original style shielded SATA-I or the latest eSATA ports (original style shielded SATA-I to eSATA data cables available separately)
Ideal for multimedia-intensive applications: high-definition audio/video capture and editing, graphics manipulation and high-end digital publishing
FirmTek's SeriTek/2eEN4 Serial ATA enclosure is available now for the estimated retail price of $499.95 (P/N SATA-2eEN4). Specially priced bundles with host adapters are also available.
Desktop Mac Deals
Low End Mac updates the following price trackers every two weeks:
For deals on laptops, see our Best Aluminum PowerBook G4 Deals, Best Titanium PowerBook G4 Deals, Best iBook G4 Deals, and Best White iBook G3 Deals. For deals on iPods, see our Best iPod Deals.
Join us on Facebook, follow us on Twitter or Google+, or subscribe to our RSS news feed
Links for the Day
Mac of the Day: Power Mac 9500, introduced 1995.05.01. The first PCI Power Mac has 6 expansion slots, speeds of 120 and 132 MHz.
Recent Content
Follow Low End Mac on Twitter
Join Low End Mac on Facebook
Favorite Sites
MacSurfer
Cult of Mac
Shrine of Apple
MacInTouch
MyAppleMenu
InfoMac
The Mac Observer
Accelerate Your Mac
RetroMacCast
The Vintage Mac Museum
Deal Brothers
DealMac
Mac2Sell
Mac Driver Museum
JAG's House
System 6 Heaven
System 7 Today
the pickle's Low-End Mac FAQ
Affiliates
Amazon.com
The iTunes Store
PC Connection Express
Macgo Blu-ray Player
Parallels Desktop for Mac
eBay

Advertise