Hard Drives Here to Stay, Windows User's Intro to Mac mini, $139 G3/900 Upgrade, and More
This Week's Apple and Desktop Mac News
Compiled by Charles Moore and edited by Dan Knight - 2005.09.30
PowerBook, iBook, iPod, and other portable computing is covered in The 'Book Review. News about Apple's transition to Intel CPUs and other Intel developments is covered in The Macintel Report. iPod news is covered in The iNews Review.
All prices are in US dollars unless otherwise noted.
News & Opinion
Tips
Products
News & Opinion
A New iMac: Why Wait Till Next Year?
BusinessWeek's Cliff Edwards reports:
"Even though Apple is moving to new Intel chips for 2006 models, the latest iMac G5 is cool enough to pull doubters off the fence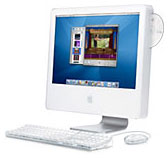 "When Apple earlier this year announced it would begin using Intel chips in its 2006 Macs, dumping the IBM PowerPC architecture, I wondered whether it might be a case of cutting off its nose off to spite its face. It seemed likely to me that sales of its current iMac line would fall off a cliff as people waited for new x86 systems.
"That is, until I got the chance to test a $1,799 iMac with a 20-inch display and the Tiger operating system under the hood. Simply put, the latest iMac and its accompanying software put fun back into computing. Everything from videoconferencing to downloading podcasts was so easy that it made me want to weep for joy. And the 2-inch-thick, all-white chassis and brushed aluminum stand looks more like a work of art than your typical PC."
A Windows User's Introduction to the Mac mini
informit.com's Paul Ferrill reports:
"If the Apple Mac Mini has you curious about adding this to your setup or switching from a PC, you'll want to read up on Paul Ferrill's journey back into the world of Apple after a long hiatus. Here you'll get a personal tour of some features of OS X Tiger, to compare them to similar Windows functions.
"Apple Computer's Mac Mini has made a lot of people think about either switching from their PC or just adding it to their existing setup. Here I'll describe my adventure in stepping back into the world of Apple after a long hiatus. I'll look at some of the features of OS X Tiger and compare them to the similar functions on the Windows side."
Hard Drives Are Here to Stay
BusinessWeek says:
"Chang Gyu Hwang is chief executive of the world's largest supplier of flash memory chips, South Korea's Samsung. Over the last few weeks, he has been quoted as hailing the start of the 'Flash Rush Era.' Flash memory chips - specifically, a type of flash known as NAND, which is used to store data in devices such as music players and digital cameras - will in time challenge and may even replace small hard drives.
"To Bill Watkins, chief executive of Seagate Technology, the world's largest manufacturer of hard drives, that sounds like a challenge. Samsung also manufactures hard disk drives, but in much smaller quantities. 'It's kind of funny,' says Watkins. 'I see so much opportunity that I would be more than willing to take his hard drive unit off his hands.'
"...Watkins isn't worried about hard drives becoming obsolete anytime soon - not with a market of 380 million units this year and 420 million next year, according to market researcher IDC. The CEO of the $7.5 billion company says that flash memory and hard drives will coexist for some time."
Tips
How to Reset the Mac mini's Power Manager
An updated Apple Knowledge Base article says:
"The Power Management Unit (PMU) is an integrated circuit (computer chip) typically found on a computer's logic board. As its name implies, the PMU is responsible for managing all aspects of the computer's power. It controls hard disk spin down, sleep and wake, some charging aspects, and how any devices attached to the computer affect sleep.
"If the settings in the PMU become corrupted, it can result in operational anomalies such as your computer not turning on, not displaying video, or not waking from sleep, among other things. In these situations, you may need to reset your computer's PMU.
"Resetting the PMU will not resolve issues in which the computer stalls or is unresponsive. A PMU reset should only be used as a last resort in the case of a hardware failure or when the power management system is suspected. Resetting the PMU returns the computer hardware, including NVRAM, to default settings and forces the computer to shut down."
How to Reset the iMac, eMac, and Mac mini
An updated Apple Knowledge Base article says:
"On some desktop models, the computer's power button replaces the power reset button and programmer's switch.
"The following computers do not have a power reset button or a programmer's switch (NMI button, also known as a NMI or nonmaskable interrupt button). You use the power button for these functions.
iMac (Flat Panel)
iMac (17-inch Flat Panel)
iMac (17-inch 1 GHz)
iMac (USB 2.0)
eMac
eMac (ATI Graphics)
eMac (USB 2.0)
Mac mini
Products
Low-cost 900 MHz, 1 GHz G3 Upgrades for PCI Power Macs
PR: PowerLogix and Other World Computing have immediately available a new 900 Megahertz ( MHz) PowerForce 750FX G3 upgrade for PCI-based Macs including Power Mac 7300, 7500, 7600, 8500, 8600, 9500, and 9600 models from Apple Computer, as well as select Power Computing and Umax clones.
The 900 MHz PowerForce 750FX G3 includes 512 KB of L2 cache also running at 900 MHz and is immediately available for $139. With a clock speed up to nine times faster than original stock 601 or 604 Apple processors, additional performance and software compatibility are possible because of the modern IBM G3 750FX processor gains this upgrade is based upon.
The PowerForce 1 GHz PowerForce 750GX G3 featuring 1 MB of L2 cache also is available for $209.99.
The new PowerForce 750 G3 is the latest in the PowerForce G3 line, previously honored as "Editor's Choice" by Macworld Magazine.
"Computers people thought were aging beyond the ability to use Apple's latest advances are still viable," said Larry O'Connor, president of Other World Computing, master distributor for PowerLogix. "Even without using software like XPostFacto to use Apple's Tiger OS, this upgrade makes applications running under OS 8.6 to OS 9.2.2 fly like never before. If it's not broke, don't need to fix it or replace it. But you can buy one of these upgrades to get a whole lot more from it."
The PowerForce 750 G3 upgrades also include a built-in fan sink to aid CPU cooling, fail-safe protection circuitry, CPU Director software and compatibility with add-on PCI cards.
Online ordering and more information on this new PowerLogix G3 upgrade are available online.
Kano X-Spand Pro eSATA Desktop Storage Solution
PR: The new X-Spand Pro eSATA Storage System is the next step in the evolution of performance enhanced desktop storage. X-Spand Pro allows users to add up to 800 GB of high performance serial ATA hard disk storage to virtually any Mac or Windows PC with a serial ATA host adapter. X-Spand Pro is a simple and affordable solution for uncompressed pro-video storage and performance demanding backup for small business. With the removable drive trays, the X-Spand Pro allows users to expand storage hardware as their needs grow. The 'cable-less' drive expansion trays make hot-swapping hard drives effortless. With its remarkably compact footprint, the X-Spand Pro Storage System can be discretely integrated into any office or desktop environment
Performance Driven
Serial ATA performance is now external for both Mac and PC. eSATA provides up to 6x the performance of existing FireWire and USB solutions and is hot pluggable. With up to 150 MB/s per SATA channel, the X-Spand Pro commands SCSI storage level performance but at a more cost-effective price per gigabyte. The X-Spand Pro can be striped RAID-0 to support multi- stream DV, DVCAM, and Standard Definition (SD) uncompressed video or RAID-1 for mirrored drive redundancy for backup. With a huge 800 GB desktop capacity, the X-Spand Pro also brings high performance versatility to small business backup with short backup and recovery windows. Because the X-Spand Pro hard drives act as independent drive volumes, the users decide how to configure the storage system based on their specific storage needs. The X-Spand Pro Storage will spark a revolution in desktop storage possibilities.
Suggested retail price: $599
Desktop Mac Deals
Low End Mac updates the following price trackers every two weeks:
For deals on laptops, see our Best Aluminum PowerBook G4 Deals, Best Titanium PowerBook G4 Deals, Best iBook G4 Deals, and Best White iBook G3 Deals. For deals on iPods, see our Best iPod Deals.
Join us on Facebook, follow us on Twitter or Google+, or subscribe to our RSS news feed
Links for the Day
Mac of the Day: Macintosh Portable, (1989.09.20. The nearly 16 lb. behemoth was innovative but not a smashing success.)
Recent Content
Follow Low End Mac on Twitter
Join Low End Mac on Facebook
Favorite Sites
MacSurfer
Cult of Mac
Shrine of Apple
MacInTouch
MyAppleMenu
InfoMac
The Mac Observer
Accelerate Your Mac
RetroMacCast
The Vintage Mac Museum
Deal Brothers
DealMac
Mac2Sell
Mac Driver Museum
JAG's House
System 6 Heaven
System 7 Today
the pickle's Low-End Mac FAQ
Affiliates
Amazon.com
The iTunes Store
PC Connection Express
Macgo Blu-ray Player
Parallels Desktop for Mac
eBay

Advertise