Tiger Migration Guide, AppleTalk Change in OS X 10.4, Gorgeous Wood iMac G5 Kiosk, Tiny Zipper Pro Hard Drive, and More
This Week's Apple and Desktop Mac News
Compiled by Charles Moore and edited by Dan Knight - 2005.05.06
This Week's Apple and Desktop Mac News
PowerBook, iBook, iPod, and other portable computing is covered in The 'Book Review. iPod news is covered in The iNews Review.
Tiger Talk
News & Opinion
Tips
New Products
Tiger Talk
Tiger Migration Guide Posted
"The Tiger Migration Guide is available for download now. It covers only the changed and new features, and is meant to help you get started quickly without taking away the fun of discovering the new OS. I sincerely hope you will find this eBooklet worth the - free - download.
"The low-res, print-disabled version of the Tiger Migration Guide is a free download of approx. 1.9 MB. If you like the guide you can buy a high-res, printable version (which also allows for copying and annotating) for 5 USD / 4 EU.
"If you pay for the Guide you will not only sponsor IT-Enquirer, and help me earn a living, but you will also receive a Bonus Chapter containing the new and changed shortcuts.
"As the price for which the Tiger Migration Guide is sold, is relatively low, and the Guide itself is an electronic file, the reality is that you can copy it ad infinitum. I therefore appeal to your honesty, granting you a license in the process to have it read by up to 5 readers. I hope this will cover most people's needs. If you need more 'copies', please email me so we can work out a decent and fair deal."
AppleTalk without TCP/IP No Longer Supported in Tiger
An updated Apple Knowledge Base Article says:
"Mac OS 8, Mac OS 9, and Mac OS X 10.1 to 10.3.9 support file sharing (AFP) connections over AppleTalk. However, Mac OS X versions 10.0 to 10.0.4 and 10.4 and later can only connect to AppleShare over TCP/IP.
"If you want to connect from versions 10.1 to 10.3.9 to Mac OS 8 sharing (which is AppleTalk only), be sure to enable AppleTalk.... Mac OS 9 and Mac OS X can both connect over TCP/IP without AppleTalk, so this step is optional in the absence of Mac OS 8.
"Mac OS X 10.4 and later don't support Personal File Sharing (or other AFP) over AppleTalk, though by initiating the connection from the opposite direction you could still achieve an IP connection from a Mac OS 8 computer to a sharing Mac OS X computer. The Network preference pane in Mac OS X 10.4 and later still offers the AppleTalk checkbox, but it is for browsing AppleTalk-advertised resources and zones. The subsequent connection must be over TCP/IP."
In short, this means that Macs with a version of the Mac OS that don't support AppleTalk using TCP/IP will not be able to use AppleTalk to connect to Macs running Tiger - and vice versa.
Tiger Roars onto the Mac mini
"We installed Tiger on a 1.42 GHz Mac mini and the entire process took around 50 minutes. Boot times with Tiger seem to be a little faster than with Panther, averaging around 40 seconds. Both Spotlight and Dashboard perform admirably on the Mac mini, however, there is no Dashboard ripple effect due to lack of Core Image support on the Mac mini. Here are few early reviews of Tiger along with some installation tips and pictures."
CEI Takes a 'Tiger' by Tail, Embracing New Mac OS
LocalTechWire's Rick Smith reports:
"Two Triangle area firms have moved quickly to capitalize on the latest versions of the Macintosh operating system, and in very different ways.
"CEI, the very high-end visualization software firm in Apex that was spun off from supercomputer firm Cray a decade ago, announced Monday that it would support the new Mac product since it supports 64-bit operations as opposed to less sophisticated 32-bit....
"While Macs have long been the darlings of graphic artists, more and more engineers are embracing Apple as an alternative to Linux and Unix....
"Lulu is making the Tiger guide available in two formats - $14.95 as a downloadable PDF file and $29.95 in printed form.
OWC Mercury Extreme Upgrades 100% Compatible with 'Tiger'
PR: Other World Computing (OWC) has reassured its customers any Mercury Extreme G4 upgrades already installed or being considered are 100% compatible with Apple Computer's latest operating system, Mac OS X 10.4 Tiger.
Just as with prior OS X and OS 9 versions, the OWC Mercury Extreme G4 upgrades remain 100% plug and play compatible with this latest OS X version. This includes all prior shipped OWC Mercury Extreme models, as well as the current line offering speeds of 933 MHz to 1.5 GHz from US$195.
OWC Mercury Extreme G4 upgrades may be used to increase the performance of PowerMac G4 AGP Graphics (a.k.a. Sawtooth), Gigabit Ethernet, Digital Audio and Quicksilver models.
"The compatibility of existing hardware and upgrades is always a concern we hear from users when a major new operating system is released," said Larry O'Connor, president of OWC. "And we are happy to confirm, now that Tiger is out, that our products remain fully compatible."
In addition to processor upgrades, OWC offers a full line of easy-to-install memory, hard drive and video upgrade products that are also Tiger-friendly, and provide added performance to most any existing Apple desktop or laptop model.
Complete pricing, ordering and availability information for all of OWC's products is available online.
Daystar Confirms Tiger Compatibility for Upgrades
PR: Daystar Technology, a provider of CPU upgrades, has announced that it has verified, tested and qualified its upgrades running in the latest releases of Apple's new version of OS X, 10.4, Tiger.
According to Gary Dailey, president of Daystar, "The Latest announcement of Tiger has raised questions on compatibility, given Apple's official 'upgrade cards are not supported...' statement.
"First, let me say clearly, there is no problem with our upgrades and any version of Mac OS 9 or OS X through Tiger. The statement from Apple (used with every release of Mac OS X to date) does allow Apple to refuse tech support calls on systems using upgrade cards. We, however provide toll-free unconditional support to all of our customers. As always our CPU upgrades perform at full speed and with full compatibility.
"We have tested Tiger with upgrades on OS X supported systems; the MAChSpeed ZIFs, G-Celerators, and MAChSpeed Pismo upgrades. There are no issues with the upgrades themselves. The MACh Carrier and Lombard upgrades have not been tested with Tiger, as Tiger cannot install on these systems (unsupported systems). XPostFacto (the Open-source utility) may solve this problem in the next few months.
"MAChSpeed Control (the optional XLR8 software package sold with Daystar upgrades) is being updated to work within the new Tiger Kernel rules. Currently, they will install, but the utility will not open in Tiger. Current Daystar customers will be upgraded when the Tiger compatible revision is released."
Daystar currently distributes/resells Apple, XLR8, Giga Design, and a variety of leading brand products via its store front and web store . Daystar offers a wide array of Apple performance products. It also sells and services Apple products via its storefront in Buford, Georgia.
Additional information on Daystar Technology and XLR8 can be found via the Daystar website.
News & Opinion
ATI Graphics Available in iMac G5 for the First Time
PR: For the first time since its introduction, the iMac G5 will feature graphics from ATI Technologies Inc. Leaders in the high-end graphics experience, ATI and Apple have teamed to offer the Radeon 9600 for both the iMac and eMac, giving users cinematic quality graphics for the full range of digital lifestyle applications. As Apple continues to broaden its consumer product lineup, ATI graphics are now available in the iMac, eMac, Mac mini, PowerBook, iBook, and Power Mac.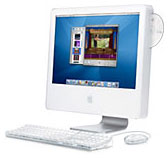 "Apple continues to blaze a trail in 3D graphics, using the graphics processor for functions well beyond gaming. Having Apple recognize the value of integrating ATI graphics into the iMac is a real testament to our continuing technology leadership in the Apple market," said Rick Bergman, Senior Vice President, PC Business Unit, ATI Technologies. "The user experience remains the focus of both ATI and Apple and these new systems clearly carry on that tradition."
The new iMac and eMac feature the Radeon 9600, which supports up to 128 MB of memory and has 128-bit architecture, giving users incredible performance, resulting in a compelling graphics experience. The Radeon 9600 accelerates a range of applications, from presentations and real-time games to home entertainment and video editing.
ATI is the leading supplier of desktop and mobile graphics technology for the Apple platform, including retail boards and onboard systems.
Mac minis Could Make Converts
CBS News's Larry Magid says:
"Hearing the hype about Apple's new $499 Macintosh gave me pause. Could Apple, which is known as the BMW of computer companies, really come out with a machine cheap enough to tempt Windows users yet still 'Mac' enough to satisfy Macintosh aficionados? After unpacking and setting up the new machine, the answer is a qualified yes.
"Before I get into the evaluation, here are the basics. Aside from being the cheapest Mac, the Mac Mini is also the smallest. In fact, it's the smallest full featured desktop powered PC from any major computer maker. It measures only 2 inches by 6-1/2 inches square though it comes with an external power adapter that's just as long and more than a third as wide as the computer itself. I could easily see someone taking this machine back and forth between home and work....
"So how did the Mac stack up? Apple sent me the basic $499 system except it was upgraded to 512 megabytes of memory, which turned out to be more than enough for every thing I threw at it, including Adobe Photoshop....
"While the Mac Mini won't suddenly make Macs a more popular platform than Windows, I think it may tempt many Windows users who are curious about the Mac and/or frustrated with Windows which is far more prone to spyware, viruses and security problems...."
Mac mini Goes after Frustrated Windows Users
The Houston Chronicle's Dwight Silverman reports:
"When Apple Computer released its latest Macintosh, the Mac Mini, the company known for its rabid fans made it clear this was aimed at a tougher crowd - Windows users.
"Buoyed by sales of its iPod music products to non-Mac users, Apple sees an opportunity to tout its computer products to the curious or disaffected users of Microsoft's dominant operating system. Indeed, given how many Windows users are frustrated by and angry at waves of viruses and spyware, the relatively untouched Mac OS should be an easy sell.
"But walking away from something that's familiar is hard for most people. They'd rather suffer Windows' security problems than try something new. Still, the Mac Mini is compelling - relatively cheap, easy to use with existing PC hardware like keyboard and mouse, and downright cute.
"I decided to put Apple's strategy to the test. I tried to completely switch from a Windows XP box to a Mini for two weeks."
Tips
Interesting mini USB Sound Option: Pioneer Elite Receivers
machtpc.com reports:
"In what might be one of the more expensive USB audio solutions for the mini, it turns out several Pioneer Elite A/V receivers accept digital audio in over USB. The models I could confirm that accept USB are the, VSX-56TXi and the VSX-59TXi.
"The 59TXi lists for gulp $4,500.00 - not exactly a bargain basement solution, but the VSX-56TXi can be found online for around $950.00, again not for those on a budget, but if you were already in the market for an upper end A/V receiver, for use in a system with a Mac mini, this makes the deal a little sweeter."
New Products
iWoodKiosk with iMac G5 Inside
PR: Tactus Multimedia Studio of Hungary has launched its new product - iWoodKiosk - a new generation of information/Internet kiosks for indoor usage with an Apple iMac G5 inside. Back to Nature!
This rig makes my mouth water. As a woodworker myself, I appreciate fine craftsmanship, but the iWoodKiosk goes well beyond that into the realm of sculptural art using wood as a medium melded with avant garde industrial design, to meld technology with tradition.
Features include:
Made of natural lime wood
In several natural colors of wood or your company's branding color with logo
Apple iMac G5 inside (can be sold separately)
17" LCD screen, 16:10 wide aspect ratio
Wireless networking (recommended)
Full size keyboard (can be sold separately)
Integrated touchpad with scroll and click function
Integrated touchscreen option coming soon
The iWoodKiosk can serve as an Internet kiosk or information point for hotels, museums, schools, banks, offices, and shops
Dimensions:
height: 154 cm (60.63 inches)
width: 48 cm (18.89 inches)
depth: 93 cm (36.61 inches)
weight: 70 kg (154.32 pounds)
The M9 Mac mini Module
engadget.com's Ryan Block writes:
"We're seeing a lot of these Mac mini port replicator/external drive bays cropping up (any takers to whip one up with some video-in and media-center features, pretty please?). The latest by Macpower and Tytech Technology Co., the M9, features a 3-port USB 2.0 hub, 3-port FireWire hub, 3.5-inch hard drive bay, and active cooling system. It don't look too shabby (or different from the others), too."
Kanguru Solutions Releases Tiny Kanguru Zipper Pro Hard Drive
PR: Kanguru Solutions has announced the release of their latest in portable and low cost hard drives, the 20 GB Kanguru Zipper Pro.
The Kanguru Zipper Pro offers the perfect blend of storage and portability in a USB 2.0 hard drive. It provides a greater storage capacity than competing Flash drives, while remaining more compact than a 2.5" external hard drive. In fact weighing just 40g, the miniature Kanguru Zipper Pro is lightweight and small enough to fit comfortably in your shirt pocket, yet capable of storing up to 20 GB of data!
A USB 2.0 swivel-style plug unfolds neatly from the side of the Kanguru Zipper Pro and fits directly into any available USB port for instant plug and play access. The exterior alloy enclosure of the Kanguru Zipper Pro is extremely rugged, as the unit is able to withstand up to 1500Gs of shock.
This high speed, high quality USB 2.0 hard drive excels in mobilizing and sharing data. Inside this unit is a 1" mini hard drive, similar to the IBM Microdrive, offers a rotational speed of 4200 rpm and works with Windows and Macintosh, most without any device drivers. As an external drive, it can be used for saving or backing up data, storing photos, MP3s, or important documents for home and office use.
A division of Interactive Media Corporation, Kanguru Solutions manufactures high quality, secure and portable computer storage peripherals that have provided consumers with secure back-up solutions for more than a decade. Interactive Media Corp. was established in Massachusetts in 1992.
Belkin USB 2.0 Hub Complements Mac Mini
"Belkin has introduced a new Hi-Speed USB 2.0 4-Port Hub, packaged in a white, compact shell that complements the iPod shuffle and the Mac mini, this Hub features a patent-pending, top-loading USB port for easy access with three additional ports in the back. The Hub connects up to two devices without a power adapter. The top loading port gives you easy access for quick, temporary connections of USB flash drives, media readers, small accessories such as USB lights and fans, the Apple iPod shuffle, and more. The Belkin USB HUB retails for $29.99 and begins shipping in June."
XtraDrive Turns Unused Flash Memory Cards into USB Drives
PR: MediaGear announced the next generation of its popular keychain drives called XtraDrive, to help satisfy the growing consumer demand for convenient extra USB flash drives created from unused memory cards.
XtraDrives have a colored, transparent cap that allows the user to see if a media card is installed. Also, to eliminate crowding of several drives together on a PC or notebook, the XtraDrive package also includes a USB adapter cable.
"Photographers have an abundance of old memory cards that are no longer used because of their low megabyte storage. The new XtraDrive gives these outdated memory cards a brand new life," noted Terry Smith, VP of Marketing at MediaGear.
"Most new cameras come with a 16 or 32 MB card and the photographer quickly moves up to higher capacities - especially now that prices are dropping. The digital camera user can pop these outdated flash memory cards into a compatible XtraDrive and easily load and transfer data or photos from computer to computer via the USB ports," continued Smith.
An added bonus of this new generation of keychain drives is the inclusion of an 18" USB cable for use when slots on the computer are too cramped for space.
"The new XtraDrives are great looking too. We went for see-through colorful, gem tone caps that are visually appealing, but more importantly allows the user to see if a memory card is already inserted into the drive," added Smith.
The drives can accommodate most card formats including Secure Digital (SD), MultiMediaCard, Sony Memory Stick, Compact Flash Types I and II, MicroDrives, SmartMedia, and xD.
Retail pricing is: $14.95 MSRP. The new USB-compatible XtraDrives is currently available at Office Depot, MicroCenter and Fry's Electronics, and from the MediaGear website.
Desktop Mac Deals
Low End Mac updates the following price trackers every two weeks:
For deals on laptops, see our Best PowerBook G4 Deals, Best iBook G4 Deals, and Best iBook G3 Deals. For deals on iPods, see our Best iPod Deals.
Join us on Facebook, follow us on Twitter or Google+, or subscribe to our RSS news feed
Links for the Day
Mac of the Day: 14" iBook G4 (Late 2003), introduced 2003.10.22. The iBook moves to G4, reaches 1 GHz, adopts AirPort Extreme.
Recent Content
Follow Low End Mac on Twitter
Join Low End Mac on Facebook
Favorite Sites
MacSurfer
Cult of Mac
Shrine of Apple
MacInTouch
MyAppleMenu
InfoMac
The Mac Observer
Accelerate Your Mac
RetroMacCast
The Vintage Mac Museum
Deal Brothers
DealMac
Mac2Sell
Mac Driver Museum
JAG's House
System 6 Heaven
System 7 Today
the pickle's Low-End Mac FAQ
Affiliates
Amazon.com
The iTunes Store
PC Connection Express
Macgo Blu-ray Player
Parallels Desktop for Mac
eBay

Advertise